Abstract
In Cohen and Felson's (1979) routine activities theory, the presence of a capable guardian serves as the key component in the crime event model, one that can disrupt, either directly or indirectly, the interaction between a motivated offender and a suitable target. Unlike the other components of the theory much less is known about the nature of capable guardianship. This article reports the results of a test of the Guardianship in Action instrument, first developed by Reynald (2009), for measuring guardianship potential at residential properties. It was found that guardianship intensity at the property level can be measured via direct observation, and the measurement of guardianship intensity is enhanced by including measures of the physical and social environment that can enable or hinder guardianship activities. The article lends further support to the thesis that residential guardianship combines physical potential for guardianship as well as acts of monitoring and intervention. The implications for theory, research and practice are discussed.
This is a preview of subscription content, log in to check access.
Access options
Buy single article
Instant access to the full article PDF.
US$ 39.95
Price includes VAT for USA
Subscribe to journal
Immediate online access to all issues from 2019. Subscription will auto renew annually.
US$ 199
This is the net price. Taxes to be calculated in checkout.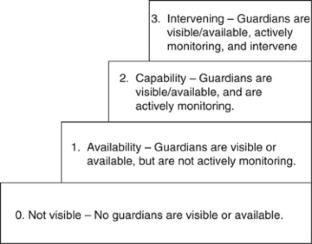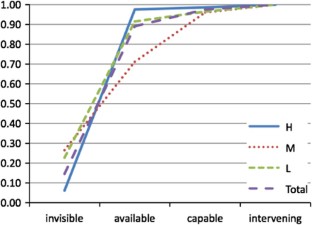 Notes
1.

Only residential addresses were included in the sample. This was done using a selection variable for each street segment that identified it as (1) residential only, (2) industrial only, (3) government only, (4) commercial only, (5) mixed land use, and so on. This information was obtained from city planning files available for the city. Only those street segments that were identified as 'residential only' or 'mixed land use' were used when drawing the sample.

2.

A Spearman's coefficient was used due to the ordinal level of measurement of the variables included.

3.

More information on the diagnostics run and distribution of the dependent variable is available from the authors.
References
Austin, W. (1979) Sex differences in bystander intervention in a theft. Journal of Personality and Social Psychology 37 (11): 2110–2120.

Beavon, D.J.K., Brantingham, P.L. and Brantingham, P.J. (1994) The influence of street networks on the patterning of property offenses. In: R.V. Clarke (ed.) Crime Prevention Studies, Vol. 2. Monsey, NY: Criminal Justice Press, pp. 115–148.

Bennett, T.H., Holloway, K. and Farrington, D.P. (2006) Does neighborhood watch reduce crime? A systematic review and meta-analysis. Journal of Experimental Criminology 2 (4): 437–458.

Block, R. and Skogan, W.G. (1984) The Dynamics of Violence between Strangers: Victim Resistance and Outcomes in Rape, Assault, and Robbery. Evanston, IL: Northwestern University.

Brantingham, P.L. and Brantingham, P.J. (1993) Nodes, paths, and edges: Considerations on the complexity of crime and the physical environment. Journal of Environmental Psychology 13 (1): 3–28.

Brantingham, P.L. and Brantingham, P.J. (1994) Crime analysis using location quotients. In: D. Zahm and P. Cromwell (eds.) Proceedings of the International Seminar on Environmental Criminology and Crime Analysis. Tallahassee, FL: Florida Statistical Analysis Center, pp. 83–94.

Brantingham, P.L. and Brantingham, P.J. (1995) Location quotients and crime hot spots in the city. In: C.R. Block, M. Dabdoub and S. Fregly (eds.) Crime Analysis through Computer Mapping. Washington DC: Police Executive Research Forum, pp. 129–149.

Brantingham, P.L. and Brantingham, P.J. (1998) Mapping crime for analytic purposes: Location quotients, counts and rates. In: D. Weisburd and T. McEwen (eds.) Crime Mapping and Crime Prevention. Crime Prevention Studies, Vol. 8. Monsey, NY: Criminal Justice Press, pp. 263–288.

Brown, B.B. and Altman, I. (1981) Territoriality and residential crime: A conceptual framework. In: P.J. Brantingham and P.L. Brantingham (eds.) Environmental Criminology. Beverly Hills, CA: Sage, pp. 56–76.

Brown, B.B. and Perkins, D.D. (2002) Neighborhood Revitalization and Disorder: An Intervention Evaluation: Final Project Report. Rockville, MD: National Criminal Justice Reference Service.

Cohen, L.E. and Felson, M. (1979) Social change and crime rate trends: A routine activity approach. American Sociological Review 44 (4): 588–608.

Eck, J.E. (1994) Drug markets and drug places: A case-control study of the spatial structure of illicit drug dealing. Unpublished PhD dissertation, University of Maryland, College Park, MD.

Eck, J.E. (1995) Examining routine activity theory: A review of two books. Justice Quarterly 12 (4): 783–797.

Felson, M. (1986) Routine activities, social controls, rational decisions, and criminal outcomes. In: D. Cornish and R.V.G. Clarke (eds.) The Reasoning Criminal. New York: Springer-Verlag, pp. 119–128.

Felson, M. (1995) Those who discourage crime. In: J.E. Eck and D. Weisburd (eds.) Crime and Place. Crime Prevention Studies, Vol. 4. Monsey, NY: Criminal Justice Press, pp. 53–66.

Felson, M. (1998) Crime and Everyday Life, 2nd edn. Thousand Oaks, CA: Pine Forge Press.

Felson, M. and Boba, R. (2010) Crime and Everyday Life: Insight and Implications for Society. Thousand Oaks, CA: Pine Forge Press.

Felson, M. and Cohen, L.E. (1980) Human ecology and crime: A routine activity approach. Human Ecology 8 (4): 389–406.

Fischer, P., Greitemeyer, T., Pollozek, F. and Frey, D. (2006) The unresponsive bystander: Are bystanders more responsive in dangerous emergencies? European Journal of Social Psychology 36 (2): 267–278.

Furr-Holden, C.D.M., Campbell, K.D.M., Milam, A.J., Smart, M.J., Ialongo, N.A. and Leaf, P.J. (2010) Metric properties of the Neighborhood Inventory for Environmental Typology (NIfETy): An environmental assessment tool for measuring indicators of violence, alcohol, tobacco, and other drug exposures. Evaluation Review 34 (3): 159–184.

Hackler, J.C., Ho, K. and Urquhart-Ross, C. (1973–1974) The willingness to intervene: Differing community characteristics. Social Problems 21 (3): 328–344.

Harari, H., Harari, O. and White, R. (1985) The reaction to rape by American male bystanders. Journal of Social Psychology 125 (5): 653–658.

Hollis-Peel, M.E., Reynald, D.M., van Bavel, M., Elffers, H. and Welsh, B.C. (2011) Guardianship for crime prevention: A critical review of the literature. Crime, Law, and Social Change 56 (1): 53–70.

Latané, B. and Darley, J. (1970) The Unresponsive Bystander: Why Doesn't He Help? New York: Appleton.

Mawby, R.I. (1977) Defensible space: A theoretical and empirical appraisal. Urban Studies 14 (2): 169–179.

McCord, E.S., Ratcliffe, J.H., Garcia, R.M. and Taylor, R.B. (2007) Nonresidential crime attractors and generators elevate perceived neighborhood crime and incivilities. Journal of Research in Crime and Delinquency 44 (3): 295–320.

Merry, S.E. (1981) Defensible space undefended: Social factors in crime control through environmental design. Urban Affairs Review 16 (4): 397–422.

Moriarty, T. (1975) Crime, commitment and the responsive bystander: Two field experiments. Journal of Personality and Social Psychology 31 (2): 270–376.

Newman, O. (1972) Defensible Space: Crime Prevention Through Urban Design. New York: Collier Books.

Reynald, D.M. (2009) Guardianship in action: Developing a new tool for measurement. Crime Prevention and Community Safety 11 (1): 1–20.

Reynald, D.M. (2010) Guardians on guardianship: Factors affecting the willingness to supervise, the ability to detect potential offenders, and the willingness to intervene. Journal of Research in Crime and Delinquency 47 (3): 358–390.

Sampson, R., Eck, J.E. and Dunham, J. (2010) Super controllers and crime prevention: A routine activity explanation of crime prevention success and failure. Security Journal 23 (1): 37–51.

Schwartz, S. and Gottlieb, A. (1976) Bystander reactions to a violent theft: Crime in Jerusalem. Journal of Personality and Social Psychology 34 (6): 1188–1199.

Shaffer, D.R., Rogel, M. and Hendrick, C. (1975) Intervention in the library: The effect of increased responsibility on bystanders' willingness to prevent a theft. Journal of Applied Social Psychology 5 (4): 303–319.

Taylor, R.B. (1988) Human Territorial Functioning: An Empirical, Evolutionary Perspective on Individual and Small Group Territorial Cognitions, Behaviors, and Consequences. New York: Cambridge University Press.

Taylor, R.B., Gottfredson, S.D. and Brower, S.N. (1981) The defensibility of defensible space: A critical review. In: T. Hirschi and M. Gottfredson (eds.) Understanding Crime. Beverly Hills, CA: Sage, pp. 53–71.

Tillyer, M.S. and Eck, J.E. (2011) Getting a handle on crime: A further extension of routine activities theory. Security Journal 24 (2): 179–193.

Welsh, B.C. and Farrington, D.P. (2009) Public area CCTV and crime prevention: An updated systematic review and meta-analysis. Justice Quarterly 26 (4): 716–745.

Welsh, B.C., Mudge, M.E. and Farrington, D.P. (2010) Reconceptualizing public area surveillance and crime prevention: Security guards, place managers and defensible space. Security Journal 23 (4): 299–319.

White, G.F. (1990) Neighborhood permeability and burglary rates. Justice Quarterly 7 (1): 57–67.

Wilcox, P., Madensen, T.D. and Tillyer, M.S. (2007) Guardianship in context: Implications for burglary victimization risk and prevention. Criminology 45 (4): 771–803.

Wilson, J.Q. and Kelling, G. (1982) Broken windows: The police and neighborhood safety. Atlantic Monthly 249 (March): 29–38.
Acknowledgements
We are extremely grateful to the editor Bonnie Fisher and the anonymous reviewers for insightful comments.
Appendix
Appendix

About this article
Cite this article
Hollis-Peel, M., Welsh, B. What makes a guardian capable? A test of guardianship in action. Secur J 27, 320–337 (2014). https://doi.org/10.1057/sj.2012.32
Keywords
routine activities theory

guardianship

residential property

social observation

crime prevention