Abstract
Neighborhood parks in urban areas have long been seen as contested spaces. Because they are publically owned, they are at the same time everyone's and no one's. As public resources they have little intrinsic guardianship and thus are susceptible to being taken over for undesirable activities (that is, living spaces for the homeless, markets for drug dealers and delinquent behavior magnets for juveniles). While much has been written about parks and crime, little research exists which empirically examines the topic. The current research examines neighborhood parks in Philadelphia, PA as they relate to crime and disorder that occurs outdoors. We use primary data collection to quantify the number of potential activity generators (recreation centers, pools, playground, night lighting, and so on) and other park characteristics. Land use on adjacent streets is also collected. Our analysis finds that neighborhood parks are associated with increased levels of crime in the surrounding area. However, specific characteristics of parks are associated with lower crime levels.
This is a preview of subscription content,
to check access.
Access this article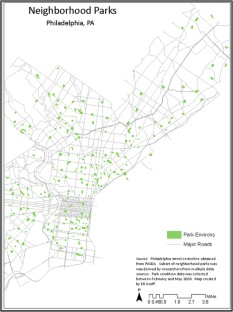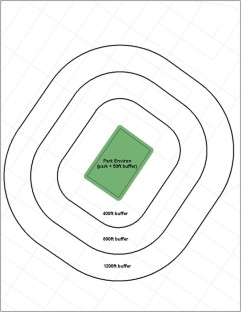 Similar content being viewed by others
Notes
A search of the Center for Problem Oriented Policing website (www.popcenter.org) on 11 July 2008 revealed 62 unique references to parks as sources of crime problems.

Many of the larger parks consisted of more than one polygon and were merged into a single polygon for each park. Additionally, many of the identified properties were not parks, but areas of vacant or open land the Fairmount Park Commission was responsible for maintaining. These included center medians and grass areas along major highways in the city, and numerous parcels of vacant land that were publicly owned. They were identified via aerial photographic images and were excluded from the data set.

Field surveyors went to 276 parks but an additional 27 were removed because they were not actually parks. Most of these were small, undeveloped lots that were city owned, while a few others were small grass medians located where three or more streets intersected.

We used a research team of three undergraduate students to survey 200 of the 249 parks. The other 49 parks were surveyed by undergraduate students as part of class activities. These students received the same training as the research staff. We randomly selected 6 per cent of these to be repeated by research staff to verify accuracy. No significant discrepancies were noted. In addition, a subsequent test of the instrument revealed significant inter-rater reliability for all observational items analyzed herein.

Crime and disorder incidents were identified as occurring out of doors by their PPD assigned premise code, which identified the incident as occurring on the highway, in a vehicle, parking lot, in a building, and so on.

All crime incidents were investigated and documented by PPD officers, disturbances were calls-for-services that did not require official reporting but were still confirmed as occurring.

We compare the park environs, rather than parks with 400 foot buffer to the intersection with a 400 foot buffer because they each represent approximately one block from a location (that is, the park centroid and intersection respectively).

Bonferroni post hoc test indicated differences between land use types for disorder crime is due to significant difference between mean values of park environs classified as 'Residential' and those classified as 'Nonresidential' land use combination.

We thank one of our anonymous reviewers for this suggestion.
References
Braga, A.A. (2001) The effects of hot spots policing on crime. Annals of the American Academy of Political and Social Science 578: 104–125.

Braga, A.A. (2007) Effects of hot spots policing on crime, http://www.sfi.dk/graphics/Campbell/reviews/Hot_spots_policing_review.pdf.

Braga, A.A., Weisburd, D.L., Waring, E., Mazzerole, L., Spelman, W. and Gajewski, F. (1999) Problem-oriented policing in violent crime places: A randomized controlled experiment. Criminology 37 (3): 541–580.

Brantingham, P.J. and Brantingham, P.L. (1991 [1981]) Environmental Criminology. Prospect Heights, IL: Waveland Press.

Brantingham, P.L. and Brantingham, P.J. (1993) Environment, routine, and situation: Toward a pattern theory of crime. In: R.V. Clarke and M. Felson (eds.) Routine Activity and Rational Choice, Vol. 5. New Brunswick, NJ: Transaction Publishers, pp. 259–294.

Brantingham, P.L. and Brantingham, P.J. (1995a) Criminality of place: Crime generators and crime attractors. European Journal on Criminal Policy and Research 3 (3): 5–26.

Brantingham, P.L. and Brantingham, P.J. (1995b) Location quotients and crime hotspots in the city. In: C. Block, M. Dabdoub and S. Fregly (eds.) Crime Analysis Through Computer Mapping. Washington DC: Police Executive Research Forum, pp. 129–149.

Brower, S. (1980) Territory in urban settings. In: I. Altman and C.M. Werner (eds.) Human Behavior and Environment: Current Theory and Research, Vol. 4. New York: Plenum.

Brower, S. (1984) The Harlem Park Renovation Project: Baltimore Maryland. Baltimore, MD: University of Maryland at Baltimore County.

Burgess, J., Harrison, C.M. and Limb, M. (1988) People, parks and the urban green: A study of popular meanings and values for open spaces in the city. Urban Studies 25 (6): 455–473.

Chiesura, A. (2004) The role of urban parks for the sustainable city. Landscape and Urban Planning 68: 129–138.

Clarke, R.V. (1983) Situational crime prevention: Its theoretical basis and practical scope. In: M. Tonry and N. Morris (eds.) Crime and Justice: An Annual Review of Research, Vol. 14. Chicago, IL: University of Chicago Press, pp. 225–256.

Clarke, R.V. (ed.) (1997) Situational Crime Prevention: Successful Case Studies, 2nd edn. Albany, NY: Harrow and Heston Publishers.

Clarke, R.V. (2008) Situational crime prevention. In: R. Wortley and L. Mazerolle (eds.) Environmental Criminology and Crime Analysis. Portland, OR: Willan Publishing, pp. 178–194.

Clarke, R.V. and Eck, J. (2007) Understanding Risky Facilities, Center for Problem-Oriented Policing, http://www.popcenter.org/tools/PDFs/risky_facilities.pdf.

Cohen, L.E. and Felson, M. (1979) Social change and crime rate trends: A routine activity approach. American Sociological Review 44: 588–608.

Crewe, K. (2001) Linear parks and urban neighborhoods: A case study of the crime impact of the Boston South-West corridor. Journal of Urban Design 6 (3): 245–264.

Crompton, J.L. (2001) The impact of parks on property values: A review of the empirical evidence. Journal of Leisure Research 33: 1–31.

Dehring, C. and Dunse, N. (2006) Housing density and the effect of proximity to public open space in Aberdeen, Scotland. Real Estate Economics 34 (4): 553–566.

Eck, J.E. (1995) A general model of the geography of illicit retail marketplaces. In: J.E. Eck and D. Weisburd (eds.) Crime and Place. Monsey, NY: Willow Tree Press, pp. 67–93.

Espey, M. and Owusu-Edusei, K.J. (2001) Neighborhood parks and residential property values in Greenville, South Carolina. Journal of Agricultural and Applied Economics 33: 487–492.

Evans, D.J. and Oulds, G. (1984) Geographical aspects of the incidence of residential Burglary in Newcastle-Under-Lyme, U.K. Tijdschrift voor Economische Sociale Geografie 75 (5): 344–355.

Felson, M. (1995) Those who discourage crime. In: J.E. Eck and D.L. Weisburd (eds.) Crime and Place. Monsey, NY: Willow Tree Press, pp. 53–66.

Groff, E.R., Weisburd, D. and Yang, S.-M. (2010) Is it important to examine crime trends at a local "micro" level?: A longitudinal analysis of street to street variability in crime trajectories. Journal of Quantitative Criminology 26: 7–32.

Hakim, S. and Shachamurove, Y. (1996) Spatial and temporal patterns of commercial burglaries: The evidence examined. American Journal of Economics and Sociology 55 (4): 443–456.

Hayward, J. (ed.) (1989) Urban Parks: Research, Planning, and Social Change, Vol. 10: Public Places and Spaces. New York: Plenum Press.

Herbert, D.T. (1982) The Geography of Urban Crime. New York, NY: Longman.

Hilborn, J. (2009) Dealing with Crime and Disorder in Urban Parks, http://www.popcenter.org/responses/PDFs/urban_parks.pdf.

Jacobs, J. (1961) The Death and Life of Great American Cities. New York: Vintage Books.

Jeffery, C.R. (1971) Crime Prevention through Environmental Design. Beverly Hills, CA: Sage Publications.

Knutsson, J. (1997) Restoring public order in a city park. In: R. Homel (ed.) Policing for Prevention: Reducing Crime, Public Intoxication and Injury, Vol. 7. Monsey, NY: Criminal Justice Press, pp. 133–151.

Kühlhorn, E. (1978) Deprivation of Freedom and the Police. Stockholm, Sweden: National Swedish Council for Crime Prevention.

Kurtz, E.M., Koons, B.A. and Taylor, R.B. (1998) Land use, physical deterioration, resident-based control, and calls for service on urban streetblocks. Justice Quarterly 15 (1): 121–149.

LaGrange, T.C. (1999) The impact of neighborhoods, schools, and malls on the spatial distribution of property damage. Journal of Research in Crime and Delinquency 36 (4): 393–422.

Leon Younger and PROS (2004) A Bridge to the Future: Fairmount Park Strategic Plan. Report to Fairmont Park Commission; Philadelphia, PA.

Lockwood, D. (2007) Mapping crime in Savannah: Social disadvantage, land use, and violent crimes reported to the police. Social Science Computer Review 25 (2): 194–209.

Lutzenhiser, M. and Netusil, N.R. (2001) The effect of open spaces on a home's sale price. Contemporary Economic Policy 19: 291–298.

Madden, K., Love, K. and Davies, S. (1982) User Analysis: An Approach to Park Planning and Management. Washington D.C.: American Society of Landscape Architects.

Maguire, M. (1982) Burglary in a Dwelling. London: Heinemann.

McCord, E.S. and Ratcliffe, J.H. (2007) A micro-spatial analysis of the demographic and criminogenic environment of drug markets in Philadelphia. The Australian and New Zealand Journal of Criminology 40 (1): 43–63.

McCord, E.S. and Ratcliffe, J.H. (2009) Intensity value analysis and the criminogenic effects of land use features on local crime patterns. Crime Patterns and Analysis 2 (1): 17–30.

Michael, S.E., Hull, B.R. and Zahm, D.L. (2001) Environmental factors influencing auto Burglary: A case study. Environment and Behavior 33 (3): 368–388.

Miethe, T.D. and McDowall, D. (1993) Contextual effects in models of criminal victimization. Social Forces 71: 741–759.

New Yorkers for Parks and Ernst Young. (2003) Analysis of secondary economic impacts resulting from park expenditures [Electronic Version], http://www.ny4p.org/index.php?option=com_content&task=blogcategory&id=25&Itemid=211.

Newman, O. (1972) Defensible Space: Crime Prevention Through Environmental Design. New York: Macmillan.

Parkes, A., Kearns, A. and Atkinson, R. (2002) What makes people dissatisfied with their neighbourhoods? Urban Studies 39 (13): 2413–2438.

Pendleton, M. (1998) Policing the park: Understanding soft enforcement. Journal of Leisure Research 30 (4): 552–571.

Pendleton, M. and Thompson, H.L. (2000) Criminal careers of park and recreational hot spots. Parks and Recreation 35: 57–63.

Perkins, D., Wandersman, A., Rich, R. and Taylor, R.B. (1993) The physical environment of street crime: Defensible space, territoriality and incivilities. Journal of Environmental Psychology 13: 29–49.

Project for Public Spaces. (2005) How to Turn a Place Around: A Handbook for Creating Successful Places. New York: Project for Public Spaces.

Reeves, N. (2000) The condition of public urban parks and greenspace in Britain. Journal of CIWEM 14: 157–163.

Rengert, G., Ratcliffe, J.H. and Chakravorty, S. (2005) Policing Illegal Drug Markets: Geographic Approaches to Crime Reduction. Monsey, NY: Criminal Justice Press.

Rengert, G. and Wasilchick, J. (1985) Suburban Burglary: A Time and a Place for Everything. Springfield, IL: Charles Thomas.

Rengert, G.F. (1996) The Geography of Illegal Drugs. Boulder, CO: Westview Press.

Roncek, D.W. and Faggiani, D. (1985) High schools and crime: A replication. The Sociological Quarterly 26 (4): 491–505.

Roncek, D.W. and Lobosco, A. (1983) The effect of high schools on crime in their neighborhoods. Social Science Quarterly 64 (3): 598–613.

Sampson, R.J. and Groves, W.B. (1989) Community structure and crime: Testing social-disorganization theory. American Journal of Sociology 94 (4): 774–802.

Sampson, R.J. and Raudenbush, S.W. (1999) Systematic social observation of public spaces: A new look at disorder in urban neighborhoods. American Journal of Sociology 105 (3): 603–651

Schroeder, H.W. and Anderson, L.M. (1984) Perception of personal safety in urban recreation sites. Journal of Leisure Research 16 (2): 178–194.

Sherman, L.W., Gartin, P. and Buerger, M.E. (1989) Hot spots of predatory crime: Routine activities and the criminology of place. Criminology 27 (1): 27–55.

Smith, W.R., Frazee, S.G. and Davison, E.L. (2000) Furthering the integration of routine activity and social disorganization theories: Small units of analysis and the study of street robbery as a diffusion process. Criminology 38 (2): 489–523.

Taylor, R.B. and Harrell, A. (1996) Physical environment and crime, http://www.ncjrs.gov/pdffiles/physenv.pdf, accessed 21 January 2010.

Troy, A. and Grove, J.M. (2008) Property values, parks, and crime: A hedonic analysis in Baltimore, MD. Landscape and Urban Planning 87: 233–245.

Voicu, I. and Been, V. (2008) The effect of community gardens on neighboring property values. Real Estate Economics 36 (2): 241–283.

Weisburd, D. and Eck, J. (2004) What can police do to reduce crime, disorder and fear? The Annals of the American Academy of Political and Social Science 593 (1): 42–65.

Weisburd, D., Bushway, S., Lum, C. and Yang, S.-M. (2004) Trajectories of crime at places: A longitudinal study of street segments in the city of Seattle. Criminology 42 (2): 283–321.

Weisburd, D., Morris, N. and Groff, E.R. (2009) Hot spots of juvenile crime: A longitudinal study of arrest incidents at street segments in Seattle, Washington. Journal of Quantitative Criminology 25 (4): 443–467.

Weisburd, D., Groff, E.R. and Yang, S.-M. (2010a) Explaining Developmental Crime Trajectories at Places: A Study of 'Crime Waves' and 'Crime Drops' at Micro Units of Geography. Washington DC: National Institute of Justice.

Weisburd, D., Telep, C., Hinkle, J.C. and Eck, J.E. (2010b) Is problem-oriented policing effective in reducing crime and disorder? Findings from a Campbell Systematic Review. Criminology and Public Policy 9 (1): 139–172.

Westover, T.N. (1985) Perceptions of crime and safety in three Midwestern parks. Professional Geographer 37 (4): 410–420.

Whyte, W.H. (1980) The Social Life of Small Urban Spaces. New York: Project for Public Spaces.

Wilcox, P., Quisenberry, N., Cabrera, D.T. and Jones, S. (2004) Busy places and broken windows? Toward defining the role of physical structure and process in community crime models. The Sociological Quarterly 45 (2): 185–207.
About this article
Cite this article
Groff, E., McCord, E. The role of neighborhood parks as crime generators. Secur J 25, 1–24 (2012). https://doi.org/10.1057/sj.2011.1
Published:

Issue Date:

DOI: https://doi.org/10.1057/sj.2011.1
Keywords