Abstract
The lack of a coherent policy to address seasonal air pollution in Northeast Asia is partly due to the complexity of the issue—that it is both domestic and transboundary in nature—and partly due to media frames that emerge in response to seasonal fluctuations. To provide a better understanding of these factors as well as their potential impact on public opinion and behavior, this paper claims that the varying narratives conveyed in the Korean media have an impact on and provide a basis for assessing Koreans' opinions about the problem of air pollution, both transboundary and domestically. Invoking the extant literature that connects media effects with public opinion about air pollution, the analysis proceeds in two stages. First, based on an analysis of Yonhap News Agency reporting, it is shown that the emerging media-based frames are dominated by China and health-related content. Second, and in light of these frames, a survey is conducted of a representative sample of Seoul Metropolitan Area residents to determine how attention to the air pollution issue drives attitudes and, in turn, how such attitudes may be associated with specific pollution-reduction actions. Consistent with the media-based frames, it is shown that one's attentiveness to the air pollution issue increases the importance one places on reducing Korea's air pollution. Knowledge about air pollution also decreases one's satisfaction with both Korea's and China's air pollution-reduction efforts. Knowledge about air pollution does not impact on Koreans' decision to minimize exposure to air pollution outdoors (by wearing masks) or indoors (by using air purifiers), but it does increase the likelihood that one will simply stay indoors, indicating that health concerns are paramount for the average citizen.
This is a preview of subscription content, log in to check access.
Access options
Buy single article
Instant access to the full article PDF.
US$ 39.95
Price includes VAT for USA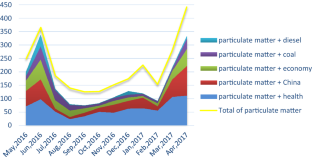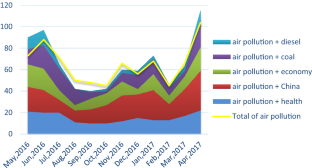 Notes
1.

2.

3.

Institutional Review Board approval granted by the [withheld] IRB on February 15, 2017; Protocol #: IRB2017-014. This survey was part of a larger survey of the Korean public with regard to air pollution.

4.

Specifically, an individual must first request to be a panel member for Embrain, which is followed by an email sent from Embrain's Panel Management Team to request additional information to confirm the validity of the potential panel member's email. To finally confirm that the requesting individual is who s/he says s/he is, an Embrain Panel Management Team member contacts the individual via telephone. This process ensures that heads of households are in fact registering for the service. Management of the panel is conducted by randomly sent invitations for participation in Internet surveys with monetary incentives for participation. The estimated monetary incentive for respondents participating in the present study was approximately $5. Selection bias from targeting only Internet users is alleviated given the nearly 89.9% Internet penetration rate in Korea (CIA World Factbook: https://www.cia.gov/library/publications/the-world-factbook/geos/ks.html).

5.

This is consistent with the sample analyzed below: 9% primarily obtain their news from newspapers, 65% from Internet-based news, 4% from social media, 19% from television and radio, while only the remaining 3% use another source or do not follow the news at all.

6.

Given the potential for priming effects to result from a particular ordering of the second, third, and fourth questions, they were randomly ordered across survey respondents.

7.

The exact language used for the survey can be found in the "Appendix".

8.

It is highly doubtful that the difference between the Korea-satisfaction and the China-satisfaction means is due to other factors such as a general perception that China's air pollution problems are worse than Korea's. Attribution of responsibility is the focus when China is discussed in the context of Korea's air pollution.

9.

The pairwise correlation coefficients among attitudes were all statistically significant at the p < 0.01 level.
References
Ajzen, I. 1991. The theory of planned behavior. Organizational Behavior and Human Decision Processes 50(2): 179–211.

Ajzen, I., and M. Fishbein. 1980. Understanding attitudes and predicting social behavior. Englewood Cliffs: Prentice Hall.

Allan, S. 2011. Introduction: Science journalism in a digital age. Journalism 12(7): 771–777.

Bae, J. 2017. Minjoo party candidate Moon promises to cut 50% of fine dust emissions. The Korea Economic Daily. http://english.hankyung.com/i/2017/04/14/0753191/minjoo-party-candidate-moon-promises-to-cut-50-of-fine-dust-emissions. Accessed 30 Nov 2018.

Bish, A., and S. Michie. 2010. Demographic and attitudinal determinants of protective behaviours during a pandemic: A review. British Journal of Health Psychology 15(4): 797–824.

Bolsen, T., and T.J. Leeper. 2013. Self-interest and attention to news among issue publics. Political Communication 30(3): 329–348.

Chen, H., J.C. Kwong, R. Copes, K. Tu, P.J. Villeneuve, A. Van Donkelaar, P. Hystad, R.V. Martin, B.J. Murray, B. Jessiman, and A.S. Wilton. 2017. Living near major roads and the incidence of dementia, Parkinson's disease, and multiple sclerosis: A population-based cohort study. The Lancet 389(10070): 718–726.

Chikkatur, A.P., A. Chaudhary, and A.D. Sagar. 2011. Coal power impacts, technology, and policy: Connecting the dots. Annual Review of Environment and Resources 36: 101–138.

Choi, N.R., S.P. Lee, J.Y. Lee, C.H. Jung, and Y.P. Kim. 2016. Speciation and source identification of organic compounds in PM10 over Seoul, South Korea. Chemosphere 144: 1589–1596.

Chong, D., and J.N. Druckman. 2013. Identifying frames in political news. In Sourcebook for political communication research methods, measures, and analytical techniques, ed. E.P. Bucy and R.L. Holbert, 238–267. London: Routledge.

Cook, A.G., P. Weinstein, and J.A. Centeno. 2005. Health effects of natural dust: Role of trace elements and compounds. Biological Trace Element Research 103(1): 1–15.

Entman, R.M. 1993. Framing: Toward clarification of a fractured paradigm. Journal of Communication 43(4): 51–58.

Gurajala, S., and J.N. Matthews. 2018. Twitter data analysis to understand societal response to air quality. In Proceedings of the 9th international conference on social media and society (pp. 82–90). Copenhagen: ACM Press.

Hansen, A. 2011. Communication, media and environment: Towards reconnecting research on the production, content and social implications of environmental communication. International Communication Gazette 73(1–2): 7–25.

Holbrook, A.L., M.K. Berent, J.A. Krosnick, P.S. Visser, and D.S. Boninger. 2005. Attitude importance and the accumulation of attitude-relevant knowledge in memory. Journal of Personality and Social Psychology 88(5): 749–769.

Jackson, B. 2017. Coal, dust and hot air: South Korea's dirty energy habit. Korea Expose. https://koreaexpose.com/coal-dust-air-south-korea-dirty-energy/. Accessed 30 Nov 2018.

Jiang, W., Y. Wang, M.-H. Tsou, and X. Fu. 2015. Using social media to detect outdoor air pollution and monitory Air Quality Index (AQI): A geo-targeted spatiotemporal analysis framework with Sina Weibo (Chinese Twitter). PLoS ONE 10(10): e0141185.

Johnson, B.B. 2012. Experience with urban air pollution in Paterson, New Jersey and implications for air pollution communication. Risk Analysis 32(1): 39–53.

Kang, D., and J.-E. Kim. 2014. Fine, ultrafine, and yellow dust: Emerging health problems in Korea. Journal of the Korean Medical Association 29(5): 621–622.

Kang, H., J. Yu, and H. Suh. 2017. Does air pollution affect cosumption behavior? Evidence from Korean retail sales. Inha University IBER working paper series, 2017–4.

Kim, H.-S., D.-S. Kim, H. Kim, and S.-M. Yi. 2012. Relationship between mortality and fine particles during Asian dust, smog-Asian dust, and smog days in Korea. International Journal of Environmental Health Research 22(6): 518–530.

Kim, S. 2017. New coal power plant needs audit. Korea times.

Kim, Y., H. Lee, H. Lee, and Y. Jang. 2015. A study of the public's perception and opinion formation on particulate matter risk (in Korean). 한국언론정보학보 72:52–91.

Kim, Y., W. Myung, H.H. Won, S. Shim, H.J. Jeon, J. Choi, B.J. Carroll, and D.K. Kim. 2015b. Association between air pollution and suicide in South Korea: A nationwide study. PLoS ONE 10(2): e0117929.

Ko, J., H.W. Kwon, H.S. Kim, K. Lee, and M.Y. Choi. 2014. Model for Twitter dynamics: Public attention and time series of tweeting. Physica A 404: 142–149.

Koplitz, S.N., D.J. Jacob, M.P. Sulprizio, L. Myllyvirta, and C. Reid. 2017. Burden of disease from rising coal-fired power plant emissions in Southeast Asia. Environmental Science & Technology 51(3): 1467–1476.

Kyung, S.Y., Y.S. Kim, W.J. Kim, M.S. Park, J.W. Song, H. Yum, H.K. Yoon, C.K. Rhee, and S.H. Jeong. 2015. Guideline for the prevention and management of particulate matter/Asian dust particle-induce adverse health effect on the patients with pulmonary diseases. Journal of the Korean Medical Association 58(11): 1060–1069.

Lee, H.M., R.J. Park, D.K. Henze, S. Lee, C. Shim, H.J. Shin, K.J. Moon, and J.H. Woo. 2017. PM2.5 source attribution for Seoul in May from 2009 to 2013 using GEOS-Chem and its adjoint model. Environmental Pollution 221: 377–384.

Lee, J.-S. 2018a. The environmental costs of Asian dust damages in Korea: Applying a choice experiment. Environmental Economics and Policy Studies 20(3): 641–654.

Lee, J.Y., and Y.P. Kim. 2007. Source apportionment of the particulate PAHs at Seoul, Korea: Impact of long range transport to a megacity. Atmospheric Chemistry and Physics 7: 3587–3596.

Lee, K. 2018. Korea, China, Japan to discuss fine dust. The Korea Times. http://m.koreatimes.co.kr/pages/article.asp?newsIdx=251078. Accessed 30 Nov 2018.

Lee, S., C.-H. Ho, Y.G. Lee, H.-J. Choi, and C.-K. Song. 2013. Influence of transboundary air pollutants from China on the high-PM10 episode in Seoul, Korea for the period October 16–20, 2008. Atmospheric Environment 77: 430–439.

Liu, T., G. He, and A. Lau. 2018. Avoidance behavior against air pollution: Evidence from online search indices for anti-PM2.5 masks and air filters in Chinese cities. Environmental Economics and Policy Studies 20: 325–363.

Miller, M.R., J.B. Raftis, J.P. Langrish, S.G. McLean, P. Samutrtai, S.P. Connell, S. Wilson, A.T. Vesey, P.H. Fokkens, A.J. Boere, and P. Krystek. 2017. Inhaled nanoparticles accumulate at sites of vascular disease. ACS Nano 11(5): 4542–4552.

Ministry of the Environment of Korea. 2018. The 21st tripartite meeting to be held in Japan in 2019. http://eng.me.go.kr/eng/web/board/read.do;jsessionid=U17XdlL1tdYgZkZqics1BG1eQztqDohHuWIFhjJiaOK4n8670qp34mEuansStUsu.meweb1vhost_servlet_engine3?pagerOffset=10&maxPageItems=10&maxIndexPages=10&searchKey=&searchValue=&menuId=21&orgCd=&boardId=902770&boardMasterId=522&boardCategoryId=&decorator=. Accessed 30 Nov 2018.

MOTIE. 2015. Seventh basic electricity supply plan (in Korean). http://www.kpx.or.kr/www/contents.do?key=92. Accessed 30 Nov 2018.

Nawahda, A., K. Yamashita, T. Ohara, J. Kurokawa, and K. Yamaji. 2012. Evaluation of premature mortality caused by exposure to PM2.5 and ozone in East Asia: 2000, 2005, 2020. Water, Air, & Soil Pollution 223(6): 3445–3459.

O'Neill, S.J., H.T. Williams, T. Wiersma, and M. Boykoff. 2015. Dominant frames in legacy and social media coverage of the IPCC Fifth Assessment Report. Nature Climate Change 5: 380–385.

OECD. 2008. OECD environmental outlook to 2030. Paris: OECD.

OECD. 2016. The economic consequences of outdoor air pollution. Paris: OECD Publishing. https://doi.org/10.1787/9789264257474-en.

Oltra, C., and R. Sala. 2018. Percpetion of risk from air pollution and reported behaviors: A cross-sectional survey study in four cities. Journal of Risk Research 21(7): 869–884.

Pearce, D., G. Atkinson, and S. Mourato. 2006. Cost-benefit analysis and the environment: Recent developments. Paris: OECD.

Poon, L. 2018. Seoul's answer to a pollution crisis: Free public transit. https://www.citylab.com/environment/2018/01/seoul-takes-on-air-pollution-with-free-public-transit/550829/. Accessed 30 Nov 2018.

Pope, C.A., and D.W. Dockery. 2006. Health effects of fine particulate air pollution: Lines that connect. Journal of the Air and Waste Management Association 56(6): 709–742.

Power, M.C., M.-A. Kioumourtzoglou, J.E. Hart, O.I. Okereke, F. Laden, and M.G. Weisskopf. 2015. The relation between past exposure to fine particulate air pollution and prevalent anxiety: Observational cohort study. BMJ 350: h1111.

Price, V., and J. Zaller. 1993. Who gets the news? Public Opinion Quarterly 57(2): 133–164.

Qin, C., J. Xu, G. Wong-Parodi, and L. Xue. 2018. Change in public concern and responsive behaviors toward air pollution under the Dome. Risk Analysis. https://doi.org/10.1111/risa.13177.

Qu, Y., J. An, Y. He, and J. Zheng. 2016. An overview of emissions of SO2 and NOx and the long-range transport of oxidized sulfur and nitrogen pollutants in East Asia. Journal of Environmental Sciences 44(June): 13–25.

Shapiro, M.A. 2016. Transboundary air pollution in Northeast Asia: The political economy of yellow dust, particulate matter, and PM2.5. Washington, DC. http://www.keia.org/sites/default/files/publications/kei_aps_shapiro_160518_print.pdf. Accessed 30 Nov 2018.

Shiliang Wang, B.S., M.J. Paul, M.S. Eng, and M. Dredze. 2015. Social media as a sensor of air quality and public response in China. Journal of Medical Internet Research 17(3): e22.

Son, M., Y. Kim, and L. Myllyvirta. 2015. Silent killer: Fine particulate matter. Seoul, Korea. http://www.greenpeace.org/korea/Global/korea/publications/reports/climate-energy/2015/silentkillers_en.pdf. Accessed 30 Nov 2018.

U.S. Energy Information Administration. 2013. International Energy Outlook 2013. Washington, DC: U.S. Energy Information Administration.

Xiang, P., L. Geng, K. Zhou, and X. Cheng. 2017. Adverse effects and theoretical frameworks of air pollution: An environmental psychology perspective. Advances in Psychological Science 25(4): 691–700.

Xinhua News. 2015. China focus: 8,500 arrested for environmental crimes in 2014. Xinhua.

Xinhua News. 2016. Chinese polluters fined US$654 million in 2015. Xinhua.

Xu, J., C.S.F. Chi, and K. Zhu. 2017. Concern or apathy: The attitude of the public toward urban air pollution. Journal of Risk Research 20(4): 482–498.

Xu, Z., and J. Shan. 2018. The effect of risk perception on willingness to pay for reductions in the health risks posed by particulate matter 2.5: A case study of Beijing, China. Energy & Environment 29(8): 1319–1337.

Zastrow, M. 2016. NASA jet gets a sniff of pollution over South Korea. Nature. https://doi.org/10.1038/nature.2016.19875.

Zhao, H., F. Wang, C. Niu, H. Wang, and X. Zhang. 2018. Red warning for air pollution in China: Exploring residents' perceptions of the first two red warnings in Beijing. Environmental Research 161: 540–545.

Zou, G., Y. Gan, Q. Ke, N. Knoll, C. Lonsdale, and R. Schwarzer. 2015. Avoiding exposure to air pollution by using filtering facemask respirators: An application of the health action process approach. Health Psychology 35(2): 141–147.
Acknowledgements
This project was made possible through funding from the EWHA-KACA Research Award of the Ewha Womans University, Division of Communication and Media (EWHA) and the Korea American Communication Association (KACA). This work is also supported by the Korea Research Foundation Grant funded by the Korean Government (MEST) (NRF-2016S1A5A2A03927685). An earlier version of this paper was presented at the 2017 Association for Asian Studies-in-Asia Conference at Korea University, Seoul, Korea. The authors are grateful for translation assistance from Jiwon Kim and Suyang Kang.
Appendix
Appendix
Survey instrument
To what extent is it important to take action to reduce Korea's air pollution?
한국이 대기오염 감축을 위해 대책을 세우는 일이 얼마나 중요하다고 생각하십니까?
Extremely unimportant전혀 중요하지 않다.
Very unimportant중요하지 않다.
Somewhat unimportant다소 중요하지 않다.
Neutral 보통이다
Somewhat important다소 중요하다.
Very important중요하다.
Extremely important 매우 중요하다.
[The three following questions are randomly ordered.]
To what extent is it necessary for Korea to coordinate with China to reduce Korea's air pollution?
대기오염 감축을 위해 한국이 중국과 함께 대책을 세우는 것이 얼마나 필요하다고 생각하십니까?
Extremely unnecessary전혀 필요하지 않다.
Very unnecessary필요하지 않다.
Somewhat unnecessary조금 필요하지 않다.
Neutral 보통이다
Somewhat necessary조금 필요하다.
Very necessary필요하다.
Extremely necessary매우 필요하다.
To what extent are you satisfied with Korea's efforts to reduce its air pollution?
대기오염 감축을 위한 한국의 노력에 어느정도 만족하십니까?
Extremely unsatisfied매우 불만족
Very unsatisfied불만족
Somewhat unsatisfied다소 불만족
Neutral 중간
Somewhat satisfied다소 만족
Very satisfied만족
Extremely satisfied 매우 만족
To what extent are you satisfied with China's efforts to reduce its air pollution?
대기오염 감축을 위한 중국의 노력에 어느정도 만족하십니까?
Extremely unsatisfied매우 불만족
Very unsatisfied불만족
Somewhat unsatisfied다소 불만족
Neutral 중간
Somewhat satisfied다소 만족
Very satisfied만족
Extremely satisfied 매우 만족
If applicable, which of the following methods do you regularly use to reduce the effects of air pollution? Check all that apply.
만약 해당된다면, 대기오염의 영향을 줄이기 위해 다음 중 어떤 방법을 규칙적으로 사용하십니까? 해당되는 모든 선택지에 체크해 주십시오.
Wearing a hospital-style face mask 일반 마스크
Wearing a respirator-style face mask 방독마스크
Covering face with scarf or other clothing 스카프나 옷으로 얼굴을 가린다.
Using an air filtration machine at home 가정에서 공기청정기 사용
Using an air filtration machine at work 직장에서 공기청정기 사용
Staying inside as much as possible 가급적 실내에 있는다.
Which of the following contribute to air pollution? (check all that apply)
다음 중 대기오염에 영향을 미치는 오염물질은 어느 것입니까? (해당되는 사항에 모두 체크해주십시오.)
Carbon dioxide (CO2) 이산화탄소(CO2)
Carbon monoxide (CO) 일산화탄소(CO)
Nitrogen oxides (NOx) 질소산화물(NOX)
PM2.5 초미세먼지
Sulfur oxides (SOx) 황산화물(SOX)
How many people in your household suffer from respiratory problems?
귀하의 가정에서 몇 분이 호흡기 관련된 문제를 가지고 있습니까?
None 없음
1 person 1명
2 people 2명
3 or more people 3명 이상
How hours per day do you spend outdoors?
귀하는 하루 평균 몇 시간을 야외에서 보내십니까?
1–24. [1시간-24시간]
About this article
Cite this article
Shapiro, M.A., Bolsen, T. Transboundary Air Pollution in South Korea: An Analysis of Media Frames and Public Attitudes and Behavior. East Asian Community Rev 1, 107–126 (2018). https://doi.org/10.1057/s42215-018-0009-1
Received:

Revised:

Accepted:

Published:

Issue Date:
Keywords
Korean air pollution

Pollution-averting behavior

Public opinion

Media-based frames

Transboundary air pollution