"Each Member shall accord to the nationals of other Members treatment no less favorable than that it accords to its own nationals with regard to the protection of intellectual property […]".

TRIPS Agreement, Article 3.1.
Abstract
Inventions of foreign origin are about ten percentage points less likely to be granted a U.S. patent than domestic inventions. An empirical analysis of 1.5 million U.S. patent applications identifies three systematic differences between foreign and domestic patent applications that partly explain this bias. They include differences in patent agents, the financial resources of the applicants, and the level of effort that applicants put into the prosecution process. We find no evidence of disparate treatment ('intentional discrimination') of foreigners. Instead, our evidence points to a disparate impact ('unintentional discrimination') of the U.S. patent system on foreign inventors. Our results suggest unequal access to the patent system for foreigners compared to locals (but also for small U.S. firms). Giving examiners the power of (truly) rejecting a patent application may be one solution to level the playing field between foreigners and locals, but also between large and small firms.
Access options
Buy single article
Instant access to the full article PDF.
USD 39.95
Price excludes VAT (USA)
Tax calculation will be finalised during checkout.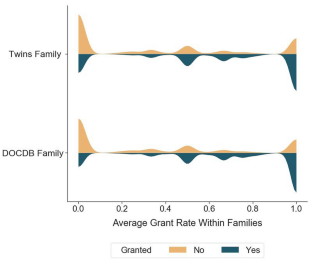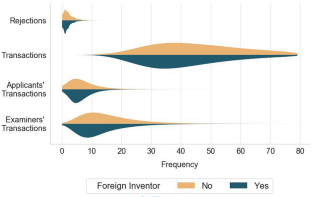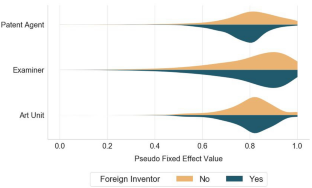 References
American Intellectual Property Law Association. 2015. 2015 Report of the Economic Survey. Arlington: AIPLA.

Belderbos, R., Leten, B., & Suzuki, S. 2013. How global is R&D? Firm-level determinants of home-country bias in R&D. Journal of International Business Studies, 44(8): 765–786.

Bertrand, M., & Mullainathan, S. 2004. Are Emily and Greg more employable than Lakisha and Jamal? A field experiment on labor market discrimination. American Economic Review, 94(4): 991–1013.

Bessen, J. E., & Meurer, M. J. 2008. Patent failure: How judges, bureaucrats, and lawyers put innovators at risk. Princeton: Princeton University Press.

Beukel, K., & Zhao, M. 2018. IP litigation is local, but those who litigate are global. Journal of International Business Policy, 1(1–2): 53–70.

Bizumic, B., & Duckitt, J. 2012. What is and is not ethnocentrism? A conceptual analysis and political implications. Political Psychology, 33(6): 887–909.

Boeing, P., & Mueller, E. 2016. Measuring patent quality in cross-country comparison. Economics Letters, 149: 145–147.

Brander, J. A., Cui, V., & Vertinsky, I. 2017. China and intellectual property rights: A challenge to the rule of law. Journal of International Business Studies, 48(7): 908–921.

Brewer, M. B., & Gaertner, S. L. 2001. Toward reduction of prejudice: Intergroup contact and social categorization. In R. Brown & S. L. Gaertner (Eds.), Blackwell handbook of social psychology: Intergroup processes: 451–472. Malden, MA: Blackwell.

Carlsson, M., & Rooth, D. O. 2007. Evidence of ethnic discrimination in the Swedish labor market using experimental data. Labour Economics, 14(4): 716–729.

Correa, C. M. 2000. Intellectual property rights, the WTO and developing countries: The TRIPS agreement and policy options. London: Zed Books.

Correia, S. 2017. REGHDFE: Stata module for linear and instrumental-variable/gmm regression absorbing multiple levels of fixed effects. Statistical Software Components s457874. Available at: https://ideas.repec.org/c/boc/bocode/s457874.html.

Criscuolo, P. 2006. The 'home advantage' effect and patent families. A comparison of OECD triadic patents, the USPTO and the EPO. Scientometrics, 66(1): 23–41.

Dang, J., & Motohashi, K. 2015. Patent statistics: A good indicator for innovation in China? Patent subsidy program impacts on patent quality. China Economic Review, 35: 137–155.

de Rassenfosse, G., Dernis, H., & Boedt, G. 2014. An introduction to the Patstat database with example queries. Australian Economic Review, 47(3): 395–408.

de Rassenfosse, G., Griffiths, W. E., Jaffe, A. B., & Webster, E. 2019a. Low-quality patents in the eye of the beholder: Evidence from multiple examiners. National Bureau of Economic Research WP No. 22244.

de Rassenfosse, G., Jensen, P. H., Julius, T., Palangkaraya, A., & Webster, E. 2019b. Are Foreigners Treated Equally under the Trade-Related Aspects of Intellectual Property Rights Agreement? Journal of Law and Economics, 62(4): 663–685.

de Rassenfosse, G., & Raiteri, E. 2016. Technology Protectionism and the Patent System: Strategic Technologies in China. Available at SSRN:. https://doi.org/10.2139/ssrn.2803379.

Drechsler, J., Bachmann, J. T., & Engelen, A. 2019. The effect of immigrants in the founding team on the international attention of new ventures. Journal of International Entrepreneurship, 17: 305–339.

Graham, S. J., Hall, B. H., Harhoff, D., & Mowery, D. C. 2002. Post-issue patent 'quality control': A comparative study of US patent re-examinations and European patent oppositions. National Bureau of Economic Research Working Paper No. 8807.

Graham, S. J., Marco, A. C., & Miller, R. 2018. The USPTO patent examination research dataset: A window on patent processing. Journal of Economics & Management Strategy, 27(3): 554–578.

Guerrini, C. J. 2014. Defining patent quality. Fordham Law Review, 82(6): 3091–3141.

Hammond, R. A., & Axelrod, R. 2006. The evolution of ethnocentrism. Journal of Conflict Resolution, 50(6): 926–936.

Harhoff, D., & Wagner, S. 2009. The duration of patent examination at the European Patent Office. Management Science, 55(12): 1969–1984.

Harris, D. P. 2009. The honeymoon is over: Evaluating the United States' WTO intellectual property complaint against China. Fordham International Law Journal, 32: 2008–2076.

Helfgott, S. 1990. Cultural differences between the U.S. and Japanese patent systems. Journal of the Patent & Trademark Office Society, 72: 231–238.

Hofstede, G. 1980. Culture's consequences: International differences in work-related values. Beverly Hills: Sage.

Hofstede, G., Hofstede, G. J., & Minkov, M. 2010. Cultures and Organizations: Software of the Mind, 3rd edition. New York: McGraw-Hill.

Hridoy, S. A. A., Ekram, M. T., Islam, M. S., Ahmed, F., & Rahman, R. M. 2015. Localized twitter opinion mining using sentiment analysis. Decision Analytics, 2(1): 8.

Ivus, O. 2015. Does stronger patent protection increase export variety? Evidence from US product-level data. Journal of International Business Studies, 46(6): 724–731.

Jaffe, A. B., & de Rassenfosse, G. 2017. Patent citation data in social science research: Overview and best practices. Journal of the Association for Information Science and Technology, 68(6): 1360–1374.

Jaffe, A. B., & Lerner, J. 2004. Innovation and Its Discontents: How Our Broken Patent System is Endangering Innovation and Progress, and What to Do About It. Princeton: Princeton University Press.

Kaas, L., & Manger, C. 2012. Ethnic discrimination in Germany's labour market: A field experiment. German Economic Review, 13(1): 1–20.

Konara, P., & Mohr, A. 2019. Why we should stop using the Kogut and Singh Index. Management International Review, 59(3): 335–354.

Kotabe, M. 1992. A comparative study of US and Japanese patent systems. Journal of International Business Studies, 23(1): 147–168.

Lehmann-Hasemeyer, S., & Streb, J. 2018. Discrimination against foreigners. The Wuerttemberg patent law in administrative Practice. Priority Programme 1859 Working Paper Series No 7.

Lemley, M. A., & Moore, K. A. 2004. Ending abuse of patent continuations. Boston University Law Review, 84(1): 63–124.

Lemley, M. A., & Shapiro, C. 2005. Probabilistic patents. Journal of Economic Perspectives, 19(2): 75–98.

LeVine, R. A., & Campbell, D. T. 1972. Ethnocentrism. New York: Wiley.

Liang, M. 2012. Chinese patent quality: Running the numbers and possible remedies. John Marshall Review of Intellectual Property Law, 11: 478–522.

Liegsalz, J., & Wagner, S. 2013. Patent examination at the State IP office in China. Research Policy, 42(2): 552–563.

Lyman, S. M. 2000. The "Yellow Peril" mystique: Origins and vicissitudes of a racist discourse. International Journal of Politics, Culture, and Society, 13(4): 683–747.

Marco, A. C., Sarnoff, J. D., & Charles, A. W. 2019. Patent claims and patent scope. Research Policy, 48(9): 103790.

Martínez, C. 2011. Patent families: When do different definitions really matter? Scientometrics, 86(1): 39–63.

Maskus, K. E., & Penubarti, M. 1995. How trade-related are intellectual property rights? Journal of International Economics, 39(3–4): 227–248.

Morgan, R., Lundine, J., Irwin, B., & Grépin, K. A. 2019. Gendered geography: An analysis of authors in The Lancet Global Health. The Lancet Global Health, 7(12): e1619–e1620.

Ogan, C., Willnat, L., Pennington, R., & Bashir, M. 2014. The rise of anti-Muslim prejudice: Media and islamophobia in Europe and the United States. International Communication Gazette, 76(1): 27–46.

Palangkaraya, A., Jensen, P. H., & Webster, E. 2017. The effect of patents on trade. Journal of International Economics, 105: 1–9.

Popp, D., Juhl, T., & Johnson, D. 2003. Time in purgatory: Determinants of the grant lag for US patent applications. Topics in Economic Analysis and Policy, 4: 1–43.

Prud'homme, D., & Zhang, T. 2019. China's Intellectual Property Regime for Innovation: 237. Cham: Springer.

Sampat, B. N., & Amin, T. 2013. How do public health safeguards in Indian patent law affect pharmaceutical patenting in practice? Journal of Health Politics, Policy and Law, 38(4): 735–755.

Sumner, W. G. 1906. Folkways: A Study of the Sociological Importance of Usages, Manners, Customs, Mores, and Morals. New York: Ginn.

Tong, T., Zhang, K., He, Z. L., & Zhang, Y. C. 2018. What determines the duration of patent examination in China? An outcome-specific duration analysis of invention patent applications at SIPO. Research Policy, 47(3): 583–591.

Webster, E., Jensen, P. H., & Palangkaraya, A. 2014. Patent examination outcomes and the national treatment principle. The Rand Journal of Economics, 45(2): 449–469.

Yang, D. 2008. Pendency and grant ratios of invention patents: A comparative study of the US and China. Research Policy, 37(6–7): 1035–1046.

Yang, D. 2019. National treatment, institutions, and IP uncertainties: An analytics of compliance, change and comparability. International Business Review, 28(5): 101585.

Yang, D., & Sonmez, M. 2018. Global norm of national treatment for patent uncertainties: A longitudinal comparison between the US and China. Journal of World Business, 53(2): 164–176.

Ye, J., Han, S., Hu, Y., Coskun, B., Liu, M., Qin, H., & Skiena, S. 2017. Nationality classification using name embeddings. Proceedings of the 2017 ACM on Conference on Information and Knowledge Management, 1897–1906.

Ye, J., & Skiena, S. 2019. The Secret Lives of Names? Name Embeddings from Social Media. Proceedings of the 25th ACM SIGKDD International Conference on Knowledge Discovery & Data Mining, 3000–3008.
Acknowledgment
The authors are grateful to Andy Toole as well as three anonymous referees for useful comments.
Additional information
Accepted by Suma Athreye, Area Editor, 15 May 2020. This article has been with the authors for two revisions.
Publisher's Note
Springer Nature remains neutral with regard to jurisdictional claims in published maps and institutional affiliations.
Electronic supplementary material
Below is the link to the electronic supplementary material.
About this article
Cite this article
de Rassenfosse, G., Hosseini, R. Discrimination against foreigners in the U.S. patent system. J Int Bus Policy 3, 349–366 (2020). https://doi.org/10.1057/s42214-020-00058-6
Received:

Revised:

Accepted:

Published:

Issue Date:

DOI: https://doi.org/10.1057/s42214-020-00058-6
Keywords
foreign bias

discrimination

disparate impact

national treatment principle

patent system