The destinies of nations are elaborated at present in the heart of the masses, and no longer in the councils of princes. – Gustave Le Bon, 1896, p. xvii
Abstract
Populism is rising in many parts of the world and appears from both ends of the political spectrum. I identify two distinct global trends that underlie its rise. First, the rising knowledge-intensity of world output has turned the terms of trade against primary activities like agriculture and mining. Countries that have remained dependent on these activities have seen their economies stall. Second, falling spatial transaction costs have resulted in the rise of disaggregated global value chains, wherein low-knowledge activities have migrated away from high-income countries. This has led to a secular decline the standards of living of low-knowledge workers in these countries. The first trend is most pronounced in Latin America; here class-based leftist populist ire targets domestic elites that have insulated themselves, often through capital flight. The second trend is most visible in North America and Europe; here rightist populist anger is aimed at workers in (and immigrants from) poorer countries, who are seen as "stealing" low-knowledge jobs. Finally, I note that these economic explanations of rising populism are incomplete. In many quarters, the current form of globalization is seen as threatening national identity and this may be an even more powerful source of populism.
Access options
Buy single article
Instant access to the full article PDF.
US$ 39.95
Tax calculation will be finalised during checkout.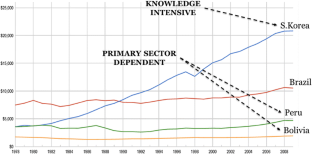 References
Acemoglu, D., & Robinson, J. 2000. Political losers as a barrier to economic development. American Economic Review, 90(2): 126–130.

Amsden, A. 1989. Asia's next giant: South Korea and late industrialization. Oxford: Oxford University Press.

Auty, R. 2001. The political economy of resource-driven growth. European Economic Review, 45(4–6): 839–846.

Awate, S., Larsen, M., & Mudambi, R. 2012. EMNE catch-up strategies in the wind turbine industry: Is there a tradeoff between output and innovation capabilities? Global Strategy Journal, 2(3): 205–223.

Baldwin, P. 1990. The politics of social solidarity: Class bases of the European welfare state, 1875-1975. Cambridge, UK: Cambridge University Press.

Baldwin, R. 2011. Trade and industrialization after globalization's second unbundling: How building and joining a supply chain are different and how it matters. NBER Working Paper 17716, December. Cambridge, MA.

Beugelsdijk, S., & Mudambi, R. 2013. MNEs as border-crossing multi-location enterprises: The role of discontinuities in geographic space. Journal of International Business Studies, 44(5): 413–426.

Brader, T., Valentino, N., & Suhay, E. 2008. What triggers public opposition to immigration? Anxiety, group cues, and immigration threat. American Journal of Political Science, 52(4): 959–978.

Brewer, J. 1988. The sinews of power: War, money and the English state. Cambridge, MA: Harvard University Press.

Brown, R. 2000. Clusters, supply chains and local embeddedness in Fyrstad. European Urban and Regional Studies, 7(4): 291–305.

Cairncross, F. 1997. The death of distance: How the communications revolution will change our lives. Boston, MA: Harvard Business Review Press.

Daemmrich, A., & Kramarz, B. 2012. Denmark: Globalization and the welfare state. Harvard Business School Case 9-709-015, June 12.

Dunning, J. H., & Lundan, S. 2008. Multinatonal enterprises and the global economy (2nd Ed). Cheltenham, UK: Edward Elgar.

Durkheim, E. 1938. The rules of the sociological method, 8th ed. New York: The Free Press.

Fairlie, S. 1969. The Corn Laws and British wheat production, 1829–76. Economic History Review, 22(1): 88–110.

Ferguson, T., & Galbraith, J. 1998. The American wage structure, 1920–1947. Levy Economics Institute Working Paper No.249.

Gertler, M. 1996. Worlds apart: The changing market geography of the German machinery industry. Small Business Economics, 8: 87–106.

Granovetter, M. 1985. Economic action and social structure: The problem of embeddedness. American Journal of Sociology, 91(3): 481–510.

Green-Pedersen, C., & Odmalm, P. 2008. Going separate ways? Right-wing parties and the immigrant issue in Denmark and Sweden. Journal of European Public Policy, 15(3): 367–381.

Grossman, G., & Rossi-Hansberg, E. 2008. Trading tasks: a simple theory of offshoring. American Economic Review, 98(5): 1978–1997.

Hannigan, T. J., Lee, A., & Mudambi, R. 2013. The pitfalls of an inward oriented economy: Lessons from the evolution of Brazil and the Republic of Korea. Transnational Corporations, 22(2): 1–24.

Helleiner, E. 1994. States and the re-emergence of global finance: from Bretton Woods to the 1990s. Ithaca: Cornell University Press.

Hill, C., & Hult, T. 2016. International business: Competing in the global marketplace, 11th ed. New York: McGraw-Hill.

Hirschman, A. O. 1968. The political economy of import-substituting industrialization in Latin America. Quarterly Journal of Economics, 82(1): 1–32.

Irwin, D. 2011. Peddling protectionism: Smoot-Hawley and the Great Depression. Princeton: Princeton University Press.

Isaksen, A. 1997. Regional clusters and competitiveness: The Norwegian case. European Planning Studies, 5(1): 65–76.

Jacob, M. 1997. Scientific culture and the making of the industrial West. Oxford: Oxford University Press.

Jones, G., & Zeitlin, J. 2008. The Oxford handbook of business history. Oxford: Oxford University Press.

King, D. A. 2004. The scientific impact of nations. Nature, 430(15 July): 311–316.

Klier, T., & McMillen, D. 2008. Evolving agglomeration in the U.S. auto supplier industry. Journal of Regional Science, 48(1): 245–267.

Kojima, K. 2000. The 'flying geese' model of Asian economic development: Origin, theoretical extensions and regional policy implications. Journal of Asian Economics, 11(4): 375–401.

Le Bon, G. 1896. The crowd: A study of the popular mind. New York: Macmillan.

Lee, K. 2013. Schumpeterian analysis of economic catch-up: Knowledge, path-creation and the middle-income trap. Cambridge, UK: Cambridge University Press.

Maier, C. 1977. The politics of productivity: Foundations of American international economic policy after World War II. International Organization, 31(4): 607–633.

Meyer, K., Mudambi, R., & Narula, R. 2011. Multinational enterprises and local contexts: The opportunities and challenges of multiple embeddedness. Journal of Management Studies, 48(2): 235–252.

Mudambi, R. 1998. International financial management – A review. Journal of Finance, 53(3): 1194–1197.

Mudambi, R. 2008. Location, control and innovation in knowledge-intensive industries. Journal of Economic Geography, 8(5): 699–725.

Mudambi, R. 2013. Flatness: The global disaggregation of value creation. In G. Cooke & J. Johns (Eds.), The changing geography of international business: 9–16. London: Palgrave-Macmillan.

Ng, I. C. L., & Tseng, L.-M. 2008. Learning to be sociable: The evolution of Homo Economicus. American Journal of Economics and Sociology, 67(2): 265–286.

O'Brien, P., & Keyder, C. 1978. Economic growth in Britain and France 1780–1914: Two paths to the twentieth century. London: George Allen & Unwin Ltd.

Ouchi, W. G. 1980. Markets, bureaucracies, and clans. Administrative Science Quarterly, 25(1): 129–141.

Pew Research Center. 2014. Faith and skepticism about trade, foreign investment. September. Pew Charitable Trusts, Washington, DC.

Phillips, J. 2005. Heidegger's Volk: Between National Socialism and Poetry. Palo Alto, CA: Stanford University Press.

Porter, M. 2000. Location, competition, and economic development: Local clusters in a global economy. Economic Development Quarterly, 14(1): 15–34.

Prebisch, R. 1962. The economic development of Latin America and its principal problems. Economic Bulletin for Latin America, 7(1): 1–22.

Rodrik, D. 2018. Populism and the economics of globalization. Journal of International Business Policy. https://doi.org/10.1057/s42214-018-0001-4.

Sachs, J., & Warner, A. 2001. The curse of natural resources. European Economic Review, 45(4–6): 827–838.

Saxenian, A. 2007. The New Argonauts: Regional advantage in a global economy. Cambridge, MA: Harvard University Press.

Schotter, A., Mudambi, R., Doz, Y., & Gaur, A. 2017. Boundary spanning in global organizations. Journal of Management Studies, 54(4): 403–421.

Scott, A. J. 2005. On Hollywood: The place, the industry. Princeton: Princeton University Press.

U.S. Bureau of the Census. 1976. Statistical abstract of the United States 1976. Washington DC: Department of Commerce.

U.S. Bureau of Labor Statistics. 2016. State employment and wage estimates - Michigan. Washington DC: U.S. Department of Labor, May.

Wadhwa, V. 2012. The immigrant exodus: Why America is losing the race to capture entrepreneurial talent. Philadelphia, PA: Wharton Digital Press.

Walters, W. 2000. American naval shipbuilding: 1890–1989. Geographical Review, 90(3): 418–431.

Wood, A. 1997. Openness and wage inequality in developing countries: The Latin American challenge to East Asian conventional wisdom. World Bank Economic Review, 11(1): 33–57.
Acknowledgements
I would like thank the editors, Sarianna Lundan and Ari van Assche, for perceptive comments that significantly improved the paper. Stanley Ridgley gave me a number of key insights that helped me better ground my arguments in the history of political philosophy. Years of discussions with T.L. Hill have informed several of the points made in this manuscript. Finally, I was really motivated to turn my oral commentary into a written one by the encouragement of leading scholars like Ruth Aguilera, Ari Lewin, Alain Verbeke, and many others.
Additional information
Accepted by Sarianna Lundan, Editor-in-Chief, 19 March 2018. This paper has been with the author for one revision.
About this article
Cite this article
Mudambi, R. Knowledge-intensive intangibles, spatial transaction costs, and the rise of populism. J Int Bus Policy 1, 44–52 (2018). https://doi.org/10.1057/s42214-018-0005-0
Received:

Revised:

Accepted:

Published:

Issue Date:
Keywords
populism

high skill jobs

innovation

low skill workers

offshoring

globalization

spatial transaction costs