Abstract
Political, military and humanitarian crises endanger regional order. But even though regional powers are expected to act as stabilizers in these cases, their responses to dire demands vary in intensity and loci. Reactions go from zealous engagement to prolonged indifference and reluctance, often leaning on global multilateral institutions as well as regional or ad hoc mechanisms. This study explores the variation in the provision of stability by regional powers via a mixed-methods approach. By contrasting the intensity of regional crises with issue salience at the UN General Assembly, we select crises that drew varying attention from regional powers, despite similar severity. Focusing on Brazil and South Africa as potential regional stabilizers, we compare responses to regional crises that displayed high (Haiti and Somalia) and low (Colombia and Congo-Brazzaville) salience. We find that domestic support, concerns with status and potential competition with other stabilizers tend to play a large part in calibrating regional power responses.
Access options
Buy single article
Instant access to the full article PDF.
USD 39.95
Price excludes VAT (USA)
Tax calculation will be finalised during checkout.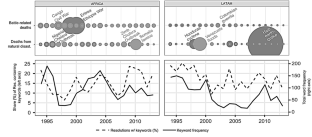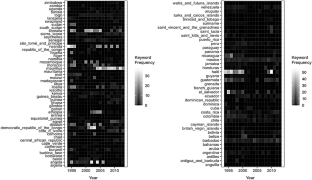 Notes
Comparing 1688 instances of maritime and territorial disputes, Hansen et al. (2008) show disputants only opted for an institutionalized solution in 10% of the cases.

Other types of crises could have been contemplated (e.g. democratic ruptures). Nonetheless, narrowing them to disasters and conflicts affords a common metric for severity (human casualties).

Given that content analysis could detect mentions to countries unrelated to crises, when assessing which cases to choose, we considered only mentions synchronic to crises and ignored mentions resulting from unrelated UN conventions and initiatives hosted by a given country (e.g. the 'Mauritius Initiative' from 2004 onwards). Figures 1 and 2 show, nonetheless, the original unfiltered counts.

Source: https://fts.unocha.org/appeals/337/flows. Brazil's UN-level pledges also overlapped with bilateral initiatives that the country already planned to roll out in support of Haiti (Phone interview with senior Brazilian diplomat #1, who served in MRE's Department for Central America and the Caribbean, 05 March, 2020).

The Medida Provisória N.480 on budgetary support was passed by President Lula da Silva on 26 January, 2010, two weeks after the earthquake.

A 'Facilitating Commission' was formed in March 2001, composed of Canada, Cuba, Spain, France, Italy, Mexico, Norway, Sweden, Switzerland and Venezuela. Members were chosen in common accord with the FARC.

According to a 2017 estimate, approximately 35% of Colombian drugs were smuggled via Brazilian criminal organizations (Soto 2017). According to the UN 2011 World Drug Report, Brazil was the most prominent cocaine transit country in the Americas, in terms of total seizures, with the number of cases rising 'from 25 in 2005 (amounting to 339 kg of cocaine) to 260 in 2009 (amounting to 1.5 mt)' (UNODC 2011: 109).

Among 15 alternatives, 'international narcotrafficking' was the second most important external threat, evaluated as 'critical' by 64% of surveyed experts, 'important but not critical' by 33% and 'not a threat' by 3%. In contrast, scores for 'the conflict between the guerrilla and the Colombian government' were 29% (critical), 58% (important but not critical), 12% (not a threat). Figures on the Colombian conflict were similar on multiple editions of the survey (2001 and 2008) (Souza 2009).

The 'no threat' interpretation was also relayed in phone interview #2 (04 March, 2020) with a former senior Brazilian diplomat, who served in the Brazilian mission in Bogotá. Major military infrastructure projects included the Amazon Surveillance System (SIVAM), launched in 2002, and the Calha Norte Project, which had a tenfold budget increase between 2003 and 2005 (Monteiro 2011).

Interview #2. Note that Finland was not a mediator at first, but was later included in the Facilitating Commission, along with 10 additional European countries.

Address by President Jacob Zuma in Response to the Debate on the State of the Nation Address, National Assembly, Cape Town, 17 February 2011. Available at: https://www.gov.za/node/537769.

As part of the SADC aid contribution to Somalia, Angola pledged 6649 tons of food and non-food items, Mozambique pledged 65 tons of food, Namibia pledged 242 tons of food, and Tanzania pledged 503 tons of food and non-food items. South Africa transported it all to Somalia.

Remarks by Deputy Minister of International Relations and Cooperation Marius Fransman, at the Knowledge Sharing Workshop on Somalia—"South Africa's Role in Peace-Building and Reconstruction of Somalia", 19 September 2012, Cape Town.

Since the 1990s, up to four waves of Somali migrants have arrived in South Africa, drawn by the formal and informal socio-economic and political characteristics of the country, amounting to a nearly 30,000 diaspora in-country (Jinnah 2015).
References
Abbott, K., and D. Snidal. 1998. Why states act through formal international organizations. The Journal of Conflict Resolution 42 (1): 3–32.

Achour, M., and N. Lacan. 2012. Drought in Somalia: A migration crisis. In The State of Environmental Migration 2011, ed. F. Gemenne, P. Brücker, and D. Ionesco, 75–90. Paris: Institute for Sustainable Development and International Relations/International Organization for Migration.

Alden, C., and M. Schoeman. 2013. South Africa in the company of giants: The search for leadership in a transforming global order. International Affairs 89 (1): 111–129.

Boulden, J. 2013. The United Nations Security Council and Conflict in Africa. In Responding to Conflict in Africa: The United Nations and Regional Organizations, ed. J. Boulden, 13–32. New York: Palgrave Macmillan.

Brazilian Ministry of Defense. 2011 O Brasil no Haiti: o esforço da reconstrução. https://www.defesa.gov.br/arquivos/File/2011/mes02/livreto_haiti.pdf. Accessed 06 March 2020.

Brosig, M. 2015. Cooperative Peacekeeping in Africa: Exploring Regime Complexity. Abingdon: Routledge.

Castro, A.D. 2009. A Crise na Colômbia: Impactos e Implicações para o Brasil. Brasília: FUNAG.

Checchi, F., and W.C. Robinson. 2013. Mortality Among Populations of Southern and Central Somalia Affected by Severe Food Insecurity and Famine During 2010–2012. Rome: FAO.

Clark, J.F. 1998. Foreign intervention in the civil war of the Congo Republic. Issue: A Journal of Opinion 26 (1): 31–36.

Closa, C., and S. Palestini. 2018. Tutelage and regime survival in regional organizations' democracy protection: The case of MERCOSUR and UNASUR. World Politics 70 (3): 443–476.

Curtis, D.E.A. 2019. South Africa's peacemaking efforts in Africa: Ideas, Interests and influence. In Foreign Policy in Post-Apartheid South Africa: Security, Diplomacy and Trade, eds. A. Adebajo and K. Virk, 69–92. Cape Town: I.B. Taurus.

Destradi, S. 2010. Regional powers and their strategies: Empire, hegemony, and leadership. Review of International Studies 36 (4): 903–930.

Destradi, S. 2018. Reluctant powers? Rising powers' contributions to regional crisis management. Third World Quarterly 39 (12): 2222–2239.

EM-DAT: The Emergency Events Database-Université Catholique de Louvain (UCLouvain)-CRED, D. Guha-Sapir-www.emdat.be, Brussels, Belgium.

Feldmann, A.E., F. Merke, and O. Stuenkel. 2019. Argentina, Brazil and Chile and democracy defence in Latin America: Principled calculation. International Affairs 95 (2): 447–467.

Frazier, D., and R. Stewart-Ingersoll. 2010. Regional powers and security: A framework for understanding order within regional security complexes. European Journal of International Relations 16 (4): 731–753.

Greig, J.M., A.P. Owsiak, and P.F. Diehl. 2019. International Conflict Management. Cambridge: Polity Press.

Guimarães, F.S., and M.E. Maitino. 2019. Socializing Brazil into regional leadership: The 2006 Bolivian gas crisis and the role of small powers in promoting master roles transitions. Foreign Policy Analysis 15 (1): 1–20.

Guimarães, F.S., and M.H. Tavares de Almeida. 2017. From middle powers to entrepreneurial powers in world politics: Brazil's successes and failures in international crises. Latin American Politics and Society 59 (4): 26–46.

Haas, E.B. 1983. Regime decay: Conflict management and international organizations. International Organization 37 (2): 189–256.

Haiti Reconstruction Fund. 2015. Annual Report 2014–2015. https://www.haitireconstructionfund.org/system/files/documents/15FRH001-AnnualReport-ENGLISH_Web.pdf. Accessed 06 March 2020.

Hansen, H.E., M.S. McLaughlin, and S.C. Nemeth. 2008. IO mediation of interstate conflicts: Moving beyond the global versus regional dichotomy. Journal of Conflict Resolution 52 (2): 295–325.

Hecht, C. 2016. The shifting salience of democratic governance: Evidence from the United Nations general assembly general debates. Review of International Studies 42 (5): 915–938.

Hermann, C.F. 1969. International crisis as a situational variable. In International Politics and Foreign Policy, ed. J.N. Rosenau, 409–421. New York: Free Press.

Hirst, M. 2007. A intervenção sul-americana no Haiti. Análise de conjuntura OPSA 6, 1–15.

Hofmann, S.C. 2019. The politics of overlapping organizations: Hostage-taking, forum-shopping and brokering. Journal of European Public Policy 26 (6): 883–905.

Human Rights Watch. 2000. South Africa–A Question of Principle: Arms Trade and Human Rights. New York: HRW.

Hurrell, A. 2010. Regional powers and the global system from a historical perspective. In Regional Leadership in the Global System: Ideas, Interests and Strategies of Regional Powers, ed. D. Flemes, 15–27. Farnham: Ashgate.

Jinnah, Z. 2015. Rational routes? Understanding Somali migration to South Africa. In Mobility and Migration Choices: Thresholds to Crossing Borders, ed. M.V.D. Velde and T.V. Naerssen, 43–54. London and New York: Routledge.

Kacowicz, A.M. 2018. Regional governance and global governance: Links and explanations. Global Governance 24 (1): 61–79.

Kacowicz, A.M., and G. Press-Barnathan. 2016. Regional security governance. In The Oxford Handbook of Comparative Regionalism, ed. T.A. Börzel and T. Risse, 297–322. Oxford: Oxford University Press.

Lampreia, L.F. 2010. Luiz Felipe Lampreia (2008 interview). Rio de Janeiro: CPDOC.

Landsberg, C. 2002. The impossible neutrality? South Africa's policy in the Congo War. In The African Stakes of the Congo War, ed. J.F. Clark, 169–184. New York: Palgrave Macmillan.

Lima, J.A. 2017. Além do Haiti: A quem se destina a cooperação humanitária brasileira? Boletim De Economia e Política Internacional IPEA 23: 73–99.

Maxwell, D., and M. Fitzpatrick. 2012. The 2011 Somalia famine: Context, causes, and complications. Global Food Security 1 (1): 5–12.

Mesquita, R., and P. Seabra. 2020. Go global or go home: Comparing the regional vs. global engagement of Brazil and South Africa at the UN general assembly. Politikon 47 (3): 361–384.

Mesquita, R., and J.H. Chien. 2021. Do regional powers prioritise their regions? Comparing Brazil, South Africa and Turkey. Third World Quarterly 42 (7): 1544–1565.

Mesquita, R., and M.A. Medeiros. 2016. Legitimising emerging power diplomacy: An analysis of government and media discourses on Brazilian foreign policy under Lula. Contexto Internacional 38 (1): 385–432.

Monteiro, L. 2011. O programa calha norte. Redefinição das políticas de segurança e defesa nas fronteiras internacionais da amazônia Brasileira. Revista Brasileira De Estudos Urbanos e Regionais (RBEUR) 13 (2): 117–133.

Mullenbach, M. 2005. Deciding to keep peace: An analysis of international influences on the establishment of third-party peacekeeping missions. International Studies Quarterly 49 (3): 529–555.

Nganje, F. 2019. To give or not to give: The politics of ambivalence in South Africa's development cooperation. In South African Foreign Policy Review, vol. 3, ed. L. Masters and J.A. van Wyk, 201–225. Pretoria: Africa Institute of South Africa.

Nieuwkerk, A. 2012. A review of South Africa's peace diplomacy since 1994. In South African Foreign Policy Review, vol. 1, ed. C. Landsberg and J.A. van Wyk, 84–111. Pretoria: Africa Institute of South Africa.

Nolte, D. 2010. How to compare regional powers: Analytical concepts and research topics. Review of International Studies 36 (4): 881–901.

Nzongola-Ntalaja, G. 2018. South Africa in the Great Lakes: The Democratic Republic of the Congo, Burundi and Rwanda. In Foreign Policy in Post-Apartheid South Africa: Security, Diplomacy and Trade, ed. A. Adebajo and K. Virk, 172–185. London: I.B. Taurus.

Patriota, A.A. 2010. Haiti: Desafios e oportunidades no pós-terremoto. Boletim De Economia e Política Internacional IPEA 2: 69–75.

Pettersson, T., and K. Eck. 2018. Organized violence, 1989–2017. Journal of Peace Research 55 (4): 535–547.

Prys, M. 2010. Hegemony, domination, detachment: differences in regional powerhood. International Studies Review 12 (4): 479–504.

Quiliconi, C., and R. Rivera. 2019. Ideología y liderazgo en la cooperación regional: Los casos del consejo Suramericano de defensa y el consejo Suramericano sobre el problema mundial de las drogas en Unasur. Revista Uruguaya De Ciencia Política 28 (1): 219–248.

Ramírez, S.M.C., A.F. Barbieri, and J.I. Rigotti. 2017. Padrão de mobilidade do caso colombiano do final do século XX e começos do século XXI: Uma aproximação a partir dos censos de 1993 e 2005 e do sistema de registro sobre deslocamento forçado. Revista Geografias, Special Edition Migrações: 74–85.

Regan, P.M. 1998. Choosing to intervene: Outside interventions in internal conflicts. The Journal of Politics 60 (3): 754–779.

Robinson, T.D., T.M. Oliveira, and S. Kayden. 2017. Factors affecting the United Nations' response to natural disasters: What determines the allocation of the central emergency response fund? Disasters 41 (4): 631–648.

Soto, M. E. 2017. Brasil e Colômbia: unidos no tráfico. Exame, 13 January 2017. https://exame.com/brasil/brasil-e-colombia-unidos-no-trafico-2/. Accessed 06 June 2020.

Souza, A. 2009. A Agenda Internacional do Brasil: A Política Externa braSileira de FHC a Lula. Rio de Janeiro: CEBRI.

Tickner, A.B. 2011. Colombia y el Mundo 2010: Opinión Pública y Política Internacional. Bogotá: Universidade de Los Andres.

UN Press. 2010. International Conference raises almost $10 billion as more than 130 donors contribute 'Towards a New Future for Haiti'. UN Press, 31 March 2010. https://www.un.org/press/en/2010/ga10932.doc.htm. Accessed 06 March 2020.

UNODC. 2011. World Drug Report 2011. https://www.unodc.org/unodc/en/data-and-analysis/WDR-2011.html. Accessed 06 March 2020.

van Wyk, J.A. 2020. Candidature diplomacy: South Africa and Nkosazana Dlamini-Zuma's candidature to chair the AU Commission, 2011–2012. South African Journal of International Affairs 27 (3): 317–338.

Viana, M. T. 2009. A dimensão internacional do conflito armado Colombiano: A internacionalização dos processos de paz segundo as agendas hemisférica e global. MSc dissertation. Brazil: USP.

Villa, R.D., and M. Ostos. 2005. As relações Colômbia, países vizinhos e Estados Unidos: Visões em torno da agenda de segurança. Revista Brasileira De Política Internacional 48 (2): 86–110.

Vleuten, A., and A.R. Hoffman. 2010. Explaining the enforcement of democracy by regional organizations: Comparing EU, Mercosur and SADC. Journal of Common Market Studies 48 (3): 737–758.

Weiffen, B. 2017. Institutional overlap and responses to political crises in South America. In Power Dynamics and Regional Security in Latin America, ed. M.A.G. Suarez, R.D. Villa, and B. Weiffen, 173–197. London: Palgrave Macmillan.

Westhuizen, J. 2013. Class compromise as middle power activism? Comparing Brazil and South Africa. Government and Opposition 48 (1): 80–100.

Westhuizen, J., and C.R.S. Milani. 2019. Development cooperation, the international domestic nexus and the graduation dilemma: Comparing South Africa and Brazil. Cambridge Review of International Affairs 32 (1): 22–42.
Acknowledgements
Earlier drafts of this work were presented in 2019 at the workshop 'Re-envisioning Regional Powers in a World of Complexity and Change' at the 6th European Workshops in International Studies (EWIS) promoted by the European International Studies Association (EISA) in Krakow, Poland, and also at the 'Re-Visiting Regional Powers: New Perspectives and Debates' roundtable at the 2022 Conference of the International Studies Association (ISA) in Nashville, USA. We thank the organizers and participants for the valuable feedback provided at both occasions. Full responsibility over the content and data of the article, however, remains with the authors alone.
Funding
Pedro Seabra was supported by the Foundation for Science and Technology (FCT) under grant SFRH/BPD/116700/2016. Rafael Mesquita received travel support from EISA and UFPE/Propesqi.
Additional information
Publisher's Note
Springer Nature remains neutral with regard to jurisdictional claims in published maps and institutional affiliations.
About this article
Cite this article
Mesquita, R., Seabra, P. Severity, salience, and selectivity: understanding the varying responses to regional crises by Brazil and South Africa. Int Polit (2022). https://doi.org/10.1057/s41311-022-00392-x
Accepted:

Published:

DOI: https://doi.org/10.1057/s41311-022-00392-x
Keywords