Abstract
This study suggests that conscription produces an unappreciated side effect in domestic politics as it increases the likelihood of coup d'état in anocratic regimes. Utilizing data from 1950 to 2016, the study measures the impact of conscription on coup risk in anocracies and non-anocracies and provides significant evidence that conscription increases the probability of a coup attempt in anocracies. I do not argue that conscripts stage military coups. Instead, conscription increases coup risk in anocracies because it increases the ties of the armed forces with society and enables the general public or interest groups to organize their collective action within the armed forces. This academic endeavor aims to expand our understanding on the impact of the armed forces on the prospects of military intervention, delineate the socialization aspect of conscription, and to broaden our knowledge on civil–military relations in non-democratic regimes.
Access options
Buy single article
Instant access to the full article PDF.
USD 39.95
Price excludes VAT (USA)
Tax calculation will be finalised during checkout.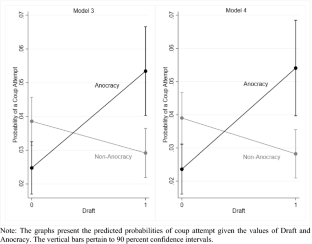 Notes
It should be noted that Ingesson et al. (2018) found no support for the position that conscription reduces coup risk in democracies.

During the latter half of the nineteenth century, the market-based, exemptions system was abandoned in favor of universal military service. In France, the military replacement system was abolished after the defeat against Prussia in 1870 (Rouanet and Piano 2019).

I use the term "professional soldiers" to describe members of the regular armed forces that, unlike conscripts, voluntarily choose the military profession as their career. Thus, the term is strictly used to distinguish between career soldiers from conscripts and is unrelated to military effectiveness factors.

Ideology is interpreted as a set of ideas attached to a specific social group or class (Eagleton 1991).

There are cases of anocracies with powerful leaders, like Erdogan's Turkey or Putin's Russia, that do effectively control the armed forces due a strong executive. Such cases demonstrate that anocratic rulers are capable of the assertive rule, like autocrats. However, recent coups (Turkey 2016, Zimbabwe 2017) highlight that rival elites, like the Gulenists, cannot be excluded in an anocratic political system, unlike autocratic regimes. Similarly, the strong concentration of power to the executive further alienates the population from the government, thus limiting an anocratic governments representativeness and legitimacy to rule.

In the study's appendix, the authors examine the effect of conscription on public support to the military globally based on information from the World Values Survey. Contrary to the main text, many of the states that are included in this appendix model are anocracies.

I use the term "circulation" with regards to the perpetual replacement of conscripted soldiers with new recruits as they complete their compulsory military service.

Sure enough, Greece was victorious in the Balkan wars of 1912–3.

Between 1900 and the 1909 coup, Greece had 10 different governments.

Mostly small island states in the Caribbean Sea and Pacific Ocean. In addition, I include in the Appendix a model only with countries that display a variation in the draft variable.

Meaning that conscription is a very divisive issue that must be approached by the government with caution to avoid polarizing the population.
References
Adam, A. 2012. Military conscription as a means of stabilizing democratic regimes. Public Choice 150: 715–730.

Anderson, G.M., D. Halcoussis, and R.D. Tollison. 1996. Drafting the competition: Labor unions and military conscription. Defence and Peace Economics 7 (3): 189–202.

Arango, T., & C. Yeginsu. 2016. With Army in Disarray, a pillar of modern Turkey Lies Broken. The New York Times, July 28. https://www.nytimes.com/2016/07/29/world/europe/turkey-military-coup.html?fbclid=IwAR2oDaFpml_Dw-1toNoneAswTnko4R8ISzpv5nGIAnBZ77fwvrJKKPHdZjI.

Asal, V., J. Conrad, and N. Toronto. 2017. I want you! The determinants of military conscription. Journal of Conflict Resolution 61 (7): 1456–1481.

Banks, A.S. 2011. Cross-national time-series data archive. NY: Binghamton.

Barany, Z. 2017. Why have three gulf states introduced the draft? Bucking the trend on conscription in Arabia. The RUSI Journal 162 (6): 16–26.

Belkin, A., and E. Schofer. 2003. Toward a structural understanding of coup risk. The Journal of Conflict Resolution 47 (5): 594–620.

Benson, M., and J. Kugler. 1998. Power parity, democracy, and the severity of internal violence. Journal of Conflict Resolution 42 (2): 196–209.

Böhmelt, T., and U. Pilster. 2015. The impact of institutional coup-proofing on coup attempts and coup outcomes. International Interactions 41 (1): 158–182.

Böhmelt, T., A. Escribà-Folch, and U. Pilster. 2018. Pitfalls of professionalism? Military academies and coup risk. Journal of Conflict Resolution 63 (5): 1–43.

Bredow, W.V. 1992. Conscription, conscientious objection, and civic service: The military institutions and political culture of Germany, 1945 to the present. Journal of Political and Military Sociology 20 (2): 289–303.

Brooks, R. 2019. Integrating the civil-military relations subfield. Annual Review of Political Science 22: 379–398.

Brown, C., C. Fariss, and B. McMahon. 2016. Recouping after coup-proofing: Compromised military effectiveness and strategic substitution. International Interactions 42 (1): 1–30.

Caya, S. 2015. The conscripting system in armed forces: Turkey's example. Social and Behavioral Sciences 190: 186–201.

Choi, H.-J., and C. Raleigh. 2015. Dominant forms of conflict in changing political systems. International Studies Quarterly 59 (1): 158–171.

Choulis, I., Z. Bakaki, and T. Böhmelt. 2019. Public support for the armed forces: the role of conscription. Defence and Peace Economics 32: 240–251.

Cordatos, I. 1958. The great history of Greece "Μεγάλη Ιστορία της Ελλάδας". Athens: 20th Century.

Couloumbis, T. A. 1974. The greek Junta phenomenon. Polity 6(3): 345–374.

Coulouri, C. 2008. 1909, Goudi: Catalyst for revolutionary change "1909, Γουδί: Καταλύτης Επαναστατικών Αλλαγών". To Vima.

David, S. 1985. Defending third world regimes from coups d'état. Lanham: University Press of America.

Dertilis, B.G. 1999. Social transformation and social intervention 1880–1909 "Κοινωνικός Μετασχηματισμός και Κοινωνική Επέμβαση 1880–1909." Athens: Exadas.

Eagleton, T. 1991. Ideology: An introduction. London: Verso.

Escribà-Folch, A., T. Böhmelt, and U. Pilster. 2019. Authoritarian regimes and civil-military relations: Explaining counterbalancing in autocracies. Conflict Management and Peace Science 37 (5): 559–579.

Ezrow, N., and E. Frantz. 2011. Dictators and dictatorships: understanding authoritarian regimes and their leaders. New York: The Continuum International Publishing Group.

Fearon, J., and D. Laitin. 2003. Ethnicity, insurgency, and civil war. The American Political Science Review 97 (1): 75–90.

Feaver, P. 1992. Command and control in emerging nuclear nations. International Security 17 (3): 160–187.

Finer, S. 1988. The man on horseback: The role of the military in politics. Boulder: Westview Press.

Galston, W. 2004. Thinking about the draft. The Public Interest 154: 61–73.

Gandhi, J. 2008. Political institutions under dictatorship. New York: Cambridge University Press.

Gates, S., H. Havard, J. Mark, and S. Havard. 2006. Institutional inconsistency and political instability: Polity duration 1800–2000. American Journal of Political Science 50 (4): 893–908.

Geddes, B. 1999. What do we know about democratization after twenty years? Annual Review of Political Science 2 (1): 115–144.

Geddes, B., E. Frantz, and J. Wright. 2014. Military rule. The Annual Review of Political Science 17: 147–162.

Gleditsch, K.S. 2002. Expanded trade and GDP data. Journal of Conflict Resolution 46 (5): 712–724.

Goldstone, J. 2011. Understanding the revolutions of 2011: Weakness and resilience in middle eastern autocracies. Foreign Affairs 90 (3): 8–10.

Goodpaster, A., and S. Huntington. 1977. Civil-Military Relations. Washington: American Enterprise Institute for Public Policy Research.

Hegre, H., T. Ellingsen, S. Gates and N. P. Gleditsch. 2001. Toward a democratic civil peace? Democracy, political change, and civil war, 1816-1992. The American Political Science Review 95(1): 33–38.

Hansen, L., and B. Weisbrod. 1967. Economics of the military draft. The Quarterly Journal of Economics 81 (3): 395–421.

Heper, M. 2002. Conclusion-the consolidation of democracy versus democratization in Turkey. In Political parties in Turkey, ed. B. Rubin and M. Heper. London: Frank Class.

Hering, Cunnar. 2004. Political parties in Greece 1821–1936 "Τα Πολιτικά Κόμματα στην Ελλάδα 1821–1936." Athens: National Bank Educational Institution.

Horowitz, D. 1985. Ethnic groups in conflict. Berkeley: University of California Press.

Horowitz, M., P. Poast, and A. Stam. 2017. Domestic signaling of commitment credibility: Military recruitment and alliance formation. Journal of Conflict Resolution 61 (8): 1682–1710.

Huntington, S. 1957. The soldier and the state. Cambridge: Harvard University Press.

Ingesson, T., M. Lindberg, J. Lindvall, and J. Teorell. 2018. The martial origins of democracy: A global study of military conscription and suffrage extensions since the Napoleonic wars. Democratization 25 (4): 633–651.

Janowitz, M. 1960. The professional soldier: A social and political portrait. Glencoe, Ill: Free Press.

Janowitz, M. 1977. Military institutions and coercion in the developing nations. Chicago: University of Chicago Press.

Kassimeris, C. 2006. Causes of the 1967 Greek coup. Democracy and Security 2 (1): 61–72.

Kestnbaum, M. 2002. Citizen-soldiers, national service and the mass army: The birth of conscription in revolutionary Europe and North America. In The comparative study of conscription in the armed forces, ed. L. Mjøset and S. Van Holde. Amsterdam: JAI.

Khuri, F., and G. Obermayer. 1974. The social bases for military intervention in the middle east. In Political-military Systems: Comparative perspectives, ed. C. McArdle Kelleher. Beverly Hills: Sage Publications.

Krebs, R. 2004. A school for the nation: How military service does not build nations and how it might. International Security 28 (4): 85–124.

Londregan, J., and K. Poole. 1990. Poverty, the coup trap, and the seizure of executive power. World Politics 42 (2): 151–183.

Maroniti, N. 2010. The Goudi Movement 1909 Το Κίνημα στο Γουδί 1909. In Six Moments of the 20th Century "Έξι Στιγμές του Εικοστού Αιών, ed. I. Nikolakopoulos and V. Panagiotopoulos. Athens: TaNea.

McMahon, B., and B. Slantchev. 2015. The guardianship dilemma: Regime security through and from the armed forces. American Political Science Review 109 (2): 297–313.

Meriea, E. 2019. How Thailand became the world's last military dictatorship. The Atlantic. https://www.theatlantic.com/international/archive/2019/03/thailand-military-junta-election-king/585274/

Meyerle, J., N. Samaranayake, M. Markowitz., L. Waters., H. Zarin., B. Ellison., C. Jehn., and B. Rosenau. 2011. Conscription in the Afghan Army compulsory service versus an all-volunteer force. CNA Strategic Studies.

Moore, D. 2009. The soldier: A history of courage, sacrifice and brotherhood. London: Icon Books.

Mulligan, C.B., and A. Shleifer. 2005. Conscription as regulation. American Law and Economics Review 7 (1): 85–111.

Nassif Bou, H. 2015. Generals and autocrats: How coup-proofing predetermined the military elite's behavior in the Arab spring. Political Science Quarterly 130 (2): 245–275.

Nordlinger, E. 1977. Soldiers in politics; military coups and governments. Englewood Cliffs: Prentice-Hall.

O'Donnell, G. 1973. Modernization and bureaucratic-authoritarianism; studies in South American politics. Berkeley: Institute of International Studies, University of California.

Ozbudun, E. 2012. Turkey-Plural Society and Monolithic State. In Democracy, Islam, Secularism in Turkey, ed. A. Kuru and A. Stepan. New York: Columbia University Press.

Peled, A. 1998. A question of loyalty: Military manpower policy in multi-ethnic states. Ithaca: Cornell University Press.

Pilster, U., and T. Böhmelt. 2011. Coup-proofing and military effectiveness in interstate wars, 1967–99. Conflict Management and Peace Science 28 (4): 331–350.

Pilster, U., and T. Böhmelt. 2012. Do democracies engage less in coup-proofing? On the relationship between regime type and civil-military relations. Foreign Policy Analysis 8: 355–371.

Posen, B. 1993. Nationalism, the mass army, and military power. International Security 18 (2): 80–124.

Poutvaara, P., and A. Wagener. 2009. The political economy of conscription. CESifo Working Paper Series No. 2821.

Poutvaara, P., and A. Wagener. 2007. Conscription: Economic Costs and political allure. The Economics of Peace and Security Journal 2 (1): 6–15.

Powell, J. 2012. Determinants of the attempting and outcome of coups d'état. The Journal of Conflict Resolution 56 (6): 1017–1040.

Powell, J., and C. Thyne. 2011. Global instances of coups from 1950-present. Journal of Peace Research 48 (2): 249–259.

Quinlivan, J. 1999. Coup-proofing: its practice and consequences in the middle east. International Security 24 (2): 131–165.

Regan, P., and S. Bell. 2010. Changing lanes or stuck in the middle: Why are anocracies more prone to civil wars? Political Research Quarterly 63 (4): 747–759.

Ross, T.W. 1994. Raising an army: A positive theory of military recruitment. The Journal of Law and Economics 37 (1): 109–131.

Rouanet, L., and E.E. Piano. 2019. Filling the ranks: The Remplacement Militaire in post-revolutionary France. Forthcoming European Review of Economic History 24 (4): 696–715.

Safrai, M.Z. 2019. Legitimizing military growth and conscription: The Yom Kippur mechanism. Armed Forces & Society 45 (3): 491–510.

Sakallioğlu, Ü.C. 1997. The anatomy of the Turkish military's political autonomy. Comparative Politics 29 (2): 151–166.

Sripokangkul, S., J. Draper, C.J. Hinke, and C.D. Crumpton. 2019. The military draft in Thailand: A critique from a nonkilling global political science perspective. Global Change, Peace & Security 31 (1): 39–59.

Svolik, M. 2009. Power sharing and leadership dynamics in authoritarian regimes. American Journal of Political Science 53 (2): 477–494.

Thabchumpon, N., J. Sangkhamanee, C. Middleton, and W. Wongsatjachock. 2014. The polarization of Thai democracy: The Asian democracy index in Thailand. Asian Democracy Review 4: 65–87.

Varin, C. 2015. Mercenaries, hybrid armies & national security. Abingdon: Routledge.

Varoglu, K.A., and A. Bicaksiz. 2005. Volunteering for risk: The Culture of the Turkish armed forces. Armed Forces & Society 31 (4): 583–598.

Vasquez, J.P., and J. Powell. 2019. Institutional arsenals for democracy? The postcoup effects of conscript militaries. Armed Forces & Society. 47 (2): 298–318.

Veremis, T. 1997. The military in Greek politics; from independence to democracy. London: Hurst & Company.

Vreeland, J. 2008. The effect of political regime on civil war: Unpacking anocracy. The Journal of Conflict Resolution 52 (3): 401–425.

Warner, J., and B. Asch. 2001. The record and prospects of all-volunteer military in the United States. Journal of Economic Perspectives 15 (2): 169–192.

Wintrobe, R. 2012. Autocracy and Coup d'Etat. Public Choice 152 (1): 115–130.

Woloch, I. 1986. Napoleonic conscription: State power and civil society. Past & Present 111 (1): 101–129.

Wong, L., T. Kolditz., R. Millen., and T. Potter. 2003. Why They Fight: Combat motivation in the Iraq War. Strategic studies institute, https://ssi.armywarcollege.edu/pdffiles/PUB179.pdf.

Xydis, S. 1974. Coups and countercoups in Greece 1967–1973. Political Science Quarterly 89 (3): 507–538.

Yildirim, J., and B. Erdinc. 2007. Conscription in Turkey. The economics of peace and security journal. The Economics of Peace and Security Journal 2 (1): 16–19.
Additional information
Publisher's Note
Springer Nature remains neutral with regard to jurisdictional claims in published maps and institutional affiliations.
Supplementary Information
Below is the link to the electronic supplementary material.
About this article
Cite this article
Choulis, I. I want you…or not? The effect of conscription on coup risk in anocracies. Int Polit 59, 1187–1209 (2022). https://doi.org/10.1057/s41311-021-00358-5
Accepted:

Published:

Issue Date:

DOI: https://doi.org/10.1057/s41311-021-00358-5
Keywords
Conscription

Coup Risk

Anocracies