Abstract
Did NATO expansion foster democratic development in Eastern Europe? Past scholarship offers conflicting answers to this question. We seek to bring clarity by focusing on the 2004 NATO expansion to include the three Baltic states of Estonia, Latvia, and Lithuania, as well as Bulgaria, Romania, Slovakia, and Slovenia. We leverage the fact that we now as many years of data since NATO entry as we have between the collapse of the Soviet Union and the 2004 NATO expansion. We also use newly available and highly refined data on regime type. We show that NATO membership and anticipation thereof had little to no influence on democratic development in Eastern Europe. However, anticipation of European Union membership appears to have bolstered democratic development. Although the results cannot fully rule out NATO playing a secondary role, they make clear that NATO membership was not a necessary condition for democratic survival in Eastern Europe.
Access options
Buy single article
Instant access to the full article PDF.
US$ 39.95
Tax calculation will be finalised during checkout.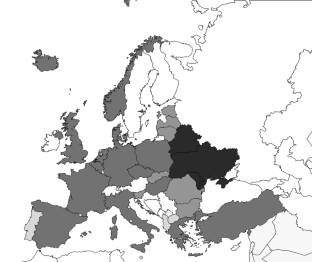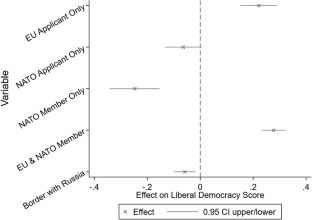 Notes
1.

Another recent example of applying counterfactual reasoning to the legacy of NATO expansion is Marten (2018). Marten uses qualitative counterfactual analysis to consider whether Russia's aggressive behavior toward countries in its 'near abroad' can be attributed to NATO expansion (or whether such behavior would have occurred even without NATO expansion).

2.

Gunitsky (2015) offers a critique of Polity as a measure of democratic development in Eastern Europe.

3.

Dahl referred to these as contestation and inclusion.

4.

We do not include Croatia because, although it joined NATO in 2009, it was not a member of the 1999 MAP group. It joined the MAP in 2002.

5.

This is setting aside the possibility that a state that is an EU applicant will expect to eventually become a NATO applicant. This is not unreasonable, as US officials viewed EU expansion as creating security obligations for the USA that would be more easily handled within NATO (Sayle 2019, 238).

6.

The difference in means is statistically significant at the 0.99 confidence level.

7.

Similar regression results are obtained using Polity2 as the dependent variable and estimating the model using ordered probit (as the Polity2 score is not a continuous variable, but an ordered categorical variable). The coefficients on EU Applicant Only and NATO and EU Member are positive and statistically significant, thereby suggesting that both are associated with higher Polity2 scores. Also, the coefficient on NATO and EU Member is substantially larger (1.65) than the coefficient on EU Applicant Only (0.47). The coefficients on NATO Member Only and Border with Russia are both negative and statistically significant, with the coefficient on Border with Russia (− 1.45) being substantially larger than the coefficient on NATO Member Only (− 1.01). The results can be reproduced using the replication materials.

8.

Because of the panel structure of the data set, we also attempt to rerun our analysis by including a lagged dependent variable (to account for time dependencies) and including fixed effects for each country. The latter model is unidentified, as the fixed effects are colinear with the Border Mainland Russia variable. The former model is identified, and the coefficient values are consistent with those reported in Fig. 2. The main difference is that all of the coefficient values are reduced in magnitude and are rendered statistically insignificant (which is not unusual when including a lagged dependent variable). The other notable difference is that the sign on the NATO and EU Member variable's coefficient flips to negative.
References
Adcock, R., and D. Collier. 2001. Measurement Validity: A Shared Standard for Qualitative and Quantitative Research. American Political Science Review 95(3): 529–546.

Banerjee, A.V. 1997. A Theory of Misgovernance. Quarterly Journal of Economics 112(4): 1289–1332.

Bell, S.R., K.C. Clay, and C. Martinez Machain. 2017. The Effect of US Troop Deployments on Human Rights. Journal of Conflict Resolution 61(10): 2020–2042.

Bollen, K.A. 1989. Structural Equations with Latent Variables. New York: Wiley.

Börzel, T.A., and F. Schimmelfennig. 2017. Coming Together or Drifting Apart? The EU's Political Integration Capacity in Eastern Europe. Journal of European Public Policy 24(2): 278–296.

Bueno De Mesquita, B., J.D. Morrow, R.M. Siverson, and A. Smith. 1999. An Institutional Explanation of the Democratic Peace. American Political Science Review 93(4): 791–807.

Bueno de Mesquita, B., A. Smith, R.M. Siverson, and J.D. Morrow. 2003. The Logic of Political Survival. Cambridge: MIT Press.

Bush, G.H.W. 1989. 'A Europe Whole and Free: Remarks to the Citizens in Mainz'. Mainz, Federal Republic of Germany. 31 May 1989. https://usa.usembassy.de/etexts/ga6-890531.htm.

Carnegie, A., and N. Marinov. 2017. Foreign Aid, Human Rights, and Democracy Promotion: Evidence from a Natural Experiment. American Journal of Political Science 61(3): 671–683.

Carnegie, A., and C. Samii. 2019. International Institutions and Political Liberalization: Evidence from the World Bank Loans Program. British Journal of Political Science 49(4): 1357–1379.

Cooley, A. 2012. Base Politics: Democratic Change and the US Military Overseas. Ithaca: Cornell University Press.

Coppedge, M., Lindberg, S.I., Skaaning, S.E., and Teorell, J. 2015. 'Measuring High Level Democratic Principles Using the V-Dem Data'. V-Dem Working Paper Series 2015:6. Gothenburg, Sweden: V-Dem Institute, University of Gothenburg. https://www.v-dem.net/media/filer_public/b5/b8/b5b8a046-eb68-4a24-8a1f-771c57e34d03/v-dem_working_paper_2015_6.pdf.

Dahl, R.A. 1971. Polyarchy: Participation and Opposition. New Haven: Yale University Press.

Donno, D. 2010. Who Is Punished? Regional Intergovernmental Organizations and the Enforcement of Democratic Norms. International Organization 64(4): 593–625.

Epstein, R.A. 2005. NATO Enlargement and the Spread of Democracy: Evidence and Expectations. Security Studies 14(1): 63–105.

Epstein, R.A. 2006. When Legacies Meet Policies: NATO and the Refashioning of Polish Military Tradition. East European Politics and Societies 20(2): 254–285.

Fazal, T. 2007. State Death: The Politics and Geography of Conquest, Annexation, and Occupation. Princeton: Princeton University Press.

Flockhart, T. 2004. "Masters and Novices": Socialization and Social Learning through the NATO Parliamentary Assembly. International Relations 18(3): 361–380.

Freedom House. 2018. 'Albania: Country Profile'. Washington, DC: Freedom House. https://freedomhouse.org/country/albania/freedom-world/2018.

Freyburg, T., S. Lavenex, F. Schimmelfennig, T. Skripka, and A. Wetzel. 2016. Democracy Promotion by Functional Cooperation: The European Union and Its Neighbourhood. New York: Springer.

Gallis, P., et al. 2018. 'Enlargement Issues at NATO's Bucharest Summit'. Report for Congress. Washington, DC: Congressional Research Service. https://fas.org/sgp/crs/row/RL34415.pdf.

George C. Marshall Center. 2019. 'The Marshall Center Mission' (online). https://www.marshallcenter.org/mcpublicweb/en/nav-main-wwd-mission-vision-en.html.

Gheciu, A. 2005a. NATO in the New Europe: The Politics of International Socialization after the Cold War. Stanford: Stanford University Press.

Gheciu, A. 2005b. Security Institutions as Agents of Socialization? NATO and the "New Europe". International Organization 59(4): 973–1012.

Gibler, D.M., and J.A. Sewell. 2006. External Threat and Democracy: The Role of NATO Revisited. Journal of Peace Research 43(4): 413–431.

Gleditsch, K.S., and M.D. Ward. 1997. Double Take: A Reexamination of Democracy and Autocracy in Modern Polities. Journal of Conflict Resolution 41(3): 361–383.

Gunitsky, S. 2015. Lost in the Gray Zone: Competing Measures of Democracy in the Former Soviet Republics. In Ranking the World: Grading States as a Tool of Global Governance, ed. A. Cooley and J. Snyder, 112–150. Cambridge: Cambridge University Press.

Haggard, S., and R.R. Kaufman. 1997. The Political Economy of Democratic Transitions. Comparative Politics 29(3): 263–284.

Henisz, W.J. 2002. The Institutional Environment for Infrastructure Investment. Industrial and Corporate Change 11(2): 355–389.

Im, H.B. 2006. The US Role in Korean Democracy and Security since Cold War Era. International Relations of the Asia-Pacific 6(2): 157–187.

Ito, P. 2013. Baltic Military Cooperative Projects: A Record of Success. Lawrence and Jermalavičius 2013: 246–281.

Jaggers, K., and T.R. Gurr. 1995. Tracking Democracy's Third Wave with the Polity III Data. Journal of Peace Research 32(4): 469–482.

Kasekamp, A., and V. Veebel. 2007. The Baltic States and ESDP. In The North and ESDP: The Baltic States, Denmark, Finland and Sweden, ed. K. Brummer, 9–22. Gütersloh: Beterlsmann Stiftung.

Krasner, S.D., and J.M. Weinstein. 2014. Improving Governance from the Outside In. Annual Review of Political Science 17: 123–145.

Lai, B., and D. Reiter. 2000. Democracy, Political Similarity, and International Alliances, 1816–1992. Journal of Conflict Resolution 44(2): 203–227.

Lepik, L. 2004. Stability in the Neighborhood—a Challenge for the New EU and NATO Members. EuroJournal. org-Journal of Foreign Policy of Moldova (02): 1–15.

Lindberg, S.I., M. Coppedge, J. Gerring, and J. Teorell. 2014. V-Dem: A New Way to Measure Democracy. Journal of Democracy 25(3): 159–169.

Loader, I., and N. Walker. 2007. Civilizing Security. Cambridge: Cambridge University Press.

Mansfield, E.D., and J.C. Pevehouse. 2006. Democratization and International Organizations. International Organization 60(1): 137–167.

Mansfield, E.D., and J.C. Pevehouse. 2008. Democratization and the Varieties of International Organizations. Journal of Conflict Resolution 52(2): 269–294.

Marshall, M.G., Jaggers, K., and Gurr, T.R. 2010. Polity IV Data Series Version 2010. College Park: Center for Systemic Peace, University of Maryland, pp. 1–16. http://www.systemicpeace.org/polity/polity4.htm.

Marten, K. 2018. Reconsidering NATO Expansion: A Counterfactual Analysis of Russia and the West in the 1990s. European Journal of International Security 3(2): 135–161.

Mearsheimer, J.J. 2014. Why the Ukraine Crisis Is the West's Fault. Foreign Affairs 93(5): 77–89.

NATO. 1995 'Study on Enlargement'. 3 September 1995. https://www.nato.int/cps/en/natohq/official_texts_24733.htm. Accessed 27 Feb 2020.

NATO. 2018. 'Strategic Concepts'. Updated 12 June 2018. https://www.nato.int/cps/en/natohq/topics_56626.htm. Accessed 5 July 2019.

Pevehouse, J.C. 2005. Democracy from Above: Regional Organizations and Democratization. Cambridge: Cambridge University Press.

Poast, P., and J. Urpelainen. 2018. Organizing Democracy: How International Organizations Assist New Democracies. Chicago: University of Chicago Press.

Reiter, D. 2001. Why NATO Enlargement Does Not Spread Democracy. International Security 25(4): 41–67.

Rudzīte-Stejskala, K. 2013. Financing Defence. Lawrence and Jermalavičius 2013: 168–201.

Sayle, T.A. 2019. Enduring Alliance: A History of NATO and the Postwar Global Order. Ithaca: Cornell University Press.

Snyder, S.B. 2010. "Jerry, Don't Go": Domestic Opposition to the 1975 Helsinki Final Act. Journal of American Studies 44(1): 67–81. https://doi.org/10.1017/S0021875809991332.

Talbott, S. 2019. Bill, Boris, and NATO. In Open Door: NATO and Euro-Atlantic Security after the Cold War, ed. D.S. Hamilton and K. Spohr, 405–424. Washington, DC: Foreign Policy Institute.

VanDeveer, S.D., and G.D. Dabelko. 2001. It's Capacity, Stupid: International Assistance and National Implementation. Global Environmental Politics 1(2): 18–29.

Vanhanen, T. 2000. A New Dataset for Measuring Democracy, 1810–1998. Journal of Peace Research 37(2): 251–265.

von Borzyskowski, I., and F. Vabulas. 2019. Credible Commitments? Explaining IGO Suspensions to Sanction Political Backsliding. International Studies Quarterly 63(1): 139–152.

Wiens, D., P. Poast, and W.R. Clark. 2014. The Political Resource Curse: An Empirical Re-evaluation. Political Research Quarterly 67(4): 783–794.

Wintrobe, R. 1998. The Political Economy of Dictatorship. Cambridge: Cambridge University Press.

Zalkans, G. 1999. The Development of the Armed Forces of the Republic of Latvia. Baltic Defence Review 1: 8.
Ethics declarations
Conflict of interest
The authors declare that they have no conflict of interest.
Additional information
Publisher's Note
Springer Nature remains neutral with regard to jurisdictional claims in published maps and institutional affiliations.
About this article
Cite this article
Poast, P., Chinchilla, A. Good for democracy? Evidence from the 2004 NATO expansion. Int Polit 57, 471–490 (2020). https://doi.org/10.1057/s41311-020-00236-6
Keywords
NATO

NATO expansion

Democracy

European Union

Baltics