Abstract
For two decades after the fall of the Berlin Wall, globalization functioned as a unifying force in the West. In the absence of a common security threat, the United States and Europe found common ground in a neoliberal agenda calling for the freer movements of capital, goods, services, and peoples across national boundaries. Today, support for that neoliberal agenda has been rapidly weakening across the West. Drawing on a variety of quantitative measures, we show that Western support for globalization has declined, both at the level of national policy and at the level of party politics. We argue that this erosion of domestic support for globalization is closely linked to the rise of populist parties in Europe and the USA. We consider the implications of this shift in the West's domestic politics for the future of transatlantic cooperation and leadership.
Access options
Buy single article
Instant access to the full article PDF.
US$ 39.95
Tax calculation will be finalised during checkout.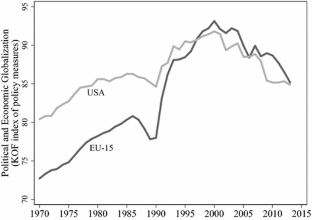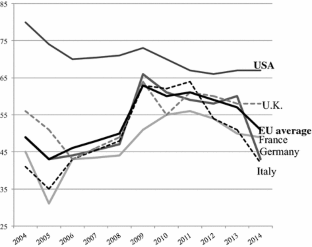 Notes
1.

In the limited space of this article, these arguments can only be modestly and incompletely developed, and the supporting empirical evidence only illustratively specified. However, together the arguments and illustrations provide a basis for reinterpreting how and why transatlantic cooperation has weakened in recent years.

2.

Some have argued that the growth and integration of the world economy during the Cold War helps explain the collapse of the Soviet empire (Books and Wohlforth 2000).

3.

A good example was the British Government's Strategic Defence Review (1998).

4.

5.

The Manifesto database for the period 1970–2015 includes 455 parties. It includes all OECD polities, including all major US and EU-15 parties (242 in all). MPD codes party platforms by policy issue for individual political parties by election-year. We draw on the coded variables that entail a pro- and an anti-position taken on issues relevant to globalization. This allows us to measure the broad salience of globalisation in a party's platform and also the level of support for and against globalisation in the party's platform. For more details on MPD, see Vokens et al. (2012).

6.

The EU-15 refers to the following countries: Austria, Belgium, Denmark, Finland, France, (West) Germany, Greece, Ireland, Italy, Luxembourg, Netherlands, Portugal, Spain, Sweden and the United Kingdom.

7.

8.

The 'adjacent values' are those outlier observations that fall outside the upper and lower quartiles defining the 'interquartile range' (IQR). This is, formally, observations that fall at or beyond the lower and upper whiskers, where: Lower whisker = Q1 − 1.5 IQR; and Upper whisker = Q4 + 1.5 IQR.

9.

As The Economist (2016) put it, 'Globalization is increasingly blamed for job losses, rising wage inequality and sluggish GDP growth'.

10.

The figure is based on survey data from the German Marshall Fund and Chicago Council on Foreign Relations. Publics in the US and a cross-section of major European countries were asked: "Do you think that partnership in security and diplomatic affairs between the EU and the US should…become closer, remain about the same, or take a more independent approach".
References
Books, S., and W. Wohlforth. 2000. Power, globalization, and the end of the Cold War: Reevaluating a landmark case for ideas. International Security 25 (3): 5–53.

British Government. 1998. Strategic Defence Review, Cm3999. London: The Stationery Office.

Burgoon, B. 2009. Globalization and backlash: Polanyi's revenge? Review of International Political Economy 16 (2): 145–177.

Burgoon, B. 2013. Inequality and anti-globalization backlash by political parties. European Union Politics 14 (3): 408–435.

Buzan, B. 1997. Rethinking security after the Cold War. Cooperation and Conflict 32 (1): 5–28.

Chen, J. 1992. Ideology in US foreign policy: Case studies in US China policy. Westport: Praeger.

Christensen, T.J. 2006. Fostering stability or creating a monster? The rise of China and US policy toward East Asia. International Security 31 (1): 81–126.

Dreher, A. 2006. KOF index of globalization. Zürich: Konjunkturforschungsstelle, ETH Zürich. http://globalization.kof.ethz.ch/. Accessed 12 Dec 2016.

Durant, I., et al. 2013. The rise of populism and extremist parties in Europe. Brussels: The Spinelli Group. http://www.spinelligroup.eu/sites/spinelli/files/finalpopulismen_0.pdf. Accessed 12 Dec 2016.

The Economist. 2016. Saving globalisation: The reset button. The Economist. http://www.economist.com/news/special-report/21707837-how-make-economic-liberalism-fairer-and-more-effective-reset-button. Accessed 12 Dec 2016.

Friedman, T. 1999. The Lexus and the olive tree: Understanding globalization. New York City: Anchor Books.

Fukuyama, F. 1992. The end of history and the last man. New York: Free Press.

Gartzke, E. 1998. Kant we all just get along? Opportunity, willingness, and the origins of the democratic peace. American Journal of Political Science 42 (1): 1–27.

Goodman, P. 2016. More wealth, more jobs, but not for everyone: What fuels the backlash on trade. The New York Times. http://www.nytimes.com/2016/09/29/business/economy/more-wealth-more-jobs-but-not-for-everyone-what-fuels-the-backlash-on-trade.html. Accessed 12 Dec 2016.

Goodwin, M. 2012. Europe's far right: Don't blame the Eurozone Crisis. London: Chatham House. https://www.chathamhouse.org/media/comment/view/185343. Accessed 12 Dec 2016.

Grabow, K., and F. Hartleb (eds.). 2013. Exposing the demagogues: Right wing and nationalist arties in Europe. Brussels: Centre for European Studies. http://www.kas.de/wf/doc/kas_35420-544-2-30.pdf?140519123322. Accessed 12 Dec 2016.

Heyer, J.A. 2015. The right stuff: Marine Le Pen and the growing influence of front national. Spiegel Online. http://www.spiegel.de/international/europe/front-national-under-marine-le-pen-has-broadened-its-appeal-a-1065612.html. Accessed 12 Dec 2016.

Hirst, P., G. Thompson, and S. Bromley. 2009. Globalization in question. Cambridge: Polity.

Huntington, S. 1993. The clash of civilizations? Foreign Affairs 72 (3): 22–49.

Hutt, R. 2016. Could "trust inequality" explain rising populism? World Economic Forum. https://www.weforum.org/agenda/2016/01/could-trust-inequality-explain-rising-populism/. Accessed 12 Dec 2016.

Jones, O. 2012. Chavs: The demonization of the working class. London: Verso.

Kahn, R., and S.A. Tananbaum. 2015. Global economics monthly, December 2015: Addressing economic populism in Europe. Council on Foreign Relations. http://www.cfr.org/economics/global-economics-monthly-december-2015/p37335. Accessed 12 Dec 2016.

Korteweg, R. 2015. It's the geopolitics, stupid: Why TTIP matters. London: Centre for European Reform. http://www.cer.org.uk/insights/it%E2%80%99s-geopolitics-stupid-why-ttip-matters. Accessed 12 Dec 2016.

Kupchan, C.A. 2010. As nationalism rises, will the European Union fall?' Council on Foreign Relations. http://www.cfr.org/world/nationalism-rises-european-union-fall/p22856. Accessed 12 Dec 2016.

Luce, E. 2016. The life and death of Trumpian America. FT. https://www.ft.com/content/96ff6958-8d7d-11e6-8df8-d3778b55a923. Accessed 12 Dec 2016.

Mudde, C. 2015. Populism in Europe: A primer. LSE Euro Crisis in the Press blog. http://blogs.lse.ac.uk/eurocrisispress/2015/06/21/populism-in-europe-a-primer/. Accessed 12 Dec 2016.

Oesch, D. 2008. Explaining workers' support for right-wing populist parties in Western Europe: Evidence from Austria, Belgium, France, Norway and Switzerland. International Political Science Review 28 (3): 349–373.

Oliver, T. 2015. Europe's British question: The UK–EU relationship in a changing Europe and multipolar World. Global Society 29 (3): 409–426.

Pew Research Center. 2015. The American middle class is losing ground. http://www.pewsocialtrends.org/2015/12/09/the-american-middle-class-is-losing-ground/. Accessed 12 Dec 2016.

Pew Research Center. 2016. Most Americans say government doesn't do enough to help middle class. http://www.pewsocialtrends.org/2016/02/04/most-americans-say-government-doesnt-do-enough-to-help-middle-class/. Accessed 12 Dec 2016.

Sbragia, A. 2010. The EU, the US, and trade policy: Competitive interdependence in the management of globalization. Journal of European Public Policy 17 (3): 368–382.

Shafer, J. 2016. Trump's exceptionalism explained. Politico Magazine. http://www.politico.com/magazine/story/2016/02/trumps-exceptionalism-explained-213658. Accessed 12 Dec 2016.

Stokes, B. 2015. Faith in European project reviving: But most say rise of Eurosceptic Parties is a good thing. Pew Research Center. http://www.pewglobal.org/2015/06/02/faith-in-european-project-reviving/. Accessed 12 Dec 2016.

Strezhnev, A., and E. Voeten. 2013. United Nations General Assembly voting data. IQSSDataverse Network. https://dataverse.harvard.edu/dataset.xhtml?persistentId=hdl:1902.1/12379.

Trubowitz, P., and B. Burgoon. 2016. Power and partnership: The shifting foundations of the Western liberal order. Presentation at the American Political Science Association Meetings, Philadelphia.

Vance, J.D. 2016. Hillbilly Elegy. New York: Harper.

Voeten, E. 2004. Resisting the lonely superpower: Responses of states in the United Nations to US dominance. Journal of Politics 66 (3): 729–754.

Vokens, A., O. Lacewell, P. Lehmann, S. Regel, H. Schultze, and A. Werner. 2012. The Manifesto data collection. Manifesto Project (MRG/CMP/MARPOR). Berlin: Wissenschaftszentrum Berlin für Sozialforschung.
About this article
Cite this article
Burgoon, B., Oliver, T. & Trubowitz, P. Globalization, domestic politics, and transatlantic relations. Int Polit 54, 420–433 (2017). https://doi.org/10.1057/s41311-017-0040-1
Keywords
Europe

USA

Globalization

Transatlantic relations

Populism