Abstract
Significant progress has been made in mapping the media efforts as well as the media coverage of policy advocates such as interest groups, think tanks and private corporations. However, less attention has been devoted to connecting media efforts to media coverage. In this research note, we therefore ask: To what extent do the media-targeted activities of policy advocates actually influence the news? In a first analytic step, we use three different methods to assess whether interest groups influence the news: automated identification based on anti-plagiarism software, computer-assisted topic modelling and manual word search. Based on the results of this first analysis, we use manual word search to identify possible media effects of a larger sample of all press releases issued by five major Danish interest groups in 2018. We conclude that the press releases issued by interest groups have very little—and most often no—direct influence on the news.
Access options
Buy single article
Instant access to the full article PDF.
USD 39.95
Price excludes VAT (USA)
Tax calculation will be finalised during checkout.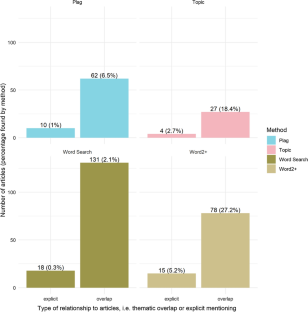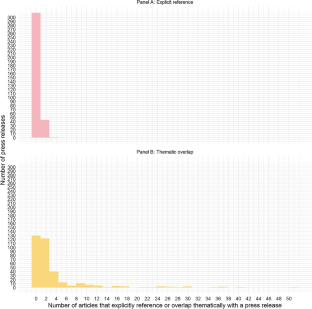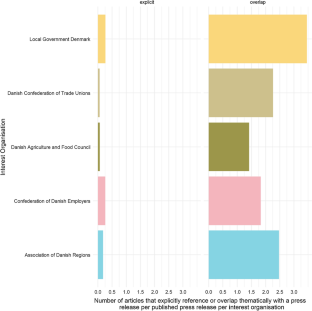 References
Aizenberg, Ellis, and Marcel Hanegraaff. 2019. Time is of the Essence: A Longitudinal Study on Business Presence in Political News in the United Kingdom and the Netherlands. The International Journal of Press/politics 25 (2): 281–300.

Benoit, Kenneth, Kohei Watanabe, Haiyan Wang, Paul Nulty, Adam Obeng, Stefan Müller, and Akitaka Matsuo. 2018. Quanteda: An R Package for the Quantitative Analysis of Textual Data. Journal of Open Source Software 3 (30): 774.

Bernhagen, Patrick. 2011. Who Gets What in British Politics – and How? An Analysis of Media Reports on Lobbying around Government Policies, 2001–2007. Political Studies 60 (3): 557–577.

Bernhagen, Patrick, and Brett Trani. 2012. Interest Group Mobilization and Lobbying Patterns in Britain: A Newspaper Analysis. Interest Groups and Advocacy 1 (1): 48–66.

Beyers, Jan. 2004. Voice and Access. Political Practices of European Interest Associations. European Union Politics 5 (2): 211–240.

Binderkrantz, Anne Skorkjær. 2005. Interest Group Strategies: Navigating Between Privileged Access and Strategies of Pressure. Political Studies 53 (4): 694–715.

Binderkrantz, Anne Skorkjær, Laura Chaqués Bonafont, and Darren Halpin. 2017. Diversity in the News? A Study of Interest Groups in the Media in the UK, Spain and Denmark. British Journal of Political Science 47 (2): 313–328.

Binderkrantz, Anne Skorkjær, Peter Munk Christiansen, and Helene Helboe Pedersen. 2015. Interest Group Access to the Administration, Parliament and Media. Governance: An International Journal of Policy, Administration, and Institutions 28 (1): 95–112.

Binderkrantz, Anne Skorkjær, and Helene Helboe Pedersen. 2019. The Lobbying Success of Citizen and Economic Groups in Denmark and the UK. Acta Politica 54 (1): 75–103.

Blei, David M., Andrew Y. Ng, and Michael I. Jordan. 2003. Latent Dirichlet Allocation. Journal of Machine Learning Research 3: 993–1022.

De Bruycker, Iskander. 2019. "Blessing or Curse for Advocacy? How News Media Attention Helps Advocacy Groups to Achieve Their Policy Goals." Political Communication 36 (1): 103–126.

De Bruycker, Iskander, and Jan Beyers. 2015. "Balanced or Biased? Interest Groups and Legislative Lobbying in the European News Media." Political Communication 32 (3): 453–474.

Dür, Andreas, and Gemma Mateo. 2016. Insiders and Outsiders. Interest Groups in Multilevel Europe. Oxford: Oxford University Press.

Green-Pedersen, Christoffer, and Rune Stubager. 2010. The Political Conditionality of Mass Media Influence: When do Parties Follow Mass Media attention? British Journal of Political Science 40 (3): 663–677.

Grimmer, Justin. 2013. Representational Style in Congress: What Legislators Say and Why It Matters. Cambridge: Cambridge University Press.

Grömping, Max. 2019. More Bang for the Buck: Media Freedom and Organizational Strategies in the Agenda-Setting of Human Rights Groups. Political Communication 36 (3): 452–475.

Grün, Bettina, and Kurt Hornik. 2011. Topicmodels: An R Package for Fitting Topic Models. Journal of Statistical Software 40 (13): 1–30.

Haeder, Simon, and Susan Yackee. 2015. Influence and the Administrative Process: Lobbying the U.S. President's Office of Management and Budget. American Political Science Review 109 (3): 507–522.

Haeder, Simon. 2020. Out of the Public's Eye? Lobbying the President's Office of Information and Regulatory Affairs. Interest Groups & Advocacy 9 (3): 410–424.

Haselmayer, Martin, Thomas Meyer, and Markus Wagner. 2019. Fighting for Attention: Media Coverage of Negative Campaign Messages. Party Politics 25 (3): 412–423.

Haselmayer, Martin, Markus Wagner, and Thomas Meyer. 2017. Partisan Bias in Message Selection: Media Gatekeeping of Party Press Releases. Political Communication 34 (3): 367–384.

Hopmann, David, Christian Elmelund-Præstekær, Erik Albæk, Rens Vliegenthart, and Claes de Vreese. 2012. Party Media Agenda-Setting: How Parties Influence Election News Coverage. Party Politics 18 (2): 173–191.

Junk, Wiebke, and Anne Rasmussen. 2018. Framing by the Flock: Collective Issue Definition and Advocacy Success. Comparative Political Studies 52 (4): 483–513.

Ketelaars, Pauline, and Julie Sevenans. 2020. It's a Matter of Timing How the Timing. of Politicians' Information Subsidies Affects What Becomes News. Political Communication 38 (3): 260–280.

McKay, Amy. 2018. Fundraising for Favors? Linking Lobbyist-Hosted Fundraisers to Legislative Benefits. Political Research Quarterly 71 (4): 869–880.

Meyer, Thomas, Martin Haselmayer, and Markus Wagner. 2017. Who Gets into the Papers? Party Campaign Messages and the Media. British Journal of Political Science 50 (1): 281–302.

Oehmer, Franziska. 2017. It's The Communication That Matters, Too! Determinants of Interest Groups' Media Exposure in German Newspapers. Interest Groups and Advocacy 6 (6): 179–194.

Røed, Maiken. 2022. When Do Political Parties Listen to Interest Groups? Party Politics. https://doi.org/10.1177/13540688211062832.

Sagarzazu, Iñaki., and Heike Klüver. 2017. Coalition Governments and Party Competition: Political Communication Strategies of Coalition Parties. Political Science Research and Methods 5 (2): 333–349.

Strömbäck, Jesper, and Frank Esser. 2014. Mediatization of Politics: Towards a Theoretical Framework. In Mediatization of Politics. Understanding the Transformation of Western Democracies, ed. Frank Esser and Jesper Strömbäck, 3–29. London: Palgrave Macmillan.

Thrall, Trevor. 2006. The Myth of the Outside Strategy: Mass Media News Coverage of Interest Groups. Political Communication 23 (4): 407–420.

Tiffen, Rodney, et al. 2013. Sources in the News. Journalism Studies 15 (4): 374–391.

Trapp, Leila, and Bo. Laursen. 2017. Inside Out: Interest Groups' "Outside" Media Work as a Means to Manage "Inside" Lobbying Efforts and Relationships with Politicians. Interest Groups and Advocacy 6 (2): 143–160.
Ethics declarations
Conflict of interest
On behalf of all authors, the corresponding author states that there is no conflict of interest.
Additional information
Publisher's Note
Springer Nature remains neutral with regard to jurisdictional claims in published maps and institutional affiliations.
Rights and permissions
Springer Nature or its licensor (e.g. a society or other partner) holds exclusive rights to this article under a publishing agreement with the author(s) or other rightsholder(s); author self-archiving of the accepted manuscript version of this article is solely governed by the terms of such publishing agreement and applicable law.
About this article
Cite this article
Binderkrantz, A.S., Jensen, C., Lossinno, M.G. et al. No, political actors do not get their message into the news: an analysis of the effect of interest group press releases. Int Groups Adv (2023). https://doi.org/10.1057/s41309-023-00178-3
Accepted:

Published:

DOI: https://doi.org/10.1057/s41309-023-00178-3
Keywords
Interest groups

Media coverage

Press releases

Topic modelling