Abstract
The galloping pace of globalisation has not only led to the expansion of firms across national borders and an exponential increase in the interdependency of international markets, but it has also triggered the development of the regulatory environment into a multilevel arena consisting of numerous and often overlapping and competing global institutions and regulatory jurisdictions. Our paper examines venue shopping at this global level. We argue that existing theories of multilevel venue shopping are not well suited to explaining global venue shopping. Advancing a novel theoretical framework, we argue that the decision to lobby multiple global venues is a function of the extent of firms' international business activities and investments. We test this theory in the case of post-crisis banking regulation in the European Union and the Basel Committee on Banking Supervision. Assessing banks' international activities in terms of the number, international scope, and geographical diversity of their subsidiaries, we find evidence supporting our argument. The new post-crisis banking rules posed a serious threat to banks' international financial activities and banks facing the greatest costs of these new rules were also most likely to engage in global venue shopping.
This is a preview of subscription content, log in to check access.
Access options
Buy single article
Instant access to the full article PDF.
US$ 39.95
Tax calculation will be finalised during checkout.
Subscribe to journal
Immediate online access to all issues from 2019. Subscription will auto renew annually.
US$ 96
Tax calculation will be finalised during checkout.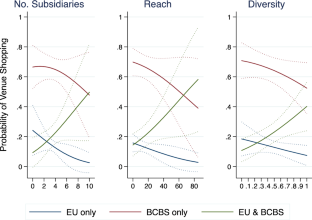 Notes
1.

We define advocacy groups as 'non-profit or profit interest organisations that may pursue domestic or global strategies, or adopt a mix of domestic and global strategies to achieve their goals' (Dellmuth and Bloodgood, this issue page 3). Also see Baroni et al. (2014) for a discussion of the 'interest group' concept.

2.

One important exception is Beyers and Kerremans (2012) who examine venue shopping across national, EU, and WTO levels.

3.

Venue shopping can therefore be characterised as the engagement of advocacy groups in multilevel lobbying games (Marshall and Bernhagen 2017, 984).

4.

5.

This time period corresponds to the first and last consultations for either CRR-CRDIV or Basel III.

6.

7.

Definitions of FDI also commonly refer to greenfield investment: the creation of new facilities or assets in foreign countries. However, this is not applicable to banks' international activities (see Cohn 2016, 415).

8.

Note that HHI usually ranges from 0 (extreme diversity) to 1 (extreme concentration). However, these values have been reversed to make this indicator more intuitive relative to our other measures of International Scope.

9.

10.

11.
References
Baroni, Laura, et al. 2014. Defining and Classifying Interest Groups. Interest Groups & Advocacy 3 (2): 141–159. https://doi.org/10.1057/iga.2014.9.

Barth, James R., Garth Caprio Jr, and Ross Levine. 2006. Rethinking Bank Regulation: Till Angels Govern. Cambridge: Cambridge University Press.

Baumgartner, Frank R., and Beth L. Leech. 1998. Basic Interests. Princeton, NJ: Princeton University Press.

Bernhagen, Patrick, and Neil J. Mitchell. 2009. The Determinants of Direct Corporate Lobbying in the European Union. European Union Politics 10 (2): 155–176.

Beyers, Jan, and Bart Kerremans. 2012. Domestic Embeddedness and the Dynamic of Multilevel Venue Shopping in Four EU Member States. Governance: An International Journal of Policy, Administration, and Institutions 25 (2): 263–290.

Cerny, Philip G. 2010. Rethinking World Politics: A Theory of Transnational Pluralism. Oxford: Oxford University Press.

Chalmers, Adam William. 2017. When Banks Lobby: The Effects of Organizational Characteristics and Banking Regulations on International Bank Lobbying. Business and Politics 19 (1): 107–134.

Chalmers, Adam William. 2019. Unity and Conflict: Explaining Financial Industry Lobbying Success in European Union Public Consultations. Regulation & Governance. https://doi.org/10.1111/rego.12231.

Cohn, Theodore H. 2016. Global Political Economy. New York: Routledge.

Constantelos, John. 2010. Playing the Field: Federalism and the Politics of Venue Shopping in the United States and Canada. Publius The Journal of Federalism 40 (3): 460–483.

Culpepper, Pepper D. 2011. Quiet Politics and Business Power. Corporate Control in Europe and Japan. Cambridge: Cambridge University Press.

Davis, Howard, and David Green. 2008. Global Financial Regulation. Cambridge: Polity.

den Hond, F., and F.G.A. Bakker. 2012. Boomerang Politics: How Transnational Stakeholders Impact Multinational Corporations in the Context of Globalization. In A Stakeholder Approach to Corporate Social Responsibility: Pressures, Conflicts, Reconciliation, ed. A. Lindgreen, P. Kotler, J. Vanhamme, and F. Maon, 275–292. Aldershot: Gower Publishing.

Dür, Andreas, and Gemma Mateo. 2016. Insiders Versus Outsiders. Interest Group Politics in Multilevel Europe. Oxford: Oxford University Press.

Ehrlich, Sean D., and Eryn Jones. 2016. Whom Do European Corporations Lobby? The Domestic Institutional Determinants of Interest Group Activity in the European Union. Business and Politics 18 (4): 467–488.

Eising, Rainer, et al. 2017. Who Says What to Whom? Alignments and Arguments in EU Policy-Making. West European Politics 40 (5): 957–980.

Farrell, Henry, and Abraham L. Newman. 2014. The New Politics of Interdependence. Cross-National Layering in Trans-Atlantic Regulatory Disputes. Comparative Political Studies 48 (4): 497–526.

Goldbach, Roman. 2015. Asymmetric Influence in Global Banking Regulation. Transnational Harmonization, the Competition State, and the Roots of Regulatory Failure. Review of International Political Economy 22 (6): 1087–1127.

Goodhart, Charles. 2011. The Basel Committee on Banking Supervision: A History of the Early Years. Cambridge: Cambridge University Press.

Hall, Richard A., and Alan V. Deardorff. 2006. Lobbying as Legislative Subsidy. American Political Science Review 100 (1): 69–84.

Holyoke, Thomas T., Heath Brown, and Jeffrey R. Henig. 2012. Shopping in the Political Arena: Strategic State and Local Venue Selection by Advocates. State and Local Government Review 44 (1): 9–20.

Jayatillake, R.V., M.R. Sooriyarachchi, and D.L.P. Senarathna. 2011. Adjusting for a Cluster Effect in the Logistic Regression Model: An Illustration of Theory and Its Application. Journal of the National Science Foundation of Sri Lanka 39 (3): 211–218.

Keck, M.E., and K. Sikkink. 1998. Activists Beyond Borders: Advocacy Networks in International Politics. Ithaca, NY: Cornell University Press.

Klüver, Heike, Caelesta Braun, and Jan Beyers. 2015. Legislative Lobbying in Context: Towards a Conceptual Framework of Interest Group Lobbying in the European Union. Journal of European Public Policy 22 (4): 447–461.

Marshall, David, and Patrick Bernhagen. 2017. Government-Business Relations in Multilevel Systems: The Effect of Conflict Perception on Venue Choice. West European Politics 40 (5): 981–1003.

Quaglia, Lucia. 2014. The European Union and Global Financial Regulation. Oxford: Oxford University Press.

Singer, David Andrew. 2007. Regulating Capital: Setting Standards for the International Financial System. Ithaca, NY: Cornell University Press.

Tarullo, Daniel. 2008. Banking on Basel: The Future of International Financial Regulation. New York: Peterson Institute.
Additional information
Publisher's Note
Springer Nature remains neutral with regard to jurisdictional claims in published maps and institutional affiliations.
Appendix
Appendix
See Tables 2, 3, 4, 5, 6, 7 and 8.
Figure 2 presents stark differences across banks when we compare global venue shopping (lobbying in the EU and BCBS) to lobbying in just one venue. Banks engaged in global venue shopping have a much larger number of subsidiaries (Number of subsidiaries) and have many more subsidiaries in a larger (Reach of subsidiaries) and more diverse range of countries (Diversity of subsidiaries). ANOVA tests show statistically significant differences in the means for all three indicators.
About this article
Cite this article
Chalmers, A.W., Iacobov, A.A. The stakes of global venue shopping: examining bank lobbying in the Basel Committee and the European Union. Int Groups Adv 8, 433–459 (2019). https://doi.org/10.1057/s41309-019-00059-8
Keywords
Advocacy

Venue shopping

Banking

BCBS

EU