Abstract
Digital advocacy organizations are permanent institutions which can rapidly mobilize people online and offline. Scholars are beginning to examine these organizations' distinctive mode of advocacy within national contexts. However, we know relatively little about how these organizations select their campaigns, and when they successfully mobilize the public on international issues. This is important as most advocacy targets national decision-makers, rather than international institutions. This article asks: how do digital advocacy organizations select the issues they campaign on? It examines refugee campaigns across seven organizations in seven different countries (Australia, Austria, Canada, Ireland, New Zealand, the UK, and the USA) between late 2015 and 2017. It draws on extensive primary research, including a dozen interviews with digital activists, journalists, and Non-Governmental Organizations (NGOs). It finds that digital advocacy organizations choose campaigns based on issuesalience, whereas traditional NGOs are driven by issue-expertise. Professional staff select campaigns in NGOs, whereas in digital advocacy organizations campaign decision-making is member-driven. Overall, this paper calls for International Relations (IR) and interest group scholars to examine campaign selection and decision-making in all advocacy organizations.
Access options
Buy single article
Instant access to the full article PDF.
US$ 39.95
Tax calculation will be finalised during checkout.
Subscribe to journal
Immediate online access to all issues from 2019. Subscription will auto renew annually.
US$ 79
Tax calculation will be finalised during checkout.
Notes
1.

2.

The author is not aware of any existing scholarship that compares cross-nationally digital advocacy organizations that follow the particular model of advocacy outlined here.

3.

The OPEN network includes national digital advocacy organizations operating in: Australia, Austria, Canada, Ireland, France, Germany, Hungary, Israel, New Zealand, the Netherlands, Poland, Romania, South Africa, Sweden, Switzerland, the USA and the UK. OPEN, OPEN Network. https://www.the-open.net/network/. Last viewed 24 July 2018.

4.

5.

6.

7.

8.

International digital advocacy organizations include: SumOfUs, 350.org, AllOut, and Avaaz.

9.

A prisoner of conscience is someone that has not used or advocated violence but is imprisoned because of who they are (sexual orientation, ethnic, national or social origin, language, birth, colour, sex or economic status) or what they believe (religious, political or other conscientiously held beliefs). See Amnesty International, https://www.amnesty.org/en/what-we-do/detention/. Last Accessed 2 August 2018.

10.

Surveys may be open-ended and enable members to name the issues they care about; or they may be more directed, and members select from issues pre-determined by staff.

11.

A/B testing involves trialing different subject headings for emails to see which is most effective at mobilizing members.

12.

Skype Interview with Becky Jervis, OPEN, on 30 November and 7 March 2016.

13.

They may occasionally use inside strategies, but predominantly pursue outside strategies.

14.

This makes them similar to US interest groups who pursue outsider strategies (Kollman 1998, p. 155).

15.

16.

The European barometer does not include 'refugees' on its list of issues: 'immigration' is the closet approximation. The barometer is bi-annual survey of European citizens across all European countries, including the UK.

17.

The US Gallup poll does not include 'refugees' in its survey.

18.

In Australia and New Zealand there are no surveys that examine variation in issue salience over time. Most polls focus on issue preference and ask questions such as: "What do you think of the number of immigrants accepted into Australia/New Zealand?", rather than how important the public see immigration relative to other political issues (Colmar Brunton 2016; Markus 2011, 2017). Polls conducted in Australia in the early 2000s suggest immigration was ranked low in terms of issue salience (Markus 2011, p. 201).

19.

20.

21.

22.

Interview with Siobhán Donoghue, Uplift Executive Director, 1 July 2016.

23.

Interview with Siobhán Donoghue, Uplift Executive Director, 1 July 2016.

24.

25.

26.

Interview with Maria Mayrhofer, Executive Director, #aufstehn, 22 June 2016.

27.

28.

29.

Interview with Maria Mayrhofer, Executive Director, #aufstehn, 22 June 2016.

30.

31.

They were working closely with a domestic refugee campaigning group Doing Our Bit which was focused on doubling New Zealand's annual refugee quota. OPEN Refugee Summit, May 2016. ActionStation. http://www.actionstation.org.nz/refugees. 22 July 2016.

32.

33.

34.

It was not until June 2016 that the New Zealand government announced it would increase the annual refugee quota from 750 to 1000. It did would not double the quota as advocates had demanded.

35.

Interview with former 38 Degrees staff member, Berlin, 4 August 2016.

36.

Interview with 38 Degrees staff member, London, 27 October 2016.

37.

38.

39.

Interview with Daniel Webb, Director of Legal Advocacy, Human Rights Law Centre, 15 July 2016.
References
Australian Associated Press. 2017. Australia's Top 20 Power-Brokers News.Com.Au. http://www.news.com.au/national/breaking-news/australias-top-20-powerbrokers/news-story/1befd0a99d89672707750b56a81c7c.

Baum, Matthew A., and Philip B.K. Potter. 2008. The Relationships Between Mass Media, Public Opinion, and Foreign Policy: Toward a Theoretical Synthesis. Annual Review of Political Science 11: 39–65.

Betzold, Carola. 2013. Business Insiders and Environmental Outsiders? Advocacy Strategies in International Climate Change Negotiations. Interest Groups & Advocacy 2: 302–322.

Bloodgood, Elizabeth A., and Emily Clough. 2016. Transnational Advocacy Networks: A Complex Adaptive Systems Simulation Model of the Boomerang Effect. Social Science Computer Review 35: 319–335.

Bourke, Latikia. 2015. Change of Heart: Abbott Government Agrees to Accept 12,000 Syrian Refugees. Sydney Morning Herald. 09 Sept 2015.

Brady, Sarah. 2016. Irish "Pledge a Bed" for Refugees Campaign is Overwhelmed with Offers. Independent.ie, 03 Sept 2016.

Carpenter, Charli R. 2007. Studying Issue (Non)-Adoption in Transnational Advocacy Networks. International Organization 61: 643–667.

Chadwick, Andrew, and James Dennis. 2016. Social Media, Professional Media and Mobilisation in Contemporary Britain: Explaining the Strengths and Weaknesses of the Citizens' Movement 38 Degrees. Political Studies 65: 42–60.

Colmar Brunton. 2016. Community Perceptions of Migrants and Immigration. Report for Ministry of Business, Innovation and Employment (MBIE). Wellington: MBIE. December 2016.

Connor, Philip. 2016. Number of Refugees to Europe Surges to Record 1.3 Million in 2015. Pew Research Center's Global Attitudes Project.

Dellmuth, Lisa, and Jonas Tallberg. 2017. Advocacy Strategies in Global Governance: Inside Versus Outside Lobbying. Political Studies 65: 705–723.

Dellmuth, Lisa M., and Elizabeth A. Bloodgood. (this issue). Advocacy Group Effects in Global Governance: Populations, Strategies, and Political Opportunity Structures. Interest Groups and Advocacy.

European Commission. 2018. Public Opinion in the European Union (No. Standard Eurobarometer 89). Belgium: European Commission.

Fraussen, Bart, and Darren Halpin. 2017. How Do Interest Groups Legitimate Their Policy Advocacy? Reconsidering Linkage and Internal Democracy in Times of Digital Disruption. Public Administration 96: 23–35.

Gulbrandsen, Lars, and Steinar Andresen. 2004. NGO Influence in the Implementation of the Kyoto Protocol: Compliance, Flexibility Mechanisms, and Sinks. Global Environmental Politics 4: 54–75.

Hadden, Jennifer. 2015. Networks in Contention. Cambridge: Cambridge University Press.

Hall, Nina. 2019. Norm Contestation in the Digital Era: Campaigning for Refugee Rights. International Affairs 95: 575–595.

Hall, Nina. 2017a. Innovations in Activism in the Digital Era: Campaigning for Refugee Rights in 2015—2016. In The Governance Report 2017, Democracy, Innovations, Participation, Legitimacy, Indicators, ed. Helmut Anheier, 143–156. Oxford: Oxford University Press.

Hall, Nina. 2017b. People Power, Populism and the Internet. In Global Policy Online, 11 July 2017.

Hall, Nina and Phil Ireland. 2016. Transforming Activism: Digital Era Advocacy Organizations. Stanford Social Innovation Review, 6 July 2016. http://ssir.org/articles/entry/transforming_activism_digital_era_advocacy_organizations.

Halpin, Darren R., Bart Fraussen, and Anthony Nownes. 2018. The Balancing Act of Establishing a Policy Agenda: Conceptualizing and Measuring Drivers of Issue Prioritization Within Interest Groups. Governance 31: 215–237.

Hanegraaff, Marcel, Jan Beyers, and Iskander de Bruycker. 2016. Balancing Inside and Outside Lobbying: The political Strategies of Lobbyists at Global Diplomatic Conferences. European Journal of Political Research 55: 568–588.

Hendrix, Cullen, and Wendy Wong. 2014. Knowing Your Audience: How the Structure of International Relations and Organizational Choices Affect Amnesty International's Advocacy. Review of International Organization 9: 29–58.

Henry, Laura A., Lisa McIntosh Sundstrom, Carla Winston, and Priya Bala-Miller. (this issue). NGO Participation in Global Governance Institutions: International and Domestic Drivers of Engagement. Interest Groups and Advocacy.

Jordan, Grant, and William A. Maloney. 1998. Manipulating Membership: Supply-Side Influences on Group Size. British Journal of Political Science 28: 389–409.

Karpf, David. 2012. The MoveOn Effect: The Unexpected Transformation of American Political Advocacy. New York: Oxford University Press.

Karpf, David. 2016. Analytic Activism. Oxford: Oxford University Press.

Keck, Margaret, and Kathryn Sikkink. 1998. Activists beyond Borders: Advocacy Networks in International Politics. Ithaca, NY: Cornell University Press.

Kelly, Joe. 2018. GetUp! Makes Adani's Demise Its Major Goal for 2018. The Australian. 1 April 2018.

Kollman, Ken. 1998. Outside Lobbying. Princeton: Princeton University Press.

Lake, David G. and Wendy Wong. 2009. The Politics of Networks: Interests, Power, and Human Rights Norms. In Networked Politics: Agency, Power, and Governance, ed. Miles Kahler. Ithaca: Cornell University Press. http://www.cornellpress.cornell.edu/book/?GCOI=80140100115180.

Markus, Andrew. 2017. Mapping Social Cohesion: The Scanlon Foundation Surveys 2017. Caulfield East: Monash.

Markus, Andrew. 2011. Immigration and Public Opinion. In A "Sustainable" Population?—Key Policy Issues. Canberra: Australian Government—Productivity Commission. https://www.pc.gov.au/research/supporting/sustainable-population/01-population-preliminaries.pdf. https://www.pc.gov.au/research/supporting/sustainable-population.

McDonnell, Mary. 2015. Over 6,000 Irish People Pledge to Home Refugees, newstalk.com. 4 September 2015. http://www.newstalk.com/reader/47.301/54585/0/. Accessed 7 Sept 16.

Murphy, Katherine. 2016. Turnbull Government Launches Sweeping Inquiry into Donations. The Guardian, 14 Sept 2018.

Nathan, Matt. 2015. Aylan Kurdi: David Cameron Says He Felt "Deeply Moved" by Images of Dead Syrian Boy But Gives No Details of Plans to Take in More Refugees. The Independent. 3 Sept 2015.

Newport, Frank. 2018. Immigration Surges to Top of Most Important Problem List [WWW Document]. Gallup.com. https://news.gallup.com/poll/237389/immigration-surges-top-important-problem-list.aspx. Accessed 24 July 2018.

Olesen, Thomas. 2018. Memetic Protest and the Dramatic Diffusion of Alan Kurdi. Media, Culture and Society 40: 656–672.

Princen, Thomas. 1995. Ivory, Conservation, and Environmental Transnational Coalitions. In Bringing Transnational Relations Back, ed. Thomas Risse-Kappen, 227–254. Cambridge: Cambridge University Press. https://www.cambridge.org/core/books/bringing-transnational-relations-back-in/46897C34ACC7D3A341D52CD73AD692D3.

Raja, Irfan, and Nasser N. Alotaibi. 2018. Representations of Syrian Refugees in the British Tabloid Press: An illustration of Aylan Kurdi's Tragic Event. Journal of Arab & Muslim Media Research 11 (1): 61–82.

Sikkink, Kathryn. 2005. Patterns of Dynamic Multilevel Governance. In Transnational Protest and Global Activism, ed. Donatella Della Porta and Sidney G. Tarrow. Oxford: Rowman & Littlefield.

Silberman, Michael. 2017. Five Years of Building People Power at Greenpeace. Mobilisation Lab. https://mobilisationlab.org/burning-platform-building-people-power/. Accessed 20 April 18.

Stephens, Murdoch. 2018. Doing Our Bit: The Campaign to Double the Refugee Quota, 1st ed. Wellington: Bridget Williams Books.

Stroup, Sarah, and Wendy Wong. 2017. The Authority Trap: Strategic Choices of International NGOs. Ithaca, NY: Cornell University Press.

Tallberg, Jonas, Lisa Dellmuth, Hans Agné, and Andreas Duit. 2018. NGO Influence in International Organizations: Information, Access and Exchange. British Journal of Political Science 48: 213–238.

Thomas, Emma, Nicola Cary, Lisa Smith, Russell Spears, and Craig McGarty. 2018. The Role of Social Media in Shaping Solidarity and Compassion Fade: How the Death of a Child Turned Apathy into Action But Distress Took It Away. New Media Society 20: 3778–3798.

Vromen, Ariadne. 2017. Digital Citizenship and Political Engagement, The challenge from Online Campaigning. London: Palgrave McMillan.

Wong, Wendy. 2012. Internal Affairs, How the Structure of NGOs Transforms Human Rights. Ithaca: Cornell University Press.

Yanacopulos, Helen. 2009. Cutting the Diamond: Networking Economic Justice. In Networked Politics: Agency, Power, and Governance, ed. Miles Kahler, 67–78. Ithaca, NY: Cornell University Press.
Acknowledgements
The author would like to thank the participants of the Stockholm workshop on Advocacy Groups in Global Governance: Global and Domestic Opportunity Structures, in particular Kirsten Lucas, Elizabeth Bloodgood, and Lisa Dellmuth. A special thanks to Rebecca John for her excellent research assistance and feedback on this article.
Ethics declarations
Conflict of interest
The author states that there is no conflict of interest.
Additional information
Publisher's Note
Springer Nature remains neutral with regard to jurisdictional claims in published maps and institutional affiliations.
Appendix
Appendix
Issue salience of immigration in Europe overall (Eurobarometer)
What do you think are the two most important issues facing the EU at the moment? (Fig. 1).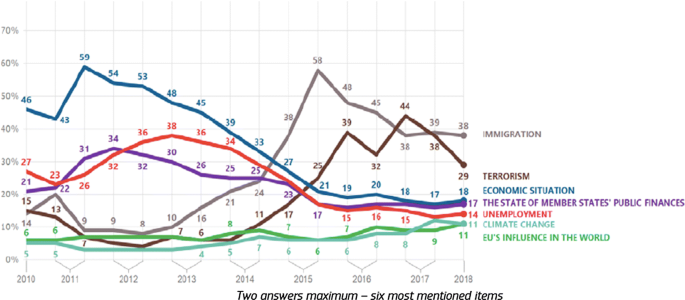 Issue salience of immigration in Europe by country (Eurobarometer)
What do you think are the two most important issues facing your country at the moment? (Fig. 2).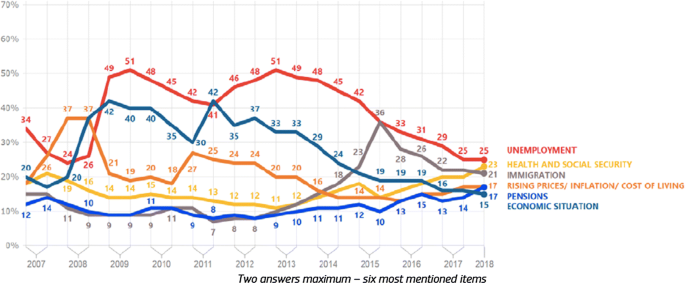 Issue salience of immigration in the USA
See Fig. 3.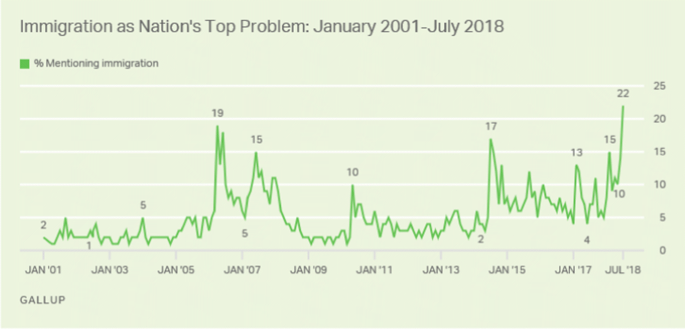 Table of select interview participants
| Name | Organization | Function | Country |
| --- | --- | --- | --- |
| Becky Jarvis | OPEN | OPEN, Start-Up Coordinator | International |
| Siobhán O'Donoghue | Uplift | Executive Director | Ireland |
| Maria Mayrhofer | #aufstehn | Executive Director | Austria |
| Daniel Webb | Human Rights Law Centre | Director of Legal Advocacy | Australia |
| Shen Narayanasamy | GetUp! | Human Rights Campaign Co-Director | Australia |
| Edel McGinley | Uplift | Director of Migrant's Rights Centre and Uplift Board Member | Ireland |
| Natasha Blucher | Darwin Asylum Seeker Support and Advocacy Network (DASSAN) | Advocacy Coordinator | Australia |
| Marianne Elliott | ActionStation | Former Executive Director | New Zealand |
| Laura O'Connell Rapira | ActionStation | Executive Director | New Zealand |
| Matthew Phillips | GetUp! | Human Rights Campaign Co-Director | Australia |
| Nat Whalley | Former-38 Degrees | Former 38 Degrees Campaigner (now Executive Director Organize) | UK |
| Anna Westerberg | Skiftet | Campaign Director | Sweden |
| Robin Zachari | Skiftet | Executive Director | Sweden |
About this article
Cite this article
Hall, N. When do refugees matter? The importance of issue salience for digital advocacy organizations. Int Groups Adv 8, 333–355 (2019). https://doi.org/10.1057/s41309-019-00054-z
Keywords
Digital advocacy

Mobilizing

Advocacy organizations

NGOs

Refugees