Abstract
Previous research demonstrates that interest groups punish congressional allies by withholding campaign contributions. But, past studies did not indicate whether this punishment strategy is effective at getting members of Congress to change their voting behavior. The literature on vote switching in Congress ignores how legislators may respond to pressure, in the form of punishment, from allied interest groups. We propose competing hypotheses. Punishment could cause incumbents to switch their vote, but punishment may also be seen as an unwelcome tactic and met with resistance from incumbents. We also hypothesize that rewards will lead to more vote switching. We test this theory in the context of labor PAC punishment and reward of House Democrats who voted for free trade. We find that punishment backfires by making incumbents less likely to switch their vote on trade. We also find that rewards from labor PACs make it more likely that incumbent Democrats will switch their vote, while rewards from business PACs make it much less likely. We conclude with thoughts on the importance of understanding the effect of interest group tactics on vote switching in Congress and how labor's strategic choices may affect its influence in American politics.
This is a preview of subscription content, log in to check access.
Access options
Buy single article
Instant access to the full article PDF.
US$ 39.95
Tax calculation will be finalised during checkout.
Subscribe to journal
Immediate online access to all issues from 2019. Subscription will auto renew annually.
US$ 79
Tax calculation will be finalised during checkout.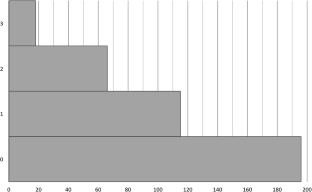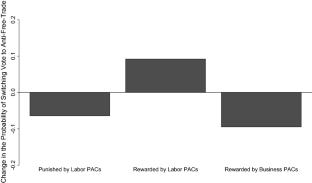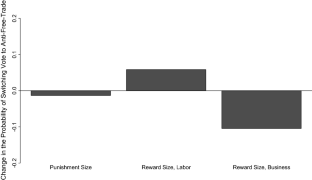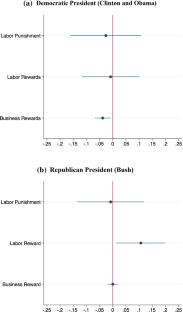 Notes
1.

Quoted in Cox, James. 2000. "CEOs Hail Passage, While Unions Vow Revenge." USA Today, 25 May.

2.

We focus on Democrats only in our analysis because labor has been allied with the Democratic Party since the New Deal (Dark 2003), and labor PACs contribute heavily to Democratic candidates (e.g., Francia 2006), which provides the opportunity to punish via withholding. Labor favors the Democratic Party because of the ideological congruency even when controlling for the prospects of Democrats winning a majority in Congress (e.g. Rudolph 1999). There is no evidence that labor unions swing support to Republicans candidates when punishing Democrats. Instead, punishment is enacted by withholding campaign contributions (e.g., Jansa and Hoyman 2018).

3.

This timeframe was chosen because it coincides with labor's increasingly vocal calls for Democrats to remain committed to trade protectionism or else be punished. It is important to note, though, that data on vote-switching is sparse post-2008. There were no major trade votes tracked by the AFL-CIO in 2010 and no Democrats switched their vote on major trade bills in 2012. Incumbent House Democrats in 2012 are included in the dataset even though there was not switching. Attempts were made to extend to 2014 and 2016, but the data are missing for some control variables. Nonetheless, this time period provides an excellent context for testing the effectiveness of punishment.

4.

Although this variable treats anti- to pro- switching and non-switching the same, this is a non-factor when it comes to modeling. When this variable is included in the conditional mixed process model described below, all switches from anti- to pro- get dropped because of the specified Heckman selection process in which an incumbent must have voted for free trade before they are able to switch or stand pat. Coding this way allows me to clearly describe what is happening with regard to the directionality of switching in response to punishment for the reader, and does not affect inferences made from the model. In fact, I alternatively coded the variable as 1 for switching from pro- to anti-, − 1 for switching from anti- to pro-, and 0 for no switch. I re-ran the models with this variable and obtained the exact same results. I also ran the models with switching to pro-free-trade as the dependent variable and obtained similar results with coefficients oppositely signed since we are modeling movement in the opposite direction.

5.

Sometimes, the AFL-CIO position was 'Yay' and sometimes 'Nay,' but these positions always corresponded to an anti-free-trade position. The votes by members of Congress were simply coded as against the AFL-CIO and, therefore, pro-free-trade.

6.

We also use the total amount of contributions in a given session from labor PACs as a control variable in separate but simultaneously estimated models. This process is described in detail below.

7.

The operational definition of leadership is major party leaders, including Speaker of the House, Majority Leader, Democratic Whip, and Democratic Caucus Chair.

8.

The labor punishment and reward variables are weakly related to one another because punishment is measured in the preceding election cycle for each observation, and reward is measured in the concurrent election cycle. This means these variables can be included in the same model without creating collinearity difficulties. The same results were obtained running the models separately for reward and punishment.
References
Arnold, R.D. 1990. The Logic of Congressional Action. New Haven: Yale University Press.

Asher, H.B., and H.F. Weisberg. 1978. Voting Changes in Congress: Some Dynamic Perspectives. American Journal of Political Science 22: 391–425.

Baldwin, Robert E., and Christopher S. Magee. 2000. Is Trade Policy for Sale? Congressional Voting on Recent Trade Bills. Public Choice 105: 79–101.

Bardwell, Kedron. 2000. The Puzzling Decline in House Support for Free Trade: Was Fast Track a Referendum on Nafta? Legislative Studies Quarterly 25: 591–610.

Beaulieu, Eugene, and Christopher Magee. 2004. Four Simple Tests of Campaign Contributions and Trade Policy Preferences. Economics and Politics 16: 163–187.

Bok, Derek C., and John T. Dunlop. 1970. How Trade Union Policy Is Made. Monthly Labor Review 93: 17–20.

Burns, Peter F., Peter L. Francia, and Paul S. Herrnson. 2000. Labor at Work: Union Campaign Activities and Legislative Payoffs in the Us House of Representatives. Social Science Quarterly 81: 507–522.

Center for Responsive Politics. 2018. Labor Summary. https://www.opensecrets.org/industries/Indus.php?ind=p. Accessed 30 Jan 2018.

Chappell Jr., Henry W. 1982. Campaign Contributions and Congressional Voting: A Simultaneous Probit-Tobit Model. Review of Economics and Statistics 64 (1): 77–83.

Dark, Taylor E. 2003. To Reward and Punish: A Classification of Union Political Strategies. Journal of Labor Research 24: 457–472.

Engel, Steven T., and David J. Jackson. 1998. Wielding the Stick Instead of the Carrot: Labor Pac Punishment of Pro-Nafta Democrats. Political Research Quarterly 51: 813–828.

Fellowes, Matthew C., and Patrick J. Wolf. 2004. Funding Mechanisms and Policy Instruments: How Business Campaign Contributions Influence Congressional Votes. Political Research Quarterly 57: 2.

Fenno, Richard F. 1977. U.S. House Members in their Constituencies: An Exploration. American Political Science Association 71 (3): 883–917.

Francia, Peter L. 2001. The Effects of the North American Free Trade Agreement on Corporate and Labor Pac Contributions. American Politics Research 29: 98–109.

Francia, Peter L. 2006. The Future of Organized Labor in American Politics. New York: Columbia University Press.

Gilbert, John, and Reza Oladi. 2012. Net Campaign Contributions, Agricultural Interests, and Votes on Liberalizing Trade with China. Public Choice 150: 745–769.

Gopoian, J.David. 1984. What Makes Pacs Tick? An Analysis of the Allocation Patterns of Economic Interest Groups. American Journal of Political Science 28: 259–281.

Grenzke, Janet M. 1989. PACs and the Congressional Supermarket: The Currency is Complex. American Journal of Political Science 33 (1): 1–24.

Hall, R., and F. Wayman. 1990. Buying Time: Moneyed Interests and the Mobilization of Bias in Congressional Committees. The American Political Science Review 84 (3): 797–820. https://doi.org/10.2307/1962767.

Hibbing, J.R. 1991. Congressional Careers: Contours of Life in the US House of Representatives. Chapel Hill: University of North Carolina Press.

Jackson, David J., and Steven T. Engel. 2003. Friends Don't Let Friends Vote for Free Trade: The Dynamics of the Labor Pac Punishment Strategy over Pntr. Political Research Quarterly 56: 441–448.

Jansa, Joshua, and Michele Hoyman. 2018. Do Unions Punish Democrats? Free Trade Agreements and Labor PAC Contributions. Political Research Quarterly 71: 424–439.

Jones, Woodrow, and K. Robert Keiser. 1987. Issue Visibility and the Effects of Pac Money. Social Science Quarterly 68: 170.

Kingdon, John. 1989. Congressmen's Voting Behavior. New York: Harper.

Kirkland, Justin, and Jeffrey Harden. 2016. Representation, Competing Principals, and Waffling on Bills in US Legislatures. Legislative Studies Quarterly 41 (3): 657–686.

Krehbiel, K. 1998. Pivotal politics: A theory of US lawmaking. Chicago: University of Chicago Press.

Levi, Margaret. 2003. Organizing Power: The Prospects for an American Labor Movement. Perspectives on Politics 1 (1): 45–68.

Masters, Marick F. 2004. Unions in the 2000 election: A strategic choice perspective. Journal of Labor Research 25 (1): 135–182.

Mayhew, D.R. 1974. Congress: The electoral connection. New Haven: Yale University Press.

Peake, Jeffrey S, David J Jackson, and Glen Biglaiser. 2007. Don't Go Changing to Try and Please Me: A Preference-Consistency Analysis on Trade Policy in the Us House. Paper presented at the Congress and the Presidency: A Journal of Capital Studies.

Poole, K.T., and H. Rosenthal. 1997. Congress: A Political Economic History of Roll Call Voting. Oxford: Oxford University Press.

Roodman, David. 2011. Fitting Fully Observed Recursive Mixed Process Models with CMP. The Stata Journal 11 (2): 159–206.

Roscoe, Douglas D., and Shannon Jenkins. 2005. A Meta-Analysis of Campaign Contributions' Impact on Roll Call Voting. Social Science Quarterly 86 (1): 52–68.

Rudolph, Thomas J. 1999. Corporate and Labor Pac Contributions in House Elections: Measuring the Effects of Majority Party Status. The Journal of Politics 61: 195–206.

Seo, Jungkun. 2010. Vote Switching on Foreign Policy in the Us House of Representatives. American Politics Research 38: 1072–1101.

Stratmann, Thomas. 2002. Can Special Interests Buy Congressional Votes? Evidence from Financial Services Legislation. The Journal of Law and Economics 45: 345–373.

U.S. Census Bureau. 2017. Fact Finder. https://factfinder.census.gov/faces/nav/jsf/pages/index.xhtml.

Wawro, Gregory. 2001. A Panel Probit Analysis of Campaign Contributions and Roll-Call Votes. American Journal of Political Science 45 (3): 563–579.

Witko, Christopher. 2014. When Does Money Buy Votes? Campaign Contributions and Policymaking. In New Directions in Interest Group Politics, ed. Matt Grossmann. New York: Routledge.

Wright, John R. 1990. Contributions, Lobbying, and Committee Voting in the U.S. House of Representatives. American Political Science Review 84 (2): 417–438.
Acknowledgements
I would like to thank Blake Whitney and James Owen for excellent research assistance, and Jacob Neiheisel, Adam Newmark, Jeff Harden, and Justin Kirkland for helpful comments. This project would not have been possible without the outstanding guidance of Michele Hoyman. Previous versions of this paper were presented at the 76th Annual Meeting of the Midwest Political Science Association in Chicago, IL and the 70th Annual Meeting of the Labor and Employment Relations Association in Baltimore, MD.
Ethics declarations
Conflict of interest
On behalf of all authors, the corresponding author states that there is no conflict of interest.
Additional information
Publisher's Note
Springer Nature remains neutral with regard to jurisdictional claims in published maps and institutional affiliations.
About this article
Cite this article
Jansa, J.M. You catch more flies with honey: an analysis of PAC punishment and congressional vote switching. Int Groups Adv 8, 184–207 (2019). https://doi.org/10.1057/s41309-019-00053-0
Keywords
Campaign contributions

Political action committees

Labor unions

Trade policy

Congressional voting