Abstract
What type of information helps interest advocates get their way? While it is widely acknowledged in the academic literature that information provision is a key aspect of lobbying, few scholars have directly tested the effect of information on lobbying success. Policymakers need information both on technical aspects and public preferences to anticipate the effectiveness of a policy proposal and electoral consequences. However, scholars have found that interest groups predominantly provide the former rather than the latter, which suggests that technical information is seen as more efficient. The paper argues that lobbying success is not solely a function of the provision of any information but of the specific type of information and its composition. It furthermore argues that the relevance of different information types for lobbying success depends on issue characteristics such as public opinion, salience or complexity. Relying on new original data of advocacy activity on 50 specific policy issues in five West European countries, the paper highlights that the provision of expert information increases the likelihood of lobbying success, while the effect of information about public preferences is, if anything, negative. The study ultimately contributes to our understanding of informational lobbying, interest representation and interest group influence.
Access options
Buy single article
Instant access to the full article PDF.
US$ 39.95
Tax calculation will be finalised during checkout.
Subscribe to journal
Immediate online access to all issues from 2019. Subscription will auto renew annually.
US$ 79
Tax calculation will be finalised during checkout.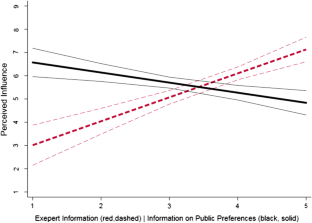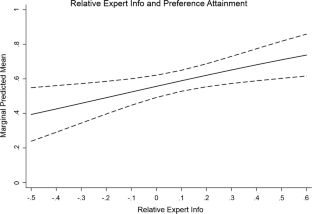 Notes
1.

2.

3.

Denmark: Politiken and Jyllands-Posten; Germany: Sueddeutsche Zeitung and Frankfurther Allgemeine Zeitung; Netherlands: De Volkskrant and NRC Handelsblad; Sweden: Dagens Nyheter and Svenska Dagbladet; United Kingdom: The Guardian and The Telegraph.

4.

One could argue that it may be difficult for survey respondents to clearly distinguish between the two types of information as technical arguments can also include a normative judgment. De Bruycker (2016) compares how often interview respondents indicated to have used different information types to how often such information types have been identified using hand-coding and comes to the same conclusion, which suggests that respondents can identify different information types.

5.

This resembles a measure used by Dür and Mateo (2013) to calculate the relative inside strategy compared to outside strategies by interest groups.

6.

As an indicator of the extent to which the actor could rely on public expressions of support, one could potentially also use a variable asking how important respondents considered organising protests or other activities mobilising the public. All analyses have been run using such an alternative measure instead, which, however, does not alter the results (see Appendix H in Supplemental Online Material).

7.

An intercoder reliability test on the same sample resulted in a Krippendorff's alpha of 0.92 in distinguishing these different actor types (effective n = 50, 2 raters).

8.

See Appendix E for alternative model specification in Supplemental Online Material.

9.

The correlation between these two variables is 0.52, but not problematic (Vif < 2).
References
Ainsworth, S. 1993. Regulating lobbyists and interest group influence. The Journal of Politics 55(1): 41–56.

Austen-Smith, D. 1993. Information and influence: Lobbying for agendas and votes. American Journal of Political Science 37(3): 799–833.

Austen-Smith, D., and J.R. Wright. 1992. Competitive lobbying for a legislator's vote. Social Choice and Welfare 9(3): 229–257.

Baumgartner, F.R., J.M. Berry, M. Hojnacki, B.L. Leech, and D.C. Kimball. 2009. Lobbying and policy change: Who wins, who loses, and why. Chicago: University of Chicago Press.

Berkhout, J. 2013. Why interest organizations do what they do: Assessing the explanatory potential of 'exchange' approaches. Interest Groups & Advocacy 2(2): 227–250.

Berkhout, J., J. Beyers, C. Braun, M. Hanegraaff, and D. Lowery. 2017a. Making inference across mobilisation and influence research: Comparing top-down and bottom-up mapping of interest systems. Political Studies 66(1): 43–62.

Berkhout, J., M. Hanegraaff, and C. Braun. 2017b. Is the EU different? Comparing the diversity of national and EU-level systems of interest organisations. West European Politics 40(5): 1109–1131.

Beyers, J. 2004. Voice and access political practices of European interest associations. European Union Politics 5(2): 211–240.

Binderkrantz, A.S., and A. Rasmussen. 2015. Comparing the domestic and the EU lobbying context: Perceived agenda-setting influence in the multi-level system of the European Union. Journal of European Public Policy 22(4): 552–569.

Bouwen, P. 2002. Corporate lobbying in the European Union: The logic of access. Journal of European Public Policy 9(3): 365–390.

Bouwen, P. 2004. Exchanging access goods for access: A comparative study of business lobbying in the European Union institutions. European Journal of Political Research 43(3): 337–369.

Bunea, A. 2013. Issues, preferences and ties: Determinants of interest groups' preference attainment in the EU environmental policy. Journal of European Public Policy 20(4): 552–570.

Burstein, P. 2014. American public opinion, advocacy, and policy in Congress: What the public wants and what it gets. New York: Cambridge University Press.

Burstein, P., and C.E. Hirsh. 2007. Interest organizations, information, and policy innovation in the US Congress. Sociological Forum 22(2): 174–199.

Chalmers, A.W. 2011. Interests, influence and information: Comparing the influence of interest groups in the European Union. Journal of European Integration 33(4): 471–486.

Dahl, R.A. 1961. Who governs? Democracy and power in an American City. New Haven: Yale University Press.

De Bruycker, I. 2016. Pressure and expertise: Explaining the information supply of interest groups in EU legislative lobbying. Journal of Common Market Studies 54(3): 599–616.

Dür, A. 2008a. Interest groups in the European Union: How powerful are they? West European Politics 31(6): 1212–1230.

Dür, A. 2008b. Measuring interest group influence in the EU a note on methodology. European Union Politics 9(4): 559–576.

Dür, A., P. Bernhagen, and D. Marshall. 2015. Interest group success in the European union when (and why) does business lose? Comparative Political Studies 48(8): 951–983.

Dür, A., and G. Mateo. 2013. Gaining access or going public? Interest group strategies in five European countries. European Journal of Political Research 52(5): 660–686.

Eising, R., and F. Spohr. 2017. The more, the merrier? Interest groups and legislative change in the public hearings of the German parliamentary committees. German Politics 26(2): 314–333.

Gilens, M. 2012. Affluence and influence: Economic inequality and political power in America. Princeton: Princeton University Press.

Gilligan, T.W., and K. Krehbiel. 1989. Asymmetric information and legislative rules with a heterogeneous committee. American Journal of Political Science 33(2): 459–490.

Gray, V., D. Lowery, M. Fellowes, and A. McAtee. 2004. Public opinion, public policy, and organized interests in the American states. Political Research Quarterly 57(3): 411–420.

Hall, R.L., and A.V. Deardorff. 2006. Lobbying as legislative subsidy. American Political Science Review 100(01): 69–84.

Jahn, D. 2016. Changing of the guard: trends in corporatist arrangements in 42 highly industrialized societies from 1960 to 2010. Socio-Economic Review 14(1): 47–71.

Klüver, H. 2011a. The contextual nature of lobbying: Explaining lobbying success in the European Union. European Union Politics 12(4): 483–506.

Klüver, H. 2011b. Lobbying in coalitions: Interest group influence on European Union policy-making. Nuffield's Working Papers Series in Politics 4: 1–38.

Kriesi, H., A. Tresch, and M. Jochum. 2007. Going public in the European Union: Action repertoires of Western European collective political actors. Comparative Political Studies 40(1): 48–73.

Lohmann, S. 1998. An information rationale for the power of special interests. American Political Science Review 92(4): 809–827.

Lowi, T.J. 1964. American business, public policy, case-studies, and political theory. World Politics 16(04): 677–715.

Mahoney, C. 2008. Brussels versus the beltway: Advocacy in the United States and the European Union. Washington, DC: Georgetown University Press.

Marchetti, K. 2015. The use of surveys in interest group research. Interest Groups & Advocacy 4(3): 272–282.

Mayhew, D.R. 1974. Congress: The electoral connection. New Haven: Yale University Press.

Michalowitz, I. 2004. EU lobbying-principals, agents and targets: Strategic interest intermediation in EU policy-making. Münster: Lit Verlag.

Nownes, A.J. 2006. Total lobbying: What lobbyists want (and how they try to get it). New York, NY: Cambridge University Press.

Nownes, A.J., and A.J. Newmark. 2016. The information portfolios of interest groups: An exploratory analysis. Interest Groups & Advocacy 5(1): 57–81.

Pedersen, H.H. 2013. Is measuring interest group influence a mission impossible? The case of interest group influence in the Danish parliament. Interest Groups & Advocacy 2(1): 27–47.

Rasmussen, A., B.J. Carroll, and D. Lowery. 2014. Representatives of the public? Public opinion and interest group activity. European Journal of Political Research 53(2): 250–268.

Rasmussen, A., L.K. Mäder, and S. Reher. 2018. With a little help from the people? The role of public opinion in advocacy success. Comparative Political Studies 51(2): 139–164.

Schattschneider, E. 1960. The Semi-Sovereign People. A realist's view of democracy in America. New York: Holt, Rinehart and Winston.

Tallberg, J., L.M. Dellmuth, H. Agné, and A. Duit. 2018. NGO influence in international organizations: Information, access and exchange. British Journal of Political Science 48(1): 213–238.

Truman, D.B. 1951. The governmental process: Political interests and public opinion. New York: Knopf.

Wright, J.R. 1996. Interest groups and Congress: Lobbying, contributions, and influence. London: Pearson Education.

Yackee, J.W., and S.W. Yackee. 2006. A bias towards business? Assessing interest group influence on the US bureaucracy. The Journal of Politics 68(1): 128–139.
Acknowledgements
Funding was provided by Det Frie Forskningsråd (DK) (Grant No. Sapere Aude Grant/0602-02642B) and Nederlandse Organisatie voor Wetenschappelijk Onderzoek (Grant No. VIDI Grant/452-12-008). The author would like to thank Anne Rasmussen, Wiebke Marie Junk and Jeroen Romeijn for their valuable advice and support. She would also like to thank Adrià Albareda, Ellis Aizenberg, Iskander de Bruycker, Marcel Hanegraaff, Moritz Müller, Patrick Statsch. The manuscript also benefitted from comments received at the ECPR General conference 2018, Hamburg as well as the NIG conference 2018, Den Haag. Finally, the author wishes to thank several GovLis student assistants for their contributions to the data collection.
Additional information
Publisher's Note
Springer Nature remains neutral with regard to jurisdictional claims in published maps and institutional affiliations.
Electronic supplementary material
Below is the link to the electronic supplementary material.
About this article
Cite this article
Flöthe, L. Technocratic or democratic interest representation? How different types of information affect lobbying success. Int Groups Adv 8, 165–183 (2019). https://doi.org/10.1057/s41309-019-00051-2
Keywords
Interest groups

Information

Public opinion

Lobbying

Representation