Abstract
We examine the spread and influence of ideas supported by philanthropic foundations within the context of a broader policy network. Our case focuses on the development of policy related to teacher quality—a field involving academic research, think tank involvement, and interest group participation. We conduct discourse network analysis of testimony from 175 Congressional hearings from 2003 to 2015 to examine network ties based on shared policy preferences expressed in hearings, which were used to create networks linking policy actors via shared policy preferences. We also conducted 51 interviews with funders, grantees, and policymakers involved in the policy debate over teacher quality. We examine the spread of a key policy reform promoted by several large foundations, particularly the Gates Foundation: test score-based evaluation of teachers, with a focus on value-added evaluations. We show that expert witnesses in hearings who were funded by foundations shared policy preferences with regard to teacher evaluation at a statistically significant level, compared to non-grantees. We find that a group of major national foundations were sponsors of the advocacy groups that were central in Congressional hearings. We show that these funders were acting as policy entrepreneurs—strategically promoting the spread of favored ideas to encourage uptake by policymakers.
This is a preview of subscription content, log in to check access.
Access options
Buy single article
Instant access to the full article PDF.
US$ 39.95
Price includes VAT for USA
Subscribe to journal
Immediate online access to all issues from 2019. Subscription will auto renew annually.
US$ 96
This is the net price. Taxes to be calculated in checkout.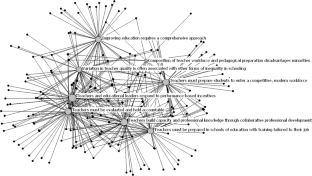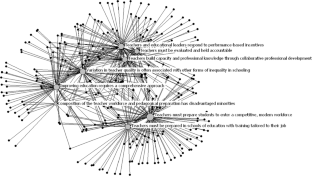 Notes
1.

Our decision to exclude the question and answer segments of the hearings is based on Fisher, Waggle, and Leifeld's approach to discourse network analysis of Congressional testimony on climate change. We elected to analyze only witness statements that demonstrate specific policy preferences, as opposed to the back-and-forth dialogue between witnesses and policymakers. Like Fisher, Waggle, and Leifeld, we determined that this decision would provide a reliable and systematic process for coding. Witness statements are entered into the record with consistency in duration, form and style, whereas question and answer portions are frequently dominated by some voices over others; are dependent on background context that is not included in the record, nor that can be specifically linked to a single witness; and vague or off-topic. This methodological decision has implications for our analysis; had we elected to include the question and answer sections for all hearings, we would no doubt capture additional nuance that emerges in debate and dialogue, which might deepen and clarify our inferences. The difference between these two research designs poses a ripe area of future research.

2.

The foundations included are: Gates, Broad, Walton, Arnold, Joyce, Carnegie, Robertson, Kellogg, Dell, Silicon Valley Community Foundation, Hewlett, GE, Irvine, Fisher, Communities Foundation of Texas, Daniels, and Ford.
References
Ansell, Chris, Sarah Reckhow, and Andrew Kelly. 2009. How to reform a reform coalition: Outreach, agenda expansion, and brokerage in urban school reform. Policy Studies Journal 37(4): 717–743.

Baumgartner, Frank, and Bryan Jones. 2012. From There To Here: Punctuated Equilibrium to the General Punctuation Thesis to a Theory of Government Information Processing. Policy Studies Journal 40(1): 1–20.

Berry, Jeffrey. 2002. Validity and Reliability Issues in Elite Interviewing. Political Science and Politics 35(4): 679–682.

Borgatti, S.P., M.G. Everett, and L.C. Freeman. 2002. UCINET for Windows: Software for Social Network Analysis. Harvard, MA: Analytic Technologies.

Brest, Paul, and Hal Harvey. 2008. Money Well Spent: A Strategic Plan for Smart Philanthropy. New York, NY: Bloomberg Press.

Bushouse, Brenda. 2009. Universal Preschool: Policy Change, Stability, and the Pew Charitable Trusts. Albany, NY: SUNY Press.

Clemens, Elisabeth S., and Linda C. Lee. 2010. Catalysts for Change: Foundations and School Reform 1950–2005. In American Foundations: Roles and Contributions, ed. Helmut Anheier and David C. Hammack. Washington, DC: Brookings Institute Press.

Dexter, L. 1970. Elite and Specialized Interviewing. Evanston, IL: Northwestern University Press.

Duncan, A. 2009. Partners in Reform. Remarks of Arne Duncan to the National Education Association. Accessed from http://www2.ed.gov/news/speeches/2009/07/07022009.html. Accessed 28 Aug 2018.

Fisher, Dana R., Joseph Waggle, and Philip Leifeld. 2013. Where Does Political Polarization Come From? Locating Polarization Within the U.S. Climate Change Debate. American Behavioral Scientist 57(1): 70–92.

Galey, S., Reckhow, S., and Ferrare, J. 2017. Idea Brokerage in Teacher Policy Networks. Paper Presented at the Annual Meeting of the American Educational Research Association.

Goldstein, K. 2002. Getting In the Door: Sampling and Completing Elite Interviews. Political Science and Politics 35(4): 669–672.

Goldstein, D. 2014. The Teacher Wars: A History of America's Most Embattled Profession. New York, NY: Knopf Doubleday.

Hanneman, R.A., and M. Riddle. 2005. Intoduction to Social Network Methods. Riverside, CA: University of California, Riverside. http://faculty.ucr.edu/~hanneman/.

Hanushek, Erik. 2011. The Economic Value of Higher Teacher Quality. Economics of Education Review 30(3): 466–479.

Henig, Jeffrey R. 2009. Politicization of Evidence: Lessons for an Informed Democracy. Educational Policy 23(1): 137–160.

Hwang, H. and W. Powell. 2005. Institutions and Entrepreneurship. In Handbook of Entrepreneurship Research, ed. S. A. Alvarez, R. Agarwal and O. Sorenson, 23. New York, NY: Kluwer Publishers.

Jenkins-Smith, Hank C., Daniel Nohrstedt, Christopher M. Weible, and Paul A. Sabatier. 2014. The Advocacy Coalition Framework: Foundations, Evolution, and Ongoing Research. In Theories of the Policy Process. 3rd ed. Paul A. Sabatier and Christopher M. Weible. Boulder, CO: Westview Press.

Jones, Bryan D., and Frank R. Baumgartner. 2005. The Politics of Attention: How Government Prioritizes Problems. Chicago, IL: University of Chicago Press.

Kingdon, John W. 2011. Agendas, Alternatives, and Public Policies. London, UK: Longman Publishing Group.

Kirst, Michael W., and Frederick M. Wirt. 2009. Political Dynamics of American Education, 4th ed. Richmond: McCutchan Publishing Corporation.

Leifeld, Philip. 2013. Reconceptualizing Major Policy Change in the Advocacy Coalition Framework: A Discourse Network Analysis of German Pension Politics. Policy Studies Journal. 41(1): 169–198.

Lubienski, Christopher, Peter Weitzel, and Sarah Theule Lubienski. 2009. Is there a 'Consensus' on School Choice and Achievement? Advocacy Research and the Emerging Political Economy of Knowledge Production. Educational Policy. 23(1): 161–193.

Meier, Kenneth, and Laurence O'Toole. 2006. Bureaucracy in a Democratic State: A Governance Perspective. Baltimore, MD: Johns Hopkins University Press.

Merriam, S. 2009. Qualitative Research: A Guide to Design and Implementation. San Francisco: Jossey-Bass.

Moe, Terry. 2011. Special Interest: Teachers Unions and America's Public Schools. Washington, DC: Brookings Institution Press.

Palaich, Robert, Dixie Griffin Good, and Arie van der Ploeg. 2004. "State Education Data Systems That Increase Learning and Improve Accountability. Policy Issues: Research Based Analysis of Education Policy 16: 1–11.

Quinn, Rand, Megan Tompkins-Stange, and Debra Meyerson. 2014. Beyond Grantmaking: Philanthropic Foundations as Institutional Entrepreneurs and Agents of Change. Nonprofit and Voluntary Sector Quarterly 43(6): 950–968.

Reckhow, Sarah. 2013. Follow the Money: How Foundation Dollars Change Public School Politics. New York, NY: Oxford University Press.

Reckhow, Sarah, and Megan Tompkins-Stange. 2015. "Singing from the Same Hymnbook" at Gates and Broad. In The New Education Philanthropy, ed. Frederick M. Hess and Jeffrey R. Henig. Cambridge, MA: Harvard Education Press.

Reckhow, Sarah and Jeffrey Snyder. 2013. The Education Philanthropy Network: Convergence Toward One Dominant Model. Paper presented at the American Educational Research Association Annual Meeting. San Francisco, CA

Rhodes, R.A.W. 2006. Policy network analysis. In The Oxford handbook of public policy, ed. M. Moran, M. Rein, and R.E. Goodin, 423–445. Oxford, UK: Oxford University Press.

Scott, Janelle and Huriya Jabbar. 2014. The Hub and the Spokes: Foundations, Intermediary Organizations, Incentivist Reforms, and the Politics of Research Evidence. Educational Policy, 28(2): 233–257.

Shaker, P., and E. Heilman. 2004. The new common sense of education: Advocacy research vs. academic authority. Teachers College Record, 106(7): 1444–1470.

Tompkins-Stange, Megan. 2016. Policy Patrons: Philanthropy, Education Reform, and the Politics of Influence. Cambridge, MA: Harvard Education Press.

Weible, Christopher, and Paul Sabatier. 2014. Theories of the Policy Process, 3rd ed. Boulder, CO: Westview Press.

Weisberg, Daniel, Susan Sexton, Jennifer Mulhern and David Keeling. The Widget Effect: Our National Failure to Acknowledge and Act on Differences in Teacher Effectiveness. The New Teacher Project, 2009.

Wilson, James Q. 1991. Bureaucracy: What Government Agencies Do and Why They Do It. New York, NY: Basic Books.

Wood, B.D., and N.A. Theobald. 2003. Political responsiveness and equity in public education finances. Journal of Politics 65(3): 718–738.
Acknowledgements
Funding was provided by William T. Grant Foundation (Grant No. 183183). The authors would like to thank Sarah Galey for her important contributions to the project and research assistance. We would also like to thank Abigail Orrick and Jeffrey Snyder for their research assistance.
Appendix: Policy preference codebook
Appendix: Policy preference codebook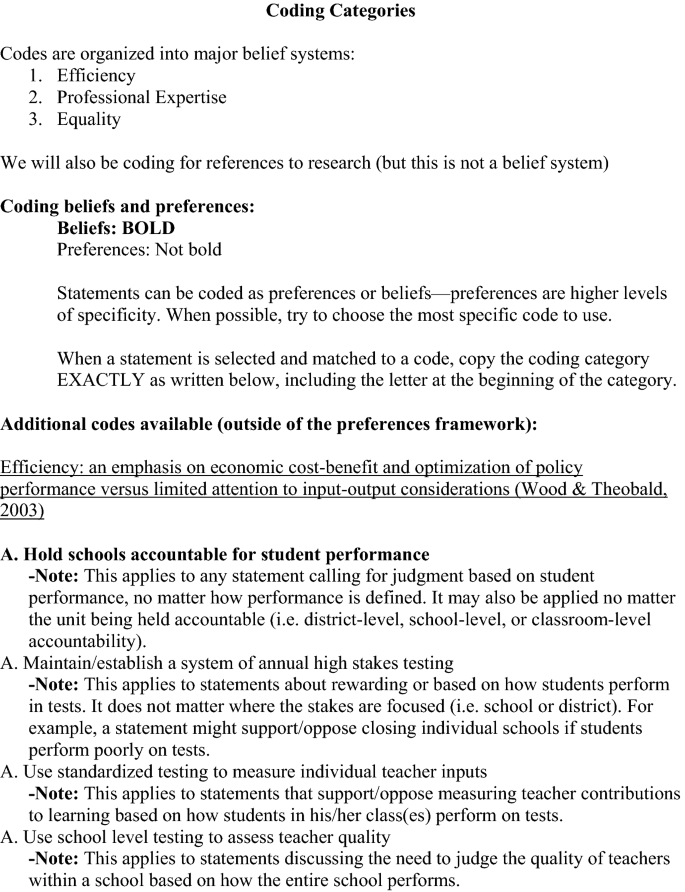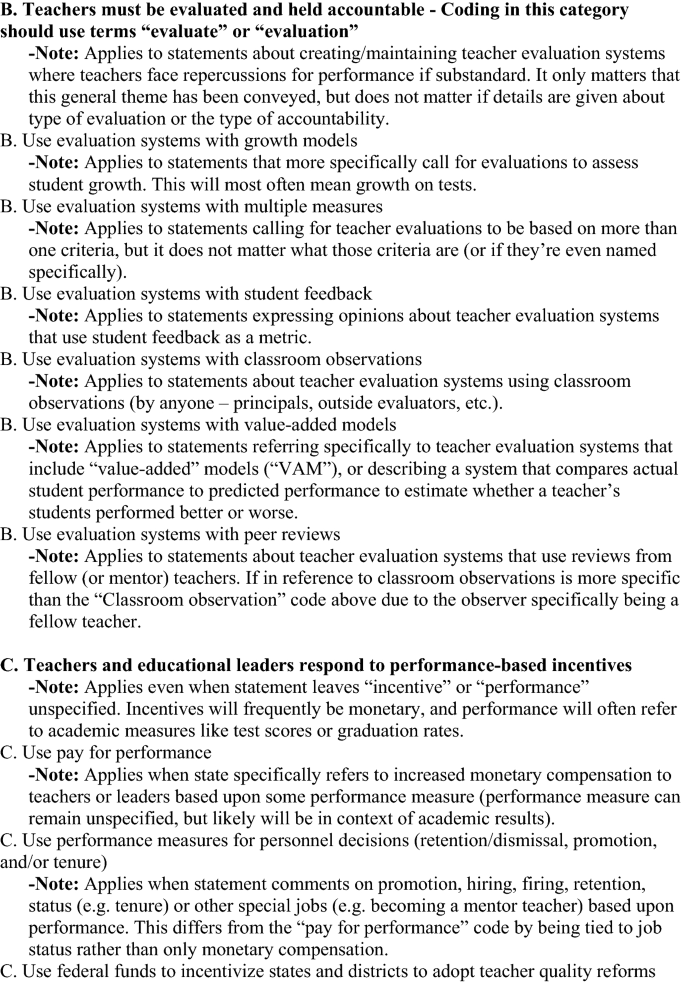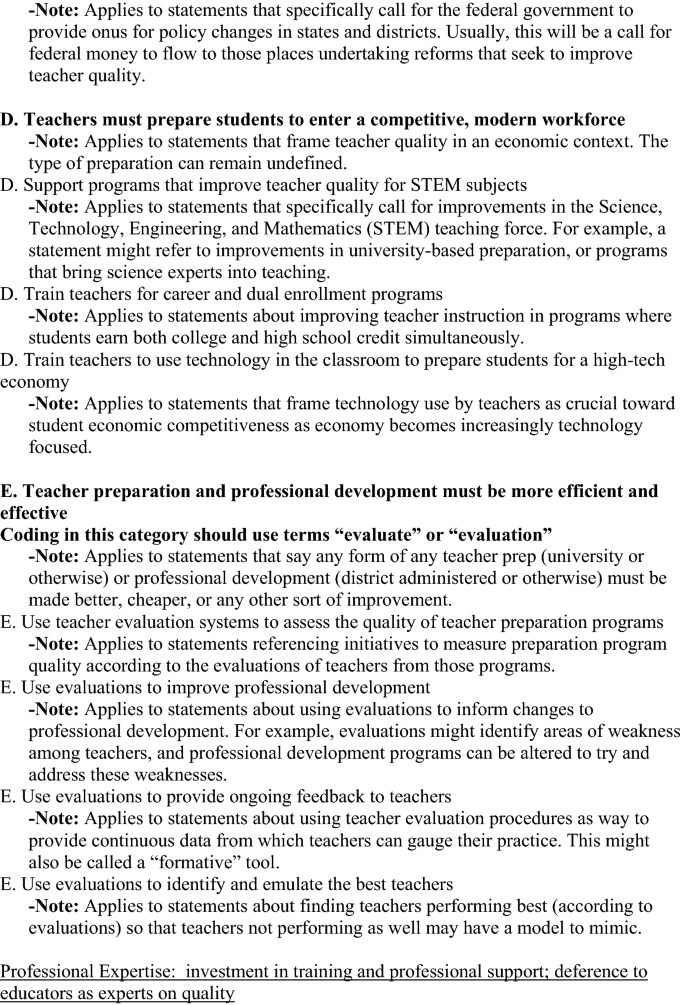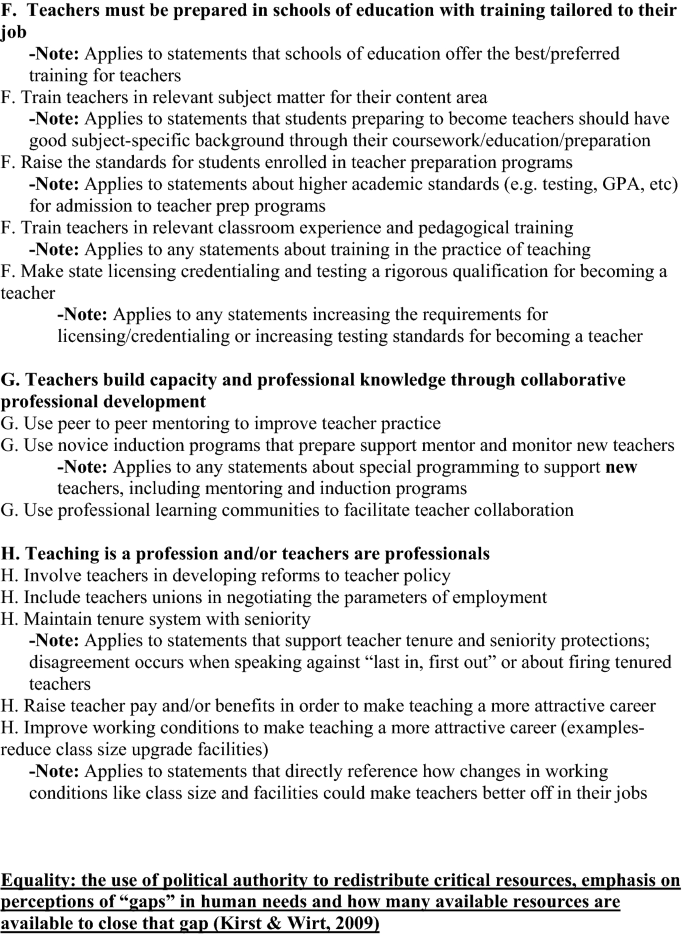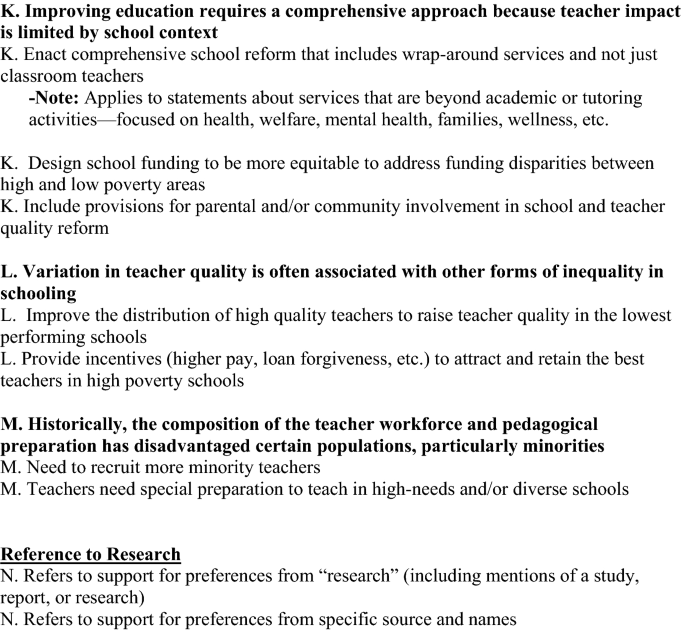 About this article
Cite this article
Reckhow, S., Tompkins-Stange, M. Financing the education policy discourse: philanthropic funders as entrepreneurs in policy networks. Int Groups Adv 7, 258–288 (2018). https://doi.org/10.1057/s41309-018-0043-3
Keywords
Policy networks

Discourse analysis

Philanthropy

Education policy

Mixed methods