Abstract
In the wake of Citizens United, political action committees (PACs) face new sources of competition from super PACs and 501(c)4 social welfare organizations and 501(c)6 professional associations for both donor contributions and electoral influence. Using itemized and summary committee files from the U.S. Federal Election Commission, I investigate factors that predict PACs' fundraising success between 2008 and 2014 and I examine the impact of PAC contributions on House candidates' vote margins since 1992. While I uncover evidence of PAC fundraising challenges that may relate to growing competition from other groups, I also find PAC contributions to House candidates have increased in importance. Taken together, the results suggest PACs continue to occupy a vital niche in campaign financing.
This is a preview of subscription content, log in to check access.
Access options
Buy single article
Instant access to the full article PDF.
US$ 39.95
Price includes VAT for USA
Subscribe to journal
Immediate online access to all issues from 2019. Subscription will auto renew annually.
US$ 96
This is the net price. Taxes to be calculated in checkout.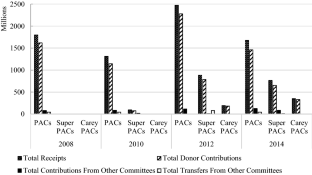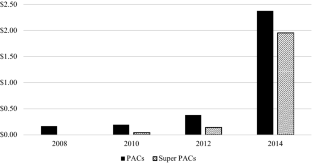 Notes
1.

Unions (501(c)5s) can also raise and spend independently in unlimited amounts but must publicly report itemized disbursements to the Department of Labor.

2.

501(c)4 and 501(c)6 organizations only report summary revenue totals to the Internal Revenue Service. These groups engage in politics to a varying degree that is not simply represented by their tax classification. Cross referencing IRS reports with FEC reports would not provide an accurate assessment of which groups engaged in spending to influence elections as some 501(c)4 and 6 organizations choose not to report to the FEC even though they should (Barker 2012). As a consequence, gaining accurate revenue totals for politically active 501(c)4 and 6 groups is not feasible and gaining totals by revenue source (which are not reported anywhere) would be impossible.
References
Abramowitz, A. 1988. Explaining Senate election outcomes. American Political Science Review 82: 385–403.

Abramowitz, A. 1991. Incumbency, campaign spending, and the decline of competition in the U.S. House elections. Journal of Politics 53(1): 34–56.

Alexander, B. 2005. Good money and bad money: Do funding sources affect electoral outcomes? Political Research Quarterly 58(June): 353–358.

Baker, A.E. 2014. Party campaign contributions come with a support network. Social Science Quarterly 95: 1295–1307.

Baker, A.E. 2015a. Does party support help candidates win? Social Science Journal 52(2): 91–101.

Baker, A.E. 2015b. Do interest group endorsements cue individual contributions to House candidates? American Politics Research. 44(2): 197–221.

Barker, K. 2012. How nonprofits spend millions on elections and call it public welfare. Pro Publica. https://www.propublica.org/article/how-nonprofits-spend-millions-on-elections-and-call-it-public-welfare. Accessed 21 Nov 2016.

Biersack, R., and M.H. Viray. 2005. Interest groups and Federal campaign finance: The beginning of a new era. In The Interest group connection: Electioneering, lobbying, and policymaking in Washington. 2nd ed, ed. P.S. Herrnson, R. Shaiko, and C. Wilcox. Washington, D.C.: CQ Press.

Blackwell, M., S. Iacus, G. King, and G. Porro. 2009. CEM: Coarsened exact matching in Stata. The Stata Journal 9(4): 524–546.

Box-Steffensmeier, J.M. 1996. A dynamic analysis of the role of war chests in campaign strategy. American Journal of Political Science 40(2): 352–371.

Eismeier, T.J., and P.H. Pollock III. 1985. An organizational analysis of political action committees. Political Behavior 7(2): 192–216.

Francia, P.L., J.C. Green, P.S. Herrnson, L.W. Powell, and C. Wilcox. 2003. The Financiers of congressional elections: Investors, ideologues, and intimates. New York, NY: Columbia University Press.

Garrett, R.S. 2016. Super PACs in federal elections: Overview and issues for Congress. Congressional Research Service. 7-5700. https://fas.org/sgp/crs/misc/R42042.pdf.

Gerber, A.S. 1998. Estimating the effect of campaign spending on Senate election outcomes using instrumental variables. American Political Science Review 92(2): 401–411.

Goodliffe, J. 2005. When do war chests deter? Journal of Theoretical Politics 17: 249–277.

Green, D.P., and J.S. Krasno. 1988. Salvation for the spendthrift incumbent: Re-estimating the effects of campaign spending in House elections. American Journal of Political Science 32(4): 884–907.

Grossmann, M. 2012. The Not-So-Special interests: Interest groups, public representation, and American governance. Stanford, CA: Stanford University Press.

Herrnson, P.S. 2009. The roles of party organizations, party-connected committees, and party allies in elections. Journal of Politics. 71(4): 1207–1224.

Herrnson, P.S. 2012. Congressional elections: Campaigning at home and in Washington. 6th ed. Washington, DC: CQ Press.

Jacobson, G. 1978. The effects of campaign spending in congressional elections. American Political Science Review 72: 469–491.

Jacobson, G. 1985. Money and votes reconsidered: Congressional elections, 1972–1982. Public Choice 47: 7–62.

Jacobson, G., and S. Kernell. 1981. Strategy and choice in congressional elections. New Haven, CT: Yale University Press.

Koger, G., S. Masket, and N. Hans. 2009. Partisan webs: Information exchange and party networks. British Journal of Political Science 39(3): 633–653.

La Raja, R. 2014. Money in the 2014 congressional election: Institutionalizing a broken regulatory system. The Forum 12(4): 713–727.

La Raja, R., and B.F. Schaffner. 2015. Campaign finance and political polarization: When purists prevail. Ann Arbor, MI: University of Michigan Press.

Magleby, D.B., and J. Goodliffe. 2014. Interest groups. In Financing the 2012 election, ed. D.B. Magleby, 215–261. Washington, DC: Brookings Institution Press.

Maguire, R. 2016. Study: Outside groups, secret money far more prominent than ever before. Center for Responsive Politics. https://www.opensecrets.org/news/2016/08/study-outside-groups-secret-money-far-more-prominent-than-ever-before/. Accessed 19 Nov 2016.

Malbin, M.J., and B. Glavin. 2018. CFI's guide to money in federal elections. Campaign Finance Institute. http://www.cfinst.org/pdf/federal/2016Report/CFIGuide_MoneyinFederalElections.pdf. Accessed 9 May 2018.

Marshall, T. 1997. Bundling the cash: Why do interest groups bundle donations? American Review of Politics 18: 291–308.

Masters, M.F., and B.D. Baysinger. 1985. The determinants of funds raised by corporate political action committees: An empirical examination. The Academy of Management Journal 28(September): 654–664.

Rozell, M., C. Wilcox, and D. Madland. 2006. Interest groups in American politics: The new face of electioneering. 2nd ed. Washington, DC: CQ Press.

Smith, M., and L. Powell. 2013. Dark money, super PACs, and the 2012 election. New York, NY: Lexington Books.

Sorauf, F. 1984. Political action committees in American politics: An overview. New York, NY: The Twentieth Century Fund.

Taylor, L., and C. Holman. 2010. Fading disclosure: Increasing number of electioneering groups keep donors' identities secret. Public Citizen 9: 15.

Treasury Inspector General for Tax Administration. 2013. Inappropriate criteria were used to identify tax-exempt applications for review. Reference Number: 2013-10-053, 14 May.

Wilcox, C. 1989. Organizational variables and contribution behavior of large PACs: A longitudinal analysis. Political Behavior 11(June): 157–173.
Appendix
Appendix
Fundraising costs of PACs and super PACs. Any expenditures relating to all forms of fundraising, such as event invitations and catering, are included in the calculations of total fundraising costs made from the U.S. Federal Election Commission's (FEC) operating expenditure files 2008–2014. The FEC provides numeric codes for the categorization of itemized disbursements. When PACs or super PACs utilized the fundraising code, i.e., 003, the line item was retained in the file unless there was an obvious error. However, PACs and super PACs utilize these codes less than 50 percent of the time. The majority of line items are not categorized at all. As a consequence, it was necessary to prune the operating files on a line-item basis in order to calculate the total fundraising expenditures made by the PAC or super PAC. More obvious fundraising expenditures, such as auction items and event expenses, are included in the totals. Categories such as postage and printing required a clear set of guidelines for deletion. The rule that was followed for these large categories was that any descriptions that implied the cost was not a fundraising cost led to the deletion of the line item. As groups often include information about how to donate on their mailings, I retain almost all postage and printing entries as fundraising costs unless a code or description indicated it was not. As a rule, in-kind contributions were deleted. There were also many line items that were clearly not fundraising costs and could be quickly deleted. For example, they include: polling, health insurance, GOTV specific materials, and office rent. Finally, PACs also spend money on a wide variety of activities to assist in donor recruitment and cultivation that included line items such as opera tickets, boat rentals, golf green fees, and hunting licenses. These were retained. Gifts to donors and any auction items or entertainment used at donor events are also retained.
About this article
Cite this article
Baker, A.E. Are federal PACs obsolete?. Int Groups Adv 7, 105–125 (2018). https://doi.org/10.1057/s41309-018-0034-4
Keywords
PACs

Campaign finance

House election campaigns

Political fundraising