Abstract
How many lobbyists are in Washington, and how common is it for them to have worked in the federal government? We assume that high-profile cases like former Senator Tom Daschle—the namesake of the so-called Daschle loophole to the Lobbying Disclosure Act (LDA) in the USA—are not isolated. In this article, we systematically account for lobbying and policy advocacy in as large an empirical scope as possible to uncover the presence of 'shadow lobbyists.' Using a new data set of professional biographies of both registered lobbyists and unregistered policy advocates, we estimate that there are an equal number of paid professionals in a gray market for lobbying services. We also find that registered lobbyists are more likely to have previously worked in government and are more likely to specialize in legislative advocacy. Since policymaking at the American national level has increasingly shifted to federal agencies and to the states, our results indicate that the LDA and similar lobbying regulations may be becoming increasingly obsolete. The evidence we present indicates a growing divide between transparency laws and recent changes in the marketplace for policy advocacy.
This is a preview of subscription content, log in to check access.
Access options
Buy single article
Instant access to the full article PDF.
US$ 39.95
Price includes VAT for USA
Subscribe to journal
Immediate online access to all issues from 2019. Subscription will auto renew annually.
US$ 96
This is the net price. Taxes to be calculated in checkout.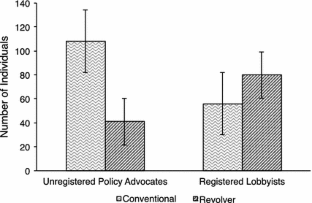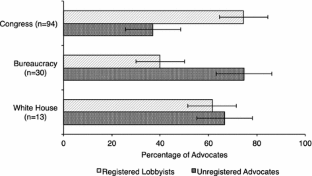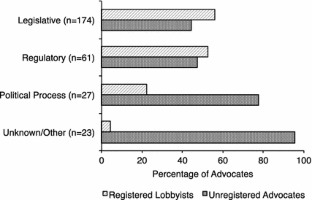 Notes
1.

2.

The purpose of this research is not to identify individual instances of non-compliance, but rather to evaluate the scope of lobbying disclosure avoidance based on an empirically identifiable population.

3.

Calculated by authors from data reported at http://www.opensecrets.org/lobby/. Accessed May 2016. Actual data may have been slightly revised after we calculated these results.

4.

In September, 2012, the authors met with the publisher of the directory information, Columbia Books, and learned that there are three main avenues in which individuals are entered into the database. First, organizations such as lobbying firms, associations and companies voluntarily provide information (including information about their staff) for inclusion in the directory either as an advertising mechanism or upon request from the publisher. Such requests are routinely sent by the publisher to update existing entries or to new organizations that have purchased access. Second, the publisher retrieves information from public disclosure documents required by the Lobbying Disclosure Act of 1995. And, third, the publisher actively searches for those working in political advocacy in Washington. While Schlozman et al. (2012) identify some error as a function of the type of activity an organization engages in as well as temporal variation, they note that the publisher views the database as a "snapshot" of those engaged in Washington politics.

5.

We do not distinguish between those who took the formal steps with the Secretary of the Senate to "deregister" and those who "deactivated" by simply ceasing to file quarterly lobbying disclosure reports.

6.

The means of calculating LDA expenditures are subject to controversy as well. Clients choose one of three ways to account for expenditures, so they may under- or overestimate spending. We consider this problem to be a matter of measurement error that is distributed randomly across individual lobbyists, since this accounting decision is made by the organization-registrant that lists them in disclosure reports.

7.

There was too little variation in the current sample in these specialization categories, so we collapsed them into a single, catch-all category.
References
Ansolabehere, S., J.M. de Figueiredo, and J.M. Snyder Jr. 2003. Why is there so little money in U.S. politics? Journal of Economic Perspectives 17 (1): 105–130.

Baumgartner, F.R., and B.L. Leech. 1998. Basic interests: The importance of groups in politics and in political science. Princeton, NJ: Princeton University Press.

Baumgartner, F.R., J.M. Berry, M. Hojnacki, D.C. Kimball, and B.L. Leech. 2009. Lobbying and policy change: Who wins, who loses, and why. Chicago: University of Chicago Press.

Bertrand, M., M. Bombardini, and F. Trebbi. 2014. Is it whom you know or what you know? an empirical assessment of the lobbying process. American Economic Review 104 (12): 3885–3920.

Box-Steffensmeier, J.M., and D.P. Christenson. 2014. The evolution and formation of amicus curiae networks. Social Networks 36 (January): 82–96.

Bureau of Economic Analysis. 2016. Regional data: GDP & personal income. http://www.bea.gov/iTable/iTable.cfm?reqid=70&step=1&isuri=1&acrdn=2#reqid=70&step=1&isuri=1&7003=900&7004=naics&7005=-1&7001=2900&7002=2&7090=70. Retrieved May 2017.

Cain, B.E., and L. Drutman. 2014. Congressional staff and the revolving door: The impact of regulatory change. Election Law Journal: Rules, Politics & Policy 13 (1): 27–44.

Center for Responsive Politics. 2013. Lobbyists 2012: Out of the game or under the radar?. Washington, DC: Center for Responsive Politics.

Cohen, J.E. 1986. The dynamics of the 'revolving door' on the FCC. American Journal of Political Science 30 (4): 689–708.

Drutman, L., and A. Furnas. 2014. Revolvers' dollars. Sunlight Foundation. https://sunlightfoundation.com/blog/series/revolvers-dollars/, Retrieved May 2017.

Government Accountability Office. 2016. Observations on lobbyists' compliance with disclosure requirements. http://www.gao.gov/products/GAO-16-320/. Retrieved May 2017.

Gormley, W.T. 1979. A test of the revolving door hypothesis at the FCC. American Journal of Political Science 23 (4): 665–683.

Haeder, S.F., and S. Webb Yackee. 2015. Influence and the administrative process: Lobbying the U.S. President's Office of Management and Budget. American Political Science Review 109 (3): 507–522.

Hansen, J.M. 1991. Gaining access: Congress and the farm lobby, 1991–1981. Chicago: University of Chicago Press.

LaPira, T. M. 2015. Lobbying in the shadows: How private interests hide from public scrutiny and why that matters. In Interest group politics, eds. A. J. Cigler, B. A. Loomis and A. J. Nownes, 9th ed., 224–248.

LaPira, T.M., and H.F. Thomas. 2017. Revolving door lobbying: Public service, private influence, and the unequal representation of interests. Lawrence, KS: University Press of Kansas.

Lazarus, J., A. McKay, and L. Herbel. 2016. Who walks through the revolving door? Examining the lobbying activity of former members of congress. Interest Groups & Advocacy 5 (1): 82–100.

Luneberg, W.V., and T.M. Susman. 2009. The lobbying manual: A complete guide to federal lobbying law and practice, 4th ed. Chicago: American Bar Association.

McGuire, K.T. 2000. Lobbyists, revolving doors, and the us supreme court. Journal of Law and Politics 16: 113–137.

National Retail Federation. 2012. Americans to pull out all the stops this valentines day. https://nrf.com/media/press-releases/americans-pull-out-all-the-stops-this-valentine%C2%92s-day. Accessed May 2016.

Parker, G.R. 2008. Capitol investments: The marketability of political skills. Ann Arbor, MI: University of Michigan Press.

Project on Government Oversight. 2013. Dangerous liaisons: Revolving door at SEC creates risk of regulatory capture. Washington, DC: Project on Government Oversight.

Public Citizen. 2005. Congressional revolving doors: The journey from congress to k street, Congress Watch (July). Washington, DC: Public Citizen.

Quirk, P. 1981. Industry influence in federal regulatory agencies. Princeton, NJ: Princeton University Press.

Revolving Door Working Group. 2005. A matter of trust: How the revolving door undermines public confidence in government—and what to do about it. Washington, DC: The Revolving Door Working Group.

Salisbury, R.H., P. Johnson, J.P. Heinz, E.O. Laumann, and R.L. Nelson. 1989. Who you know versus what you know: The uses of government experience for Washington lobbyists. American Journal of Political Science 33 (1): 175–195.

Schlozman, K.Lehman. 1984. What accent the heavenly chorus? Political equality and the American pressure system. The Journal of Politics 46 (4): 1006–1032.

Schlozman, K.Lehman, and J.T. Tierney. 1986. Organized interests and American democracy. New York: Harper & Row.

Schlozman, K., S.Verba Lehman, and H.E. Brady. 2012. The unheavenly chorus: Unequal political voice and the broken promise of American democracy. Princeton, NJ: Princeton University Press.

Thurber, J. 2011. Changing the way Washington works? Assessing President Obama's battle with lobbyists. Presidential Studies Quarterly 41 (2): 358–372.

Vidal, Jordi Blanes I., M. Draca, and C. Fons-Rosen. 2012. Revolving door lobbyists. American Economic Review 102 (7): 3731–3748.

Yackee, S. Webb. 2006. Sweet-talking the fourth branch: Assessing the influence of interest group comments on federal agency rulemaking. Journal of Public Administration Research and Theory 16: 103–124.
About this article
Cite this article
Thomas, H.F., LaPira, T.M. How many lobbyists are in Washington? Shadow lobbying and the gray market for policy advocacy. Int Groups Adv 6, 199–214 (2017). https://doi.org/10.1057/s41309-017-0024-y
Keywords
Lobbying Disclosure Act

Lobbying

Policy advocacy

Shadow lobbyists

Revolving door

Political reform