Abstract
The American lobbying information processing system is woefully outdated. The mechanisms by which citizen, interest group, and business concerns are incorporated into the policymaking process have largely not been updated in over 200 years. Lobbyists set up meetings with staffers and members of Congress and share position papers with them about their arguments on a given policy issue. There is no central location where staffers can find out who is lobbying on a given bill and what they are arguing. In this paper, we make the case for a new information processing system that would provide Congress with a more efficient and effective way to manage the information flooding the Hill, and which would ensure more transparency about who is lobbying on any given bill and what they are saying. If used effectively by Congress, watchdog groups, and journalists, this system could result in better representation for a more diverse group of citizens.
This is a preview of subscription content, log in to check access.
Access options
Buy single article
Instant access to the full article PDF.
US$ 39.95
Price includes VAT for USA
Subscribe to journal
Immediate online access to all issues from 2019. Subscription will auto renew annually.
US$ 96
This is the net price. Taxes to be calculated in checkout.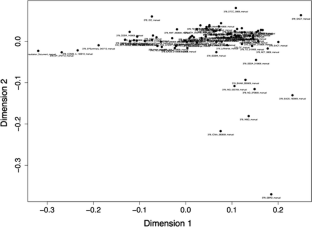 Notes
1.

Private conversation with Molly Nagappala, Wisconsin Government Accountability Board.

2.

A common goodness-of-fit measure that measure the actual distribution pattern to a hypothetical distribution that was completely random with no relationship at all.

3.

In the following excerpts, only the 15 terms with the highest χ 2 value are marked in bold. Further terms related to these clusters are not highlighted.

4.

5.
References
Allard, N.W. 2008. Lobbying is an honorable profession: The right to petition and the competition to be right. Stanford Law and Policy Review 19 (1):23–68.

Baumgartner, F.R., and B.L. Leech. 2001. Interest niches and policy bandwagons: Patterns of interest group involvement in national politics. Journal of Politics 63 (4): 1191–1213.

Baumgartner, F.R., J.M. Berry, M. Hojnacki, B.L. Leech, and D.C. Kimball. 2009. Lobbying and Policy Change: Who Wins, Who Loses, and Why. University of Chicago Press.

Bertrand, M., M. Bombardini, and F. Trebbi. 2014. Is it whom you know or what you know? An empirical assessment of the lobbying process. American Economic Review 104 (12): 3885–3920.

Blanes i Vidal, J., M. Draca, and C. Fons-Rosen. 2012. Revolving door lobbyists. American Economic Review 102 (7): 3731–3748.

Burstein, P., and A. Linton. 2002. The impact of political parties, interest groups, and social movement organizations on public policy: Some recent evidence and theoretical concerns. Social Forces 81 (2): 381–408.

Congressional Management Foundation. 2013. Life in congress: Aligning work and life in the U.S. house and senate.

Curry, J.M. 2015. Legislating in the dark: Information and power in the house of representatives. Chicago: University of Chicago Press.

Drutman, L. 2015a. The business of America is lobbying: How corporations became politicized and politics became more corporate. Oxford: Oxford University Press.

Drutman, L. 2015b. How corporate lobbyists conquered American democracy. The Atlantic, retrieved January 25, 2017, from http://www.theatlantic.com/business/archive/2015/04/how-corporate-lobbyists-conquered-american-democracy/390822/.

Drutman, L., and S.M. Teles. 2015. A new agenda for political reform, The Washington Monthly, retrieved February 27, 2015, from http://www.washingtonmonthly.com/magazine/marchaprilmay_2015/features/a_new_agenda_for_political_ref054226.php?page=all.

Esterling, K.M. 2004. The political economy of expertise: Information and efficiency in American National Politics. Ann Arbor, MI: University of Michigan Press.

Heinz, J.P., R.H. Salisbury, R.L. Nelson, and E.O. Laumann. 1993. The hollow core: Private interests in national policy making. Cambridge, MA: Harvard University Press.

Jones, B.D., and F.R. Baumgartner. 2005. The Politics of Attention: How Government Prioritizes Problems. Chicago: University of Chicago Press.

Klüver, H., and C. Mahoney. 2014. Measuring interest group framing strategies in public policy debates. Journal of Public Policy 35 (2): 223–244.

Klüver, H., C. Mahoney, and M. Opper. 2015. Framing in context: how interest groups employ framing to lobby the European Commission. Journal of European Public Policy 22 (4): 481–498.

Lowe, W. 2009. Yoshikoder, Software for multilingual content analysis, Version 0.6.3., http://www.yoshikoder.org/. Accessed on 4 May 2009.

Mahoney, C. 2008. Brussels versus the Beltway: Advocacy in the United States and the European Union. Washington, D.C.: Georgetown University Press.

Mahoney, C., and F.R. Baumgartner. 2015. Partners in advocacy: Lobbyists and government officials in Washington. Journal of Politics 77 (1): 202–215.

Olson, M. 1965. The logic of collective action: Public goods and the theory of groups. Cambridge, MA: Harvard University Press.

Schlozman, K.L. 1984. What accent the heavenly chorus? Political equality and the American pressure system. Journal of Politics 46 (4): 1006–1032.

Schlozman, K.L., and J.T. Tierney. 1986. Organized Interests and American Democracy. New York: Harper & Row.

Schlozman, K.L., S. Verba, and H.E. Brady. 2012. The unheavenly chorus: Unequal political voice and the broken promise of American democracy. Princeton, NJ: Princeton University Press.

Schonhardt-Bailey, C. 2005. Measuring ideas more effectively: An analysis of Bush and Kerry's national security speeches. PS. Political Science and Politics 38 (4): 701–711.

Wilson, J.Q. 1980. The politics of regulation. New York: Basic Books.

Wright, J.R. 1996. Interest groups and congress: Lobbying, Contributions, and influence. Boston: Allyn and Bacon.
About this article
Cite this article
Drutman, L., Mahoney, C. On the advantages of a well-constructed lobbying system: toward a more democratic, modern lobbying process. Int Groups Adv 6, 290–310 (2017). https://doi.org/10.1057/s41309-017-0020-2
Keywords
Lobbying reform

Transparency

Corporate lobbying

Money in politics

Congressional capacity