Educational expansion and gender differences in educational attainment have both been studied in various contexts, but their interdependence has rarely been examined, and even then, yielded conflicting results. We focus on the expansion of tertiary education in Israel resulting from several reforms introduced in the mid-1990s and ask two questions: (a) How did educational expansion affect inequality of opportunity (IEO)? (b) Did the effect of educational expansion differ between men and women? Based on the Israeli census, we examine changes in IEO between 1995 and 2008 across all levels of education. We find that women from lower socioeconomic background were the main beneficiaries of the expansion, especially at the MA+ level. Several explanations for these findings are discussed.
This is a preview of subscription content, log in to check access.
Access options
Buy single article
Instant access to the full article PDF.
US$ 39.95
Price includes VAT for USA
Subscribe to journal
Immediate online access to all issues from 2019. Subscription will auto renew annually.
US$ 149
This is the net price. Taxes to be calculated in checkout.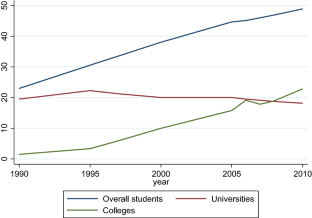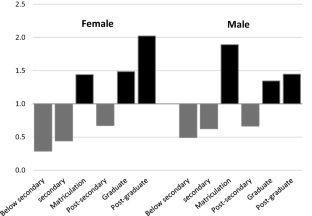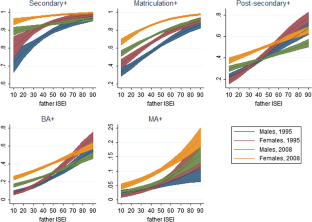 References
Abu-Rabia-Queder, S. (2012) 'Between tradition and modernization: understanding the problem of female', in J. Waldren and I-M Kaminski (eds.) Learning from the Children: Childhood, Culture and Identity in a Changing World, New York: Berghahn Books, pp. 35–50.

Abu-Rabia-Queder, S. and Weiner-Levy, N. (2008) 'Identity and gender in cultural transitions: returning home from higher education as 'internal immigration' among Bedouin and Druze women in Israel', Social Identities 14(6): 665–682.

Acker, J. (1973) 'Women and social stratification: a case of intellectual sexism', American Journal of Sociology 78(4): 936–945.

Addi-Raccah, A. and Mcdossi, O. (2009) Trends in Gender Inequality in Field of Study in the Higher Education System. Gender and Ethnicity in the Israeli Academy (Hebrew), Tel-Aviv: Pardes Publishers.

Ayalon, H. (2003) 'Women and men go to university: mathematical background and gender differences in choice of field in higher education', Sex Roles 48(5): 277–290.

Arar, K. (2011) 'Trapped between two worlds'-Muslim Palestinian women from Israel in Jordanian universities: new identity and the price it demands', Social Identities 17(5): 625–642.

Bank of Israel (2010) Bank of Israel Annual Report for 2009.

Bar-Haim E. and Shavit Y. (2018) 'Higher Education, Economic Inequality and Inequality of Opportunities', Megamot 53(1): 99–124 (in Hebrew)

Bar-Haim, E., Blank, C. and Shavit, Y. (2013) Educational Opportunity, Employment, and Income: 1995–2008. Jerusalem: Israel. Taub Center for Social Policy Studies in Israel. Policy Paper Series. Policy Paper No. 2013.09

Ben-Porath, Y. and Gronau, R. (1985) 'Jewish mother goes to work: trends in the labor force participation of women in Israel, 1955–1980', Journal of Labor Economics 3(1, Part 2): S310–S327.

Bernardi, F. and Ballarino, G. (eds.) (2016) Education, Occupation and Social Origin: A Comparative Analysis of the Transmission of Socio-Economic Inequalities, Cheltenham: Edward Elgar Publishing.

Blau, P. and Duncan, O. D. (1967) The American Occupational Structure, New York: Wiley.

Boliver, V. (2011) 'Expansion, differentiation, and the persistence of social class inequalities in British higher education', Higher Education 61(3): 229–242.

Boudon, R. (1974) Education, Opportunity, and Social Inequality: Changing Prospects in Western Society, New York: Wiley-Interscience

Breen, R., Luijkx, R., Müller, W. and Pollak, R. (2009) 'Nonpersistent inequality in educational attainment: evidence from eight European countries', American Journal of Sociology 114(5): 1475–1521.

Buchmann, C. and DiPrete, T.A. (2006) 'The growing female advantage in college completion: the role of family background and academic achievement', American Sociological Review 71(4): 515–541.

Buchmann, C., DiPrete, T.A. and McDaniel, A. (2008) 'Gender inequalities in education', Annual Review of Sociology 34: 319–337.

Central Bureau of Statistics (2010) The conversion key from the 1994 Standard Classification of Occupations to the Isco-88 classification, Jerusalem: Central Bureau of Statistics. Available online at http://www.cbs.gov.il/publications10/conver10/pdf/e_print.pdf

Central Bureau of Statistics (2012) Yearbook of Statistics63, Jerusalem: The Central Bureau of Statistics (in Hebrew). Available Online at: http://www1.cbs.gov.il/reader.

Chauvel, L., Hartung, A. and Bar-Haim, E. (2017) Closing or Persisting Gender Gap? A Cohort Analysis of Education and Wages in the United States and Europe. Paper presented at the Population Association of America-PAA Annual Meeting 2017; 27 April, Chicago, USA.

Chesters, J. and Watson, L. (2013) 'Understanding the persistence of inequality in higher education: evidence from Australia', Journal of Education Policy 28(2): 198–215.

Colley, A., Comber, C. and Hargreaves, D.J. (1994) 'Gender effects in school subject preferences: a research note', Educational Studies 20(1): 13–18.

Collins, R. (2002) 'Credential inflation and the future of universities' in S. Brint (ed.) The Future of the City of Intellect: The Changing American University, Stanford: Stanford University Press, pp. 23–46.

Council for Higher Education and Planning and Budgeting Committee (2012) Higher Education in Israel 2012 (in Hebrew(. Available Online: http://che.org.il/wp-content/uploads/2016/10/2012.pdf

Darr, A. (2015) 'Convergence of service and technical skills: the case of ERP implementation in Israel', Asian Journal of Technology Innovation 23(sup1): 26–39.

De Fontenay, C. and Carmel, E. (2004) 'Israel's Silicon Wadi: The Forces behind Cluster Formation' in T. Bresnahan and A. Gambardella (eds.) Building High-Tech Clusters: Silicon Valley and beyond, Cambridge: Cambridge University Press, pp. 40–77.

DiPrete, T.A. and Buchmann, C. (2006) 'Gender-specific trends in the value of education and the emerging gender gap in college completion', Demography 43(1): 1–24.

DiPrete, T. and Buchman C. (2013) The Rise of Women, New York: Russell Sage Foundation.

Ganzeboom, H.B. and Treiman, D.J. (1996) 'Internationally comparable measures of occupational status for the 1988 International Standard Classification of Occupations', Social Science Research 25(3): 201–239.

Featherman, D.L., Jones, F.L. and Hauser, R.M. (1975) 'Assumptions of social mobility research in the US: the case of occupational status', Social Science Research 4(4): 329–360.

Feniger, Y. and Ayalon, H. (2016) 'English as a gatekeeper: inequality between Jews and Arabs in access to higher education in Israel', International Journal of Educational Research 76(1): 104–111.

Fuchs, H. (2017) Education and Employment Among Young Arab Israelis. Jerusalem: Taub Center for Social Policy Studies in Israel.

Goldthorpe, J.H. (2013a) The Role of Education in Intergenerational Social Mobility: Problems from Empirical Research in Sociology and Some Theoretical Pointers from Economics. Oxford: University of Oxford. Barnett Papers in Social Research. Working Paper 13-02. Available on http://www.spi.ox.ac.uk/fileadmin/documents/pdf/Barnett_Paper_13-02.pdf.

Goldthorpe, J.H. (2013b) 'Understanding–and misunderstanding–social mobility in Britain: the entry of the economists, the confusion of politicians and the limits of educational policy', Journal of Social Policy 42(3): 431–450.

Gornitzka, Å. and Larsen, I.M. (2004) 'Towards professionalisation? Restructuring of administrative work force in universities', Higher Education 47(4): 455.

Guri-Rosenblit, S. (1996) 'Trends in access to Israeli higher education 1981–96: from a privilege to a right', European Journal of Education 31(3): 321–340.

Harwood, J. (2010) 'Understanding academic drift: on the institutional dynamics of higher technical and professional education', Minerva 48(4): 413–427.

Ichou, M. and Vallet, L.A. (2011) 'Do all roads lead to inequality? Trends in French upper secondary school analysed with four longitudinal surveys', Oxford Review of Education 37(2): 167–194.

Jacobs, J.A. (1989) Revolving Doors: Sex Segregation and Women's Careers, Stanford: Stanford University Press.

Katz, I. and Flum, H. (2018) 'Crossing expected and unexpected borders in the way to higher education: the 'Window to the Academy' programme' in S. Jackson (ed.) Developing Transformative Spaces in Higher Education: Learning to Transgress, Abingdon: Routledge, pp. 22–33.

Katz-Gerro, T. and Yaish, M. (2003) 'Higher education: is more better? Gender differences in labour market returns to tertiary education in Israel', Oxford Review of Education 29(4): 571–592.

Kogan, M., Bauer, M., Bleiklie, I. and Henkel, M. (2006) Transforming Higher Education: A Comparative Study (2nd edition), Dordrecht: Springer.

Kristal, T. and Cohen, Y. (2016) 'The causes of rising wage inequality: the race between institutions and technology', Socio-Economic Review 15(1): 187–212.

Laiho, A. (2010) 'Academisation of nursing education in the Nordic Countries', Higher Education 60(6): 641–656.

Leathwood, C. and Read, B. (2008) Gender and the Changing Face of Higher Education: A Feminised Future?, London: SRHE/Open University Press.

Levanon, A., England, P. and Allison, P. (2009) 'Occupational feminization and pay: assessing causal dynamics using 1950–2000 US census data', Social Forces 88(2): 865–891.

Liu, Y., Green, A. and Pensiero, N. (2016) 'Expansion of higher education and inequality of opportunities: a cross-national analysis', Journal of Higher Education Policy and Management 38(3): 242–263.

Lucas, S.R. (2001) 'Effectively maintained inequality: Education transitions, track mobility, and social background effects', American Journal of Sociology 106(6): 1642–1690.

Lucas, S.R. (2009) 'Stratification theory, socioeconomic background, and educational attainment: a formal analysis', Rationality and Society 21(4): 459–511.

Mandel, H. and Birgier, D.P. (2016) 'The gender revolution in Israel: progress and stagnation', in N. Khattab, S. Miaari and H. Stier (eds). Socioeconomic Inequality in Israel, New York: Palgrave Macmillan, pp. 153–184.

Mare, R.D. (1980) 'Social background and school continuation decisions', Journal of the American Statistical Association 75(370): 295–305.

Marginson, S. (2016) 'The worldwide trend to high participation higher education: dynamics of social stratification in inclusive systems', Higher Education 72(4): 413–434.

Maselli, I. (2012) 'The evolving supply and demand of skills in the labour market', Intereconomics 47(1): 22–30.

McDaniel, A. (2013) 'Parental education and the gender gap in university completion in Europe' Demographic Research 29(Article 3): 71–84.

Preston, J.A. (1999) 'Occupational gender segregation trends and explanations', The Quarterly Review of Economics and Finance 39(5): 611–624.

Raftery, A.E. and Hout, M. (1993) 'Maximally maintained inequality: expansion, reform, and opportunity in Irish education, 1921–1975' Sociology of Education 66(1): 41–62.

Roach, R. (2001) 'Where are the Black men on campus?', Diverse Issues in Higher Education 18(6): 18.

Rotman, A., Shavit, Y. and Shalev, M. (2016) 'Nominal and positional perspectives on educational stratification in Israel', Research in Social Stratification and Mobility 43(1): 17–24.

Rury, J. (2004) Education and Social Change: Themes in the history of American schooling, Abingdon: Routledge.

Rury, J.L. (1991) Education and Women's Work: Female Schooling and the Division of Labor in Urban America, 1870-1930. SUNY Series on Women and Work. New York: State University of New York Press.

SabbahKarkaby, M. and Stier, H. (2017) 'Links between education and age at marriage among Palestinian women in Israel: changes over time', Studies in Family Planning 48(1): 23–38.

Sewell, W. and Hauser, R. (1992) 'The influence of the American occupational structure on the Wisconsin Model', Contemporary Sociology 21(5): 598–603.

Scheeren, L., van de Werfhorst, H.G. and Bol, T. (2018) 'The Gender revolution in context: how later tracking in education benefits girls', Social Forces 97(1): 193–220.

Schultz, T.W. (1961) 'Investment in human capital', The American Economic Review 51(1): 1–17.

Shu, X. and Marini, M.M. (1998) 'Gender-related change in occupational aspirations', Sociology of Education 71(1): 43–67.

Solorzano, D.G. (1992) 'An exploratory analysis of the effects of race, class, and gender on student and parent mobility aspirations', The Journal of Negro Education 61(1): 30–44.

Stier, H. (2010) 'The end of the sole provider era: dual earner families in Israel', in V. Muhlbauer and L. Kulik (eds.) Working Families: Parents in the Labor Market in Israel, Rishon Lezion: Peles Publishing, pp. 17–45 [Hebrew].

Stier, H. and Herzberg-Druker, E. (2017) 'Running ahead or running in place? educational expansion and gender inequality in the labor market', Social Indicators Research 130(3): 1187–1206.

Stier, H. and Yaish, M. (2008) 'The determinants of women's employment dynamics: the case of Israeli women', European Sociological Review 24(3): 363–377.

Swed, O. and Butler, J.S. (2015) 'Military capital in the Israeli Hi-tech industry', Armed Forces and Society 41(1): 123–141.

Vincent-Lancrin, S. (2008) 'The reversal of gender inequalities in higher education: an on-going trend', Higher Education to 2030 (1): 265–298.

Wood, D., Kaplan, R. and McLoyd, V.C. (2007) 'Gender differences in the educational expectations of urban, low-income African American youth: the role of parents and the school', Journal of Youth and Adolescence 36(4): 417–427.

Yaish, M. (2001) 'Class structure in a deeply divided society: class and ethnic inequality in Israel, 1974–1991', The British Journal of Sociology 52(3): 409–437.

Yaish, M. and Kraus, V. (2003) 'The consequences of economic restructuring for the gender earnings gap in Israel, 1972–1995', Work, Employment and Society 17(1): 5–28.

Yamamoto, Y. and Brinton, M.C. (2010) 'Cultural capital in East Asian educational systems: the case of Japan', Sociology of Education 83(1): 67–83.
Acknowledgements
Funding was provided by Fonds National de la Recherche Luxembourg (Grant Nos. FNR/P11/05, INTER/NORFACE/16/11333934). The authors wish to thank Yariv Feniger, Yossi Shavit and the participants of the RC28 meeting at Cologne (2017) and the SEMILUX participants for their helpful comments. The usual disclaimer applies.
About this article
Cite this article
Bar-Haim, E., Blank, C. & Rotman, A. Taking Their Place: Educational Expansion and Inequality of Educational Opportunities—A Gendered Perspective. High Educ Policy 32, 639–661 (2019). https://doi.org/10.1057/s41307-018-0122-8
Keywords
MMI

Israel

Persistent inequality

Intersectionality