This qualitative research examines entrepreneurial cultures of private and public sector universities in an apparently hostile economy such as Pakistan, and how it is affected by a nexus of its internal and external environmental factors. The phenomenon is explored through viewpoints and understanding of the social actors who experience it firsthand through 32 interviews with faculty members of 4 public and 4 private sector universities. A top-down, government-pull model approach driven by visionary leaders was found more viable and suggested in promoting entrepreneurial culture rather than bottom-up, university-push model approach. Furthermore, to achieve entrepreneurial cultures, private universities are restrained by profit motives, whereas public ones are inhibited by administrative procedures. The proposed framework offers empirical guidelines for the purposes of contextualizing entrepreneurial university culture and its underlying factors under unfavorable conditions.
This is a preview of subscription content, log in to check access.
Access options
Buy single article
Instant access to the full article PDF.
US$ 39.95
Price includes VAT for USA
Subscribe to journal
Immediate online access to all issues from 2019. Subscription will auto renew annually.
US$ 149
This is the net price. Taxes to be calculated in checkout.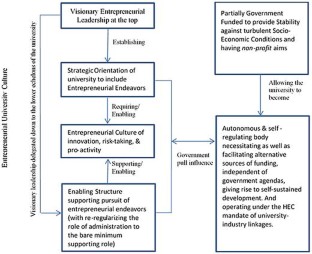 References
Ali, A. (2010) 'Economic cost of terrorism: A case study of Pakistan', Strategic Studies Spring/Summer 2010(1–2), Available on http://issi.org.pk/wp-content/uploads/2014/06/1299569657_66503137.pdf, Accessed 4 Jan 2018.

Ali, F. (2017) 'Global Competitiveness Report 2017–2018', Business Recorder, 30 September, Available on https://fp.brecorder.com/2017/09/20170930222476/, Accessed 18 Jan 2018.

Beugelsdijk, S. (2010) 'Entrepreneurial culture, regional innovativeness and economic growth' in A. Freytag and R. Thurik (eds.) Entrepreneurship and Culture, Heidelberg: Springer, pp. 129–154.

Bienkowski, W., Brada, J. and Stanley, G. (2012) The university in the age of globalization: rankings, resources and reforms, Baskingstoke: Palgrave Macmillan.

Bjugstad, K., Thach, E.C., Thompson, K.J. and Morris, A. (2006) 'A fresh look at followership: A model for matching followership and leadership styles', Journal of Behavioral and Applied Management 7(3):304.

Bramwell, A. and Wolfe D.A. (2008) 'Universities and regional economic development: The entrepreneurial University of Waterloo', Research Policy 37(8):1175-1187.

Buchanan, D. and Bryman, A. (2009) The SAGE handbook of organizational research methods, London: Sage Publications.

Clark, B. (2001) 'The entrepreneurial university: New foundations for collegiality, autonomy, and achievement', Higher Education Management 13(2): 9–24.

Corbin, J. and Strauss, A. (1990) 'Grounded theory research: Procedures, canons and evaluative criteria', Zeitschrift für Soziologie 19(6):418–427.

Creswell, J.W. (2013) Qualitative inquiry and research design: choosing among five approaches, London: Sage.

Eisenhardt, K.M. (1989) 'Building theories from case study research', Academy of Management Review 14(4):532–550.

Etzkowitz, H. (2008) The triple helix: university–industry–government innovation in action: Routledge.

Etzkowitz, H., Webster, A., Gebhardt, C. and Cantisano Terra, B.R. (2000) 'The future of the university and the university of the future: evolution of ivory tower to entrepreneurial paradigm', Research Policy 29(2): 313–330.

Etzkowitz, H. and Zhou, C. (2007) Regional innovation initiator: the entrepreneurial university in various triple helix models. Theme Paper; Triple Helix 6th Conference; 16–18 May; National University of Singapore, Singapore.

Gronn, P. (2000) 'Distributed properties: A new architecture for leadership', Educational Management and Administration 28(3): 317–338.

Herriott, R.E. and Firestone. W. A. (1983) 'Multisite qualitative policy research: Optimizing description and generalizability', Educational Researcher 12(2): 14–19.

Hofstede, G. (2007) 'Asian management in the 21st century', Asia Pacific Journal of Management 24(4): 411–420.

Hofstede, G., Hofstede, G.J. and Minkov, M. (1991) Cultures and organizations: Software of the mind. Vol. 2, London: McGraw-Hill.

Jacob. M., Lundqvist, M. and Hellsmark, H. (2003) 'Entrepreneurial transformations in the Swedish University system: the case of Chalmers University of Technology', Research Policy 32(9):1555-1568.

Kitagawa, F. (2015) 'Research, Development and Innovation: International, National and Regional Perspectives' in J. Huisman, H. de Boer, D. D. Dill and M. Souto-Otero (eds). The Palgrave International Handbook of Higher Education Policy and Governance, London: Springer, pp. 243–260.

Krumpal, I. (2013) 'Determinants of social desirability bias in sensitive surveys: a literature review', Quality and Quantity 47(4): 2025–2047.

Laukkanen, M. (2003) 'Exploring academic entrepreneurship: drivers and tensions of university-based business', Journal of Small Business and Enterprise Development 10(4): 372–382.

Leydesdorff, L. (2013) Triple helix of university–industry–government relations, London: Springer.

Masa'deh, R., Shannak, R., Maqableh, M. and Tarhini, A. (2017) 'The impact of knowledge management on job performance in higher education: The case of the University of Jordan', Journal of Enterprise Information Management 30(2): 244–262.

McGuire, S., Drost, E. and Zhang, Y. (2016) Convergent and Discriminant Validity of a Model of Entrepreneurial Culture. Paper presented at the The XXVII ISPIM Innovation Conference; 19–22 June; Porto, Portugal.

Miles, M.B. and Huberman, A.M. (1994) Qualitative data analysis: an expanded sourcebook, London: Sage.

Moreno, A.M. and Casillas, J.C. (2008) 'Entrepreneurial orientation and growth of SMEs: A causal model', Entrepreneurship Theory and Practice 32(3): 507–528.

Murphy, G.B., Tocher, N. and Ward, B. (2016) 'An examination of public private academic partnerships: Does program success enhance university performance outcomes?', Public Organization Review 16(1): 95–115.

Northouse, P.G. (2007) 'Transformational leadership', in Leadership: Theory and Practice 4th ed, Thousand Oaks, CA: Sage, pp. 175–206

O'Shea, R.P., Allen, T.J., Morse, K.P., O'Gorman, C. and Roche, F. (2007) 'Delineating the anatomy of an entrepreneurial university: the Massachusetts Institute of Technology experience', R&D Management 37(1): 1–16.

Philpott, K., Dooley, L., O'Reilly, C. and Lupton, G. (2011) 'The entrepreneurial university: Examining the underlying academic tensions', Technovation 31(4): 161–170.

Ring, P.S. and Perry, J.L. (1985) 'Strategic management in public and private organizations: Implications of distinctive contexts and constraints', Academy of Management Review 10(2): 276–286.

Scott, S. and Venkataraman, S. (2000) 'The promise of entrepreneurship as a field of research', Academy of Management Review 25(1): 217–226.

Singleton Jr, R., Straits, B.C., Straits, M.M. and McAllister, R.J. (1988) Approaches to social research, Oxford: Oxford University Press.

Terry, L.D. (1993) 'Why We Should Abandon the Misconceived Quest to Reconcile Public Entrepreneurship with Democracy: A Response to Bellone and Goerl's" Reconciling Public Entrepreneurship and Democracy', Public Administration Review 53(4): 393–395.

Thomas, E. and Magilvy, J.K. (2011) 'Qualitative rigor or research validity in qualitative research', Journal for Specialists in Pediatric Nursing 16(2): 151–155.

Thomas, R.M. (2003) Blending qualitative and quantitative research methods in theses and dissertations, Thousand Oaks, CA: Corwin Press.

Varghese, N.V. (2006) Growth and expansion of private higher education in Africa, Paris: UNESCO International Institute for Educational Planning.

Woods, P.A. (2004) 'Democratic leadership: drawing distinctions with distributed leadership', International Journal of Leadership in Education 7(1): 3–26

Yin, R.K. (2013) Case study research: Design and methods, London: Sage.

Yukl, G., Gordon, A. and Taber, T. (2002) 'A hierarchical taxonomy of leadership behavior: Integrating a half century of behavior research', Journal of Leadership and Organizational Studies 9(1): 15–32.
Electronic supplementary material
Below is the link to the electronic supplementary material.
About this article
Cite this article
Shah, S.I., Shahjehan, A. & Afsar, B. Determinants of Entrepreneurial University Culture Under Unfavorable Conditions: Findings from a Developing Country. High Educ Policy 32, 249–271 (2019). https://doi.org/10.1057/s41307-018-0083-y
Keywords
entrepreneurial culture

entrepreneurial university

visionary leadership

higher education

developing country