Abstract
This descriptive single case study uses a combination of bibliometric, social network analysis, and content analysis methods to explore how international faculty members employed at a flagship university in Kazakhstan contribute to local research capacity building. The database for the study includes 361 scholarly articles retrieved from the Thompson Reuters Web of Science database, in which at least one author is affiliated with the analyzed flagship university. The analysis of the data shows that foreign faculty members contribute to research capacity building by expanding the contextualized knowledge base, by conducting research relevant to policy priorities, by broadening the area of research dissemination, and by integrating the university into the global research networks. The role of foreign faculty in the development of local researchers' skills and knowledge remains unclear. While our study shows a low level of collaboration between locals and foreigners, this can be attributed to the age of the university under examination and needs to be considered further.
Access options
Buy single article
Instant access to the full article PDF.
USD 39.95
Price excludes VAT (USA)
Tax calculation will be finalised during checkout.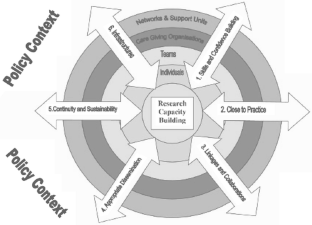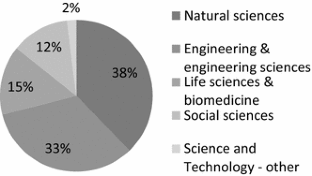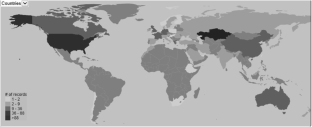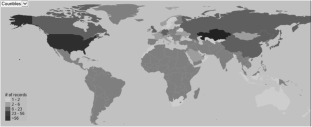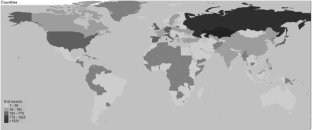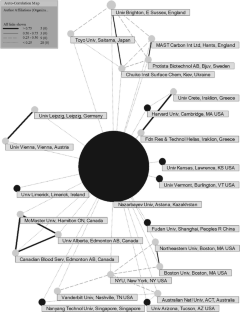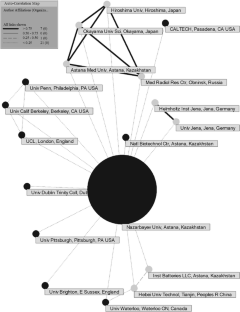 References
Altbach, P.G. (2013) Advancing the national and global knowledge economy: the role of research universities in developing countries, Studies in Higher Education 38(3): 316–330.

Bickman, L., Rog, D.J. and Hedrick, T.E. (1998) 'Applied research design: A practical approach', in P. Alasuutari, L. Bickman, and J. Brannen (eds.) The SAGE Handbook of Applied Social Research Methods, Los Angeles: SAGE

Black, G. C. and Stephan, P. E. (2010) 'The economics of university science and the role of foreign graduate students and postdoctoral scholars', in C. T. Clotfelter (ed.) American Universities in a Global Market, Chicago: University of Chicago Press, pp. 129–161.

Carnoy, M., Loyalka, P., Dobryakova, M., Dossani, R., Froumin, I., Kuhns, K., and Wang, R. (2013) University Expansion in a Changing Global Economy: Triumph of the BRICs?, Stanford: Stanford University Press.

Castells, M. (2009) Lecture on higher education, given at the Centre for Higher Education Transformation, Cape Town, South Africa; 7 August.

Cloete, N., Bunting, I. and Maassen, P. (2015) 'Research universities in Africa: An empirical overview of eight flagship universities', in N. Cloete, P. Maassen, and T. Bailey (eds.) Knowledge Production and Contradictory Functions in African higher Education, Cape Town: African Minds, pp. 18–31.

Cooke, J. (2005) 'A framework to evaluate research capacity building in health care' BMC Family Practice 6(44): 1–12.

Corley, E.A. and Sabharwal, M. (2007) 'Foreign-born academic scientists and engineers: producing more and getting less than their US-born peers?', Research in Higher Education 48(8): 909–940.

Crisp, B.R., Swerissen, H., and Duckett, S.J. (2000) 'Four approaches to capacity building in health: consequences for measurement and accountability', Health Promotion International 15(2): 99–107.

Deem, R., Mok, K.H. and Lucas, L. (2008) 'Transforming higher education in whose image? Exploring the concept of the 'world-class' university in Europe and Asia', Higher Education Policy 21(1): 83–97.

de Wit, H. (2009) Internationalization of Higher Education in the United States of America and Europe: A Historical, Comparative, and Conceptual Analysis, Westport: Greenwood Press.

Douglass, J. A. (2014) 'Profiling the flagship university model: an exploratory proposal for changing the paradigm from ranking to relevancy', Research and Occasional Paper Series, CSHE (5.14):1–30.

Douglass, J. A. (ed) (2016) The New Flagship University: Changing the Paradigm from Global Ranking to National Relevancy, London: Palgrave Macmillan.

Harris, E. (2004) 'Building scientific capacity in developing countries', EMBO Reports 5(1): 7–11.

Horta, H. (2009) 'Global and national prominent universities: internationalization, competitiveness and the role of the State', Higher Education 58(3): 387–405.

Hunt, J. (2010) Which immigrants are most innovative and entrepreneurial? Distinctions by entry visa, Discussion Paper Series 4745, Institute of Labor Economics, http://ftp.iza.org/dp4745.pdf, Accessed 13 September 2016.

Jacob, M. and Meek, V.L. (2013) 'Scientific mobility and international research networks: trends and policy tools for promoting research excellence and capacity building', Studies in Higher Education 38(3): 331–344.

Jones, N., Bailey, M. and Lyytikainen, M. (2007) Research capacity strengthening in Africa: trends, gaps and opportunities, A scoping study commissioned by DFID on behalf of IFORD, London: ODI.

Kerr, W.R. (2008) 'Ethnic scientific communities and international technology diffusion', The Review of Economics and Statistics 90(3): 518–537

Kharas, H. (2005) 'Economics education and research in the East Asia and Pacific Region', in F. Bourguignon, Y. Elkana, and B. Pleskovic (eds.) Capacity Building, Washington: The World Bank, pp. 255–266

Kuzhabekova, A., Hendel, D.D. and Chapman, D.W. (2015) 'Mapping global research on international higher education', Research in Higher Education 56(8): 861–882.

Kuzhabekova, A. (in print) 'The Development of University Research in Kazakhstan during 1991–2013: a Bibliometric View', in I. Silova and S. Niyozov (eds.) Globalization on the Margins: Education and Post-socialist Transformations in Central Asia (2nd ed), Charlotte, NC: IAP.

Mamiseishvili, K. and Rosser, V.J. (2010) 'International and citizen faculty in the United States: An examination of their productivity at research universities', Research in Higher Education 51(1): 88–107.

Miller, G. and Whicker, M. (eds) (1999) Handbook of Research Methods in Public Administration, New York: Marcel Dekker Inc.

Nazarbayev University (2013) Nazarbayev University Strategy 2013–2020. Approved by the decision of Supreme board of Trustees, Astana: Nazarbayev University.

OECD (2008) OECD Glossary of Statistical Terms, Paris: OECD, http://www.oecd-ilibrary.org/economics/oecd-glossary-of-statistical-terms_9789264055087-en;jsessionid=1u99e6h0sboe5.x-oecd-live-02

Otte, E. and Rousseau, R. (2002) 'Social network analysis: a powerful strategy, also for the information sciences', Journal of Information Science 28(6): 441–453.

Salmi, J. (2009) The Challenge of Establishing World-Class Universities, Washington, DC: The World Bank Publications.

Stein, J.A. and Ahmed, A. (2007) 'The European Union as a model of international co-operation in science, technology and sustainable development', The British Journal of Politics and International Relations 9(4): 654–669.

Stephan, P.E. and Levin, S.G. (2001) 'Exceptional contributions to US science by the foreign-born and foreign-educated', Population Research and Policy Review 20(1–2): 59–79.

Stephan, P.E. and Levin, S. (2003) Foreign scholars in US science: Contributions and costs. Prepared for the Conference Science and the University; 20–21 May 2003, Cornell Higher Education Research Institute, pp. 1–29

Stromquist, N.P. (2007) 'Internationalization as a response to globalization: Radical shifts in university environments', Higher Education 53(1): 81–105.

Wildavsky, B. (2012) The Great Brain Race: How Global Universities are Reshaping the World, Princeton, NJ: Princeton University Press.

Yin, R. (1984) Case Study Research: Design and Methods, Newbury Park, CA: Sage.

Zamora, E.A. (2016) 'The role of flagship universities in developing countries: The case of the University of the Philippines', Asian Journal of Innovation and Policy 5(1): 19–34.
About this article
Cite this article
Kuzhabekova, A., Lee, J. International Faculty Contribution to Local Research Capacity Building: A View from Publication Data. High Educ Policy 31, 423–446 (2018). https://doi.org/10.1057/s41307-017-0067-3
Published:

Issue Date:

DOI: https://doi.org/10.1057/s41307-017-0067-3
Keywords