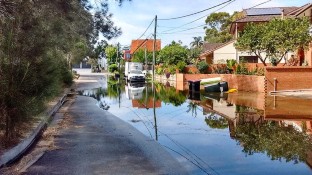 references
Bracke, S., 2016. Bouncing back: vulnerability and resistance in times of resilience. In J. Butler, Z. Gambetti and L. Sabsay, eds. Vulnerability in Resistance. Durham: Duke University Press, pp. 52–75.

Bullard, R. and Wright, B., eds., 2009. Race, Place, and Environmental Justice After Hurricane Katrina. Boulder: Westview Press.

David, E. and Enarson, E., eds., 2012. The Women of Katrina: How Gender, Race and Class Matter in an American Disaster. Nashville: Vanderbilt University Press.

Dawson, A., 2017. Extreme Cities: The Peril and Promise of Urban Life in an Age of Climate Change. London: Verso.

Gunaratnam, Y. and Clark, N., 2012. Pre-race post-race: climate change and planetary humanism. darkmatter, 9(1). Available at: http://www.darkmatter101.org/site/2012/07/02/pre-race-post-race-climate-change-and-planetary-humanism/ [last accessed 19 January 2018].

Hulme, M., 2015. Climate. Environmental Humanities, 6(1), pp. 175–178.

James, R., 2015. Resilience and Melancholy: Pop Music, Feminism, Neoliberalism. London: Zero Books.

Neimanis, A. and Loewen Walker, R., 2014. Weathering: climate change and the 'thick time' of transcorporeality. Hypatia, 29(3), pp. 558–575.

Sharpe, C., 2016. In the Wake: On Blackness and Being. Durham: Duke University Press.

Vardy, M. and Smith, M., 2017. Resilience. Environmental Humanities, 9(1), pp. 175–179.

Vizenor, G., 2009. Native Liberty: Natural Reason and Cultural Survivance. Lincoln: University of Nebraska Press.
About this article
Cite this article
Neimanis, A., Hamilton, J.M. weathering. Fem Rev 118, 80–84 (2018). https://doi.org/10.1057/s41305-018-0097-8