Abstract
This article adds a new case-study to the existing empirical analyses of gender differences in academic journals. The record of South European Society and Politics confirms the established pattern of a gender gap in published output, with its source at the submissions stage. It also reveals gendered preferences with regard to authorship styles, highlighting a pattern of greater individualism and homophily for men and a more collaborative picture for female scholars; in particular, we found that co-authoring increases women's publication footprint. Moving on to the journal's gatekeepers, we also discovered gender imbalance. An investigation of rejection rates finds that the predominantly female editorial team made gender-neutral choices during the initial editorial review of submissions, but selected overwhelmingly male referees. While women are less successful than men in the blind peer review process, this is overshadowed by the difference in submission rates. Potential explanations for the latter were considered, including lesser access to academic networks as well as the "impostor phenomenon", which afflicts women more than men. The article concludes that addressing the journal publishing gender gap requires broader changes in academic life.
Access options
Buy single article
Instant access to the full article PDF.
USD 39.95
Price excludes VAT (USA)
Tax calculation will be finalised during checkout.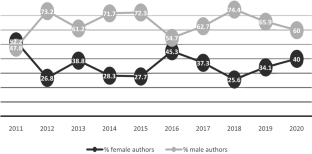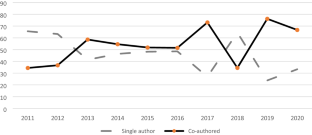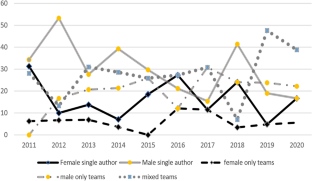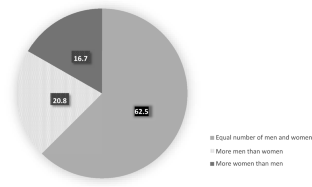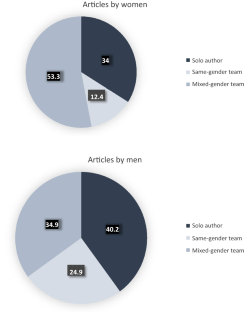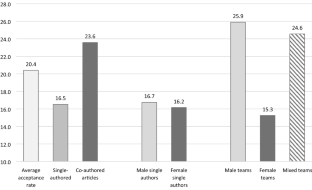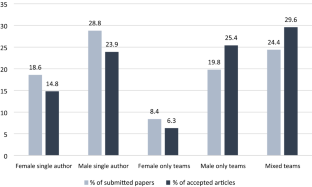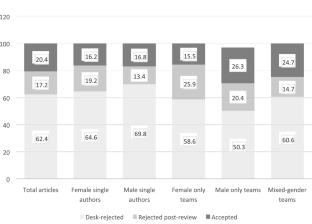 Notes
See, for example, Grossman 2020 who noted that despite using gender recognition software, it was still necessary to check the gender identity of 75 per cent of authors.

The journal has received a minimal number of submissions from authors identifying as 'they/them', but none occurred during the period covered in this article.

On the gatekeeping role of peer reviewers, see Caputo (2019).

We would like to take the opportunity here to publicly thank our current Associate Editors, Senem Aydin-Duzgit, Sandra Bermudez-Torres and Lorenzo Mosca, and former Associate Editor, Leire Salazar, for their collaboration with us. We would also like to acknowledge the significant role of our Assistant Editors, Fabio Bordignon and Elisabetta De Giorgi, who handle other aspects of the journal's work.
References
Abramo, G., C.A. D'Angelo, and G. Murgia. 2013. Gender differences in research collaboration. Journal of Informetrics 7 (4): 811–822.

Abramo, G., D. Aksnes, and C.A. D'Angelo. 2021. Gender differences in research performance within and between countries: Italy vs Norway. Journal of Informetrics 15 (2): 101144.

APSA Committee on the Status of Women. 1992. Improving the status of women in political science: A report with recommendations. PS: Political Science and Politics 25 (3): 547–554.

Baker, M. 2010. Choices or constraints? Family responsibilities, gender and academic career. Journal of Comparative Family Studies 41 (1): 1–18.

Bettecken, J., A.C. Klöckner, C. Kurch, and G. Schneider. 2021. Under-represented, cautious, and modest: The gender gap at European Union Politics. European Political Science (forthcoming). https://doi.org/10.1057/s41304-021-00354-6.

Bosco, A., and S. Verney. 2021. Editing South European Society and Politics: A labour of love. An interview with Anna Bosco and Susannah Verney. Italian Political Science 16 (1): 40–45.

Bothello, J., and T.J. Roulet. 2019. The impostor syndrome, or the mis-representation of self in academic life. Journal of Management Studies 56 (4): 854–861.

Bravata, D.M., et al. 2020. Commentary: Prevalence, predictors, and treatment of imposter syndrome: A systematic review. Journal of Mental Health and Clinical Psychology 4 (3): 12–16.

Breuning, M., and K. Sanders. 2007. Gender and journal authorship in eight prestigious political science journals. PS: Political Science and Politics 40 (2): 347–351.

Brown, and Samuels. 2018. Introduction to gender in the journals, continued: Evidence from five political science journals. PS: Political Science and Politics 51 (4): 847–848.

Caputo, R.K. 2019. Peer review: A vital gatekeeping function and obligation of professional scholarly practice. Families in Society 100 (1): 6–16.

Clance, P.R., and S.A. Imes. 1978. Impostor phenomenon in high achieving women: Dynamics and therapeutic intervention. Psychotherapy Theory, Research and Practice 15 (3): 241–247.

Closa, C., C. Moury, Z. Novakova, M. Qvortrup, and B. Ribeiro. 2020. Mind the (submission) gap: EPSR gender data and female authors publishing perceptions. European Political Science 19 (3): 428–442.

Deschouwer, K. 2020. Reducing gender inequalities in ECPR publications. European Political Science 19 (3): 411–415.

Djupe, P.A., A.E. Smith, and A.E. Sokhey. 2019. Explaining gender in the journals: How submission practices affect publication patterns in political science. PS: Political Science and Politics 52 (1): 71–77.

Dubois-Shaik, F., and B. Fusulier. 2017. Understanding gender inequality and the role of the work/family interface in contemporary academia: An introduction. European Educational Research Journal 16 (2–3): 99–105.

ECPR. 2016. Gender study 2016. https://ecpr.eu/Filestore/CustomContent/Publications/Gender%20Study/Gender_Study_2016.pdf.

ECPR. 2019. Gender study 2019. https://ecpr.eu/Filestore/CustomContent/Publications/Gender%20Study/Gender_Study_2019.pdf. Accessed 14 Sept 2021.

European Commission. 2019 She figures 2018. https://op.europa.eu/en/publication-detail/-/publication/9540ffa1-4478-11e9-a8ed-01aa75ed71a1/language-en/format-PDF/source-234599685. Accessed 16 Sept 2021.

Evans, H.K., and A. Moulder. 2011. Reflecting on a decade of women's publications in four top political science journals. PS Political Science and Politics 44 (4): 793–798.

Fisher, B.S., C.T. Cobane, T.M. Vander Ven, and F.T. Cullen. 1998. How many authors does it take to publish an article? Trends and patterns in political science. PS Political Science and Politics 31 (4): 847–856.

Forret, M.L., and T.W. Dougherty. 2004. Networking behaviors and career outcomes: Differences for men and women? Journal of Organizational Behavior 25: 419–437.

Ghica, L.A. 2021. Who are we? The diversity puzzle in European political science. European Political Science 20 (1): 58–84.

Grossman, E. 2020. A gender bias in the European Journal of Political Research? European Political Science 19 (3): 416–427.

Guarino, C.M., and V.M.H. Borden. 2017. Faculty service loads and gender: Are women taking care of the academic family? Research in Higher Education 58: 672–694.

Heffernan, T. 2020. Academic networks and career trajectory: 'There's no career in academia without networks.' Higher Education Research & Development 40 (5): 981–994.

Hejstra, T.M., P. Einarsdóttir, G.M. Pétursdóttir, and F.S. Steinþórsdóttir. 2017. Testing the concept of academic housework in a European setting: Part of academic career-making or gendered barrier to the top? European Educational Research Journal 16 (2–3): 200–214.

Henriksen, D. 2016. The rise in co-authorship in the social sciences (1980–2013). Scientometrics 107: 455–476.

Henriksen, D. 2018. What factors are associated with increasing co-authorship in the social sciences? A case study of Danish economics and political science. Scientometrics 114: 1395–1421.

Hutchins, H.M. 2015. Outing the imposter: A study exploring imposter phenomenon among higher education faculty. New Horizons in Adult Education and Human Resource Development 27 (2): 3–12.

Jaremka, L.M., J.M. Ackerman, B. Gawronski, N.O. Rule, K. Sweeny, L.R. Tropp, M.A. Metz, L. Molina, W.S. Ryan, and S.B. Vick. 2020. Common academic experiences no one talks about: Repeated rejection, impostor syndrome, and burnout. Perspectives on Psychological Science 15 (3): 519–543.

König, T., and G. Ropers. 2021. How gendered is the peer-review process? A mixed-design analysis of reviewer feedback. PS Political Science & Politics 55 (1): 135–141.

Lee, T. 1997. The editorial gatekeepers of the accounting academy. Accounting, Auditing & Accountability Journal 10 (1): 11–30.

Mendonça, S., J. Pereira, and M.E. Ferreira. 2018. Gatekeeping African studies: What does "editormetrics" indicate about journal governance? Scientometrics 117 (3): 1513–1534.

Ossenblok, T.L.B., F.T. Verleysen, and T.C.E. Engels. 2014. Coauthorship of journal articles and book chapters in the social sciences and humanities (2000–2010). Journal of the Association for Information Science and Technology 65 (5): 882–897.

Parkman, A. 2016. The imposter phenomenon in higher education: Incidence and impact. Journal of Higher Education Theory and Practice 16 (1): 51–60.

Šadl, Z. 2009. 'We women are no good at it': Networking in academia. Czech Sociological Review 45 (6): 1239–1263.

Sakulku, J., and J. Alexander. 2011. The impostor phenomenon. International Journal of Behavioral Science 6 (1): 75–97.

Sindjberg Martinsen, D., K.H. Goetz, and W.C. Müller. 2021. A gendered pattern? Publishing, submission and reviewing in West European politics. European Political Science. https://doi.org/10.1057/s41304-021-00356-4.

Siler, K., K. Lee, and L. Bero. 2015. Measuring the effectiveness of scientific gatekeeping. Proceedings of the National Academy of Sciences 112 (2): 360–365.

Shreffler, M.B., J.R. Murfree, M.R. Huecker, and J.R. Shreffler. 2020. The impostor phenomenon and work-family conflict: an assessment of higher education. Management in Education. https://doi.org/10.1177/0892020620959745.

Simmons, D. 2016. Impostor syndrome, a reparative history. Engaging Science, Technology, and Society 2: 106–127.

Stack, S. 2004. Gender, children and research productivity. Research in Higher Education 45 (8): 891–920.

Stockemer, D., A. Blair, and E. Rashkova. 2020. The distribution of authors and reviewers in EPS. European Political Science 19 (3): 401–410.

Teele, D.L., and K. Thelen. 2017. Gender in the journals: publication patterns in political science. PS Political Science & Politics 50 (2): 433–447.

van den Brink, M., and Y. Benschop. 2014. Gender in academic networking: The role of gatekeepers in professorial recruitment. Journal of Management Studies 51 (3): 460–492.

Vaughn, A.R., G. Taasoobshirazi, and M.L. Johnson. 2020. Impostor phenomenon and motivation: Women in higher education. Studies in Higher Education 45 (4): 780–795.

West, J.D., J. Jacquet, M.M. King, S.J. Correll, and C.T. Bergstrom. 2013. The role of gender in scholarly authorship. PLOS One 8 (7): e66212.

Wester, K.L., S. Vaishnav, C. Wachter Morris, J.L. Austin, J.S. Haugen, H. Delgado, and L.K. Umstead. 2020. Interaction of imposter phenomenon and research self-efficacy on scholarly productivity. Counselor. Education and Supervision 59 (4): 316–325.

Young, C.D. 1995. An assessment of articles published by women in 15 top political science journals. PS: Political Science and Politics 28 (3): 525–533.
Acknowledgements
The authors would like to thank Evelyn Karakatsani for research assistance with the data processing, Francesco Ramella for helpful input with data interpretation and Alexis Verney-Provatas for advice on data presentation.
Additional information
Publisher's Note
Springer Nature remains neutral with regard to jurisdictional claims in published maps and institutional affiliations.
About this article
Cite this article
Verney, S., Bosco, A. Unpacking the gender gap in academic journal publishing: the experience of South European Society and Politics. Eur Polit Sci 21, 443–461 (2022). https://doi.org/10.1057/s41304-021-00358-2
Accepted:

Published:

Issue Date:

DOI: https://doi.org/10.1057/s41304-021-00358-2
Keywords