Abstract
Despite the fact that Hungary was less affected by the 2015 migration crisis in objective terms—i.e. the negligible number of immigrants entering and settling in the country in the last years-, the Hungarian government has been pushing an extreme anti-immigration political communication since 2015, which resulted in an intensive and highly politicised public discourse about immigration. This analysis aims at exploring the involvement of political scientists in the online public discourse about the migration and refugee crisis in Hungary between 2015 and 2019. In contrast with other countries, where high salient political crises have stimulated political scientists' public engagement, this analysis finds that such participation does not apply to the Hungarian case. The low visibility of political scientists is accompanied by the adoption among participants in news portals of either a partisan, pro-government stance or a neutral approach to the issue, while critical positions with the government are almost inexistent. These patterns suggest the influence of both the illiberal institutional turn of the Hungarian media environment and the decrease in academic freedom in the country, as factors deterring public engagement among political scientists in the immigration issue, particularly of those who could adopt a critical position.
Access options
Buy single article
Instant access to the full article PDF.
USD 39.95
Price includes VAT (USA)
Tax calculation will be finalised during checkout.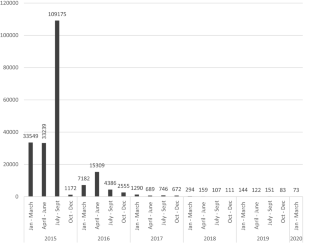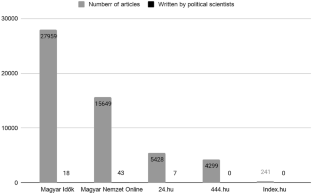 Notes
1.

Professionalization and Social Impact of European Political Science (PROSEPS) (http://proseps.unibo.it/, accessed 20/02/2021). The PROSEPS online survey was carried out between May and December 2018 among a population of 11,012 academic political scientists in 37 European countries plus Israel and Turkey. The total number of respondents was 2354. The total number of Hungarian respondents was 66, which is 2.8% of the sample. [for further information see Vicentini et al. (2019)].

2.

In the other countries analysed in this special issue, these percentages are: Finland, 62.9; Greece, 61.5; Israel, 58.5; Italy, 58.8; Poland, 48.8; Spain, 53.6; United Kingdom, 60.1.

3.

In this respect, the PROSEPS data show that Hungary is not the only country where illiberal politics could negatively influence public engagement among political scientists: respondents in Turkey or Poland also experience lower levels of public engagement.

4.

5.

6.

During the investigated period, there was a change in ownership of Magyar Idők and Magyar Nemzet. Although Magyar Idők was a pro-government media outlet, because of a change in ownership, the journal ceased to exist on 5 February 2019, and continued to operate under the name of Magyar Nemzet. Magyar Nemzet represented a sort-of opposition voice until this change. Magyar Nemzet is a special case among Hungarian media sources because of the change in the newspaper's ownership and the turn of its political position that followed afterwards. The newspaper was a loyal media towards Fidesz and Prime Minister Viktor Orbán until the so-called "G-day" on February 6 2015. The "G-day" represented the escalation of fights between Viktor Orbán and his formerly tight friend, Lajos Simicska, owner of the media outlet. After this turn, Magyar Nemzet became critical of the Fidesz government. Following the third electoral victory of Fidesz on April 11 2018, the newspaper officially ceased to exist. Since February 2019, Magyar Nemzet has functioned as the successor of government-friendly Magyar Idők and took the name of the former newspaper.

7.

Another popular government-friendly news portal is origo.hu, however, since it publishes anonymous articles only, the detection of political scientists' contributions was not possible in that case. Although the reference to political scientists' in the articles could have been a specific type of contribution as well, the almost 8000 articles about immigration do not contain any of such references.

8.

Two authors published in more than one outlet.

9.

10.

11.

12.

13.

14.

15.

16.

17.

18.

19.

20.

21.
References
Bajomi-Lázár, P. 2013. The party colonisation of the media the case of Hungary. East European Politics and Societies 27 (01): 69–89.

Barna, I., and J. Koltai. 2019. Attitude changes towards Immigrants in the turbulent years of the "migrant crisis" and anti-immigrant campaign in Hungary. Intersections, East European Journal of Society and Politics 5 (1): 48–70.

Bárd, P. 2020. The rule of law and academic freedom or the lack of it in Hungary. European Political Science 19 (1): 89–96.

Bátorfy, A., and Á. Urbán. 2020. State advertising as an instrument of transformation of the media market in Hungary. East European Politics 36 (1): 44–65.

Bernát, G., and V. Messing. 2015. A menekültekkel kapcsolatos kormányzati kampány és a tőle független megszólalás terepei. Médiakutató 16 (4): 7–17.

Bíró-Nagy, A. 2021. Orbán's political jackpot: Migration and the Hungarian electorate. Journal of Ethnic and Migration Studies. https://doi.org/10.1080/1369183X.2020.18539051.

Boda, Zs., and A. Szabó. 2017. 'Mobilizáció és demobilizáció—tanulságok a menekültkvóta-népszavazás kapcsán. In Trendek a magyar politikában 2—A Fidesz és a többiek: pártok, mozgalmak, politikák, ed. Zs. Boda and A. Szabó, 249–281. Budapest: Napvilág Kiadó.

Boros, T. 2019. Hungary: A no-go zone for migrants. In European Public Opinion and Migration: Achieving Common Progressive Narratives, ed. Marco Funk, Hedwig Giusto, Timo Rinke, and Olaf Bruns. Berlin: Friedrich Ebert Stiftung.

Bozóki, A., and D. Hegedűs. 2018. An externally constrained hybrid regime: Hungary in the European Union. Democratization 25 (7): 1173–1189.

Chomsky, N. 1967. 'The Responsibility of Intellectuals'. https://chomsky.info/19670223/. Accessed 11 October 2020.

Enyedi, Zs. 2018. Democratic backsliding and academic freedom in Hungary. Perspectives on Politics 16 (4): 1067–1074.

Glied, V., and N. Pap. 2016. The 'Christian fortress of Hungary'—The anatomy of the migration crisis in Hungary. Yearbook of Polish European Studies 19: 133–150.

Gordon, C. 2015. Framing and positioning. In The handbook of discourse analysis, ed. D. Tannen, H.E. Hamilton, and D. Shiffrin, 324–345. Sussex: Wiley Blackwell.

Kiss, B., and G. Szabó. 2018. Constructing Political Leadership during the 2015 European migration crisis: The Hungarian case. Central European Journal of Communication 1: 9–24.

Lakoff, G. 1996. Moral politics: What conservatives know that liberals don't. Chicago: The University of Chicago Press.

Messing, V., and B. Ságvári. 2019. Still divided but more open. Mapping European attitudes towards migration before and after the migration crisis. Budapest: Friedrich Ebert Stiftung.

Metz, R. 2017. Határok nélkül? Orbán Viktor és a migrációs válság. In Viharban kormányozni: Politikai vezetők válsághelyzetekben, ed. A. Körösényi, 240–264. Budapest: MTA Társadalomtudományi Kutatóközpont.

Pan, Z., and G.M. Kosicki. 1993. Framing analysis: An approach to news discourse. Political Communication 10 (1): 55–75.

Real-Dato, J., J. Rodríguez-Teruel, E. Martínez-Pastor, and E. Toledo-Estévez. 2021. The triumph of partisanship: political scientists in the public debate about Catalonia's independence crisis (2010–2018). European Political Science. https://doi.org/10.1057/s41304-021-00341-x.

Scheiring, G. 2019. Academic Freedom in Hungary's Authoritarian State Capitalism. https://fpc.org.uk/academic-freedom-in-hungarys-authoritarian-state-capitalism/. Accessed 11 October 2020.

Szalai, A. and Gőbl, G. 2015. Securitizing migration in contemporary Hungary. Working Paper, Centre for European Neighbourhood Studies, Central European University. https://cens.ceu.edu/sites/cens.ceu.edu/files/attachment/event/573/szalaigoblmigrationpaper.final.pdf. Accessed 22 February 2021.

Várnagy, R. 2017. Hungary. European Journal of Political Research Political Data Yearbook 56: 123–128.

Vicentini, Giulia, Jose Real Dato, Luca Verzichelli and Loannis Andreadis. 2019. Social Visibility and Impact of European Political Scientists. PROSEPS WG3 2019 Report. http://proseps.unibo.it/wp-content/uploads/2019/10/WG3.pdf. Accessed 11 Oct 2020.

Zubascu, F. 2018. Orbán allies target Hungarian social scientists, in battle with Academy of Sciences. https://sciencebusiness.net/news/orban-allies-target-hungarian-social-scientists-battle-academy-sciences. Accessed 11 October 2020.
Acknowledgements
I am grateful to Anna Székely for helping me with the data collection.
Additional information
Publisher's Note
Springer Nature remains neutral with regard to jurisdictional claims in published maps and institutional affiliations.
Appendix: Hungarian and English search strings for article selection
Appendix: Hungarian and English search strings for article selection
Strings referring to the migration crisis: 'határsértő' ('invader'), 'határsértés' ('invade'), 'bevándorló' ('immigrant'), 'bevándorlás' , 'bevándorol' , 'bevándorol' ('immigrate'), 'illegális+határátlépő' ('illegal+border crosser'), 'illegális+határátlépés' ('illegal+border crossing'), 'menedék' ('refuge'), 'menekül' ('escape'), 'menekült' ('refugee'), 'népvándorlás' ('migration'), 'népvándorló' ('migrating person'), 'oltalmazott' ('protected'), 'migráció' ('migration'), 'migrációs' ('related to migration'), 'migráns' ('migrant').
About this article
Cite this article
Farkas, E. Discussing immigration in an illiberal media environment: Hungarian political scientists about the migration crisis in online public discourses. Eur Polit Sci (2021). https://doi.org/10.1057/s41304-021-00340-y
Keywords
Discourse analysis

Hungary

Migration crisis

Political scientists

PROSEPS survey