Abstract
The succession of economic and financial crises, the migration crisis, and, of course, Brexit have raised many questions about the future of the European Union. Such crises present challenges for teaching and learning European Studies. This article discusses the question how to maintain a relevant study programme while taking into account ever-changing societal developments. Based on a survey conducted among students of a Bachelor in European Studies, and a subsequent focus group discussion, we look at programme relevance and programme capacity to deal with societal change in the context of a problem-based learning environment. Our study reveals that problem-based learning, when applied consistently and correctly, is a good educational approach to ensure that a study programme is relevant and capable of capturing societal change. At the same time, students seem to prefer a more guided version of problem-based learning, which presents challenges concerning its possible contribution to teaching and learning in times of crises. While we discuss the situation in one specific BA programme, we will do so in light of general challenges in the fields of European Studies, International Relations, and Politics.
Access options
Buy single article
Instant access to the full article PDF.
US$ 39.95
Tax calculation will be finalised during checkout.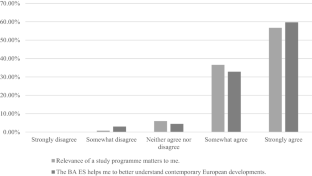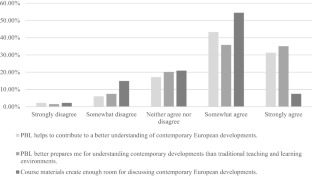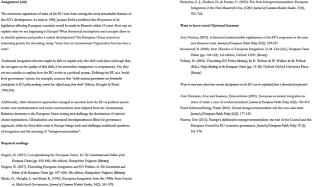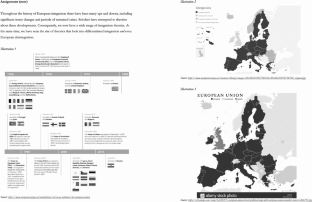 References
Alexander, P.A. 2018. The relevance of relevance for learning and performance. The Journal of Experimental Education 86(1): 124–135.

Bainbridge Frymier, A., and G.M. Shulman. 1995. Whats in it for me? Increasing content relevance to enhance students motivation. Communication Education 44(1): 40–50.

Bovill, C., C.J. Bulley, and K. Morss. 2011. Engaging and empowering first-year students through curriculum design: perspectives from the literature. Teaching in Higher Education 16(2): 197–209.

Bridges, S., C.K.Y. Yiu, and M.G. Botelho. 2016. Design considerations for an integrated, problem-based curriculum. Medical Science Educator 26(3): 365–373.

Brooman, S., S. Darwent, and A. Pimor. 2015. The student voice in higher education curriculum design: is there value in listening? Innovations in Education and Teaching International 52(6): 663–674.

Calhoun, C. 2003. European Studies: Always already there and still in formation. European Political Science 2(1): 5–20.

Canavan, B. 2008. A summary of the findings from an evaluation of problem-based learning carried out at three UK universities. International Journal of Electrical Engineering Education 45(2): 175–180.

Coertjens, L., T. Brahm, and C. Trautwein. 2017. Students transition into higher education from an international perspective. Higher Education 73(3): 357–369.

Craig, J., and S. Hale. 2008. Implementing problem-based learning in politics. European Political Science 7(2): 165–174.

David, M., H. Drake, and E. Linnemann. 2017. Whats in an anniversary? UACES and European Studies at 50. Journal of Contemporary European Research 13(4): 1443–1453.

Dolmans, D.H.J.M., H. Snellen-Balendong, I.H.A.P. Wolfhagen, and C.P.M. Van der Vleuten. 1997. Seven principles of effective case design for a problem-based curriculum. Medical Teacher 19(3): 185–189.

Donnelly, P.F., and J. Hogan. 2013. Engaging students in the classroom: How can I know what I think until I see what I draw? European Political Science 12(3): 365–383.

Erdem, E. 2012. Examination of the effects of project based learning approach on students attitudes towards chemistry and test anxiety. World Applied Sciences Journal 17(6): 764–769.

Gijselaers, W.H., A. Dailey-Herbert, and A.C. Niculescu. 2014. Shaping the new professional for the new professions. In Teaching and learning the European Union: Traditional and innovative methods, ed. S. Baroncelli, R. Farneti, I. Horga, and S. Vanhoonacker, 9–25. Dordrecht: Springer.

Hodson, D., and U. Puetter. 2018. Studying Europe after the fall: four thoughts on post-EU studies. Journal of European Public Policy 25(3): 465–474.

Kember, D., A. Ho, and C. Hong. 2008. The importance of establishing relevance in motivating student learning. Active Learning in Higher Education 9(3): 249–263.

Korosteleva, E.A. 2010. Threshold concepts through enactive learning: How effective are they in the study of European Politics? International Studies Perspectives 11(1): 37–50.

Leston-Bandeira, C. 2012. Enhancing politics teaching through active learning. In Teaching politics and international relations, ed. C. Gormley-Heenan and S. Lightfoot, 51–64. Basingstoke: Palgrave Macmillan.

Manners, I., and B. Rosamond. 2018. A different Europe is possible: the professionalization of EU Studies and the dilemmas of integration in the 21st century. Journal of Common Market Studies 56(S1): 28–38.

Maudsley, G., E.M.I. Williams, and D.C.M. Taylor. 2008. Problem-based learning at the receiving end: A mixed methods study of junior medical students perspectives. Advances in Health Sciences Education 13: 435–451.

Maurer, H., and C. Neuhold. 2014. Problem-based learning in European Studies. In Teaching and learning the European Union: Traditional and innovative methods, ed. S. Baroncelli, R. Farneti, I. Horga, and S. Vanhoonacker, 199–215. Dordrecht: Springer.

Moust, J.H.C., H.J.M. van Berkel, and H.G. Schmidt. 2005. Signs of erosion: reflections on three decades of problem-based learning at Maastricht University. Higher Education 50(4): 665–683.

Nel, P.W., S. Keville, D. Ford, R. McCarney, S. Jeffrey, S. Adams, and S. Uprichard. 2008. Close encounters of the uncertain kind: Reflections on doing problem-based learning (PBL) for the first time. Reflective Practice 9(2): 197–206.

Parker, O. 2016. Teaching (dissident) theory in crisis European Union. Journal of Common Market Studies 54(1): 37–52.

Rittberger, B., and M. Blauberger. 2018. Introducing the debate section: The EU in crisis: EU studies in crisis? Journal of European Public Policy 25(3): 436–439.

Rosamond, B. 2007. European integration and the social science of EU studies: The disciplinary politics of a subfield. International Affairs 83(1): 231–252.

Schmidt, H., and J. Moust. 2010. Designing problems. In Lessons from problem-based learning, ed. H. Van Berkel, A. Scherpbier, H. Hillen, and C. Van der Vleuten, 31–45. Oxford: Oxford University Press.

Severiens, S.E., and H.G. Schmidt. 2009. Academic and social integration and study progress in problem-based learning. Higher Education 58(1): 59–69.

Shay, S. 2016. Curricula at the boundaries. Higher Education 71(6): 767–779.

Sproncken-Smith, R., and T. Harland. 2009. Learning to teach with problem-based learning. Active Learning in Higher Education 10(2): 138–153.

Szekeres, J. 2010. Sustaining student numbers in the competitive marketplace. Journal of Higher Education Policy and Management 32(5): 429–439.

Timuș, N., V. Cebotari, and A. Hosein. 2016. Innovating teaching and learning of European Studies: Mapping existing provisions and pathways. Journal of Contemporary European Research 12(2): 653–668.

Tinto, V. 2017. Through the eyes of students. Journal of College Student Retention: Research, Theory & Practice 19(3): 254–269.

Usherwood, S. 2014. Constructing effective simulations of the European Union for teaching. European Political Science 13(1): 53–60.
Acknowledgements
We would like to thank the participants in the 2018 UACES annual conference (Bath), the 2019 EUSA conference (Denver) and the 2019 International Teaching and Learning Conference (Brighton) for valuable comments on earlier versions of this article. We would also like to thank Sjoerd Stoffels for his technical support setting up the survey and Arjan Schakel for his methodological advice regarding survey design.
Funding
The authors received no financial support for the research, authorship, and/or publication of this article.
Additional information
Publisher's Note
Springer Nature remains neutral with regard to jurisdictional claims in published maps and institutional affiliations.
About this article
Cite this article
Bijsmans, P., Versluis, E. Problem-based learning and the relevance of teaching and learning European Studies in times of crises. Eur Polit Sci 19, 668–686 (2020). https://doi.org/10.1057/s41304-020-00263-0
Keywords
European Studies

Problem-based learning

Relevance

Societal change

Teaching and learning