Abstract
The introduction of the symposium sets out a possible research agenda on producing systematic empirical evidence of the effect of active learning tools to the discipline of political science, inspired by and drawing from educational research. It discusses the core research questions of such an agenda. Do active learning environments enhance political science students' learning outcomes? Does the introduction of active learning in political science curricula make a difference for cognitive, affective, and/or regulative learning outcomes? In addition, it draws attention upon which conditions make active learning tools more or less effective? What are the inhibiting and stimulating factors? Are there differential effects according to specific student attributes such as gender, prior knowledge, prior education, or prior results? In short, it discusses the dependent variables (effects on what learning outcomes exactly), the independent variables (such as student dispositions), the intervening variable (types of active learning environments), methods and data, and the teaching context (such as level of education and intra- and extra-curricular contexts). Finally, we introduce the papers of the symposium, which are illustrations of how this agenda can be implemented in the field, covering a variety of effects, learning environments, methods, data, and contexts.
Access options
Buy single article
Instant access to the full article PDF.
US$ 39.95
Tax calculation will be finalised during checkout.
Subscribe to journal
Immediate online access to all issues from 2019. Subscription will auto renew annually.
US$ 119
Tax calculation will be finalised during checkout.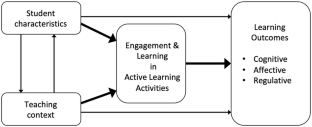 References
Asal, V., and E. Blake. 2006. Creating simulations for political science education. Journal of Political Science Education 2 (1): 1–18.

Baeten, M., F. Dochy, and K. Struyven. 2013. The effects of different learning environments on students' motivation for learning and their achievement. British Journal of Educational Psychology 83 (3): 484–501.

Baranowski, M.K., and K.A. Weir. 2015. Political simulations: What we know, what we think we know, and what we still need to know. Journal of Political Science Education 11 (4): 391–403.

Biggs, J. 1993. From theory to practice: A cognitive systems approach. Higher Education Research and Development 12 (1): 73–85.

Biggs, J. 1996. Enhancing teaching through constructive alignment. Higher Education 32 (3): 347–364.

Bloom, B.S. 1956. Taxonomy of educational objectives. Vol. 1: Cognitive domain. New York: McKay.

Bonwell, C.C., and J.A. Eison. 1991. Active learning: Creating excitement in the classroom. Washington: The George Washington University: ERIC Clearinghouse on Higher Education.

Brunazzo, M., and P. Settembri. 2015. Teaching the European Union: A simulation on Council's negotiations. European Political Science 14 (1): 1–14.

Chin, J., R. Dukes, and W. Gamson. 2009. Assessment in simulation and gaming A review of the last 40 years. Simulation & Gaming 40 (4): 553–568.

Cohen, L., L. Manion, and K. Morrison. 2011. Research methods in education, 7th ed. New York: Routledge.

Donche, V., D. Gijbels, P. Spooren, and P. Bursens. 2018. How simulations of decision-making affect learning. In Simulations of decision-making as active learning tools: Design and effects of political science simulations, ed. P. Bursens, V. Donche, D. Gijbels, and P. Spooren, 121–127. Cham: Springer.

Druckman, D., and N. Ebner. 2013. Games, claims, and new frames: Rethinking the use of simulation in negotiation education. Negotiation Journal 29 (1): 61–92.

Duchatelet, D., P. Bursens, V. Donche, D. Gijbels, and P. Spooren. 2018. Student diversity in a cross-continental EU-simulation. Exploring variation in affective learning outcomes among political science students. European Political Science 17 (4): 601–620.

Duchatelet, D., D. Gijbels, P. Bursens, V. Donche, and P. Spooren. 2019. Looking at role-play simulations of political decision-making through a contextual lens: A state-of-the-art. Educational Research Review 27: 126–139.

Elias, A. 2014. Simulating the European Union: Reflections on module design. International Studies Perspectives 15 (4): 407–422.

Freeland, R.M. 2009. Liberal education and effective practice: The necessary revolution in undergraduate education. Liberal Education 95 (1): 6–13.

Geboers, E., F. Geijsel, W. Admiraal, and G. ten Dam. 2013. 'Review of effects of citizenship education. Educational Research Review 9: 158–173.

Gijbels, D., F. Dochy, P. Van den Bossche, and M. Segers. 2014. Effects of problem-based learning: A meta-analysis from the angle of assessment. Review of Educational Research 75 (1): 27–61.

Gronostay, D. 2016. Argument, counterargument, and integration? Patterns of argument reappraisal in controversial classroom discussions. Journal of Social Science Education 15: 42–56.

Hofstede, G.J., L. De Caluwé, and V. Peters. 2010. Why simulation games work-in search of the active substance: A synthesis. Simulation & gaming 41 (6): 824–843.

Ifenthaler, D., D. Eseryel, and X. Ge. 2012. Assessment in game-based learning. Foundations, innovations, and perspectives. New York: Springer.

Ishiyama, J. 2013. Frequently used active learning techniques and their impact: A critical review of existing journal literature in the United States. European Political Science 12 (1): 116–1206.

Ishiyama, J., W.J. Miller, and S. Eszter. 2016. Handbook on teaching and learning in political science and international relations. Cheltenham: Edward Elgar.

Kalaf-Hughes, N., and R.W. Mills. 2016. Working together: An empirical analysis of a multiclass legislative-executive branch simulation. Journal of Political Science Education 12 (3): 335–352.

Krain, M. 2010. The effects of different types of case learning on student engagement. International Studies Perspectives 11 (3): 291–308.

Krain, M., K.J. Kille, and J.S. Lantis. 2015. Active teaching and learning in cross-national perspective. International Studies Perspectives 16 (2): 142–155.

Kunter, M., J. Baumert, W. Blum, U. Klusmann, S. Krauss, and M. Neubrand. 2013. Cognitive activation in the mathematics classroom and professional competence of teachers: Results from the COACTIV project. New York: Springer Science and Business Media.

Lantis, J.S., K.J. Kille, and M. Krain. 2010. The state of the active teaching and learning literature. The International Studies Encyclopedia 10: 6574–6592.

Leckrone, J.W. 2013. Hippies, feminists, and neocons: Using the Big Lebowski to find the political in the non political. PS Political Science and Politics 46 (1): 136–139.

Levin-Banchik, L. 2018. Assessing knowledge retention with and without simulations. Journal of Political Science Education 14 (3): 341–359.

Oberle, M., S. Ivens, and J. Leunig. 2018. Effects of EU simulation games on secondary school pupils' political motivations, attitudes and knowledge: Results of an intervention study. In Simulations of decision-making making as active learning tools: Design and effects of political science simulations, ed. P. Bursens, D. Gijbels, V. Donche, and P. Spooren, 145–164. Cham: Springer.

Parmentier, M.J.C. 2013. Simulating in cyberspace: Designing and assessing simple role playing activities for online regional studies courses. International Studies Perspectives 14 (2): 121–133.

Raymond, C. 2010. Do role-playing simulations generate measurable and meaningful outcomes? A simulation's effect on exam scores and teaching evaluations. International Studies Perspectives 11 (1): 51–60.

Raymond, C., and S. Usherwood. 2013. Assessment in simulations. Journal of Political Science Education 9 (2): 157–167.

Rünz, P. 2015. Beyond teaching: Measuring the effect of EU simulations on European identity and support of the EU. European Political Science 14 (3): 266–278.

Shellman, S.M., and K. Turan. 2006. Do simulations enhance student learning? An empirical evaluation of an IR simulation. Journal of Political Science Education 2 (1): 19–32.

Schnurr, M.A., E.M. De Santo, and A.D. Green. 2014. What do students learn from a role-play simulation of an international negotiation? Journal of Geography in Higher Education 38 (3): 401–414.

Snyder, K.D. 2003. Ropes, poles, and space: Active learning in business education. Active Learning in Higher Education 4 (2): 150–167.

Usherwood, S. 2013. Constructing effective simulations of the European Union for teaching: Realising the potential. European Political Science 13 (1): 53–60.

Vermunt, J., and Y. Vermetten. 2004. Patterns in student learning: Relationships between learning strategies, conceptions of learning, and learning orientations. Educational Psychology Review 16 (4): 359–384.

Weinert, F.E. 2001. Concept of competence: A conceptual clarification. In Defining and selecting key competencies, ed. D.S. Rychen and L.H. Salganik, 45–65. Ashland: Hogrefe and Huber Publishers.
Additional information
Publisher's Note
Springer Nature remains neutral with regard to jurisdictional claims in published maps and institutional affiliations.
About this article
Cite this article
Duchatelet, D., Bursens, P., Usherwood, S. et al. Beyond descriptions and good practices: empirical effects on students' learning outcomes of active learning environments in political science curricula. Eur Polit Sci 19, 327–335 (2020). https://doi.org/10.1057/s41304-020-00259-w
Keywords
Active learning

Learning outcomes

Political science teaching

Simulations