Abstract
The publication pattern of EPSR confirms the findings of established scholarship on gender and publishing; women publish less than men (roughly, 30% to 70%). This gap reflects a previous submission gap; i.e., men submit even much more than women do. EPSR editorial process does not show signs of discrimination: single or leading female authors have significantly lower desk rejection rates than their male counterparts in similar configurations. Women though, are underrepresented as peer reviewers and EPSR has taken measures to redress this situation. Looking at women authors perceptions, findings (that cannot be considered representative), are consistent with existing scholarship. Women authors perceive themselves as more perfectionist and more risk adverse, they also perceive that they can dedicate less time to research, and they express mistrust in the blind review process. As a general conclusion, whilst reversing the gender gap requires structural action beyond and before the editorial process, journal editors must consider forms to secure more extensive women inclusion in publications.
Access options
Buy single article
Instant access to the full article PDF.
US$ 39.95
Tax calculation will be finalised during checkout.
Subscribe to journal
Immediate online access to all issues from 2019. Subscription will auto renew annually.
US$ 119
Tax calculation will be finalised during checkout.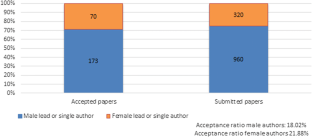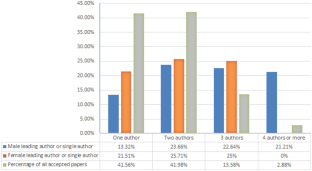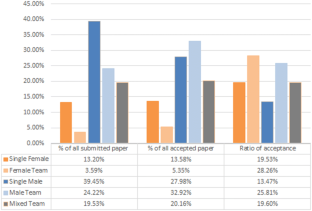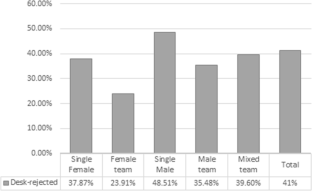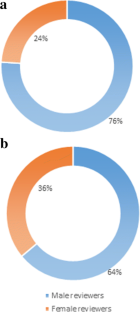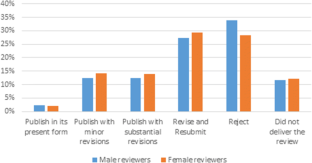 Notes
1.

2.

3.

4.

Reviewers can choose the option "I prefer not to say" when declaring their gender; hence, these figures are not complete. EPSR lacks data for around 36% (239) of initially invited reviewers because they do not have to fill in their personal data if they are not going to use ScholarOne©.

5.

We only collected data about those reviewers who at least once have accepted an invitation to review for the journal, consequently providing information about gender within a user account. The platform monitors their responses to further invitations as well. However, it does not record such information about many other invitees who declined without having an active user account. Given these limitations, the data above refer to a sample of 3343 reviewers (out of the total of 7224 ever-invited reviewers).

6.

Same limitations apply. A significant share of those who decline an invitation does so without having completed a user profile on the platform; therefore, the full share of female academics among these remains unrecorded.

7.

For instance, I'm one of those people that tends to sit on (papers) for too long. I re-work and re-work, whereas you could probably send it in an early stage and then use the feedback you get in the review process. (…). Interview 5.

8.

9.

10.

11.

Interview 5, Interview 15.

12.

'Most of the work had been done by me in terms of both writing and empirics. Then, after the presentation, people asked questions, he replied, (…) and no one gave me the opportunity to talk (…) It was the first time I realised that as a young women in political science you are less legitimate to talk when you're in an assembly of men' Interview 3.

13.

'If I check the work I cite, it is overwhelmingly men, and of course many women do good research in my field (…) It is this kind of unconscious bias that we all have, that we tend to give more weight to what a man says' Interview 7.

14.

'Another factor that takes time away from research is the family, and this is completely ignored in the publishing business (…) One time, (we received a R&R from a journal) when my co-author and I were both on maternity leave (…) So we said "we cannot deliver within the deadline, but we definitely want to revise it", and we explained the situation. (…) The editors were two men, who write back declining our request'. Interview 4.
References
Alter, K. J., Clipperton, J., Schraudenbach, E., & Rozier, L. (forthcoming). Gender and Status in American Political Science: Who Determines Whether a Scholar is Noteworthy? Perspective on Politics. https://ssrn.com/abstract=3235786. https://dx.doi.org/10.2139/ssrn.3235786

Borghans, L., B.H. Golsteyn, and H. Meijers. 2009. Gender Differences in Risk Aversion and Ambiguity Aversion. Journal of the European Economic Association 7 (2–3): 649–658.

Breuning, M., and K. Sanders. 2007. Gender and Journal Authorship in Eight Prestigious Political Science Journals. PS: Political Science & Politics 40 (2): 347–351.

Brown, N.E., and D. Samuels. 2018. Gender in the Journals Continued: Evidence from Five Political Science Journals. PS: Political Science & Politics 51: 1–2.

Brown, N.E., Y. Horiuchi, M. Htun, and D. Samuels. 2019. Gender Gaps in Perceptions of Political Science Journals. PS: Political Science & Politics 53: 1–8.

Clain, S.H., and K. Leppel. 2018. Patterns in Economics Journal Acceptances and Rejections. The American Economist 63 (1): 94–109.

Davey, L.M., and M.G. Rothstein. 1995. Gender Differences in Network Relationships in Academia. Women in Management Review 10 (6): 20–25.

Djupe, P.A., A.E. Smith, and A.E. Sokhey. 2019. Explaining Gender in the Journals: How Submission Practices Affect Publication Patterns in Political Science. PS: Political Science & Politics 52 (1): 71–77.

Evans, H., and A. Moulder. 2011. Reflecting on a Decade of Women's Publications in Four Top Political Science Journals. PS: Political Science & Politics 44 (4): 793–798.

Grossman, E. 2018. A Gender Bias. European Journal of Political Research.

Helmer, M., M. Schottdorf, A. Neef, and D. Battaglia. 2017. Gender Bias in Scholarly Peer Review. ELIFE 6: e21718.

Holman, L., D. Stuart-Fox, and C.E. Hauser. 2018. The Gender Gap in Science: How Long Until Women are Equally Represented? PLoS Biology 16: e2004956.

Holmes, A., & Hardy, S. (2019) Gender Bias in Peer Review—Opening Up the Black Box, LSE Impact Blog. https://blogs.lse.ac.uk/impactofsocialsciences/2019/03/26/gender-bias-in-peer-review-opening-up-the-black-box-ii/. Accessed 16 Mar 2020.

Hollis, A. 2001. Co-authorship and the Output of Academic Economists. Labour Economics 8 (4): 503–530.

Howe-Walsh, L., S. Turnbull, and E. Papavasileiou. 2016. The Influence of Motherhood on STEM Women Academics' Perceptions of Organizational Support, Mentoring and Networking. Advancing Women in Leadership 36: 54–63.

Knobloch-Westerwick, S., C.J. Glynn, and M. Huge. 2013. The Matilda Effect in Science Communication: An Experiment on Gender Bias in Publication Quality Perceptions and Collaboration Interest. Science Communication 35 (5): 603–625.

König, T., and G. Ropers. 2018. Gender and editorial outcomes at the American Political Science Review. PS: Political Science & Politics 51 (4): 849–853.

Lachance-Grzela, M., and G. Bouchard. 2010. Why do Women do the Lion's Share of Housework? A Decade of Research. Sex Roles 63 (11–12): 767–780.

Lerback, J., and B. Hanson. 2017. Journals Invite Too Few Women to Referee. Nature News 541: 455–457.

MacNell, L., A. Driscoll, and A.N. Hunt. 2015. What's in a Name: Exposing Gender Bias in Student Ratings of Teaching. Innovative Higher Education 40 (4): 291–303.

Morley, L. 2003. Quality and Power in Higher Education. London: Open University Press.

Nedal, D.K., and D.H. Hexon. 2018. Gender in the International Studies Quarterly Review Process. PS: Political Science & Politics 51 (4): 859–865.

Pope, C., S. Ziebland, and N. Mays. 2000. Analysing Qualitative Data. British Medical Journal 320 (7227): 114–116.

Samuels, D. 2018. Gender and Editorial Outcomes at Comparative Political Studies. PS: Political Science & Politics 51: 854–858.

Šandl, Z. 2009. Download We Women Are No Good at It': Networking in Academia. Czech Sociological Review 45 (6): 1239–1263.

Steckler, A.B., K. Mcleroy, R. Goodman, and S. Thorburn. 1992. Toward Integrating Qualitative and Quantitative Methods: An Introduction. Health Education Quarterly 19: 1–8.

Teele, D., and K. Thelen. 2017. Gender in the Journals: Publication Patterns in Political Science. PS: Political Science & Politics 50 (2): 433–447.

Tudor, C.L., and D.J. Yashar. 2018. Gender and the Editorial Process: World Politics, 2007–2017. PS: Political Science & Politics 51 (4): 870–880.
Additional information
Publisher's Note
Springer Nature remains neutral with regard to jurisdictional claims in published maps and institutional affiliations.
About this article
Cite this article
Closa, C., Moury, C., Novakova, Z. et al. Mind the (submission) gap: EPSR gender data and female authors publishing perceptions. Eur Polit Sci 19, 428–442 (2020). https://doi.org/10.1057/s41304-020-00250-5
Keywords
Gender gap in publications

Political science women authors

Female reviewers