Abstract
Recently, a focus on democratic innovations emphasising an increasing and deepening citizen participation in political decision-making has been evident. Deliberative Walks offer a participatory–deliberative process in which the participants, by deliberating in small groups and joining facilitated walks, tackle a complex policy issue that has highly intertwined social and physical dimensions. Deliberative Walks builds on the principle that two participatory methods, citizens' juries and development walks, are combined. Deliberative Walks are influenced by place-based learning. And like in outdoor pedagogy, learning by moving between the abstract and concrete, as well as transforming experience into knowledge through reflection and communication, is encouraged. We analyse an implemented education-oriented version, Studentlab Deliberative Walks, with nineteen university students. The results, based on questionnaires, interviews and essays, indicate that it is fruitful to experience an issue with all senses. The development walk was seen as more important than the citizens' jury. Participating in Deliberative Walks promoted inclusion in the decision-making process, enhanced learning, boosted self-confidence and developed feelings of empowerment.
Access options
Buy single article
Instant access to the full article PDF.
US$ 39.95
Tax calculation will be finalised during checkout.
Subscribe to journal
Immediate online access to all issues from 2019. Subscription will auto renew annually.
US$ 119
Tax calculation will be finalised during checkout.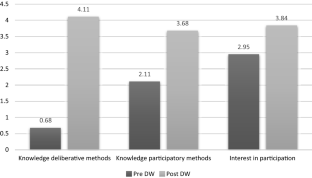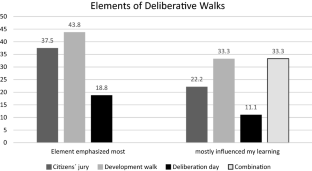 Notes
1.

See "Appendix 2" for a list of experts and themes.

2.

Wall to wall with the university are large silos that were left untouched when the university campus was built. These silos are now falling into disrepair. The politicians' opinions and public opinion are somewhat polarised on whether the silos should be protected and renovated or demolished (giving space for new buildings).
References
Andersen, V., and K. Hansen. 2007. How Deliberation Makes Better Citizens: The Danish Deliberative Poll on the Euro. European Journal of Political Research 46: 531–556.

Bächtiger, A., S. Niemeyer, M. Neblo, M.R. Steenbergen, and J. Steiner. 2010. 'Disentagling Diversity in Deliberative Democracy: Competing Theories, Their Blind SPpots and Complementaries', The. Journal of Political Philosophy 18: 32–63.

Barabas, J. 2004. How Deliberation Affects Policy Options. American Political Science Review 98: 687–701.

Barber, B.R. 1984/2003. Strong Democracy—Participatory Politics for a New Age. Berkeley and Los Angeles, CA: University of California Press.

Brottsförebyggande rådet. 2009. Safety and security walks, The Swedish National Council for Crime Prevention. http://www.veilig-ontwerp-beheer.nl/publicaties/safety-and-security-walks. Accessed 25 Nov 2016.

Bua, A., and O. Escobar. 2018. Participatory-deliberative processes and public agendas: Lessons for policy and practice. Policy Design and Practice 1 (2): 1–15.

Burkhalter, S., J. Gastil, and T. Kelshaw. 2002. A Conceptual Definition and Theoretical Model of Public Deliberation in Small Face-to-Face Groups. Communication Theory 12 (4): 398–422.

Campbell, D.E. 2008. Voice in the Classroom: How an Open Classroom Climate Fosters Political Engagement Among Adolescents. Political Behaviour 30: 437–454.

Carson, L. 2006. Improving Public Deliberative Practice: A Comparative Analysis of Two Italian Citizens' Jury Projects in 2006. Journal of Public Deliberation 2: 1–18.

Chambers, S. 2018. The Philosophic Origins of Deliberative Ideals. In The Oxford Handbook of Deliberative Democracy, ed. A. Bächtiger, J.S. Dryzek, J. Mansbridge, and M. Warren, 55–69. Oxford: Oxford University Press.

Cornwall, A. 2002. Making spaces, changing places: situating participation in development. IDS Working Paper 170, Brighton: Institute of Development Studies.

Crosby, N., and D. Nethercut. 2005. Citizens Juries: Creating a Trustworthy Voice of the People. In The Deliberative Democracy Handbook. Strategies for Effective Civic Engagement in the 21st Century, ed. J. Gastil and P. Levine. San Francisco, CA: Jossey-Bass.

Dalton, R.J. 2004. Democratic Challenges, Democratic Choices: The Erosion of Political Support in Advanced Industrial Democracies. Oxford: Oxford University Press.

Dryzek, J.S., A. Bächtiger, S. Chambers, J. Cohen, J.N. Druckman, A. Felicetti, J.S. Fishkin, D.M. Farrell, A. Fung, A. Gutmann, H. Landemore, J. Mansbridge, S. Marien, M.A. Neblo, S. Niemeyer, M. Setälä, R. Sloothus, J. Suiter, D. Thompson, and M. Warren. 2019. The Crisis of Democracy and Science of Deliberation. Science 363 (6432): 1144–1146.

Elstub, S. 2018. Deliberative and Participatory Democracy. In The Oxford Handbook of Deliberative Democracy, ed. A. Bächtiger, J.S. Dryzek, J. Mansbridge, and M. Warren, 187–202. Oxford: Oxford University Press.

Evans, J., and P. Jones. 2011. The Walking Interview: Methodology, Mobility and Place. Applied Geography 31: 849–858.

Fishkin, J. 2018. Democracy When the People Are Thinking. Revitalizing Our Politics Through Public Deliberation, Oxford: Oxford University Press.

Grönlund, K., M. Setälä, and K. Herne. 2010. Deliberation and Civic Virtue: Lessons from a Citizen Deliberation experiment. European Political Science review 2: 95–117.

Harris, C., G.M. Carney, and D.M. Farrell. 2013. Rule by the People? Alternative Perspectives on Citizen Participation in Democratic Policymaking. Administration 60 (3): 201–209.

Holmberg, I.M. 2006. På stadens yta – Om historiseringen av Haga, Ph.D. dissertation, Göteborg-Stockholm: Makadam förlag.

Huitema, D., M. van der Kerkhof, and U. Pesch. 2007. The Nature of the Beast: Are Citizens' Juries Deliberative or Pluralist? Policy Sciences 40: 287–311.

Karpowitz, C.F., and T. Mendelberg. 2014. The Silent Sex: Gender, Deliberation, and Institutions. Princeton, NJ: Princeton University Press.

Knight, J., and J. Johnson. 1997. The priority of Democracy: A Pragmatist Approach to Political-Economic Institutions and the Burden of Justification. American Political Science Review 101 (1): 47–61.

Knobloch, K.R., and J. Gastil. 2015. Civic (Re)socialization: The Educative Effects of Deliberative Participation. Politics 35 (2): 183–200.

Lambrick, M., and K. Travers. 2008. Women's Safety Audits: What Works and Where?. UN-Habitat: Safer Cities Programme.

Landwehr, C. 2014. Facilitating Deliberation: The Role of Impartial Intermediaries in Deliberative Mini-Publics. In Deliberative Mini-Publics, ed. K. Grönlund, A. Bächtiger, and M. Setälä, 77–92. Involving citizens in the democratic process, Colchester: ECPR Press.

Mansbridge, J. 1983. Beyond Adversary Democracy. Chicago and London: The University of Chicago Press.

Newton, K. 2012. Curing the Democratic Malaise with Democratic Innovations. In Evaluating Democratic Innovations, ed. B. Geissel and K. Newton, 3–20. London and New York: Routledge.

Powers, A. 2004. An Evaluation of Four Place-Based Education Programs. The Journal of Environmental Education 35 (4): 17–32.

Prosser, B., M. Flinders, W. Jennings, A. Renwick, P. Spada, G. Stoker, and K. Ghose. 2018. Pedagogy and Deliberative Democracy: Insights from Recent Experiments in the United Kingdom. Contemporary Politics 24 (2): 210–232.

Raisio, H., and P. Ehrström. 2017. Taking deliberation to the streets: Reflections on deliberative walks. Scandinavian Journal of Public Administration 21 (4): 27–51.

Roumell, E. 2018. Experience and Community Grassroots Education: Social Learning at Standing Rock. New Directions for Adult and Continuing Education 158: 47–56.

Sanders, L.M. 1997. Against Deliberation. Political Theory 25: 347–376.

Smith, G. 2009. Democratic Innovations. Designing Institutions for Citizen Participation. New York: Cambridge University Press.

Smith, G., and C. Wales. 2000. Citizens' Juries and Deliberative Democracy. Political Studies 48: 51–65.

Sunstein, C. 2006. Infotopia. New York: Oxford University Press.

The Belem Framework for Action. 2011. Harnessing the Power and Potential of Adult Learning and Education for a Viable Future. Adult Learning 22 (4): 42–50.

Thompson, D. 2008. Deliberative Democratic Theory and Empirical Political Science. Annual Review of Political Science 11: 497–520.

Young, I.M. 2002. Inclusion and Democracy. Oxford: Oxford University Press.
Acknowledgements
We thank the two anonymous reviewers of the EPS for their valuable feedback on an earlier version of this article. We are also grateful to the participants at a workshop in the Local Government and Politics section at the ECPR General Conference in Wroclaw (2018), and to the participants at the International Conference of the Participatory and Deliberative Democracy Specialist Group of the Political Studies Association (2018). This research was supported by Högskolestiftelsen i Österbotten/project "Studentlab Deliberative Walks" and the Academy of Finland/Strategic Research Council project "Participation in Long-term Decision-making", Number 312671.
Additional information
Publisher's Note
Springer Nature remains neutral with regard to jurisdictional claims in published maps and institutional affiliations.
Appendices
Appendix 1: Discussion rules
Deliberative Walks
1.

All participants should be able to take part in the discussion on an equal basis.

2.

There are no right or wrong opinions concerning the topic, nor does anyone in the discussion group or society have a final truth on the matter. Everyone is encouraged to boldly express their own opinion, but also to be prepared to change one's minds if the arguments of others seem valid.

3.

The participants should always try to justify your opinions.

4.

The participants should act respectfully towards each other during the discussion. Everyone should listen to the opinions put forth by other discussants and have an open mind about the fact that there are differing opinions.

5.

The participants should try to put themselves in the position of others and look at the topic equally from all different stakeholders' viewpoints.
Appendix 2: Included experts and themes in Studentlab Deliberative Walks
Experts participating in the citizens' jury day:
(a)

A PhD student introduced them to different models of deliberation.

(b)

Two architects presented architectural views on the sites as well as on built heritage and urban redevelopment in general.

(c)

A regionally appointed artist presented the role of (exterior and interior) art in urban surroundings.
Experts participating in the development walk day
(a)

The head intendent at Abo Akademi University presented the buildings of the university (the building is a former mill).

(b)

A project manager from the city of Vaasa, responsible for the city's architectural-political programme, presented both the current plans for the sea promenade (which is in front of the university) and the city of Vaasa's architectural-political programme.

(c)

An intendent from the museum of contemporary raised a question whether the university and the museum could work more closely together.

(d)

A former CEO of student housing in Vaasa and activist in a local inhabitant's association, presented visions to turn the silos into student housing.

(e)

The participants also met the intendent/secretary general of Havtornen, (the student union building).
Examination of the course Studentlab Deliberative Walks
1.

Active participation in the process

2.

Lecture diary

3.

Written essay, 6–7 pages

Theoretical part on deliberative theories and deliberative walk

Reflections on the course and its content, methods used (CJ, DW), what was learned

Impact on participants learning process

Has the personal views changed, evolved, during or after the DW? If yes, why did they change? Impact from what elements?

Read minimum 3 + 1 articles (reading additional articles will certainly improve your essay)
Appendix 3: Abo Akademi University Campus and surrounding areas
Development proposals from an interdisciplinary Student panel
Silos
We recommend that the silos are preserved. Removing them would remove a characteristic of Vasa. We think the exterior of the silos should be painted as an art work. The theme of the art work could be decided by a debate, and then an artist competition could be arranged. This will raise awareness of art and create visibility.
We recommend that the silos are to be used as a common space for all kind of stakeholders in order to bring people together: multicultural and over generations. We find it important to have rooms for different purposes and for different use. This could be realised by developing different purposes for the floors in the silo. Part of the silos could house an indoor playground with glass walls. (See for example: https://kristallwelten.swarovski.com/Content.Node/wattens/playtower playground.en.html)
Abo Akademi University—Academill campus
We recommend a local course book library with a view. In addition a book-delivery service should be developed: books could be reserved from Tritonia and delivered here. The library would be a space for reading and studying and also house a cafeteria. It could be placed in the G-block at the 13th floor and take advantage of the spectacular view.
We recommend that recycling stations is installed in every building.
We recommend an interdisciplinary space where students from different subjects, and international and domestic students could meet, talk, do group work, read, eat and have coffee. If the old studio is not in use, we would propose that this space is made into a soft chilling space for students. A microwave oven would be important for students to use.
Sea shore
We recommend that the sea shore should be a free space for everyone to use. A restaurant and a harbour would destroy the view and we propose that the part between Kuntsi and Abo Akademi should not be changed. We also propose permanent public sunbeds by the sea.
Kuntsi
We propose more cooperation and interaction between the university and Kuntsi (i.e. art classes at the university). Kuntsi needs to be more visible and appealing as an art space. Today it looks too much like a traditional museum. It could appear more creative and innovative from outside by installing for example art sculptures and video projections. The museum needs longer opening hours.
The area in general
We recommend better accessibility to the university and the surroundings. The university area and the surroundings are not easy to access for disabled people, and the area also closes down too early in the evening, making it a ghost town.
We recommend a safe and distinct crossing over the railway. Foreigners have no way of knowing how frequently the railway is used.
Participants in Studentlab Deliberative Walks, October 6–23, 2017 [signed by all participants]
Studentlab Deliberative Walks is an interdisciplinary course jointly arranged by Adult Education (Assistant professor Peter Ehrstrom) and Political Science (Dr.Pol.Sc. Marina Lindell), which combines approaches from democracy, active citizenship and learning. The method Deliberative Walks combines elements from Citizens' Jury and Development Walks and the course focus on a Deliberative Walk experience in practice, including group activities, expert panels and deliberative discussions. The course combines theoretical classroom-based learning and place-based learning on site. Peter Ehrstrom (Abo Akademi) and Harri Raisio (University of Vaasa) have developed this method, which has gained international interest. The aim of the course is to introduce a new method for learning and citizen participation, and at the same time as a case develop proposals for development of the Abo Akademi University campus in Vaasa and its surroundings.
About this article
Cite this article
Lindell, M., Ehrström, P. Deliberative Walks: citizen participation in local-level planning processes. Eur Polit Sci 19, 478–501 (2020). https://doi.org/10.1057/s41304-020-00243-4
Keywords
Active citizenship

Citizens' jury

Citizen participation

Deliberation

Place-based learning