Abstract
Research on the effects of referendums and citizens' initiatives in the USA and Switzerland have shown that provisions for institutions of direct democracy (referendums and initiatives) are statistically associated with lower inequality, lower budget deficits and higher levels of GDP per capita at the state/canton level. This paper breaks new ground by replicating the American and Swiss research on nationwide referendums in European democracies. The results differ in some respects from the Swiss and American results. While, this paper to a degree corroborates the association between equality and citizens' initiatives, there is no evidence in support of the proposition that citizen-initiated referendums are correlated with lower public debt. And, contrary to the findings of the earlier research, the paper finds evidence that provisions for referendums lead to lower GDP per capita. Moreover, the analysis cannot point to specific exemplars of countries that showcase the relationships. It remains difficult to point to any specific policy effect of referendums and initiatives in Europe.
This is a preview of subscription content, log in to check access.
Access options
Buy single article
Instant access to the full article PDF.
US$ 39.95
Price includes VAT for USA
Subscribe to journal
Immediate online access to all issues from 2019. Subscription will auto renew annually.
US$ 131
This is the net price. Taxes to be calculated in checkout.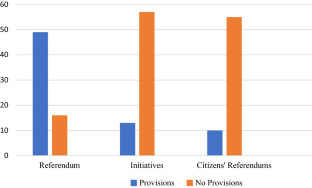 References
Aristotle. 1905. The Politics of Aristotle (trans: ed. Weldon, J.E.C.), London: Macmillan.

Bogdanor, V. 1981. The People and the Party System: The Referendum and Electoral Reform in British politics. Cambridge: Cambridge University Press.

Butler, D., and A. Ranney. 1978. Summing Up. In Referendums: A Comparative Study of Practice and Theory, ed. David Butler and Austin Ranney, 221–226. Washington, DC: The American Enterprise Institute.

Caramani, D. 2017. Comparative Politics. Oxford: Oxford University Press.

Clarke, H., M. Goodwin, and P. Whiteley. 2017. Brexit: Why Britain Voted to Leave the European Union. Cambridge: Cambridge University Press.

de Tocqueville, A. 2003. Democracy in America. London: Penguin.

Feld, Lars P., Justina A.V. Fischer, and Gebhardt Kirchgässner. 2010. The Effect of Direct Democracy on Income Distribution; Evidence of Switzerland. Economic Inquiry 48 (4): 817–840.

Feld, L.P., and G. Kirchgässner. 2001. Does direct democracy reduce public debt evidence from Swiss municipalities. Public Choice 109 (3–4): 347–370.

Feld, L. P., & Savioz, M. R. 1997. Direct democracy matters for economic performance: An empirical investigation. Kyklos, 50 (4), 507–538. For a more recent study see M. Qvortrup (2017) Direct Democracy, Manchester: Manchester University Press, pp. 93–94.

Frey, B.S., and A. Stutzer. 2000. Happiness, economy and institutions. The Economic Journal 110 (4): 918–938.

Gerber, E.R., and A. Lupia. 1995. Campaign Competition and Policy Responsiveness in Direct Legislation Elections. Political Behavior 17 (3): 287–306.

Glencross, A. 2016. Why the UK voted for Brexit: David Cameron's Great Miscalculation. London: Palgrave.

Halperin, M., J. Siegle, and M. Weinstein. 2009. The democracy advantage: How democracies promote prosperity and peace. London: Routledge.

Hug, S. 2005. The political effects of referendums: An analysis of institutional innovations in Eastern and Central Europe. Communist and Post-Communist Studies 38 (4): 475–499.

Lijphart, A. 2012. Patterns of democracy: Government Forms and Performance in Thirty-Six Countries. New Haven: Yale University Press.

Marsilius of Padua. 2005. The Defender of the Peace, 80. Cambridge: Cambridge University Press.

Matsusaka, J. 1992. The Economics of Direct Legislation. The Quarterly Journal of Economics 107 (2): 541–571.

Matsusaka, J.G. 1995. Fiscal effects of the voter initiative: Evidence from the last 30 years. Journal of Political Economy 103 (3): 587–623.

Matsusaka, J.G. 2005. Direct democracy works. Journal of Economic Perspectives 19 (2): 185–206.

Matsusaka, J.G. 2008. For the Many or the Few: The Initiative, Public Policy and American Democracy. Chicago, IL: University of Chicago Press.

Morel, M. 2017. Types of referendums, provisions and practice at the national level worldwide. In The Routledge Handbook to Referendums and Direct Democracy, ed. Laurence Morel and Matt Qvortrup, 27–59. New York: Routledge.

Norris, P. 2012. Making Democratic Governance Work: How Regimes Shape Prosperity, Welfare and Peace. New York: Cambridge University Press.

Partlett, W. 2012. The dangers of popular constitution-making. Brooklyn Journal of International Law 38 (1): 193–232.

Qvortrup, M. 2013. Western Europe. In Referendums Around the World: The Continued Growth of Direct Democracy, ed. M. Qvortrup, 43–64. London: Palgrave.

Teune, H., and A. Przeworski. 1970. The logic of comparative social inquiry. New York: Wiley.
About this article
Cite this article
Qvortrup, M. Referendums and public policy: do more opportunities for direct participation affect policy outcomes?. Eur Polit Sci 18, 617–629 (2019). https://doi.org/10.1057/s41304-018-0197-0
Keywords
Referendums

Equality

Initiatives

Direct democracy

Budget deficits