Abstract
Protests on the street may last weeks or even months. Why do some people join protests against government wrongdoing on day one while others wait weeks to do so? This article suggests that delay discounting—an important personal trait that decides how much people discount the future pay-off—determines when an individual joins a protest. An analysis of the 2007 Ukrainian Longitudinal Monitoring Survey reveals that Ukrainians who discounted the future less were much more likely to join the Orange Revolution right after the electoral irregularities of the 2004 run-off election. Weeks passed as they waited in the snow for the Supreme Court required rerun. In contrast, impatient citizens joined the protest several days after the scandal broke. Additional evidence based on a cross-country survey shows that lower levels of delay discounting help explain the consolidation of democracy over time. This evidence linking delay discounting and political participation supports the concept of self-enforcing democracy and helps us understand the conditions under which a democracy may be in peril.
Access options
Buy single article
Instant access to the full article PDF.
USD 39.95
Price excludes VAT (USA)
Tax calculation will be finalised during checkout.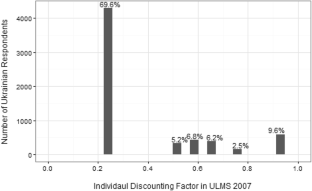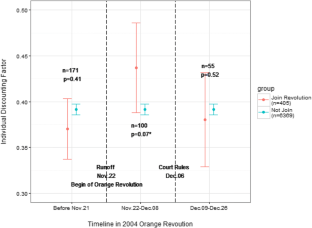 Notes
The respondents can list three thoughts in the survey.

$1000 Hryvnias was about USD $186.10 in 2004.

I really appreciate Reviewer 2 for this helpful comment.

In the analysis of ULMS2007, I only use the one-parameter model of delay discounting because the time point of the battery did not vary; that is, the time difference between the near and later option is fixed at 1 year. Therefore, it is impossible to distinguish between δ and β mathematically.
References
Acemoglu, D. 2006. Economic origins of dictatorship and democracy. Cambridge: Cambridge University Press.

Acemoglu, D., and J.A. Robinson. 2001. A theory of political transitions. American Economic Review 91(4): 938–963.

Axelrod, R. 1981. The emergence of cooperation among egoists. American Political Science Review 75(02): 306–318.

Beissinger, M. 2011. Mechanisms of Maidan: The structure of contingency in the making of the Orange Revolution. Mobilization: An International Quarterly 16(1): 25–43.

Beissinger, M.R. 2013. The semblance of democratic revolution: Coalitions in Ukraine's Orange Revolution. American Political Science Review 107(03): 574–592.

Borghans, L., and B.H.H. Golsteyn. 2006. Time discounting and the body mass index: Evidence from the Netherlands. Economics and Human Biology 4(1): 39–61.

Brandstatter, H., and K.D. Opp. 2014. Personality traits (Big Five) and the propensity to political protest: Alternative models. Political Psychology 35(4): 515–537.

Dalton, R.J., and H.D. Klingemann. 2007. Oxford handbook of political behavior. Oxford: Oxford University Press.

Diamond, L. 1999. Developing democracy: Toward consolidation. Baltimore: Johns Hopkins University Press.

Duan, J., S.J. Wu, and L. Sun. 2017. Do the powerful discount the future less? The effects of power on temporal discounting. Frontiers in Psychology 8: 1007.

Finkel, S.E., E.N. Muller, and K.D. Opp. 1989. Personal influence, collective rationality, and mass political action. American Political Science Review 83(03): 885–903.

Fournier, A. 2010. Ukraine's orange revolution: Beyond soviet political culture? In Orange revolution and aftermath, ed. Paul, D. Anieri, 110–128. Washington, D.C.: Woodrow Wilson Center Press chapter 5.

Fowler, J.H., and C.D. Kam. 2006. Patience as a political virtue: Delayed gratification and turnout. Political Behavior 28(2): 113–128.

Frederick, S., G. Loewenstein, and T. O'donoghue. 2002. Time discounting and time preference: A critical review. Journal of economic literature 40(2): 351–401.

Funder, D.C., J.H. Block, and J. Block. 1983. Delay of gratification: Some longitudinal personality correlates. Journal of Personality and Social Psychology 44(6): 1198.

Goldstein, J. 2007. The role of digital networked technologies in the Ukrainian Orange Revolution (December 20, 2007). Berkman Center Research Publication No. 2007–14. https://doi.org/10.2139/ssrn.1077686.

Hardisty, D.J., K.F. Thompson, H.H. Krantz, and E.U. Weber. 2013. How to measure time preferences: An experimental comparison of three methods. Judgment and Decision Making 8(3): 236–249.

Holbein, J.B. 2016. Making Good Citizens: Policy Approaches to Increasing Civic Participation PhD thesis Duke University.

Karoly, P. 1993. Mechanisms of self-regulation: A systems view. Annual Review of Psychology 44(1): 23–52.

Kirby, K.N., N.M. Petry, and W.K. Bickel. 1999. Heroin addicts have higher discount rates for delayed rewards than non-drug-using controls. Journal of Experimental Psychology: General 128(1): 78.

Klochko, M.A., and P.C. Ordeshook. 2005. Endogenous time preferences in social networks. Cheltenham: Edward Elgar Publishing.

Kuzio, T. 2006a. Civil society, youth and societal mobilization in democratic revolutions. Communist and Post-Communist Studies 39(3): 365–386.

Kuzio, T. 2006b. Everyday Ukrainians and the orange revolution. Revolution in orange: The origins of Ukraines democratic breakthrough. Washington, DC: Carnegie Endowment for International Peace 45–68.

Lehmann, H.A., A. Muravyev, and K.F. Zimmermann. 2012. The Ukrainian longitudinal monitoring survey: Towards a better understanding of labor markets in transition. IZA Journal of Labor and Development 1: 9.

Liberman, N., and Y. Trope. 1998. The role of feasibility and desirability considerations in near and distant future decisions: A test of temporal construal theory. Journal of Personality and Social Psychology 75(1): 5.

Lynch, T. 2010. Building a revolution: Elite choice and opposition tactics in pre-orange revolution. In Orange Revolution and Aftermath, ed. Paul, D. Anieri, 47–75. Washington, D.C.: Woodrow Wilson Center Press chapter 3.

Martinez-Loredo, V., J.R. Fernffandez-Hermida, J.L. Carballo, and S. Fernffandez-Artamendi. 2017. Long-term reliability and stability of behavioral measures among adolescents: The Delay Discounting and Stroop tasks. Journal of Adolescence 58: 33–39.

Marwell, G., and P. Oliver. 1993. The critical mass in collective action. Cambridge: University Press.

Meirowitz, A., and J.A. Tucker. 2013. People power or a one-shot deal? A dynamic model of protest. American Journal of Political Science 57(2): 478–490.

Mello, Z.R., and F.C. Worrell. 2006. The relationship of time perspective to age, gender, and academic achievement among academically talented adolescents. Journal for the Education of the Gifted 29(3): 271–289.

Muller, E.N., and K.-D. Opp. 1986. Rational choice and rebellious collective action. American Political Science Review 80(02): 471–487.

Onuch, Olga. 2015. EuroMaidan protests in Ukraine: Social media versus social networks. Problems of Post-Communism 62(4): 217–235.

Opp, K.-D., and B. Kittel. 2010. The dynamics of political protest: Feedback effects and interdependence in the explanation of protest participation. European Sociological Review 26(1): 97–109.

Opp, K.-D., and W. Roehl. 1990. Repression, micromobilization, and political protest. Social Forces 69: 521–547.

Ostrom, V. 1997. The meaning of democracy and the vulnerability of democracies: A response to Tocqueville's challenge. Cambridge: Cambridge University Press.

Rabinovich, A., T. Morton, and T. Postmes. 2010. Time perspective and attitude behaviour-consistency in future-oriented behaviours. British Journal of Social Psychology 49(1): 69–89.

Schmidt, R.W., H. Lamm, and G. Trommsdorff. 1978. Social class and sex as determinants of future orientation (time perspective) in adults. European Journal of Social Psychology 8(1): 71–90.

Schussman, A., and S.A. Soule. 2005. Process and protest: Accounting for individual protest participation. Social Forces 84(2): 1083–1108.

Shukan, I. 2010. Orchestrating a popular protest movement to conduct a revolution. In Orange Revolution and Aftermath, ed. Paul, D. Anieri, 76–109. Washington, D.C.: Woodrow Wilson Center Press chapter 4.

Stepanenko, V. 2005. How Ukrainians view their Orange Revolution: public opinion and the national peculiarities of citizenry political activities. Demokratizatsiya-Washington 13(4): 595.

Wang, A.H.-E. 2017. Patience moderates the class cleavage in demand for redistribution. Social Science Research 70: 18–27.

Wang, M., O.R. Rieger, and T. Hens. 2009. An international survey on time discounting. Norwegian School of Economics working paper.

Way, L. 2010. National Identity and Authoritarianism: Belarus and Ukraine Compared. In Orange Revolution and Aftermath, ed. Paul, D. Anieri, 129–159. Washington, D.C.: Woodrow Wilson Center Press chapter 6.

Weingast, B.R. 1997. The political foundations of democracy and the rule of the law. American Political Science Review 91(02): 245–263.

Wilson, R.K. 2011. The contribution of behavioral economics to political science. Annual Review of Political Science 14: 201–223.

Wu, W.-H., W. Cheng, and W.B. Chiou. 2017. Episodic future thinking about the ideal self induces lower discounting, leading to a decreased tendency toward cheating. Frontiers in Psychology 8: 287.
Electronic supplementary material
Below is the link to the electronic supplementary material.
About this article
Cite this article
Wang, A.HE. Patience, dynamic of protest, and democratic consolidation. Eur Polit Sci 18, 473–490 (2019). https://doi.org/10.1057/s41304-018-0177-4
Published:

Issue Date:

DOI: https://doi.org/10.1057/s41304-018-0177-4
Keywords