Abstract
The appeal of far-right parties' ideologies is one of the key drivers of such parties' electoral wins in Europe. Most studies, however, have focused on the far right's anti-immigrant or anti-minority discourse as the defining feature of this party family. In this article, we examine: (1) The conditions under which far-right parties benefit electorally from their Eurosceptic discourses, and (2) How center-right parties' responses to the far right affect the latter's electoral outcomes. The results of multilevel regression models show that when the distance between far-right and center-right parties' positions toward European integration narrows, the vote share of far-right parties increases—but only up to a point. When the distance continues to narrow, without reaching zero, the far right's vote share decreases. Our empirical analysis relies on the Chapel Hill Expert Survey series dataset and examines 75 cases of far-right parties in 22 European countries between 1999 and 2014. The findings suggest that center-right parties face a difficult strategic dilemma as they compete for votes with the far right: moving incrementally closer to the far right's position can benefit the far right by intensifying competition over the issue of European integration. An almost full cooperation of the far right's agenda, however, dampens the success of the far right. The center right must strike a balance that allows it to be responsive to Eurosceptic voters while retaining a centrist identity.
This is a preview of subscription content, log in to check access.
Access options
Buy single article
Instant access to the full article PDF.
US$ 39.95
Price includes VAT for USA
Subscribe to journal
Immediate online access to all issues from 2019. Subscription will auto renew annually.
US$ 131
This is the net price. Taxes to be calculated in checkout.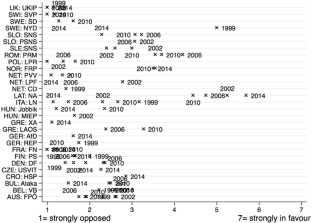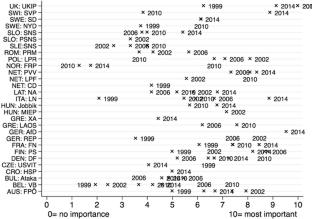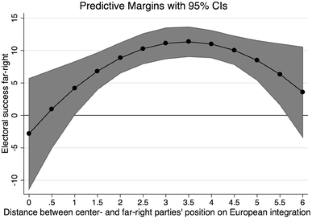 Notes
1.

In this paper, we use the terms Eurosceptic and anti-EU interchangeably.

2.

These are the following countries: Austria, Belgium, Bulgaria, Croatia, Czech Republic, Denmark, Finland, France, Germany, Greece, Hungary, Italy, Latvia, Netherlands, Norway, Poland, Romania, Slovenia, Slovakia, Sweden, Switzerland and the United Kingdom.

3.

4.

International migrant stock is the number of people born in a country other than that in which they live. It also includes refugees.

5.

Total population is based on the de facto definition of population, which counts all residents regardless of legal status or citizenship—except for refugees not permanently settled in the country of asylum, who are generally considered part of the population of their country of origin.

6.

This party existed until 2011 under the name For Fatherland and Freedom/LNNK (TB/LNNK).

7.

Model 3 and 4 have been estimated based on only 73 cases because in two cases the position of the center-right party is not covered by the CHES and therefore the distance between the center- and far-right party cannot be calculated.
References
Armingeon, K., C. Isler, L. Knöpfel, D. Weisstanner, and S. Engler. 2015. Comparative political data set 1960–2013. Bern: Institute of Political Science, University of Berne.

Arzheimer, K. 2009. Contextual factors and the extreme right vote in Western Europe, 1980–2002. American Journal of Political Science 53(2): 259–275.

Arzheimer, K., and E. Carter. 2006. Political opportunity structures and right-wing extremist party success. European Journal of Political Research 45(3): 419–443.

Bakker, R., C. de Vries, E. Edwards, L. Hooghe, S. Jolly, G. Marks, J. Polk, J. Rovny, M. Steenbergen, and M. Vachudova. 2015. Measuring party positions in Europe: The Chapel Hill expert survey trend file, 1999–2010. Party Politics 21(1): 143–152.

Berbuir, N., M. Lewandowsky, and J. Siri. 2015. The AfD and its sympathisers: Finally a right-wing populist movement in Germany? German Politics 24(2): 154–178.

Bustikova, L. 2014. Revenge of the radical right. Comparative Political Studies 47(12): 1738–1765.

Carter, E. 2005. The extreme right in Western Europe: Success or failure?. Manchester: Manchester University Press.

Cianetti, L. 2014. Latvia's European Parliament elections will be a key battleground in the run up to the general election in October. LSE European Politics and Policy (EUROPP) Blog.

De Lange, S.L. 2007. A new winning formula? The programmatic appeal of the radical right. Party Politics 13(4): 411–435.

De Vries, C.E., and S.B. Hobolt. 2012. When dimensions collide: The electoral success of issue entrepreneurs. European Union Politics 13(2): 246–268.

Döring, H., and P. Manow. 2016. Parliament and government composition database (ParlGov): An infrastructure for empirical information on parties, elections and governments in modern democracies. Available at http://www.parlgov.org. Accessed 8 March 2017.

Gallagher, M. 1991. Proportionality, disproportionality, and electoral systems. Electoral Studies 10(1): 33–41.

Golder, M. 2003. Explaining variation in the success of extreme right parties in Western Europe. Comparative Political Studies 36(4): 432–466.

Gomez, R., Morales, L., and L. Ramiro. 2016. Varieties of radicalism: Examining the diversity of radical left parties and voters in Western Europe. West European Politics 39(2): 351–379.

Gómez-Reino, M., and I. Llamazares. 2013. The populist radical right and European integration: A comparative analysis of party–voter links. West European Politics 36(4): 789–816.

Goodwin, M. 2011. Right response: Understanding and countering populist extremism in Europe. London: Chatham House.

Helbling, M., D. Hoeglinger, and B. Wüest. 2010. How political parties frame European integration. European Journal of Political Research 49(4): 495–521.

Hernández, E., and H. Kriesi. 2016. The electoral consequences of the financial and economic crisis in Europe. European Journal of Political Research 55(2): 203–224.

Hoeglinger, D. 2016. The politicisation of European integration in domestic election campaigns. West European Politics 39(1): 44–63.

Hooghe, L., and G. Marks. 2009. A postfunctionalist theory of European integration: From permissive consensus to constraining dissensus. British Journal of Political Science 39(1): 1–23.

Hutter, S., and E. Grande. 2014. Politicizing Europe in the national electoral arena: A comparative analysis of five West European countries, 1970–2010. Journal of Common Market Studies 52(5): 1002–1018.

Immerzeel, T., M. Lubbers, and H. Coffé. 2016. Competing with the far right: Distances between the European far right and other parties on typical far right issues. Party Politics 22(6): 823–834.

Ivarsflaten, E. 2005. The vulnerable populist right parties. European Journal of Political Research 44(3): 465–492.

Ivarsflaten, E. 2008. What unites right-wing populists in Western Europe? Re-examining grievance mobilization models in seven successful cases. Comparative Political Studies 41(1): 3–23.

Karácsony, G., and D. Róna. 2011. The secret of Jobbik. Reasons behind the rise of the Hungarian radical right. Journal of East European and Asian Studies 2(1): 61–92.

Kitschelt, H. 2004. Diversification and reconfiguration of party systems in postindustrial democracies. Bonn: Friedrich Ebert Stiftung.

Kitschelt, H., and A. McGann. 1995. The radical right in Western Europe: A comparative analysis. Ann Arbor: University of Michigan Press.

Lehmann, P., T. Matthiess, N. Merz, S. Regel, and A. Werner. 2017. Manifesto corpus. Version: 2017-a. Berlin: WZB Berlin Social Science Center.

Lubbers, M., and M. Coenders. 2017. Nationalistic attitudes and voting for the radical right in Europe. European Union Politics 18(1): 98–118.

Lubbers, M., M. Gijsberts, and P. Scheepers. 2002. Extreme right-wing voting in Western Europe. European Journal of Political Research 41(3): 345–378.

March, L., and C. Rommerskirchen. 2015. Out of left field? Explaining the variable electoral success of European radical left parties. Party Politics 21(1): 40–53.

McGann, A.J., and H. Kitschelt. 2005. The radical right in the Alps: Evolution of support for the Swiss SVP and Austrian FPÖ. Party Politics 11(2): 147–171.

Meijers, M.J. 2015. Contagious: The impact of Euroskeptic support on mainstream party positions on European integration. Party Politics. https://doi.org/10.1177/1354068815601787. (published online before print September 22).

Meguid, B. 2008. Competition between unequals. Strategies and electoral fortunes in Western Europe. Cambridge: Cambridge University Press.

Mudde, C. 1999. The single-issue party thesis: Extreme right parties and the immigration issue. West European Politics 22(3): 182–197.

Mudde, C. 2000. The ideology of the extreme right. Manchester: Manchester University Press.

Mudde, C. 2007. Populist radical right parties in Europe. Cambridge: Cambridge University Press.

Polk, J., J. Rovny, R. Bakker, E. Edwards, L. Hooghe, S. Jolly, J. Koedam, F. Kostelka, G. Marks, G. Schumacher, M. Steenbergen, M. Vachudova, and M. Zilovic. 2017. Explaining the salience of anti-elitism and reducing political corruption for political parties in Europe with the 2014 Chapel Hill Expert Survey data. Research & Politics 4(1): 1–9.

Reungoat, E. 2015. Mobilizing in national competition: The case of the French Front National. International Political Science Review 36(3): 296–310.

Rohrschneider, R., and S. Whitefield. 2016. Responding to growing European Union-skepticism? The stances of political parties toward European integration in Western and Eastern Europe following the financial crisis. European Union Politics 17(1): 138–161.

Rovny, J. 2013. Where do radical right parties stand? Position blurring in multidimensional competition. European Political Science Review 5(1): 1–26.

Rydgren, J. 2005. Is extreme right-wing populism contagious? Explaining the emergence of a new party family. European Journal of Political Research 44(3): 413–437.

Rydgren, J. 2008. Immigration sceptics, xenophobes or racists? Radical right-wing voting in six West European countries. European Journal of Political Research 47(6): 737–765.

Spies, D., and S.T. Franzmann. 2011. A two-dimensional approach to the political opportunity structure of extreme right parties in Western Europe. West European Politics 34(5): 1044–1069.

Szczerbiak, A., and P. Taggart. 2008. Opposing Europe?: The comparative party politics of Euroscepticism: Volume 2: Comparative and theoretical perspectives, vol. 2. Oxford: Oxford University Press.

Van Der Brug, W., M. Fennema, and J. Tillie. 2005. Why some anti-immigrant parties fail and others succeed: A two-step model of aggregate electoral support. Comparative Political Studies 38(5): 537–573.

Vasilopoulou, S. 2011. European integration and the radical right: Three patterns of opposition. Government and Opposition 46(2): 223–244.

Werts, H., P. Scheepers, and M. Lubbers. 2012. Euro-scepticism and radical right-wing voting in Europe, 2002–2008: Social cleavages, socio-political attitudes and contextual characteristics determining voting for the radical right. European Union Politics 14(2): 183–205.

Werts, H., Lubbers, M. and Scheepers, P. 2013. Rising Euroscepticism is positively linked to increased support for radical right-wing parties. LSE European Politics and Policy (EUROPP) Blog.

World Bank. 2016a. Dataset: International migrant stock, total. http://data.worldbank.org/indicator/SM.POP.TOTL. Last Accessed 16 March 2016.

World Bank. 2016b. Dataset: Population, total. http://data.worldbank.org/indicator/SP.POP.TOTL. Last Accessed 16 March 2016.
About this article
Cite this article
Szöcsik, E., Polyakova, A. Euroscepticism and the electoral success of the far right: the role of the strategic interaction between center and far right. Eur Polit Sci 18, 400–420 (2019). https://doi.org/10.1057/s41304-018-0162-y
Keywords
Far-right parties

Euroscepticism

Party competition

Center-right parties

Issue emphasis