Abstract
One goal of the Affordable Care Act (ACA) was to enable entrepreneurship by increasing access to non-employer-based health insurance. We evaluate the extent to which the ACA was successful at this, providing some of the first estimates of the effect of the main provisions of the ACA on entrepreneurship. We are the first to focus specifically on older adults, whose higher average health costs and health insurance premiums make health insurance more salient to their labor market decisions. We do so using data from the American Community Survey and a difference-in-difference strategy, taking advantage of Medicare-eligibles as a control group less affected by the ACA. We find that the ACA led to a 3–4% increase in self-employment. We find similar increases in the likelihood of being self-employed in an incorporated business and of generating at least $5000 in business income, as well as a 9% increase in the likelihood of being self-employed full time. By lowering the cost of non-employer health insurance policies to older adults, the ACA appears to have eased their transition from employment to self-employment.
This is a preview of subscription content, log in to check access.
Access options
Buy single article
Instant access to the full article PDF.
US$ 39.95
Price includes VAT for USA
Subscribe to journal
Immediate online access to all issues from 2019. Subscription will auto renew annually.
US$ 99
This is the net price. Taxes to be calculated in checkout.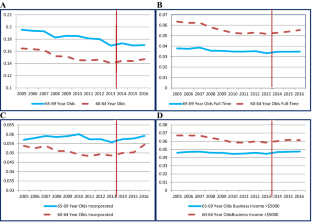 Notes
1.

In 2010, 77% of covered non-elderly adults had employer-sponsored coverage (author calculations from the 2010 March CPS).

2.

3.

4.

See Gruber and Madrian (2004) for a review of some of the issues and frameworks in quantifying the welfare losses associated with job-lock.

5.

Author calculations from American Community Survey data.

6.

Self-employment rates are reasonably similar across the two age groups (60–64 and 65–69), with the older Medicare-eligible group either having slightly higher or slightly lower entrepreneurship rates depending on the measure used; see Fig. 1.

7.

Pure community rating would mean that all individuals in a community pay the same premium, in contrast to individual rating where insurers may charge each individual a unique premium based on their expected health costs. The ACA implemented partial community rating, allowing only a few reasons for premiums to be adjusted, and limiting the maximum amount of the adjustment. For example, with the ACA health status can no longer be directly used to set premiums; age can still be used but can only increase premiums up to 3 times the minimum, when formerly a 64-year-old might pay 5 or 6 times as much as an 18-year-old.

8.

The individual mandate, employer mandate, guaranteed issue, and community rating regulations were all scheduled to start January 1, 2014, along with the subsidized exchanges and the Medicaid expansion (although in practice the employer mandate was pushed back and some states expanded Medicaid earlier, and some later or not at all). The fact that so many of the major ACA provisions were implemented simultaneously makes it difficult to assess their separate, individual effects; in this paper, we simply estimate the effect of all 2014 ACA provisions taken together.

9.

We would expect the ACA to have positive effects on the modal small business, where the owner invests enough time in the business that they could not easily get health insurance through a second job. We expect little effect for less time-consuming side-projects that would still allow enough time to acquire group insurance through paid employment. We expect a negative effect on the few most serious businesses that plan rapid growth to where the employer mandate (which applies to business that have 50 or more full-time employees) or ACA-driven taxes become larger concerns than the owner's personal health insurance.

10.

Individuals up to age 26 are eligible to remain as dependents on their parents' health insurance coverage, under the adult dependent coverage mandate, one of the earliest provisions of the ACA to go into effect in September of 2010.

11.

We note here that our estimates and inferences are not sensitive to alternate functional forms or level of clustering of the standard errors (discussed later).

12.

Except in the last two columns of Table 6, which use data on health insurance that are only available starting in 2008.

13.

See Blume-Kohout (2018) for discussion of possible explanations.

14.

Specifically, estimates from the extended specifications in Table 2 suggest that the ACA increased self-employment by about 0.6 percentage points. Taking the ratio of this effect to the "first-stage" estimate—the rough increase in access to non-ESI coverage (about 9.4 percentage points, based on the ACS)—yields a ballpark structural parameter of about 0.064. Estimates scaled in this manner should be interpreted with caution as they are necessarily sensitive to small changes in the numerator (reduced-form DD effect) and the denominator (first-stage effect).
References
Ahmad, Nadim, and Anders Hoffmann. 2008. A Framework for Addressing and Measuring Entrepreneurship. OECD Statistics Working Paper No. 2. http://dx.doi.org/10.2139/ssrn.1090374.

Bailey, James. 2017. Health Insurance and the Supply of Entrepreneurs: New Evidence from the Affordable Care Act. Small Business Economics 49(3): 627–646. https://doi.org/10.1007/s11187-017-9856-8.

Bailey, James, and Anna Chorniy. 2016. Employed-Provided Health Insurance and Job Mobility: Did the Affordable Care Act Reduce Job Lock? Contemporary Economic Policy 34: 173–183. https://doi.org/10.1111/coep.12119.

Barber III, Dennis and Thomas Kavoori. 2018. The Affordable Care Act, state exchanges and the self-employed in the USA. Journal of Small Business & Entrepreneurship. https://doi.org/10.1080/08276331.2018.1424987 (forthcoming).

Becker, Thealexa and Tuzeman, Didem. 2015. Self-Employment and Health Care Reform: Evidence from Massachusetts. Federal Reserve Bank of Kansas City working paper.

Blumberg, Linda, Sabrina Corlette, and Kevin Lucia. 2013. The Affordable Care Act: Improving Incentives for Entrepreneurship and Self-Employment. Urban Institute working paper.

Blume-Kohout, Margaret. 2018. The Affordable Care Act and Women's Self-Employment. Colgate University working paper.

Condliffe, Simon, Matt B. Saboe, and Sabrina Terrizzi. 2017. Did the ACA reduce job-lock and spur entrepreneurship? Journal of Entrepreneurship and Public Policy 6(2): 150–163. https://doi.org/10.1108/JEPP-09-2016-0032.

Currie, Janet, and Brigitte Madrian. 1999. Health, Health Insurance and the Labor Market. In Handbook of Labor Economics, vol. 3, ed. Orley Ashenfelter and David Card, 3309–3415. Amsterdam: Elsevier-North Holland.

Dave, D., I. Rashad, and J. Spasojevic. 2008. The Effects of Retirement on Physical and Mental Health Outcomes. Southern Economic Journal 75(2): 497.

Duggan, Mark, Gopi Shah Goda, Emilie Jackson. 2017. The Effects of the Affordable Care Act on Health Insurance Coverage and Labor Market Outcomes. NBER Working Paper No. 23607.

Fairlie, Robert, Kanika Kapur, and Susan Gates. 2011. Is Employer-Based Health Insurance a Barrier to Entrepreneurship? Journal of Health Economics.

Furman, Jason. 2014. Six Economic Benefits of the Affordable Care Act. https://www.whitehouse.gov/blog/2014/02/06/six-economic-benefits-affordable-care-act.

Gruber, Jonathan. 2000. Health Insurance and the Labor Market in Joseph Newhouse and Anthony Culyer, eds., The Handbook of Health Economics. Amsterdam: North Holland, p. 645–706.

Gruber, Jonathan, and Brigitte Madrian. 2004. Health Insurance, Labor Force Participation, and Job Choice: A Critical Review of the Literature. In Health Policy and the Uninsured, ed. Catherine McLaughlin. New York: Urban Institute Press.

Gurley-Calvez, Tami. 2011. Will tax-based health insurance reforms help the self-employed stay in business? Contemporary Economic Policy 29(3): 441–460. https://doi.org/10.1111/j.1465-7287.2010.00202.x.

Heim, Bradley, and Ithai Lurie. 2014. Does Health Reform Affect Self-Employment? Evidence from Massachusetts. Small Business Economics 43(4): 917–930.

Heim, Bradley, Ithai Lurie, and Kosali Simon. 2017. Did the Affordable Care Act Young Adult Provision Affect Labor Market Outcomes?. ILR Review: Analysis Using Tax Data. (forthcoming).

Heim, B.T., and L.K. Yang. 2017. The impact of the Affordable Care Act on self-employment. Health Economics 26(12): 256–273. https://doi.org/10.1002/hec.3500.

Hipple, Steven "Self-employment in the United States," Monthly Labor Review, Bureau of Labor Statistics, p. 17–32, September 2010.

Madrian, Brigitte. 1994. Employment-Based Health Insurance and Job Mobility: Is There Evidence of Job-Lock? The Quarterly Journal of Economics 109(1): 27–54.

Niu, Xiaotong. 2014. Health Insurance and Self-Employment: Evidence from Massachusetts. Industrial & Labor Relations Review.

Pauly, M.V., and R.D. Lieberthal. 2008. How risky is individual health insurance? Health Affairs 27(3): w242–w249.

Ruggles, Steven, Katie Genadek, Ronald Goeken, Josiah Grover, and Matthew Sobek. Integrated Public Use Microdata Series: Version 7.0 [dataset]. Minneapolis: University of Minnesota, 2017. https://doi.org/10.18128/D010.V7.0.

Wellington, A.J. 2001. Health insurance coverage and entrepreneurship. Contemporary Economic Policy 19(4): 465–478. https://doi.org/10.1093/cep/19.4.465.
About this article
Cite this article
Bailey, J., Dave, D. The Effect of the Affordable Care Act on Entrepreneurship among Older Adults. Eastern Econ J 45, 141–159 (2019). https://doi.org/10.1057/s41302-018-0116-7
Keywords
Health insurance

Affordable Care Act

Job-lock

Self-employment

Entrepreneurship

Labor supply

Public insurance
JEL Classification