This is a preview of subscription content, log in to check access.
Access options
Buy single article
Instant access to the full article PDF.
US$ 39.95
Tax calculation will be finalised during checkout.
Subscribe to journal
Immediate online access to all issues from 2019. Subscription will auto renew annually.
US$ 99
Tax calculation will be finalised during checkout.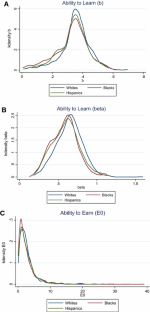 References
Acemoglu, Daron, and William B. Hawkins. 2014. Search with Multi-worker Firms. Theoretical Economics, 9: 583–628.

Ben-Proath, Yoram. 1967. The Production of Human Capital over the Lifecycle. Journal of Political Economy, 75: 352–365.

Borghans, Lex, Bart H.H. Golsteyn, James, J. Heckman, and Huub Meijers. 2009. Gender Differences in Risk Aversion and Ambiguity Aversion. Journal of the European Economic Association, 7(2–3): 649–658.

Chawla, M. 2002. Estimating the Extent of Patient Ignorance of the Health care Market. World Bank Economists Forum, 2: 3–24.

Czarnitzki, Dirk, and Thorsten Doherr. 2009. Genetic Algorithms for Econometric Optimization. Working Paper.

Dar, Atul. 2007. Estimating Worker Information Gaps from a Stochastic Wage Frontier: A Study of Canadian Labour Markets. International Business and Economics Research Journal, 6(12). http://www.cluteinstitute.com/ojs/index.php/IBER/article/view/3441/3488.

Dar, Atul. 2014. The Impact of Imperfect Information on the Wages of Native-Born and Immigrant Workers: Evidence from the 2006 Canadian Census. Proceedings of Economics and Finance Conferences 0401532, International Institute of Social and Economic Sciences.

Dorsey, Robert, and Walter Mayer. 1995. Genetic Algorithms for Estimation Problems with Multiple Optima, Nondifferentiability, and Other Irregular Features. Journal of Business and Economic Statistics, 13(1): 53–66.

Ferona A., and Tsionas, E.G. 2012. Measurement of Excess Bidding in Auctions. Economic Letters, 116: 377–380.

Gaynor, Martin, and Solomon Polachek. 1994. Measuring Information in the Market: An Application to Physician Services. Southern Economic Journal, 60(4): 815–831.

Goldberg, David. 1989. Genetic Algorithms in Search, Optimization, and Machine Learning. Reading, Massachusetts: Addison-Wesley.

Groot, Wim, and Hessel Oosterbeek. 1994. Stochastic Reservation and Offer Wages. Labour Economcis 1: 383–390.

Grove, Wayne A., Andrew Hussey, and Michael Jetter. 2011. The Gender Pay Gap beyond Human Capital: Heterogeneity in Noncognitive Skills and in Labor Market Tastes. Journal of Human Resources, 46(4): 827–874.

Haley, William J. 1976. Estimation of the Earnings Profile from Optimal Human Capital Accumulation. Econometrica 44(6): 1223–1238.

Harmath, Pedro, and Josefa Ramoni. 2012. Stocasthic Frontiers and Wage Inefficiency in Venezuela. Economía, Instituto de Investigaciones Económicas y Sociales (IIES). Facultad de Ciencias Económicas y Sociales. Universidad de Los Andes. Mérida, Venezuela, 37(33): 107–142.

Heckman, James J. 1975. Estimates of Aging Capital Production Function Embedded in a Life-Cycle Model of Labor Supply. in Household Production and Consumption, edited by Nestor Terleckyj. New York: Columbia Univ. Press for the NBER, 227–58.

Heckman, James J. 2001. Micro Data, Heterogeneity, and the Evaluation of Public Policy: Nobel Lecture. Journal of Political Economy, 109(4): 673–748.

Henderson, Daniel J., Solomon Polachek, and Le Wang. 2011. Heterogeneity in Schooling Rates of Return. Economics of Education Review, 30(6): 1202–1214.

Hofler, Richard, and Solomon Polachek. 1985. A New Approach for Measuring Wage Ignorance in the Labor Market. Journal of Economics and Business 37(3): 267–276.

Holland, J.H. 1975. Adaptation in Natural and Artificial Systems. Ann Arbor, Michigan: University of Michigan Press.

Koenker, Roger, and Gilbert Bassett. 1978. Regression Quantiles. Econometrica 46(1): 33–50.

Koenker, Roger, and Kevin F. Hallock. 2001. Quantile Regression. Journal of Economic Perspectives 15(4): 143–156.

Kumbhakar, S.C., and Parmeter, C.F. 2009. The Effects of Match Uncertainty and Bargaining on Labor Market Outcomes: Evidence from Firm and Worker Specific Estimates. Journal of Productivity Analysis, 31(1): 1–14.

Larsen, Bradley. 2014. The Efficiency of Real-World Bargaining: Evidence from Wholesale Used-Auto Auctions." NBER Working Papers: 20431.

Lazear, Edward P., and Robert L. Moore. 1984. Incentives, Productivity, and Labor Contracts. The Quarterly Journal of Economics 99(2): 275–296.

Li, J., F.L. Cooke, J. Mu, and J. Wang. 2016. Underpayment of Wages and Wage Distortion in China: An Empirical Assessment of the 2003–2008 Period. Journal of the Asia Pacific Economy, 21(1): 26–52.

Millimet, Daniel. 2005. Job Search Skills, Employer Size and Wages. Applied Economics Letters, 12(2): 95–100.

Mincer, Jacob. 1962. Labor Force Participation of Married Women, in Aspects of Labor Economics, edited by Universities-National Bureau Committee for Economic Research. Princeton: Princeton University Press, 63–105.

Mincer, Jacob (1974) Schooling, Experience, and Earnings. New York: Columbia Univ. Press for NBER.

Murphy, A., and E. Strobl. 2008. Employer and Employee Ignorance in Developing Countries: The Case of Trinidad and Tobago. Review of Development Economics, 12(2): 339–353.

Papadopoulos, Alecos. 2015. The Half-Normal Specification for the Two-Tier Stochastic Frontier Model. Journal of Productivity Analysis, 43: 225–230.

Pesaran, Mohammad Hashem, and Elisa Tosetti. 2011. Large Panels with Common Factors and Spatial Correlations. Journal of Econometrics, 161: 182–202.

Polachek, Solomon. 1975. Potential Biases in Measuring Male-Female Discrimination. Journal of Human Resources 10(2): 205–229.

Polachek, Solomon, Tirthatanmoy Das, Rewat Thamma-Apiroam. 2013. Heterogeneity in the Production of Human Capital. IZA Discussion Paper #7335.

Polachek, Solomon, Tirthatanmoy Das, Rewat Thamma-Apiroam. 2015. Micro- and Macroeconomics Implications of Heterogeneity in the Production of Human Capital. Journal of Political Economy 128(6): 1410–1455.

Polachek, Solomon, and Moon-Kak Kim. 1994. Panel Estimates of the Gender Earnings Gap: Individual-Specific Intercept and Individual-Specific Slope Models. Journal of Econometrics, 61(1): 23–42.

Polachek, Solomon W., and Robst John. 1998. Employee Labor Market Information: Comparing Direct World of Work Measures of Workers' Knowledge to Stochastic Frontier Estimates. Labour Economics, 5(2): 231–242.

Polachek, Solomon, and Bong Joon Yoon. 1987. A Two-Tiered Earnings Frontier Estimation of Employer and Employee Information in the Labor Market. The Review of Economics and Statistics, 69(2): 296–302.

Shapiro, Carl, and Stiglitz Joseph E. 1984. Equilibrium Unemployment as a Worker Discipline Device. American Economic Review, 74(3): 433–444.

Sharif, N.R., Dar, A.A. 2007. An empirical investigation of the impact of imperfect information on wages in Canada. Review of Applied Economics 3(1–2): 137–155.

Tomini, S., Groot, W., and Pavlova, M. 2012. Paying informally in the Albanian health care sector: a two-tiered stochastic frontier model. European Journal of Health Economics, 13: 777–788.
About this article
Cite this article
Polachek, S.W. Heterogeneity in the Labor Market: Ability and Information Acquisition*. Eastern Econ J 43, 377–390 (2017). https://doi.org/10.1057/s41302-017-0096-z
Keywords
heterogeneity

incomplete information

ability
JEL