Abstract
The 2006–2007 Long Term Mitigation Scenario planning process (LTMS) was a seminal South African climate mitigation policy initiative that continues to underpin the country's climate mitigation policy today. Whilst acknowledging the LTMS's significant contributions, the article explores how the particular conceptualization of the policy problem under the LTMS as linear, sectoral, technical and environmental might be contributing to inadequate progress on implementation a decade on. Additional constraining factors are identified as being a lack of attention to policy process after the LTMS, and a lack of engagement with the political economy realities of climate mitigation in South Africa.
Access options
Buy single article
Instant access to the full article PDF.
US$ 39.95
Tax calculation will be finalised during checkout.
Subscribe to journal
Immediate online access to all issues from 2019. Subscription will auto renew annually.
US$ 79
Tax calculation will be finalised during checkout.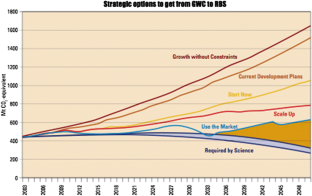 Notes
1.

At the time this was the Department of Environmental Affairs and Tourism. In 2009, it was split into two separate departments, with the environmental capacity housed in the current Department of Environmental Affairs (DEA). To avoid confusion, the current acronym is used throughout the text.

2.
References
Booysen, Susan. 2006. Public policy making in South Africa. In Government and politics in the New South Africa, 3rd ed, ed. Albert Venter, and Chris Landsberg. Pretoria: Van Schaik Publishers.

Boyd, Anya and Kim Coetzee. 2013. Mitigation action implementation towards an understanding of the variables that affect implementation of mitigation actions. Cape Town: MAPS Programme and TERI.

Dubash, N.K. 2009. Will low carbon growth plans help or hurt low carbon growth?. New Delhi: CPR Climate Brief.

Edenhofer, Ottmar, Ramón Pichs-Madruga, Youba Sokona, Ellie Farahani, Susanne Kadner, Kristin Seyboth and Jan Minx. (eds.). 2014. Summary for policymakers. In Climate change 2014: Mitigation of climate change. Contribution of Working Group III to the fifth assessment report of the intergovernmental panel on climate change. New York: Cambridge University Press.

Emison, Gerald Andrews. 1996. The potential for unconventional progress: Complex adaptive systems and environmental quality policy. Duke Environmental Law and Policy Reform 7: 167–192.

Farley, Joshua, Daniel Baker, David Batker, Christopher Koliba, Richard Matteson, Russell Mills, and James Pittman. 2007. Opening the policy window for ecological economics: Katrina as a focusing event. Ecological Economics 63: 344–354.

Hallowes, D. 2008. A critical appraisal of the LTMS. Johannesburg: Sustainable Energy and Climate Change Project.

Hill, Michael. 2013. The public policy process, 6th ed. Harlow: Pearson.

Howlett, Michael, M. Ramesh and Anthony Perl. 2009. Studying public policy: Policy cycles and policy sub-systems, 3rd ed. Ontario: Oxford University Press.

Ison, Ray L. 2010. Systems practice: How to act in a climate change world. London: Springer.

Kane, Lisa. 2014. Mitigation as applied science. In Provocateur briefings: Forum on development and mitigation, ed. Emily Tyler. Cape Town: MAPS Programme.

Leyshon, Catherine. 2014. Critical issues in social science climate change research. Contemporary Social Science 9 (4): 359–373.

Mangondo, Lena. 2016. The South African renewable energy independent power producers procurement programme—Lessons learned. Centurion: IPP Office.

Marquard, Andrew and C. Godino. 2013. ERC LTMS review meeting notes, unpublished report. Cape Town: Energy Research Centre.

Morris, Mike and Lucy Martin. 2015. Political economy of climate-relevant change policies: The Case of Renewable Energy in South Africa. Cape Town: Institute of Development Studies, University of Cape Town.

Raubenheimer, Stefan. 2011. Facing climate change: Building South Africa's strategy. Cape Town: Unity Press.

Republic of South Africa. 2011. National climate change response white paper. Pretoria: Republic of South Africa.

Scenario Building Team. 2007. Long Term Mitigation Scenarios: Technical Summary, Department of Environment Affairs and Tourism, Pretoria, October 2007.

Shine, Kasey Treadwell. 2015. Policymaking as complex cartography? Mapping and achieving probable futures using complex concepts and tools. In Handbook on complexity and public policy, 1st ed, ed. Robert Geyer, and Paul Cairney. Cheltenham: Edward Elgar.

Shove, Elizabeth. 2010. Beyond the ABC: climate change policy and theories of social change. Environment and Planning 42: 1273–1285.

Trollip, Hilton, Marta Torres Gunfaus and Michelle Du Toit. 2015. Implementing climate change mitigation: A journey into the unknown. Cape Town: MAPS Programme.

Tyler, Emily. 2010. Aligning South African energy and climate change mitigation policy. Climate Policy 10 (5): 575–588.

Tyler, Emily. 2015. Reflecting on climate mitigation policy in a development context: How do we do what we do?. Cape Town: MAPS Programme.

Tyler, Emily, Anya Boyd, Kim Coetzee and Harald Winkler. 2013. A case study of South African mitigation actions (For the special issue on mitigation actions in five developing countries). Climate and Development 6 (sup1): 49–58.

Tyler, Emily and Brett Cohen. 2017. A complexity underpinning for domestic climate mitigation policy in South Africa. International Journal of Design & Nature Ecodynamics 12 (1): 124–132.

Tyler, Emily and Marta Torres Gunfaus. 2015. LTMS review. Cape Town: MAPS Programme.

United Nations Environment Programme. 2016. The emissions gap report. Nairobi: United Nations Environment Programme.

van Schalkwyk, Marthinus. 2008. Cabinet climate change policy direction media release. Pretoria.

Wang, X., E. La Rovere, M. Yang and C. Fedorsky. 2008. South African long-term mitigation scenarios (LTMS), international peer review report. Washington: World Bank.

Wills, A. 2010. South African Copenhagen accord pledge. Pretoria: Department of Environmental Affairs.

Winkler, Harald. 2010. Taking action on climate change Long Term Mitigation Scenarios for South Africa'. Cape Town: UCT Press.
About this article
Cite this article
Tyler, E., Torres Gunfaus, M. Reflecting on the South African Long-Term Mitigation Scenario Process a Decade Later. Development 59, 328–334 (2016). https://doi.org/10.1057/s41301-017-0107-8
Keywords
South Africa

Climate mitigation policy

Long-term planning

Development

Political economy

Implementation

Social capital