Abstract
Sexual victimization of female students during the commute to college is a common and sometimes serious problem. This small-scale study that gathers victim survey data from a sample of 140 female college students in New York City provides insight into their experiences of sexual victimization during the commute to college. It is informed by a "whole journey" approach that includes walking to and from the bus/subway stops as well as waiting for and riding on the bus or subway. The study findings highlight extensive patterns of victimization during all stages of female students' subway commute to and from college. It is important for colleges and universities in the cities to learn about and deal with off-campus sexual victimization and work with other stakeholders to enhance the safety of commuting students by developing effective and appropriate measures to reduce the opportunities for sexual victimization.
This is a preview of subscription content, log in to check access.
Access options
Buy single article
Instant access to the full article PDF.
US$ 39.95
Price includes VAT for USA
Subscribe to journal
Immediate online access to all issues from 2019. Subscription will auto renew annually.
US$ 209
This is the net price. Taxes to be calculated in checkout.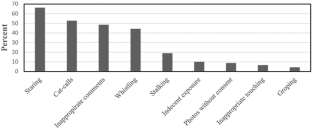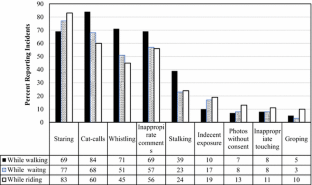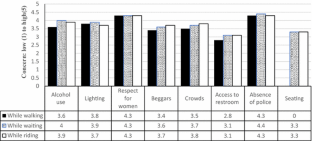 Notes
1.

These concerns are reflected in social media accounts such as Twitter and YouTube. In NYC, between 2011 and 2014, 153 people reported sexual harassment incidents within the subway system through Hollaback, an anti-street harassment organization. During the same period, nearly 30 such incidents were reported in the New York City's three major daily newspapers, New York Post, The Daily News and The New York Times. A New York Post story reports a more than 50% spike in subway sex crimes recorded by the NYPD (June 22, 2016). There were 458 complaints of lewdness reported between 1 January and 19 June 2016, up from 299 for the same time frame for 2015. In fact, all around the world, attention has recently been paid to high levels of violence against women and girls (VAWG) in public transport and adjacent public spaces. Providing a safer environment, recognizing the travellers' concerns and vulnerabilities, is also an important agenda for public safety and security (World Bank 2016).
References
Baum, K., and P. Klaus. 2005. Violent victimization of college students, 1995–2002. Washington, D.C.: U.S. Department of Justice, Office of Justice Programs, Bureau of Justice Statistics.

Belknap, J. 1987. Routine activity theory and the risk of rape: Analyzing ten years of national crime survey data. Criminal Justice Policy Review 2(4): 337–356.

Benson, D.J., and G.E. Thomson. 1982. Sexual harassment on a university campus: The confluence of authority relations, sexual interest and gender stratification. Social Problems 29(3): 236–251.

Brantingham, P., and P. Brantingham. 1981. Environmental criminology. Beverly Hills, CA: Sage Publications.

Brantingham, P.J., and P.L. Brantingham. 1991. Environmental criminology. Prospect Heights, IL: Waveland Press.

Brantingham, P., and P. Brantingham. 1993. Nodes, paths and edges: Considerations on the complexity of crime and the physical environment. Journal of Environmental Psychology 13(1): 3–28.

Butler-Kisber, L. 1992. The McGill safety audit report. Montreal: McGill University, Office of the Dean of Students.

Ceccato, V. 2013. Moving safely: Crime and perceived safety in Stockholm's subway stations. Lanham: Lexington.

Ceccato, V. 2014. Ensuring safe mobility in Stockholm, Sweden. Municipal Engineer 168(1): 74–88.

Chockalingam, K., and A. Vijaya. 2008. Sexual harassment of women in public transport in Chennai city: A victimology perspective. The Indian Journal of Criminology and Criminalistics 29(3): 167–184.

Clarke, R.V. 1997. Situational crime prevention: Successful case studies, 2nd ed. New York, NY: Harrow and Heston.

Clarke, R.V. 2010. Situational crime prevention: Theoretical background and current practice. In Handbook on crime and deviance, ed. M.D. Krohn, A.J. Lizotte, and G.P. Hall. New York, NY: Springer.

Cohen, L.E., and M. Felson. 1979. Social change and crime rate trends: A routine activity approach. American Sociological Review 44(4): 588–608.

Cornish, D.B. 1994. The procedural analysis of offending, and its relevance for situational prevention. In Crime prevention studies 3, ed. R.V. Clarke, 151–196. Monsey, NY: Criminal Justice Press.

Cornish, D.B., and R.V. Clarke. 2003. Opportunities, precipitators, and criminal decisions: A reply to Wortley's critique of situational crime prevention. In Theory for practice in situational crime prevention, ed. M. Smith, and D. Cornish. Monsey, NY: Criminal Justice Press.

Felson, M., and R. Clarke. 2010. Routine precautions, criminology and crime prevention. In Crime and public policy: Putting theory to work, ed. H. Barlow, and S. Decker. Philadelphia, PA: Temple University Press.

Felson, M., and M. Eckert. 2016. Crime and everyday life. London: Sage Publications.

Fisher, B.S., L.E. Daigle, F.T. Cullen, and M.G. Turner. 2003. Reporting sexual victimization to the police and others: Results from a national-level study of college women. Criminal Justice and Behavior 30(1): 6–38.

Fitzgerald, L.F. 1990. Sexual harassment: The definition and measurement of a construct. In Ivory power: Sexual harassment on campus, ed. M. Paludi. Albany, NY: SUNY Press.

Fisher, S., L.E. Daigle, and F. Cullen. 2010. Unsafe in the Ivory Tower: The sexual victimization of college women. Thousand Oaks, CA: Sage Publications.

Jackson, A., K. Gilliland, and L. Veneziano. 2006. Routine activity theory and sexual deviance among male college students. Journal of Family Violence 21(7): 449–460.

Jafarova, T., S. Campbell, and W.S. Rojas. 2014. AZE: Rapid assessment on sexual harassment. Philippines: Asian Development Bank.

Jagori, and U.N. Women. 2010. Safe cities free of violence against women and girls initiative: A baseline survey Delhi. Delhi: Signate G. Press.

Kennedy, M.A., and M.A. Taylor. 2010. Online harassment and victimization of college students. Justice Policy Journal 7(1): 1–21.

LaGrange, R.L., K.F. Ferraro, and M. Supancic. 1992. Perceived risk and fear of crime: The role of social and physical incivilities. Journal of Research in Crime and Delinquency 29(3): 311–334.

Lahsaeizadeh, A., and E. Yousefinejad. 2012. Social aspects of women's experiences of sexual harassment in public places in Iran. Sexuality and Culture 16(1): 17–37.

Larsen, V., and H. Topsøe-Jensen. 1984. Urban planning and the everyday life of women. Hørsolm: Danish Building Research Institute, Urban and Regional Planning Division.

Lenton, R., M.D. Smith, J. Fox, and N. Morra. 1999. Sexual harassment in public places: Experiences of Canadian women. The Canadian Review of Sociology 36(4): 517.

Loukaitou-Sideris, A., and C. Fink. 2009. Addressing women's fear of victimization in transportation settings: A survey of U.S. transit agencies. Urban Affairs Review 44(4): 554–587.

Loukaitou-Sideris, A. 2016. A gendered view of mobility and transport: Next steps and future directions. Town Planning Review 87(5): 547–565.

Loukaitou-Sideris, A., R. Liggett, and H. Iseki. 2002. The geography of transit crime: Documentation and evaluation of crime incidence on and around the Green Line stations in Los Angeles. Journal of Planning Education and Research 22(2): 135–151.

Macmillan, R., A. Nierobisz, and S. Welsh. 2000. Experiencing the streets: Harassment and perceptions of safety among women. Journal of Research in Crime and Delinquency 37(3): 306–322.

Madan, M., and M.K. Nalla. 2016. Sexual harassment in public spaces: Examining gender differences in perceived seriousness and victimization. International Criminal Justice Review 26(2): 80–97.

Meloni, I., M. Bez, and E. Spissu. 2009. Activity-based model of women's activity-travel patterns. Transportation Research Record: Journal of the Transportation Research Board 2125: 26–35.

METRAC. 1991. Women's campus safety audit guide. Toronto: METRAC and Council of Ontario Universities Committee on the Status of Women.

Mustaine, E.E., and R. Tewksbury. 2002. Sexual assault of college women: A feminist interpretation of a routine activities analysis. Criminal Justice Review 27(1): 89–123.

Natarajan, M. 2016. Rapid assessment of "eve teasing" (sexual harassment) of young women during the commute to college in India. Crime Science 5(6): 1–11.

Natarajan, M., R. Clarke, C. Carcach, C. Ponce, M.B. Sanfeliú, D.E. Polanco, and M. Shi. 2015. Situational prevention and public transport crime in El Salvador. Crime Science 4(1): 29.

Neupane, G., and M. Chesney-Lind. 2014. Violence against women on public transport in Nepal: Sexual harassment and the spatial expression of male privilege. International Journal of Comparative and Applied Criminal Justice 38(1): 23–38.

Newton, A.D. 2004. Crime on public transport: "Static" and "non-static" (moving) crime events. Western Criminology Review 5(3): 25–42.

Newton, A. 2008. A study of bus route crime risk in urban areas: The changing environs of a bus journey. Built Environment 34(1): 88–103.

Newton, A., and Bowers, K. 2007. The geography of bus shelter damage: The influence of crime, neighbourhood characteristics and land use. Internet Journal of Criminology: 1–20. www.internetjournalofcriminology.com.

Reilly, T., S. Carpenter, V. Dul, K. Bartlett, and M.B. Brewer. 1982. The factorial survey: An approach to defining sexual harassment on campus. Journal of Social issues 38(4): 99–110.

Sandler, B.R., and R.J. Shoop. 1997. Sexual harassment on campus: A guide for administrators, faculty and students. Boston, MA: Allyn and Bacon.

Smith, M.J. 2008. Addressing the security needs of women passengers on public transport. Security Journal 21(1–2): 117–133.

Smith, M., and R.V. Clarke. 2000. Crime and public transport. In Crime and justice: A review of the research, vol. 27, ed. M. Tonry, 169–233. Chicago, IL: Chicago University Press.

Smith, M.J., and D.B. Cornish. 2006. Secure and tranquil travel: Preventing crime and disorder on public transport. London: Routledge.

Stotzer, R.L., and D. MacCartney. 2016. The role of institutional factors on on-campus reported rape prevalence. Journal of Interpersonal Violence 31(16): 2687–2707.

Suarez, E., and T.M. Gadalla. 2010. Stop blaming the victim: A meta-analysis on rape myths. Journal of Interpersonal Violence 25(11): 2010–2035.

Tewksbury, R., and E.E. Mustaine. 2003. College students' lifestyles and self-protective behaviors: Further considerations of the guardianship concept in routine activity theory. Criminal Justice and Behavior 30(3): 302–327.

Thompson, D.M. 1994. "The woman in the street": Reclaiming the public space from sexual harassment. Yale Journal of Law and Feminism 6(2): 313–348.

Tompson, L., H. Partridge, and N. Shepherd. 2009. Hot routes: Developing a new technique for the spatial analysis of crime. Crime Mapping: A Journal of Research and Practice 1(1): 77–96.

Wilcox, P., E.C. Jordan, and A.J. Pritchard. 2007. A multidimensional examination of campus safety: Victimization, perceptions of danger, worry about crime, and precautionary behavior among college women in the post-Clery era. Crime Delinquency 53(2): 219–254.

World Bank. 2016. Preventing violence against women in transport systems. [online]. http://www.worldbank.org/en/news/feature/2016/03/08/preventing-violence-against-women-in-transport-systems. Accessed 27 April 2017.

Yavuz, N., and E.W. Welch. 2010. Addressing fear of crime in public space: Gender differences in reaction to safety measures in train transit. Urban Studies 47(12): 2491–2515.

Yoon, E., R. Stiller Funk, and N.P. Kropf. 2010. Sexual harassment experiences and their psychological correlates among a diverse sample of college women. Affilia 25(1): 8–18.
Acknowledgements
This study was funded by the CUNY Diversity Projects Development Fund (2016), sponsored by the Office of the Vice Chancellor for Human Resources Management. Thanks are due to the faculty members who willingly gave class time to distribute the survey. Our sincere thanks go to the students for their responses to the survey and for their invaluable answers to the open-ended questions.
About this article
Cite this article
Natarajan, M., Schmuhl, M., Sudula, S. et al. Sexual victimization of college students in public transport environments: a whole journey approach. Crime Prev Community Saf 19, 168–182 (2017). https://doi.org/10.1057/s41300-017-0025-4
Keywords
Harassment

Public transport

Situational prevention

Routine precautions