Abstract
Regions with a strong sense of identity, especially culturally distinct regions within a country, typically wish for more autonomy. But regions with strong economic grievances against the centre also tend to resist centralisation. While both types of regionalism suggest widely different mechanisms with respect to support for decentralisation, we argue that this is not the case. Indeed, both types of grievances may lead regions to foster a strong sense of regional identity. In turn, regions with a strong identity tend to wish for more decentralisation. Canada is one such case where different regional dynamics co-exist within the same country. To test this hypothesis, we use the 2015 Canadian Election Study to compare regional attitudes towards decentralisation. We observe that identity has a similar role in shaping support for decentralisation in citizens from both the Prairies and Quebec, even though the nature of their identity is based on different grounds.
This is a preview of subscription content, log in to check access.
Access options
Buy single article
Instant access to the full article PDF.
US$ 39.95
Tax calculation will be finalised during checkout.
Subscribe to journal
Immediate online access to all issues from 2019. Subscription will auto renew annually.
US$ 119
Tax calculation will be finalised during checkout.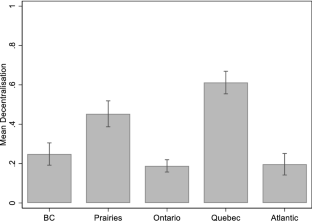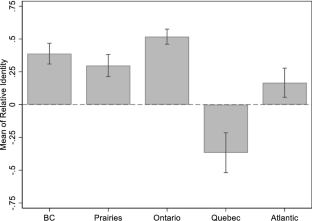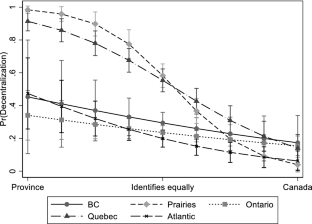 Notes
1.

It has recently been argued that the main political vehicle of Padanian nationalism, the Lega Nord, has moved away from regionalism under the leadership of Mateo Salvini (Albertazzi et al. 2018). While this might in fact be the case at the national level, different regional Lega parties, or branches of the party, still maintain a regionalist discourse.

2.

The term "Western Alienation" tends to include British Columbia. We find this definition problematic as British Columbia is sharply divided into two very different political cultures. The notion of Western Alienation does not apply to the cosmopolitan region of Vancouver and the Island of Vancouver, where the majority of province's population resides. In fact, the Prairies are often seen as a distinct region from British Columbia (Friesen 1984; Resnick 2000). We thus choose to exclude British Columbia from the "Western Provinces" and instead focus on the Prairies.

3.

This model also often includes a sixth region: the North (Yukon, the Northwest Territories and Nunavut). However, seeing the regular lack of data for this region, as in the case of the present study, the North is often omitted from the regional division of Canada in the scholarship. Since the data for our analyses is not available for the three territories, it was impossible to include them.

4.

It must be said that since around 1% of the sample lie at the extremes of the scale, the chart does not show these extreme values, as the confidence intervals would be unreadable. To be specific, the full scale runs from − 3 to 3, while Fig. 3 presents results from − 2 to 2. Even then, no BC, Ontario or Atlantic residents have a score of -2, meaning the figure relies solely on simulations and, as a result, confidence intervals remain large.
References
Agnew, J., and C. Brusa. 1999. New rules for national identity? The northern league and political identity in contemporary Northern Italy. National Identities 1: 117–133.

Albertazzi, D., A. Giovannini, and A. Seddone. 2018. 'No regionalism please, we are Leghisti!' the transformation of the Italian Lega nord under the leadership of Matteo Salvini. Regional & Federal Studies 28: 645–671.

Álvarez Pereira, B., M. Portos, and J. Vourdas. 2018. Waving goodbye? The determinants of autonomism and secessionism in Western Europe. Regional Studies 52: 197–211.

Anderson, C. 2010. Regional heterogeneity and policy preferences in Canada: 1979–2006. Regional and Federal Studies 20: 447–468.

Anderson, C., and M. McGregor. 2020. National identity, attentiveness and the two sides of partisanship: the case of the 2015 Canadian federal election. National Identities 22: 347–366.

Balthazar, L. 1997. Quebec and the Ideal of Federalism. In Quebec Society: Critical Issues, ed. M. Fournier, M. Rosenberg, and D. White. Scarborough: Prentice Hall.

Béland, D. & Lecours, A. 2019. Nationalism and the Politics of Austerity: Comparing Catalonia, Scotland, and Québec. National Identities, pp. 1–17.

Blaikie, P. 2015. Carousel 8 Down: Decline of the Canadian Political Brand. Victoria: Friesen Press.

Brown Swan, C. 2018. Art of the Possible: Framing Self-Government in Scotland and Flanders. Ph.D. Dissertation, University of Edinburgh.

Brown Swan, C., and D. Cetrà. 2020. Why Stay Together? State Nationalism and Justifications for State Unity in Spain and the UK. Nationalism and Ethnic Politics 26: 46–65.

Cameron, D. 2009. The Paradox of Federalism: some Practical Reflections. Regional & Federal Studies 19: 309–319.

Carty, R.K., L. Young, and W.P. Cross. 2000. Rebuilding Canadian Party Politics. Vancouver: UBC Press.

Chhim, C. 2017. The Nationalist Niche? Parties and Voters in Sub-State Nationalist Mobilisation. Ph.D. Dissertation, McGill University.

Chhim, C., and É. Bélanger. 2017. Language as a public good and national identity: Scotland's competing heritage languages. Nations and Nationalism 23: 929–951.

Del Pino, E., and G. Van Ryzin. 2013. Intergovernmental responsibility for social policy: an analysis of public preferences in Spain. Publius The Journal of Federalism 43: 676–700.

Dunn, C. 2016. Harper without Jeers, Trudeau without Cheers: Assessing 10 Years of Intergovernmental Relations. IRPP Insight, 8.

Elkins, D.J., and R. Simeon. 1980. Small Worlds: Provinces and Parties in Canadian Political Life. Toronto: Methuen.

Erk, J., and L. Anderson. 2009. The Paradox of federalism: does self-rule accommodate or exacerbate ethnic divisions? Regional & Federal Studies 19: 191–202.

Fafard, P., F. Rocher, and C. Côté. 2010. The presence (or Lack Thereof) of a federal culture in Canada: the views of Canadians. Regional & Federal Studies 20: 19–43.

Fitjar, R.D. 2010. Explaining variation in sub-state regional identities in Western Europe. European Journal of Political Research 49: 522–544.

Friesen, G. 1984. The Canadian Prairies: A History. Toronto: University of Toronto Press.

Gauvin, J.-P., C. Chhim, and M. Medeiros. 2016. Did they mind the gap? Voter/party ideological proximity between the BQ, the NDP and Quebec Voters, 2006–2011. Canadian Journal of Political Science 49: 289–310.

Gibbins, R. 1980. Prairie Politics and Society: Regionalism in Decline. Toronto: Butterworth.

Gidengil, E. 2008. Media matter: Election coverage in Canada. In The Handbook of Election News Coverage around the World, ed. J. Strömbäck and L.L. Kaid. London: Routledge.

Gidengil, E., A. Blais, J. Everitt, P. Fournier, and N. Nevitte. 2012. Dominance and Decline: Making Sense of Recent Canadian Elections. Toronto: University of Toronto Press.

Gidengil, E., A. Blais, R. Nadeau, and N. Nevitte. 1999. Making sense of regional voting in the 1997 Canadian federal election: liberal and reform support outside Quebec. Canadian Journal of Political Science 32: 247–272.

Giordano, B. 2000. Italian regionalism or 'Padanian' nationalism—the political project of the Lega Nord in Italian Politics. Political Geography 19: 445–471.

Guibernau, M. 1999. Nations without States: Political Communities in a Global Age. Cambridge: Polity Press.

Guinjoan, M., and T. Rodon. 2014. Beyond identities: political determinants of support for decentralization in contemporary Spain. Regional & Federal Studies 24: 21–41.

Gurr, T.R., B. Harff, M.G. Marshall, and J.R. Scarritt. 1993. Minorities at risk: a global view of ethnopolitical conflicts. Washington, DC: United States Institute of Peace Press.

Hechter, M. 2000. Containing Nationalism. Oxford: Oxford University Press.

Henderson, A. 2004. Regional political cultures in Canada. Canadian Journal of Political Science 37: 595–615.

Henderson, A. 2014. Citizenship in Europe: a comparative examination of the territorial scales of political life. In Citizenship after the Nation State: Regionalism, Nationalism and Public Attitudes in Europe, ed. A. Henderson, C. Jeffery, and D. Wincott. London: Palgrave MacMillan.

Henderson, A., C. Jeffery, and R. Liñeira. 2015. National identity or national interest? Scottish, English and Welsh attitudes to the constitutional debate. The Political Quarterly 86: 265–274.

Henderson, A., C. Jeffery, D. Wincott, and R. Wyn Jones. 2014. Citizenship after devolution in the United Kingdom: public attitudes in Scotland and wales. In Citizenship after the Nation State: Regionalism, Nationalism and Public Attitudes in Europe, ed. A. Henderson, C. Jeffery, and D. Wincott. London: Palgrave MacMillan.

Hepburn, E. 2008. The neglected nation: the Csu and the territorial cleavage in bavarian party politics. German Politics 17: 184–202.

Hepburn, E. 2009. Introduction: re-conceptualizing sub-state mobilization. Regional and Federal Studies 19: 477–499.

Hetherington, M.J. 1998. The political relevance of political trust. American Political Science Review 92: 791–808.

Hildebrandt, A., & Trüdinger, E.-M. In this Issue. Belonging and Exclusion: The Dark Side of Regional Identity in Germany. Comparative European Politics.

Hooghe, L., G.N. Marks, and A.H. Schakel. 2010. The Rise of Regional Authority: A Comparative Study of 42 Democracies. London: Routledge.

Hopkin, J., and P. van Houten. 2009. Decentralization and state-wide parties: an introduction. Party Politics 15: 131–135.

Jeffery, C., and M. Hans. 1999. Financial Equalisation in the 1990s: On the Road Back to Karlsruhe? In Recasting German Federalism The Legacies of Unification, ed. C. Jeffery. London: Pinter.

Jochim, A.E., and P.J. May. 2010. Beyond subsystems: policy regimes and governance. Policy Studies Journal 38: 303–327.

Kumlin, S. 2006. Learning from Politics? The Causal Interplay between Government Performance and Political Ideology. Journal of Public Policy 26: 89–114.

Kymlicka, W. 2004. Federalism and secession: east and west. In Democracy, Nationalism and Multiculturalism, ed. R. Máiz and F. Requejo. London: Routledge.

Lawson, R.J. 2005. Understanding alienation in Western Canada: is "western alienation" the problem? is senate reform the cure? Journal of Canadian Studies 39: 127–155.

Lecours, A. 2001. Regionalism, cultural diversity and the state in Spain. Journal of Multilingual and Multicultural Development 22: 210–226.

Lecours, A., and D. Béland. 2019. From secessionism to regionalism: the changing nature of territorial politics in Western Australia. Regional & Federal Studies 29: 25–44.

Macgregor-Fors, I., and M.E. Payton. 2013. Contrasting diversity values: statistical inferences based on overlapping confidence intervals. PLoS ONE 8 (2): e56794.

Massetti, E. 2009. Explaining Regionalist party positioning in a multi-dimensional ideological space: a framework for analysis. Regional and Federal Studies 19: 501–531.

Massetti, E., and A.H. Schakel. 2015. From class to region: how regionalist parties link (and subsume) left-right into centre-periphery politics. Party Politics 21: 866–886.

Mazzoleni, O., and C. Ruzza. 2018. Combining regionalism and nationalism: the Lega in Italy and the Lega Dei Ticinesi in Switzerland. Comparative European Politics 16: 976–992.

McGrane, D., and L. Berdahl. 2013. 'Small worlds' no more: reconsidering provincial political cultures in Canada. Regional & Federal Studies 23: 479–493.

Medeiros, M. 2017. Not just about Quebec: accounting for francophones' attitudes towards Canada. French Politics 15: 223–236.

Medeiros, M., B. Forest, and C. Erl. 2019. Where women stand: parliamentary candidate selection in Canada. Politics, Groups, and Identities 7: 389–400.

Newth, G. 2019. The roots of the Lega Nord's populist regionalism. Patterns of Prejudice 53: 384–406.

Oberhofer, J., D. Roth, J. Stehlin, R. Sturm, and F. Wille. 2014. Regional citizenship in Germany: solidarity and participation in a unitary federal state. In Citizenship after the Nation State: Regionalism, Nationalism and Public Attitudes in Europe, ed. A. Henderson, C. Jeffery, and D. Wincott. London: Springer.

Paré, D.J., and F. Berger. 2008. Political marketing Canadian style? the conservative party and the 2006 federal election. Canadian Journal of Communication 33: 39–63.

Pickup, M., A. Sayers, R. Knopff, and K. Archer. 2004. Social capital and civic community in Alberta. Canadian Journal of Political Science 37: 617–645.

Resnick, P. 2000. The politics of resentment: British Columbia regionalism and Canadian Unity. Vancouver: UBC Press.

Rimé, B., P. Bouchat, O. Klein, and L. Licata. 2015. When collective memories of victimhood fade: generational evolution of intergroup attitudes and political aspirations in Belgium. European Journal of Social Psychology 45: 515–532.

Rodríguez-Pose, A., and R. Sandall. 2008. From identity to the economy: analysing the evolution of the decentralisation discourse. Environment and Planning C: Government and Policy 26: 54–72.

Simeon, R., and D.J. Elkins. 1974. Regional political cultures in Canada. Canadian Journal of Political Science 7: 397–437.

Sutherland, C. 2001. Nation, heimat, vaterland: the reinvention of concepts by the Bavarian CSU. German Politics 10: 13–36.

Thomson, D. 1995. Language, identity, and the nationalist impulse: Quebec. The Annals of the American Academy of Political and Social Science 538: 69–82.

von Heyking, A. 2006. Fostering a provincial identity: two eras in Alberta schooling. Canadian Journal of Education 29: 1127–1156.

Verhaegen, S., Dupuy, C., & Van Ingelgom, V. In this Issue. Experiencing and Supporting Institutional Regionalization in Belgium: A Normative and Interpretive Policy Feedback Perspective. Comparative European Politics.
Acknowledgements
We would like to thank the participants of the Workshop on Attitudes to Decentralization in Multi-Level States at the 2019 ECPR Joint Sessions of Workshops as well as the anonymous reviewers of this journal for their valuable suggestions.
Additional information
Publisher's Note
Springer Nature remains neutral with regard to jurisdictional claims in published maps and institutional affiliations.
About this article
Cite this article
Medeiros, M., Gauvin, JP. Two regionalisms, one mechanism: how identity shapes support for decentralisation. Comp Eur Polit (2021). https://doi.org/10.1057/s41295-020-00233-2
Keywords
Decentralisation

Regionalism

Attitudes

Identity

Canada