Abstract
This article traces the emergence and development of claims that the 2016 referendum on the UK's membership of the European Union delivered a mandate for a so-called no-deal Brexit. Utilising Lacanian ideas about group mobilisation combined with a detailed content analysis and evidence drawn from polling data, it shows that this no deal narrative should be viewed as a discursive project that was constructed by a section of Leave campaigners relatively late into the Brexit process amidst growing disillusionment with the direction that negotiations with the EU were taking. By emphasising the role of Brexit as an 'empty signifier', the article shows that Brexit was initially successful in mobilising and uniting a disparate, but often unconnected, range of discontent to its cause. However, over time the complexities of the Brexit process triggered a discursive 'war of position' as competing visions of Brexit attempted to vie for dominance amongst the Leave camp. It is within this context that the myth of no deal emerged as an attempt by an elite group of actors to re-mobilise support for their cause.
Access options
Buy single article
Instant access to the full article PDF.
USD 39.95
Price excludes VAT (USA)
Tax calculation will be finalised during checkout.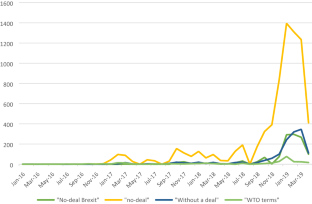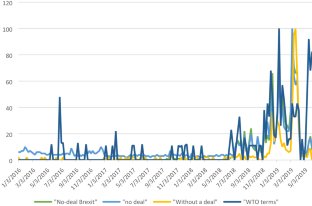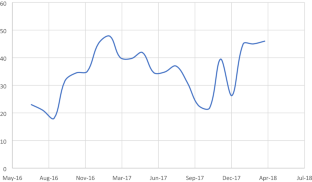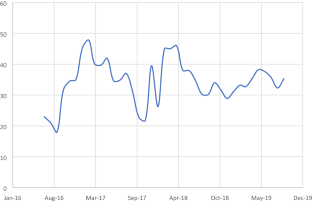 Notes
At the time of writing it remains to be seen whether the government's commitment to this deal (which has yet to receive its third reading in the House of Commons) is genuine or whether the agreement is merely a political ruse to achieve a no deal outcome at the end of a twelve-month transition period, by which time the Conservatives will no doubt hope to be in a stronger political position.

To deal with these ambiguities, the scoring method used for this study took (in cases where polls featured multiple questions on the theme) the question and the answer that was closest to a no deal scenario. Where the question of support for no deal was not explicitly put (especially during the first few months after the referendum) the measure of support was taken from the question that came closest to the conditions for a no deal exit (e.g. prioritising control of immigration over access to the single market). The full list of opinion polls used in this dataset is available at: https://warwick.ac.uk/fac/soc/pais/people/kettell/research/the_myth_of_a_no_deal_brexit_-_polls.xlsx.
References
Ashmore, J. 2016. Nigel Farage warns of unprecedented 'political anger' after High Court ruling. PoliticsHome. https://www.politicshome.com/news/europe/eu-policy-agenda/brexit/news/80540/nigel-farage-warns-unprecedented-political-anger. November 6, 2016.

Bailey, D.J. 2018. Misperceiving matters, again: Stagnating neoliberalism, Brexit and the pathological responses of Britain's political elite. British Politics 13 (1): 48–64.

Bang, H., and D. Marsh. 2018. Populism versus neo-liberalism: is there a way forward? Policy Studies 39 (3): 251–259.

Browning, C. 2019. Brexit populism and fantasies of fulfilment. Cambridge Review of International Affairs. https://doi.org/10.1080/09557571.2019.1567461.

Casalicchio, E. 2018. Anti-EU figures blast 'humiliating' Brexit deal struck by Theresa May. PoliticsHome, December 8, 2018.

Clarke, H.D., M. Goodwin, and P. Whiteley. 2017. Why Britain voted for Brexit: An individual-level analysis of the 2016 referendum vote. Parliamentary Affairs 70 (3): 439–446.

Dagnis, M., J. Snaith, and H. Snaith. 2016. When politics prevails: The political economy of a Brexit. Journal of European Public Policy 23 (9): 1302–1310.

Dennison, J., and A. Geddes. 2018. Brexit and the perils of "Europeanised" migration. Journal of European Public Policy 25 (8): 1137–1153.

Freeden, M. 2016. After the Brexit referendum: Revisiting populism as an ideology. Journal of Political Ideologies 22 (1): 1–11.

Gamble, A. 2018. Taking back control: The political implications of Brexit. Journal of Political Ideologies 25 (8): 1215–1232.

Goodwin, M., and O. Heath. 2016. The 2016 referendum, Brexit and the left behind: An aggregate-level analysis of the result. Political Quarterly 87 (3): 323–332.

Goodwin, M., and C. Milazzo. 2017. Taking back control? Investigating the role of immigration in the 2016 vote for Brexit. BJPIR 19 (3): 450–464.

Guldi, J. 2016. The case for utopia: History and the possible meanings of Brexit a hundred years on. Globalizations 14 (1): 150–156.

Gusterton, H. 2017. From Brexit to Trump: Anthropology and the rise of nationalist populism. American Ethnologist 44 (2): 209–214.

Hobolt, S.B. 2016. The Brexit vote: A divided nation, a divided continent. Journal of European Public Policy 23 (9): 1259–1277.

Hopkin, J. 2017. When Polanyi met Farage: Market fundamentalism, economic nationalism, and Britain's exit from the European Union. British Journal of Politics and International Relations 19 (3): 465–478.

Hopkin, J., and B. Rosamond. 2017. Post-truth politics, bullshit and bad ideas: 'Deficit Fetishism' in the UK. New Political Economy 23 (6): 641–655.

Inglehart, R., and Norris, P. 2016. Trump, Brexit, and the rise of populism: Economic have-nots and cultural backlash. HKS Working Paper No. RWP16-026. http://dx.doi.org/10.2139/ssrn.2818659.

Ishkanian, A. 2019. Social movements, Brexit and social policy. Social Policy & Society 18 (1): 147–159.

Jessop, B. 2017. The organic crisis of the British State: Putting Brexit in its place. Globalizations 14 (1): 133–141.

Johnson, B. 2019. The British people won't be scared into backing a woeful Brexit deal nobody voted for. The Telegraph, January 6, 2019.

Kerr, P., E. Foster, A. Oaten, and N. Begum. 2018. Getting back in the DeLorean: modernization vs. anti-modernization in contemporary British politics. Policy Studies 39 (3): 292–309.

Laclau, E. 2005. On populist reason. London: Verso.

Morgan, J. 2017. Brexit: Be careful what you wish for? Globalizations 14 (1): 118–126.

Oliver, T. 2017. Fifty shades of Brexit: Britain's EU referendum and its implications for Europe and Britain. The International Spectator 52 (1): 1–11.

Pettifor, A. 2017. Brexit and its consequences. Globalizations 14 (1): 127–132.

Powell, K. 2017. Brexit positions: Neoliberalism, austerity and immigration—the (im)possibilities? of political revolution. Dialectical Anthropology 41: 225–240.

Richards, D., P. Diamond, and A. Wager. 2019. Westminster's Brexit Paradox: The contingency of the 'old' versus 'new' politics. BJPIR. https://doi.org/10.1177/1369148119830009.

Roth, S. 2018. Introduction: Contemporary counter-movements in the age of Brexit and Trump. Sociological Research Online 23 (2): 496–506.

Stavrakakis, Y. 2004. Antinomies of formalism: Laclau's theory of populism and the lessons from religious populism in Greece. Journal of Political Ideologies 9 (3): 253–267.

Stavrakakis, Y. 2017. Discourse theory in populism research. Journal of Language and Politics 16 (4): 523–534.

Stegemann, L., and M. Ossewaarde. 2018. A sustainable myth: A neo-Gramscian perspective on the populist and post-truth tendencies of the European green growth discourse. Energy Research & Social Science 43: 25–32.

Vines, E., and D. Marsh. 2018. Anti-politics: Beyond supply-side versus demand-side explanations. British Politics 13 (4): 433–453.

Virdee, S., and B. McGeever. 2018. Racism, crisis, Brexit. Ethnic and Racial Studies 41 (10): 1802–1819.

Watson, M. 2018. Brexit, the left behind and the let-down: The political abstraction of 'the economy' and the UK's EU referendum. British Politics 13 (1): 17–30.
Additional information
Publisher's Note
Springer Nature remains neutral with regard to jurisdictional claims in published maps and institutional affiliations.
About this article
Cite this article
Kettell, S., Kerr, P. From eating cake to crashing out: constructing the myth of a no-deal Brexit. Comp Eur Polit 18, 590–608 (2020). https://doi.org/10.1057/s41295-019-00200-6
Published:

Issue Date:

DOI: https://doi.org/10.1057/s41295-019-00200-6
Keywords