Abstract
Language policies are important sociopolitical features of multilingual countries. Not only do they regulate relations with governmental authorities, but they can also impact intergroup relations. Yet, empirical research has tended to ignore language policies. Very little is known in relation to the factors that lead individuals to support or oppose such policies. Furthermore, to the best of our knowledge, there is relatively little knowledge regarding the influence of attitudes towards language policies on subsequent political phenomena. The present article seeks to address these gaps by exploring bilingualism in Canada and Finland. Specifically, using survey data from both countries' national election studies, the article, firstly, examines factors that can account for support towards bilingualism and, secondly, it investigates the relationship of these attitudes with vote choice. The results reveal two main findings. Firstly, support for bilingualism seems to be associated with context-specific factors; a general pattern of determinants is not indicated by the results. Secondly, attitudes towards bilingualism are found to have a significant association on vote choice in both Canada and Finland.
Access options
Buy single article
Instant access to the full article PDF.
USD 39.95
Price excludes VAT (USA)
Tax calculation will be finalised during checkout.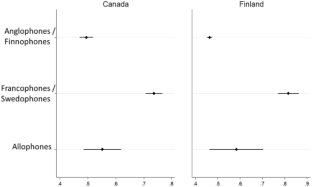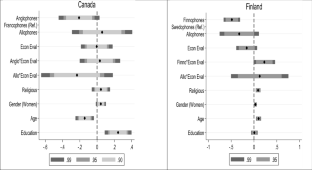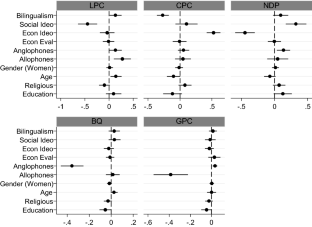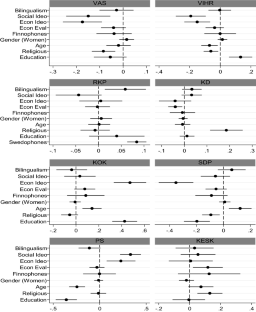 Notes
The 2015 CES was administered to respondents during the election campaign and after the election, whereas the 2015 FNES is solely a post-election survey. The respondent samples for both surveys are based on quotas that seek to nationally represent gender, age, and regional distributions.

While another question in the CES asked respondents whether they agreed or not that "Federal government services should be provided in only one language, French in Quebec and English in the rest of Canada", we feel that this question does not capture attitudes towards bilingualism as it measures a specific conception of a bilingual Canada rather than support or opposition towards bilingualism. Nevertheless, all the analyses were also performed with a bilingualism variable that combined the two measures. The results (not reported) are essentially the same; the only difference is found in vote choice in the RoC (Fig. 5 in the "Appendix") as this alternate bilingualism measure is not shown to significantly and positively influence vote choice for the NDP but displays such an effect on voting for the GPC.

The term Allophone refers to individuals whose mother tongue is neither the national majority language (English/Finnish) nor the national minority language (French/Swedish).

The FNES excludes Åland from their survey.

Seeing that the dependent variable for the Canadian case only has five choices of response, an ordinal logistic regression was also performed. The results (not reported) are essentially the same as those presented in Fig. 2 and in Table 1 in "Appendix". We also performed the analyses for Canada with identification with Canada as a control, to test the findings found by Çelebi et al. (2016). The results (not reported) show that identity has a significant and relatively strong positive influence on support for bilingualism. However, when it is interacted with mother tongue, there is no significant support for a moderating effect of language groups, contrary to the results found by Çelebi and colleagues. The Finnish data did not include a measure of national identification.

The Swedophone-majority islands of Åland have a different party system and only send one member to the Eduskunta.

Due to an inability of the multinomial model to converge with the weighted data (seeing that we are using quite a small number of observations), these results are based on individual logistic regressions for each party.

While we concentrate the description of the voting results on the influence of bilingualism, another relationship in the Canadian results needs further elaboration. Social ideology is shown to have a significant and positive influence on voting for the NDP. While this might seem unexpected for a left-of-centre party to attract social conservatives, our results are similar to those found by Gauvin and colleagues (2016), who also use CES data and a similar multi-item variable to measure social ideology.

Due to issues of singularity (caused by a small number of respondents who claimed to have voted for the RKP), and therefore the inability to estimate marginal effects for some of the variables, the model for the RKP is different than the one for the other parties. Mother tongue (Swedish vs. others) and regions (Uusimaa vs. other regions) had to be dichotomized in this model. We also performed this analysis, along with the one to determine support for bilingualism (Fig. 2), with a regional variable that combined the three regions with the most Swedophones (Uusimaa and Varsinais-Suomi and Pohjanmaa vs. other regions). The results (not reported) are essentially the same, except for the influence of support for bilingualism on voting for the PS no longer being close to crossing the p < 0.05 significance threshold.
References
Achen, C.H., and L.M. Bartels. 2016. Democracy for realists: Why elections do not produce responsive government. Princeton: Princeton University Press.

Alapuro, R., and H. Stenius. 1987. Kansanliikkeet loivat kansakunnan. In Kansa Liikkeessä, ed. R. Alapuro, I. Liikanen, K. Smeds, and H. Stenius. Helsinki: Kirjayhtymä.

Albright, J.J. 2010. The multidimensional nature of party competition. Party Politics 16(6): 699–719.

Azaiza, F., R. Hertz-Lazarowitz, M. Shoham, M. Amara, A. Mor-Sommerfeld, and N. 'Ali. 2011. Attitudes towards bilingual arab-hebrew education in Israel: A comparative study of Jewish and Arab Adults. Language, Culture and Curriculum 24(2): 179–193.

Bélanger, Éric, and Richard Nadeau. 2016. The bloc québécois in a rainbow-coloured quebec. In The Canadian Federal Election of 2015, ed. J.H. Pammett and C. Dornan. Toronto: Dundurn.

Bengtsson, Åsa. 2011. Svenska Folkpartiet Som Förvaltare Av Det Politiska Och Sociala Kapitalet. In Det Finlandssvenska Sociala Kapitalet: Fakta Eller Fiktion. Helsinki: Svenska litteratursällskapet i Finland.

Bengtsson, Åsa, Kimmo Grönlund, and L. Karvonen. 2005. Språk Och Parti. In Den Finlandssvenska Väljaren. Türku: Institutet för finlandssvensk samhällsforskning.

Broermann, M. 2007. Language attitudes among minority youth in Finland and germany. International Journal of the Sociology of Language 2007 (187–188): 129–160.

Cardinal, L. 2004. The limits of bilingualism in Canada. Nationalism and Ethnic Politics 10(1): 79–103.

Çelebi, E., M. Verkuyten, and N. Smyrnioti. 2016. Support for Kurdish Language Rights in Turkey: The roles of ethnic group, group identifications, contact, and intergroup perceptions. Ethnic and Racial Studies 39(6): 1034–1051.

Citrin, J., D.P. Green, C. Muste, and C. Wong. 1997. Public opinion toward immigration reform: The role of economic motivations. Journal of Politics 59(3): 858–881.

Elkins, D.J. 1989. Facing our destiny: Rights and Canadian distinctiveness. Canadian Journal of Political Science 22(4): 699–716.

Esman, M.J. 1982. The politics of official bilingualism in Canada. Political Science Quarterly 97(2): 233–253.

Finnäs, F. 2004. Finlandssvenskarna 2002. En Statistisk Rapport. Helsinki: Svenska Finlands Folkting.

Fournier, P., F. Cutler, S. Soroka, and D. Stolle. 2015. The 2015 Canadian election study. Vancouver: University of British Columbia.

Fournier, P., F. Cutler, S. Soroka, D. Stolle, and É. Bélanger. 2013. Riding the orange wave: Leadership, values, issues, and the 2011 Canadian Election. Canadian Journal of Political Science 46(4): 863–897.

Gauvin, J.-P., C. Chhim, and M. Medeiros. 2016. Did they mind the gap? Voter/party ideological proximity between the BQ, the NDP and Quebec Voters, 2006–2011. Canadian Journal of Political Science 49(2): 289–310.

Grönlund, K., and E. Kestilä-Kekkonen. 2016. Finnish National Election Study 2015. Tampere: Finnish Social Science Data Archive.

Harel-Shalev, A. 2006. The status of minority languages in deeply divided societies: Urdu in India and Arabic in Israel—A comparative perspective. Israel Studies Forum 21(2): 28–57.

Hehman, E., S.L. Gaertner, J.F. Dovidio, E.W. Mania, R. Guerra, D.C. Wilson, and B.M. Friel. 2012. Group status drives majority and minority integration preferences. Psychological Science 23(1): 46–52.

Ihalainen, Pasi and T. Saarinen. 2015. Constructing 'language' in language policy discourse: Finnish and Swedish legislative processes in the 2000s. In Language policies in Finland and Sweden. Interdisciplinary and multi-sited comparisons, ed. M. Halonen, P. Ihalainen and T. Saarinen. Bristol: Multilingual Matters.

Kymlicka, W. 2001. Politics in the vernacular: Nationalism, multiculturalism and citizenship. Oxford: Oxford University Press.

Laycock, David. 2005. Populism and the New Right in English Canada. In Populism and the mirror of democracy, ed. F. Panizza. London: Verso.

Lecours, A. 2012. Sub-state nationalism in the western world: Explaining continued appeal. Ethnopolitics 11(3): 268–286.

Liu, A.H., and J.I. Ricks. 2012. Coalitions and language politics: Policy shifts in Southeast Asia. World Politics 64(3): 476–506.

Lublin, D. 2013. The 2012 Latvia Language Referendum. Electoral Studies 2(32): 385–387.

McRae, K.D. 1983. Conflict and compromise in multilingual societies: Swtizerland, vol. 1. Waterloo: Wilfrid Laurier University Press.

McRae, K.D. 1997. Conflict and compromise in multilingual societies: Finland, vol. 3. Waterloo: Wilfrid Laurier University Press.

McRoberts, K. 1997. Misconceiving Canada: The struggle for national unity. Oxford: Oxford University Press.

Medeiros, M. 2019. National frenemies: Linguistic intergroup attitudes in Canada. Ethnic and Racial Studies 42(16): 3–22.

Medeiros, M. 2017. Refining the influence of language on national attachment: Exploring linguistic threat perceptions in Quebec. Nationalism and Ethnic Politics 23(4): 375–390.

Meinander, H. 2015. "Språkfrågan Sedan 1863." In Makten Att Kombinera. Utmaningar, Vägval Och Handlingskraft I Svenskfinland, ed. S. Sjöblom and S. Sandberg. Helsinki: Svenska kulturfonden.

Meinander, Henrik. 2016. Nationalstaten. Finlands svenskhet 1922–2015. Helsingfors: Svenska Litteratursällskapet i Finland.

Nadeau, R., and C.J. Fleury. 1995. Gains Linguistiques Anticipés et Appui à la Souveraineté du Québec. Canadian Journal of Political Science 28(1): 35–50.

Palozzi, V.J. 2006. Assessing voter attitude toward language policy issues in the United States. Language Policy 5(1): 15–39.

Phillipson, Robert. 1999. "Political Science." In Handbook of Language and Ethnic Identity, ed. J. A. Fishman. Oxford: Oxford University Press.

Robinson, J.P., W.P. Rivers, and R.D. Brecht. 2006. Demographic and sociopolitical predictors of American attitudes towards foreign language policy. Language Policy 5(4): 421–442.

Safran, W., and A.H. Liu. 2012. Nation-building, collective identity, and language choices: Between instrumental and value rationalities. Nationalism and Ethnic Politics 18(3): 269–292.

Saideman, S.M., and R.W. Ayres. 2000. Determining the causes of irredentism: Logit analyses of minorities at risk data from the 1980s and 1990s. Journal of Politics 62(4): 1126–1144.

Saukkonen, Pasi. 2012. The finnish paradox: Language and politics in Finland. Recode Working Paper Series, Vol. 5, pp. 1–12.

Saukkonen, P. 2013. Erilaisuuksien Suomi. Vähemmistö- ja kotouttamispolitiikan vaihtoehdot. Gaudeamus: Helsinki University Press.

Scheepers, P., M. Gijsberts, and E. Hello. 2002. Religiosity and prejudice against ethnic minorities in Europe: Cross-national tests on a controversial relationship. Review of Religious Research 43(3): 242–265.

Schwennicke, A. 2017. A discussion of Christopher H. Achen and Larry M. Bartels' Democracy for realists: Why elections do not produce responsive government. Perspectives on Politics 15(1): 148–151.

Shapiro, D.M., and M. Stelcner. 1981. Male-female earnings differentials and the role of language in Canada, Ontario, and Quebec, 1970. The Canadian Journal of Economics 14(2): 341–348.

Sniderman, P.M., J.F. Fletcher, P.H. Russell, and P.E. Tetlock. 1989. Political culture and the problem of double standards: Mass and elite attitudes toward language rights in the Canadian charter of rights and freedoms. Canadian Journal of Political Science 22(2): 259–284.

Sundberg, Jan. (2016). Finland. In European journal of political research: political data yearbook. ed. A. Bågenholm, K. Deegan-Krause and L. Weeks: Blackwell.

Tilley, J. 2015. 'We Don't Do God'? Religion and Party Choice in Britain. British Journal of Political Science 45(4): 907–927.

Ullman, S.H. 1986. The political attitudes of new Brunswick's Acadians and anglophones: Old wine in old bottles? American Review of Canadian Studies 16(2): 161–180.

Vallée-Dubois, Florence, Ruth Dassonneville, and Jean-François Godbout. 2017. About time: Age, period, and cohort effects on support for Quebec sovereignty. Nations and Nationalism.

von Schoultz, Åsa. (forthcoming). Åsiktsöverensstämmelse i språkfrågan—Representerar partierna väljarnas åsikter? In Ur majoritetens perspektiv. Förklaringar till finskspråkiga finländares åsikter om svenskan i Finland, ed. S. Himmelroos, and K. Strandberg. Helsingfors: Svenska Litteratursällskapet i Finland.

Wilkes, R., N. Guppy, and L. Farris. 2008. "No Thanks, We're Full": Individual characteristics, national context, and changing attitudes toward immigration. International Migration Review 42(2): 302–329.
Acknowledgments
The authors acknowledge the funding provided by the Strategic Research Council of the Academy of Finland (Grant No 312710) and the Academy of Finland (Grant No 316239). We also thank this journal's anonymous referees for their advice and suggestions.
Additional information
Publisher's Note
Springer Nature remains neutral with regard to jurisdictional claims in published maps and institutional affiliations.
Appendix
Appendix
Questions used
Bilingualism
Canada
We have gone too far in pushing bilingualism in Canada.
Finland
Finland where the special status of Swedish-speaking Finns is acknowledged.
Finland that has two strong national languages: Finnish and Swedish.
Studying Swedish at school should be voluntary.
Social ideology
Canada
How do you feel about immigrants?
How do you feel about racial minorities?
How do you feel about Muslims?
How do you feel about Aboriginals?
Finland
Multicultural Finland where foreigners with different religions and lifestyles are tolerated.
Finland where the status of sexual minorities is reinforced.
Finland that has more immigration.
Economic ideology
Canada
Should corporate taxes be increased, decreased, or kept about the same as now?
Please indicate how much confidence you have in the following institutions. Unions?
What should the government do: fund public daycare, or give the money directly to parents?
Finland
Finland that has more entrepreneurship and market economy.
Finland that has a smaller public sector.
Finland that has a lower taxation level.
Economic evaluation
Canada
Re: household's main sources of income: First, how likely is it that this income will be lost in the next year? Is it very likely, somewhat likely, somewhat unlikely, or very unlikely?
Finland
How likely or unlikely do you think it is that your household's income could be severely reduced in the next 12 months?
Religiosity
Canada
In your life, would you say religion is very important, somewhat important, not very important, or not important at all?
Finland
How religious would you say you are?
Education
Canada
What is the highest level of education that you have completed?
Finland
What is the highest level of education or degree you have completed?
See Figs. 5, 6 and Tables 1, 2, and 3.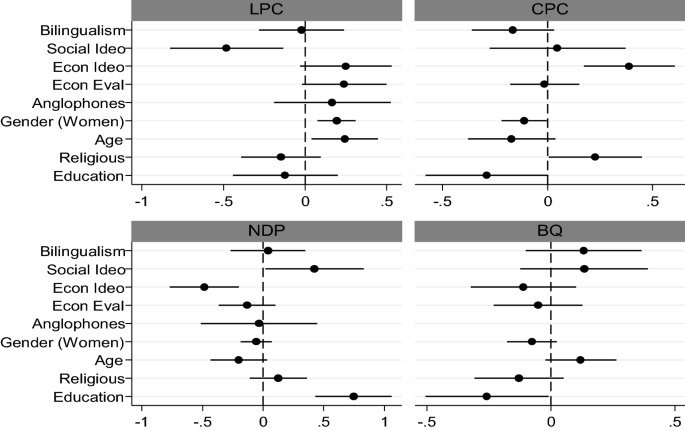 About this article
Cite this article
Medeiros, M., von Schoultz, Å. & Wass, H. Language matters? Antecedents and political consequences of support for bilingualism in Canada and Finland. Comp Eur Polit 18, 532–559 (2020). https://doi.org/10.1057/s41295-019-00198-x
Published:

Issue Date:

DOI: https://doi.org/10.1057/s41295-019-00198-x
Keywords