Abstract
The capacity of the left–right scale to summarize most political issues can be challenged by the salience of the center–periphery cleavage. However, the existing literature does not agree on whether both attitudinal dimensions are related and, if so, to what extent. In this paper, we argue that both axes can have a dependency relationship, going from the latter to the former. Our main argument is that individuals with a strong regional attachment will assume a more progressive stance on the left–right axis regardless of their positions on the economic and cultural issues, and that this relationship is reinforced by contextual characteristics of the region such as internal homogeneity and external distinctiveness. We test our arguments by using the survey data from the Making Electoral Democracy Work project, which has data for 11 regions in 5 different countries.
This is a preview of subscription content, log in to check access.
Access options
Buy single article
Instant access to the full article PDF.
US$ 39.95
Price includes VAT for USA
Subscribe to journal
Immediate online access to all issues from 2019. Subscription will auto renew annually.
US$ 167
This is the net price. Taxes to be calculated in checkout.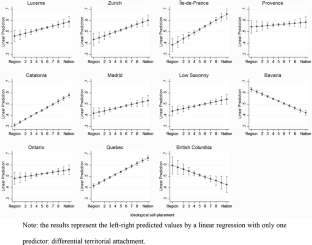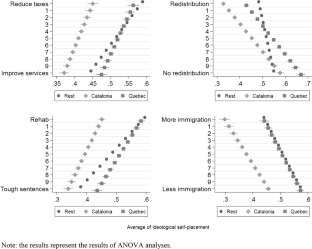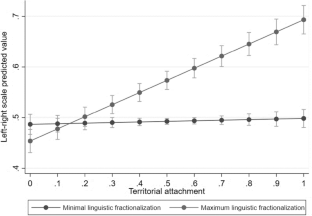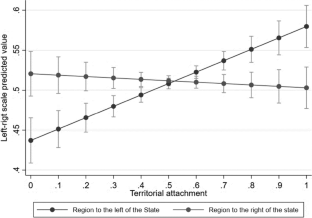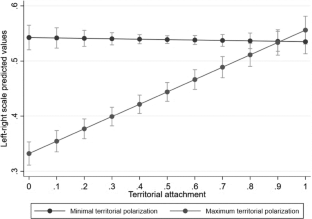 Notes
1.

The exact wording for this question was "Where would you place yourself on a scale from left to right?"; the poles of the horizontal axis were labeled 0 = far left, and 10 = far right.

2.

Note that this indicator also accounts for internal homogeneity of the region. Nevertheless, what we imply by including it in our analyses is that regions with several languages harbor a regional distinctive language (along with native speakers of the national main language), while in homogeneous regions individuals most likely speak the main language of the nation.

3.

Among the 11 cases included in the dataset, Lucerne is actually a Swiss canton corresponding to a NUTS3 category in the European context. We have opted to use data corresponding to Central Switzerland, the statistical region of NUTS2 level where Lucerne is included for statistical purposes.
References
Abdelal, R., Y.M. Herrera, A.I. Johnston, and R. McDermott (eds.). 2009. Measuring identity: A guide for social scientists. Cambridge: Cambridge University Press.

Alesina, A., E. Spolaore, and R. Wacziarg. 2005. Trade, growth and the size of countries. In Handbook of economic growth, Vol. 1, Part B, ed. P. Aghion and S. Durlauf, 1499–1542. Amsterdam: Elsevier. https://www.sciencedirect.com/science/article/pii/S1574068405010233

Alonso, S., L. Cabeza, and B. Gómez. 2017. Disentangling peripheral parties' issue packages in subnational elections. Comparative European Politics 15 (2): 240–263. https://doi.org/10.1057/cep.2015.15.

Alvarez, B., M. Portos, and J. Vourdas. 2017. Waving goodbye? The determinants of autonomism and secessionism in Western Europe. Regional Studies. https://doi.org/10.1080/00343404.2017.1282609.

Alwin, D.F., and J.A. Krosnick. 1991. Aging, cohorts, and the stability of sociopolitical orientations over the life span. American Journal of Sociology 97 (1): 169–195.

Amat, F. 2012. Party competition and preferences for inter-regional redistribution in Spain. South European Society and Politics 17 (3): 449–465. https://doi.org/10.1080/13608746.2012.701897.

Ansell, B., and J. Lindvall. 2013. The political origins of primary education systems: Ideology, institutions, and interdenominational conflict in an era of nation-building. American Political Science Review 107 (3): 505–522.

Balcells, L., J. Fernández-Albertos, and A. Kuo. 2015. Preferences for inter-regional redistribution. Comparative Political Studies 48 (10): 1318–1351.

Bartolini, S., and P. Mair. 2007. Identity, competition and electoral availability: the stabilisation of European Electorates 1885–1985. Essex: ECPR Press.

Bem, D.J. 1970. Beliefs, attitudes, and human affairs. Oxford: Brooks/Cole.

Beramendi, P. 2012. The political geography of inequality: Regions and redistribution. Cambridge: Cambridge University Press.

Blais, A. 2010. Making electoral democracy work. Electoral Studies 29 (1): 169–170. https://doi.org/10.1016/j.electstud.2009.05.006.

Blais, A., and C. Galais. 2016. Measuring the civic duty to vote: A proposal. Electoral Studies 41: 60–69.

Bolton, P., and G. Roland. 1997. The breakup of nations: A political economy analysis. The Quarterly Journal of Economics 112 (4): 1057–1090.

Brancati, D. 2008. The origins and strengths of regional parties. British Journal of Political Science 38 (1): 135–159. https://doi.org/10.1017/S0007123408000070.

Bryan, M.L., and S.P. Jenkins. 2016. Multilevel modelling of country effects: A cautionary tale. European Sociological Review 32 (1): 3–22. https://doi.org/10.1093/esr/jcv059.

Calhoun, C. 1993. Nationalism and ethnicity. Annual Review of Sociology 19: 211–239.

Canovan, M. 1996. Nationhood and political theory. London: Edward Elgar Cheltenham.

Chandra, K. 2011. What is an ethnic party? Party Politics 17 (2): 151–169.

Costa-Font, J., and F. Cowell. 2015. Social identity and redistributive preferences: A survey. Journal of Economic Surveys 29 (2): 357–374. https://doi.org/10.1111/joes.12061.

De Vries, C.E., A. Hakhverdian, and B. Lancee. 2013. The dynamics of voters' left/right identification: The role of economic and cultural attitudes. Political Science Research and Methods 1 (2): 223–238.

De Winter, L., and H. Tursan. 2004. Regionalist parties in western Europe. Basingstoke: Routledge.

Devine, D.J. 1972. The political culture of the United States: The influence of member values on regime maintenance. Boston: Little, Brown and Co.

Deiwiks, C., L.-E. Cederman, and K.S. Gleditsch. 2012. Inequality and conflict in federations. Journal of Peace Research 49 (2): 289–304. https://doi.org/10.1177/0022343311431754.

Dinas, E. 2012. Left and right in the Basque Country and Catalonia: The meaning of ideology in a nationalist context. South European Society and Politics 17 (3): 467–485. https://doi.org/10.1080/13608746.2012.701898.

Duckitt, J., and C.G. Sibley. 2007. Right wing authoritarianism, social dominance orientation and the dimensions of generalized prejudice. European Journal of Personality 21 (2): 113–130.

Ehman, L.H. 1980. Change in high school students' political attitudes as a function of social studies classroom climate. American Educational Research Journal 17 (2): 253–265.

Evans, G., A. Heath, and M. Lalljee. 1996. Measuring left-right and libertarian-authoritarian values in the British electorate. British Journal of Sociology 47 (1): 93–112.

Evans, J., and J. Tonge. 2009. Social class and party choice in Northern Ireland's ethnic blocs. West European Politics 32 (5): 1012–1030. https://doi.org/10.1080/01402380903065157.

Fearon, J. D., & Van Houten, P. (2002). The politicization of cultural and economic difference. In Fifth meeting of the Laboratory in Comparative Ethnic Processes, Stanford University. Retrieved from https://www.stanford.edu/group/fearon-research/cgi-bin/wordpress/wp-content/uploads/2013/10/The-Politicization-of-Cultural-and-Economic-Difference.pdf.

Fearon, J.D., K. Kasara, and D.D. Laitin. 2007. Ethnic minority rule and civil war onset. American Political Science Review 101 (1): 187–193. https://doi.org/10.1017/S0003055407070219.

Feldman, S. 1988. Structure and consistency in public opinion: The role of core beliefs and values. American Journal of Political Science 32 (2): 416–440. https://doi.org/10.2307/2111130.

Feldman, S., and C. Johnston. 2014. Understanding the determinants of political ideology: Implications of structural complexity. Political Psychology 35 (3): 337–358.

Finseraas, H. 2012. Poverty, ethnic minorities among the poor, and preferences for redistribution in European regions. Journal of European Social Policy 22 (2): 164–180. https://doi.org/10.1177/0958928711433655.

Gomez, M., L. De Winter, and P. Lynch. 2006. Autonomist Parties in Europe: Identity Politics and the Revival of the Territorial Cleavage. Barcelona: ICPS.

Gourevitch, P.A. 1979. The reemergence of «peripheral nationalisms»: Some comparative speculations on the spatial distribution of political leadership and economic growth. Comparative Studies in Society and History 21 (3): 303–322. https://doi.org/10.1017/S0010417500012986.

Grendstad, G. 2003. Comparing political orientations: Grid-group theory versus the left-right dimension in the five Nordic countries. European Journal of Political Research 42 (1): 1–21.

Guinjoan, M., and T. Rodon. 2015. A scrutiny of the Linz-Moreno question. Publius: The Journal of Federalism 46 (1): 128–142.

Heath, A. 1986. Do people have consistent attitudes. In British social attitudes: The 1986 report, ed. R. Jowel, S. Witherspoon, and L. Brook, 1–15. Aldershot: Gower.

Hechter, M. 1992. The dynamics of secession. Acta Sociologica 35 (4): 267–283. https://doi.org/10.1177/000169939203500401.

Himmelweit, H., P. Humphreys, and M. Jaeger. 1985. How voters decide: A model of vote choice based on a special longitudinal study extending over fifteen years and the British Election Surveys of 1970–1983. Milton Keynes: Open University Press.

Hooghe, L., G. Marks, and C.J. Wilson. 2002. Does left/right structure party positions on European integration? Comparative Political Studies 35 (8): 965–989.

Horowitz, D.L. 1981. Patterns of ethnic separatism. Comparative Studies in Society and History 23 (2): 165–195. https://doi.org/10.1017/S0010417500013268.

Jost, J.T., M.R. Banaji, and B.A. Nosek. 2004. A decade of system justification theory: Accumulated evidence of conscious and unconscious bolstering of the status quo. Political psychology 25 (6): 881–919.

Jost, J.T., B.A. Nosek, and S.D. Gosling. 2008. Ideology: Its resurgence in social, personality, and political psychology. Perspectives on Psychological Science 3 (2): 126–136. https://doi.org/10.1111/j.1745-6916.2008.00070.x.

Keating, M. 1996. Nations against the state: the new politics of nationalism in Quebec, Catalonia and Scotland. New York: Springer.

Kitschelt, H., and S. Hellemans. 1990. The left-right semantics and the new politics cleavage. Comparative Political Studies 23 (2): 210–238.

Knutsen, O. 1995. Value orientations, political conflicts and left-right identification: A comparative study. European Journal of Political Research 28 (1): 63–93.

Kuklinski, J.H., and P.J. Quirk. 2000. Reconsidering the rational public: Cognition, heuristics, and mass opinion. In Elements of reason: Cognition, choice, and the bounds of rationality, ed. Lupia Arthur, M.D. McCubbins, and S.L. Popkin, 153–182. Cambridge: Cambridge University Press.

Levendusky, M. 2009. The partisan sort: how liberals became democrats and conservatives became republicans. Chicago: University of Chicago Press.

Luttbeg, N.R., and M.M. Gant. 1985. The failure of liberal/conservative ideology as a cognitive structure. Public Opinion Quarterly 49 (1): 80–93.

Marks, G., L. Hooghe, M. Nelson, and E. Edwards. 2006. Party competition and European integration in the east and west different structure, same causality. Comparative Political Studies 39 (2): 155–175.

Mason, L. 2015. "I disrespectfully agree": the differential effects of partisan sorting on social and issue polarization. American Journal of Political Science 59 (1): 128–145.

Maas, C. J. M., and J. J. Hox. 2005. Sufficient sample sizes for multilevel modeling. Methodology 1 (3): 86–92.

Massetti, E. 2009. Explaining regionalist party positioning in a multi-dimensional ideological space: A framework for analysis. Regional & Federal Studies 19 (4–5): 501–531.

Massetti, E., and A.H. Schakel. 2015. From class to region. How regionalist parties link (and subsume) left-right into centre-periphery politics. Party Politics 21 (6): 866–886. https://doi.org/10.1177/1354068815597577.

Massetti, E., and A.H. Schakel. 2016. Between autonomy and secession: Decentralization and regionalist party ideological radicalism. Party Politics 22 (1): 59–79. https://doi.org/10.1177/1354068813511380.

McClosky, H., and J. Zaller. 1984. The American ethos: Public attitudes toward capitalism and democracy. Cambridge, MA: Harvard University Press.

McEwen, N. 2006. Nationalism and the state: welfare and identity in Scotland and Quebec. Brussels: Peter Lang.

McNeish, D.M., and L.M. Stapleton. 2016. The effect of small sample size on two-level model estimates: A review and illustration. Educational Psychology Review 28 (2): 295–314. https://doi.org/10.1007/s10648-014-9287-x.

Medeiros, M., J.-P. Gauvin, and C. Chhim. 2015. Refining vote choice in an ethno-regionalist context: Three-dimensional ideological voting in Catalonia and Quebec. Electoral Studies 40: 14–22. https://doi.org/10.1016/j.electstud.2015.06.004.

Mendelsohn, M. 2002. Measuring national identity and patterns of attachment: Quebec and nationalist mobilization. Nationalism and Ethnic Politics 8 (3): 72–94. https://doi.org/10.1080/13537110208428670.

Miller, D. 2000. Citizenship and national identity. Malden: Polity Press.

Miller, D., and S. Ali. 2014. Testing the national identity argument. European Political Science Review 6 (2): 237–259. https://doi.org/10.1017/S1755773913000088.

Newman, S. 1997. Ideological trends among ethnoregional parties in post-industrial democracies. Nationalism and Ethnic Politics 3 (1): 28–60.

Pinard, M., and R. Hamilton. 1977. The independence issue and the polarization of the electorate: The 1973 Quebec election. Canadian Journal of Political Science 10 (02): 215–260.

Rico, G., and M.K. Jennings. 2016. The formation of left-right identification: Pathways and correlates of parental influence. Political Psychology 37 (2): 237–252. https://doi.org/10.1111/pops.12243.

Robinson, J.P., and J.A. Fleishman. 1988. A report: Ideological identification: Trends and interpretations of the liberal-conservative balance. The Public Opinion Quarterly 52 (1): 134–145.

Rokkan, S., P. Flora, S. Kuhnle, and D.W. Urwin. 1999. State formation, nation-building, and mass politics in Europe: The theory of Stein Rokkan: Based on his collected works. Oxford: Oxford University Press.

Rovny, J., & Polk, J. (2013). The other dimension. Cergus's working paper series, 3. Retrieved from http://jonathanpolk.net/wp-content/uploads/2013/08/The_Other_Dim_Nov5_2014JR.pdf.

Selway, J.S. 2011. Cross-cuttingness, cleavage structures and civil war onset. British Journal of Political Science 41 (1): 111–138. https://doi.org/10.1017/S0007123410000311.

Schakel, A., and C. Jeffery. 2013. Are regional elections really 'second-order' elections? Regional Studies 47 (3): 323–341. https://doi.org/10.1080/00343404.2012.690069.

Searing, D., G. Wright, and G. Rabinowitz. 1976. The primacy principle: attitude change and political socialization. British Journal of Political Science 6 (1): 83–113.

Serrano, I., and A. Bonillo. 2017. Boundary shifts and vote alignment in Catalonia. Ethnicities 17 (3): 371–391.

Siroky, D., Mueller, S., & Hechter, M. (2014). Religious legacies, political preferences and intergroup bargaining: The case of Jura. APSA 2014 annual meeting paper. Retrieved from http://papers.ssrn.com/sol3/papers.cfm?abstract_id=2454482.

Smith, A.D. 1979. Towards a theory of ethnic separatism. Ethnic and Racial Studies 2 (1): 21–37.

Sorens, J. 2005. The cross-sectional determinants of secessionism in advanced democracies. Comparative Political Studies 38 (3): 304–326.

Sorens, J. 2009. The partisan logic of decentralization in Europe. Regional and Federal Studies. 19 (2): 255–272.

Strijbis, O., and R. Leonisio. 2012. Political cleavages in the Basque Country: Meaning and salience. Regional and Federal Studies 22 (5): 595–611.

Tajfel, H., M.G. Billig, R.P. Bundy, and C. Flament. 1971. Social categorization and intergroup behaviour. European Journal of Social Psychology 1 (2): 149–178.

Thorisdottir, H., J.T. Jost, I. Liviatan, and P.E. Shrout. 2007. Psychological needs and values underlying left-right political orientation: Cross-national evidence from Eastern and Western Europe. Public Opinion Quarterly 71 (2): 175–203.

Van Deth, J.W., S. Abendschön, and M. Vollmar. 2011. Children and politics: An empirical reassessment of early political socialization. Political Psychology 32 (1): 147–174.

Verba, S., and G. Almond. 1963. The civic culture: Political attitudes and democracy in five nations. Princeton: Princeton University Press.

Walzer, M. 1983. Spheres of justice: a defense of pluralism and equality. New York: Basic Books.

Zariski, R. 1989. Ethnic extremism among ethnoterritorial minorities in western Europe: dimensions, causes, and institutional responses. Comparative Politics 21 (3): 253–272.
Additional information
Publisher's Note
Springer Nature remains neutral with regard to jurisdictional claims in published maps and institutional affiliations.
About this article
Cite this article
Galais, C., Serrano, I. The effects of regional attachment on ideological self-placement: a comparative approach. Comp Eur Polit 18, 487–509 (2020). https://doi.org/10.1057/s41295-019-00196-z
Keywords
Ideology

Territorial attachment

Regions

Center–periphery