Abstract
Recent years have seen an increase in concerns that labour market vulnerability and national economic performance might be interacting to foment more polarized opinions about immigration. This article uses European Social Survey and EU-SILC data from 23 countries to explore this potential relationship, examining attitudes about the economic impact of immigration. In doing so, it seeks to investigate how the link between labour market vulnerability and anti-immigrant sentiment may be shaped by both resource scarcity (in the economy as a whole) and job scarcity (on the labour market). Findings from the analysis are twofold. First, labour market vulnerability is indeed correlated with more negative beliefs about the economic contribution of immigrants, even controlling for related factors such as education and contract type. Second, this effect is moderated by GDP per capita (though not unemployment rates), with labour market insiders and outsiders holding more distinct attitudes in higher GDP countries; thus, although attitudes towards the economic contribution of immigrants are generally more negative in poorer countries, labour market vulnerability contributes to greater opinion polarization in stronger economies. It is therefore resource availability in the economy, rather than on the labour market, that appears to be crucial.
This is a preview of subscription content, log in to check access.
Access options
Buy single article
Instant access to the full article PDF.
US$ 39.95
Price includes VAT for USA
Subscribe to journal
Immediate online access to all issues from 2019. Subscription will auto renew annually.
US$ 167
This is the net price. Taxes to be calculated in checkout.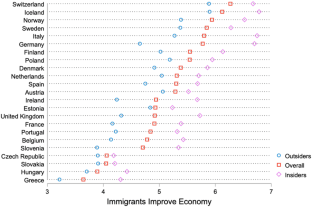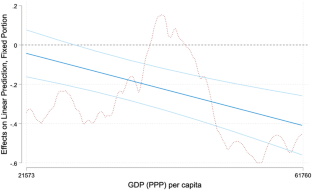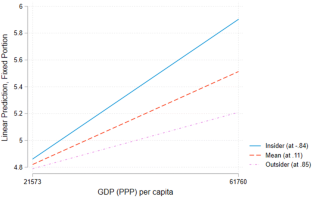 Notes
1.

While the 2012 and 2014 waves employed the ISCO-08 coding in lieu of ISCO-88, we convert the categorizations to align across waves. This results in a modest loss of data: namely, we lose six occupational classifications (out of 670), which together amount to 0.3% of respondents in the two affected waves.

2.

All figures are drawn using "plotplain" (Bischof 2017).

3.

Although survey weights cannot be included in this model for technical reasons, we ran an alternative model (using country binary variables) to confirm that weighting has no substantial impact on the main findings.

4.

Note that this does not mean that outsiderness does not affect attitudes toward immigrants in these models. Centring the GDP variable, for instance, results in a statistically significant coefficient.

5.

Namely, we confirmed: that our findings are not dependent on our specific construction of the outsiderness scores (i.e. changing the age cut-offs to 35 or 30, adding a foreign/native-born division); that countries with particularly low sample sizes (i.e. Italy and Iceland) are not driving our key findings; that the results remain even if we exclude the 2014 survey wave, for which the EU-SILC ISCO data (used to construct outsiderness scores) are not entirely backwards compatible; and that the findings are robust to including a post-communist dichotomous variable. Finally, we also re-ran all of our analysis with general attitudes toward immigration as the dependent variable (using an IRT index based on the economic, cultural, and overall impact of immigration). Results suggest a similar relationship, though the (proportionally adjusted) size of the effect is notably smaller—arguably due to the additional (non-economy related) noise introduced by the additional survey items.
References
Allport, G.W. 1954. The nature of prejudice. New York: Addison-Wesley Publishing Company.

Anderson, C.J. 2009. The private consequences of public policies: Active labor market policies and social ties in Europe. European Political Science Review 1: 341–373.

Berger, S., and M.J. Piore. 1980. Dualism and discontinuity in industrial societies. New York, NY: Cambridge University Press.

Bergh, J. 2006. Gender attitudes and modernization processes. International Journal of Public Opinion Research 19: 5–23.

Bischof, D. 2017. New figure schemes for stata: Plotplain & plottig. The Stata Journal 17: 748–759.

Borjas, G.J. 2003. The labor demand curve is downward sloping: Reexamining the impact of immigration on the labor market. The Quarterly Journal of Economics 118: 1335–1374.

Borjas, G.J. 2006. Native internal migration and the labor market impact of immigration. Journal of Human Resources 41: 221–258.

Burns, P., and J.G. Gimpel. 2000. Economic insecurity, prejudicial stereotypes, and public opinion on immigration policy. Political science quarterly 115: 201–225.

Card, D. 2001. Immigrant inflows, native outflows, and the local labor market impacts of higher immigration. Journal of Labor Economics 19: 22–64.

Card, D., C. Dustmann, and I. Preston. 2012. Immigration, wages, and compositional amenities. Journal of the European Economic Association 10: 78–119.

Chang, H.I., and W.C. Kang. 2018. Trust, economic development and attitudes toward immigration. Canadian Journal of Political Science 51: 357–378.

Cochrane, C., and N. Nevitte. 2014. Scapegoating: Unemployment, far-right parties and anti-immigrant sentiment. Comparative European Politics 12: 1–32.

Cranford, C.J., and L.F. Vosko. 2006. Conceptualizing precarious employment: Mapping wage work across social location and occupational context. In Precarious employment: Understanding labour market insecurity in Canada, ed. L.F. Vosko, 43–66. Montreal, QC: McGill-Queen's University Press.

Cutts, D., R. Ford, and M.J. Goodwin. 2011. Anti-immigrant, politically disaffected or still racist after all? Examining the attitudinal drivers of extreme right support in Britain in the 2009 European elections. European Journal of Political Research 50: 418–440.

D'Addio, A.C., and M. Rosholm. 2005. Temporary employment in Europe: Characteristics, determinants and outcomes. Brussels Economic Review 48: 13–41.

Dancygier, R.M., and M.J. Donnelly. 2012. Sectoral economies, economic contexts, and attitudes toward immigration. The Journal of Politics 75: 17–35.

Donnelly, M.J. 2016. Competition and solidarity: union members and immigration in Europe. West European Politics 39: 688–709.

Dustmann, C., F. Fabbri, and I. Preston. 2005. The impact of immigration on the British labour market. The Economic Journal 115: F324–F341.

Emmenegger, P., S. Haüsermann, B. Palier, et al. 2012. The age of dualization. Oxford: Oxford University Press.

ESS. 2008. European Social Survey Round 4 Data. Bergen, Norway: Norwegian Centre for Research Data.

ESS. 2010. European Social Survey Round 5 Data. Bergen, Norway: Norwegian Centre for Research Data.

ESS. 2012. European Social Survey Round 6 Data. Bergen, Norway: Norwegian Centre for Research Data.

ESS. 2014. European Social Survey Round 7 Data. Bergen, Norway: Norwegian Centre for Research Data.

Eurostat. 2018. EU statistics on income and living conditions dataset. Luxembourg.

Facchini, G., and A.M. Mayda. 2012. Individual attitudes towards skilled migration: An empirical analysis across countries. The World Economy 35: 183–196.

Finseraas, H. 2009. Income inequality and demand for redistribution: A multilevel analysis of European public opinion. Scandinavian Political Studies 32: 94–119.

Gash, V., and F. McGinnity. 2007. Fixed-term contracts—the new European inequality? Comparing men and women in West Germany and France. Socio-Economic Review 5: 467–496.

Gaston, N., and D. Nelson. 2000. Immigration and labour-market outcomes in the United States: A political-economy puzzle. Oxford Review of Economic Policy 16: 104–114.

Goldring, L., and P. Landolt. 2012. The impact of precarious legal status on immigrants' economic outcomes. IRPP Study 35. Montreal: Institute for Research on Public Policy.

Goldring, L., and P. Landolt. 2014. Transnational migration and the reformulation of analytical categories: Unpacking Latin American refugee dynamics in Toronto. In The practice of research on migration and mobilities, ed. L. Rivera-Sánchez and F. Lozano-Ascencio, 103–127. Berlin: Springer.

Hainmueller, J., and M.J. Hiscox. 2007. Educated preferences: Explaining attitudes toward immigration in Europe. International Organization 61: 399–442.

Hainmueller, J., M.J. Hiscox, and Y. Margalit. 2015. Do concerns about labor market competition shape attitudes toward immigration? New evidence. Journal of International Economics 97: 193–207.

Hainmueller, J., and D.J. Hopkins. 2014. Public attitudes toward immigration. Annual Review of Political Science 17: 225–249.

Häusermann, S., T. Kurer, and H. Schwander. 2014. High-skilled outsiders? Labor market vulnerability, education and welfare state preferences. Socio-Economic Review 13: 235–258.

Häusermann, S., T. Kurer, and H. Schwander. 2016. Sharing the risk? Households, labor market vulnerability, and social policy preferences in Western Europe. The Journal of Politics 78: 1045–1060.

Haüsermann, S., and H. Schwander. 2012. Varieties of dualization? Labor market segmentation and insider-outsider divides across regimes. In The age of dualization: The changing face of inequality in deindustrializing societies, ed. P. Emmenegger, S. Haüsermann, B. Palier, et al., 27–51. Oxford: Oxford University Press.

Jackman, R.W., and K. Volpert. 1996. Conditions favouring parties of the extreme right in Western Europe. British Journal of Political Science 26: 501–521.

Jessoula, M., P. Graziano, and I. Madama. 2010. Selective flexicurity' in segmented labor markets: The case of Italian 'mid-siders. Journal of Social Policy 39: 561–583.

Kalleberg, A.L. 2009. Precarious work, insecure workers: Employment relations in transition. American Sociological Review 74: 1–22.

Kaya, Y., and E. Karakoç. 2012. Civilizing vs destructive globalization? A multi-level analysis of anti-immigrant prejudice. International Journal of Comparative Sociology 53: 23–44.

Kehrberg, J.E. 2007. Public opinion on immigration in Western Europe: Economics, tolerance, and exposure. Comparative European Politics 5: 264–281.

Kehrberg, J.E. 2015. The demand side of support for radical right parties. Comparative European Politics 13: 553–576.

Kevins, A. 2015. Political actors, public opinion, and the extension of welfare coverage. Journal of European Social Policy 25: 303–315.

Kevins, A. 2017. Expanding welfare in an age of Austerity: increasing protection in an unprotected World. Amsterdam, NL: Amsterdam University Press.

Kevins, A. 2018. Dualized trust: risk, social trust and the welfare state. Socio-Economic Review. https://doi.org/10.1093/ser/mwx064.

Kitschelt, H. and Rehm, P. 2005 Work, family and politics: Foundations of electoral partisan alignments in postindustrial democracies. Annual Meeting of the American Political Science Association.

Krings, T. 2009. A race to the bottom? Trade unions, EU enlargement and the free movement of labour. European Journal of Industrial Relations 15: 49–69.

Lightman, N., and L. Good Gingrich. 2013. The intersecting dynamics of social exclusion: age, gender, race and immigrant status in Canada's labour market. Canadian Ethnic Studies 44: 121–145.

Lightman, N., and L. Good Gingrich. 2018. Measuring economic exclusion for racialized minorities, immigrants and women in Canada: results from 2000 and 2010. Journal of Poverty 22: 398–420.

Malchow-Møller, N., J.R. Munch, S. Schroll, et al. 2008. Attitudes towards immigration—Perceived consequences and economic self-interest. Economics Letters 100: 254–257.

Marx, P. 2014. Labour market risks and political preferences: The case of temporary employment. European Journal of Political Research 53: 136–159.

Mayda, A.M. 2006. Who is against immigration? A cross-country investigation of individual attitudes toward immigrants. The review of Economics and Statistics 88: 510–530.

Meuleman, B., E. Davidov, and J. Billiet. 2009. Changing attitudes toward immigration in Europe, 2002–2007: A dynamic group conflict theory approach. Social Science Research 38: 352–365.

Oesch, D. 2006. Redrawing the class map: Stratification and institutions in Germany. Britain: Palgrave Macmillan.

Ortega, F., and J.G. Polavieja. 2012. Labor-market exposure as a determinant of attitudes toward immigration. Labour Economics 19: 298–311.

Ottaviano, G.I., and G. Peri. 2012. Rethinking the effect of immigration on wages. Journal of the European Economic Association 10: 152–197.

Paas, T., and V. Halapuu. 2012. Attitudes towards immigrants and the integration of ethnically diverse societies. Eastern Journal of European Studies 3: 161–176.

Pardos-Prado, S., and C. Xena. 2019. Skill specificity and attitudes toward immigration. American Journal of Political Science 63: 286–304.

Pichler, F. 2010. Foundations of anti-immigrant sentiment: The variable nature of perceived group threat across changing European societies, 2002-2006. International Journal of Comparative Sociology 51: 445–469.

Polavieja, J.G. 2016. Labour-market competition, recession and anti-immigrant sentiments in Europe: Occupational and environmental drivers of competitive threat. Socio-Economic Review 14: 395–417.

Putnam, R.D. 2007. E pluribus unum: Diversity and community in the twenty-first century the 2006 Johan Skytte Prize Lecture. Scandinavian political studies 30: 137–174.

Rovny, A.E., and J. Rovny. 2017. Outsiders at the ballot box: operationalizations and political consequences of the insider–outsider dualism. Socio-Economic Review 15: 161–185.

Rueda, D. 2007. Social democracy inside out: Partisanship and labor market policy in industrialised democracies. New York, NY: Oxford University Press.

Rustenbach, E. 2010. Sources of negative attitudes toward immigrants in Europe: A multi-level analysis. International Migration Review 44: 53–77.

Scheve, K.F., and M.J. Slaughter. 2001. Labor market competition and individual preferences over immigration policy. Review of Economics and Statistics 83: 133–145.

Schmidt-Catran, A.W., and M. Fairbrother. 2016. The random effects in multilevel models: Getting them wrong and getting them right. European Sociological Review 32: 23–38.

Schneider, S.L. 2008. Anti-immigrant attitudes in Europe: Outgroup size and perceived ethnic threat. European Sociological Review 24: 53–67.

Schwander, H., and S. Häusermann. 2013. Who is in and who is out? A risk-based conceptualization of insiders and outsiders. Journal of European Social Policy 23: 248–269.

Semyonov, M., R. Raijman, and A. Gorodzeisky. 2006. The rise of anti-foreigner sentiment in European societies, 1988-2000. American Sociological Review 71: 426–449.

Sides, J., and J. Citrin. 2007. European Opinion about Immigration: The Role of Identities, Interests and Information. British Journal of Political Science 37: 477–504.

Sniderman, P.M., and L. Hagendoorn. 2007. When ways of life collide. Princeton, NJ: Princeton University Press.

Vosko, L.F. 2009. Managing the margins: Gender, citizenship, and the international regulation of precarious employment. Oxford: Oxford University Press.

Wilkes, R., N. Guppy, and L. Farris. 2008. "No Thanks, We're Full": Individual characteristics, national context, and changing attitudes toward immigration. International Migration Review 42: 302–329.

Zolberg, AR. 1991. Bounded states in a global market: The uses of international labor migrations. Social Theory for a Changing Society. pp. 301–325.
Acknowledgements
Anthony Kevins received financial support from a Marie Skłodowska-Curie Individual Fellowship (Grant no. 750556). Naomi Lightman received financial support from a Social Sciences and Humanities Research Council of Canada Insight Development Grant (File no: 430-2018-00062).
Additional information
Publisher's Note
Springer Nature remains neutral with regard to jurisdictional claims in published maps and institutional affiliations.
Appendix
Appendix
About this article
Cite this article
Kevins, A., Lightman, N. Immigrant sentiment and labour market vulnerability: economic perceptions of immigration in dualized labour markets. Comp Eur Polit 18, 460–484 (2020). https://doi.org/10.1057/s41295-019-00194-1
Keywords
Labour market vulnerability

Anti-immigrant sentiment

Public opinion

GDP

Unemployment