Abstract
How do non-established far-right actors reach visibility in the media? While much research focuses on media visibility of progressive movements and established parties, little is known about the coverage of grassroots far-right mobilization. Inspired by insights from media studies, social movement literature, and scholarship on the far right, the paper suggests that media coverage is a function of the protest strategies of non-established far-right actors. To this end, We use a new dataset measuring political claims made on the websites of CasaPound Italia (CPI) and the Bloc Identitaire (BI), and from newspaper reports in France and Italy. We use logistic regressions to quantify increasing media coverage based on specific characteristics of mobilization (issue ownership, dramatization, confrontation and counter-mobilization). Focusing on two countries with comparable political contexts but major differences in other factors relevant to far-right mobilization (number of migrants, asylum seekers, perceived most important problem, and proximity to elections), we illustrate that news coverage is more likely when CPI and BI mobilize on immigration, engage in street protest, and create public controversy. While broader comparative evidence is needed, the paper offers a novel meso-level perspective on the interplay between far-right mobilization and media attention, and it sets out an innovative method to combine online and offline data for the study of protest in far-right politics.
Access options
Buy single article
Instant access to the full article PDF.
US$ 39.95
Tax calculation will be finalised during checkout.
Subscribe to journal
Immediate online access to all issues from 2019. Subscription will auto renew annually.
US$ 119
Tax calculation will be finalised during checkout.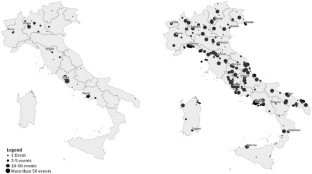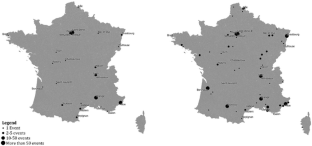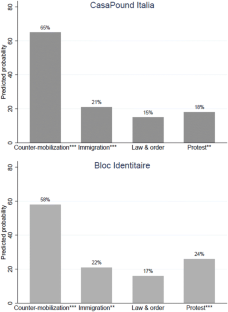 Notes
1.

The article refers to 'far right' as an umbrella concept including extreme and radical organizations located at the right end of the ideological spectrum. The radical right is hostile to liberal democratic principles, but it subscribes to the rules of parliamentary democracy. Conversely, extreme right groups (such as the two organizations considered in this study) oppose democratic principles and ultimately aim at subverting the democratic order (see, e.g. Mudde 2007).

2.

Starting from July 2016, the Bloc Identitaire changed its name in The Identitarians (Les Identitaires).

3.

We will not focus here on two alternative mechanisms that can explain this process: personalization and simplification. In our understanding, personalization is both a cause and a consequence of media exposure and is therefore complex to include in our model. Moreover, previous research already focused extensively on the effect of personalized news coverage on far-right politics (Bos et al 2010; Sheets et al 2015). We do not address simplification in far-right claims-making, because this would require a comparison between the oversimplified claims of the far right and complex claims by other actors (e.g. experts, mainstream parties, etc.).

4.

Even though, as mentioned earlier, journalists' professional practices play a crucial role in determining media coverage, a study focusing on these routines would demand a completely different research design (see, for example, Reese 2001), which is beyond the scope of a paper that explicitly focuses on the agency (or internal supply side) of far-right actors. We thus account for these only in terms of how they are anticipated in the media strategies of the two actors (Kriesi et al. 2009).

5.

While the two newspapers have slightly different political leanings, our study focuses on the visibility of far-right actors in the mass media, rather than on the tone of coverage. In this respect, extant scholarship confirms that while the tone and the logics of information production may change according to the political orientation of a newspaper, there is no significant difference in the likelihood that left-wing or right-wing newspapers cover far right politics (see Koopmans 2004).

6.

Counter-mobilizations are all interventions that were provoked by the action initiated by the far right, such as demonstrations by anti-fascist and anti-racist organizations, public statements by politicians and local authorities, petitions to ban far-right gatherings, etc. (Caiani et al. 2012; Tarrow 1998).

7.

This procedure produces three distinct sets of observations: press releases that do not receive media coverage; press releases that receive media coverage; and media coverage without previous input from press releases. Since our focus is on media-related internal supply-side factors, we focus here on the first two types of data only. This does not imply that the coverage of those actions that are not promoted by the far right, or from which it takes explicit distance, is of no importance. Yet, the empirical material currently available did not allow accounting for media preferences per se, but only in terms of previous far-right input.

8.

We considered the share of votes obtained by the main far-right party in each of the two countries, in the most recent national elections (presidential elections in France) and European Parliament elections.

9.

This is coded 1 if an action takes place during the 6 months preceding a national election, and 0 otherwise.

10.

11.

12.

Measured as the share of public opinion considering immigration one of the two most important problems in the country. Source: Eurobarometer 2003–2015.

13.

The intensity of the mobilization of the far right over the month when the media stories take place is measured as the number of actions promoted in the press releases in the 30 days preceding the event.

14.

This is also confirmed if we differentiate among, on the one hand, 'demonstrative' actions and, on the other 'confrontational' and 'violent' ones. While both actors promote the former much more frequently, the media tend to over-report on the latter.

15.

We also tested for an interaction between the two items measuring the issue topic of press releases, but we found that there is no significant effect there either (not reported in table).

16.

The effect is positive and significant in both Italy and France (not reported in table).
References
Akkerman, T. 2011. Friend or Foe? Right-Wing Populism and the Popular Press in Britain and the Netherlands. Journalism 12(8): 931–945.

Albanese, M., G. Bulli, P. Castelli Gattinara, and C. Froio. 2015. Fascisti Di Un Altro Millennio? Crisi E Partecipazione in CasaPound Italia. Acireale: Bonanno.

Altheide, D., and R. Snow. 1979. Media Logic. London: Sage.

Bos, L., W. van der Brug, and C. de Vreese. 2010. Media Coverage of Right-Wing Populist Leaders. Communications 35(2): 141–163.

Bos, L., J.M. Lefevere, R. Thijssen, and P. Sheets. 2016. The Impact of Mediated Party Issue Strategies on Electoral Support. Party Politics 23(6): 760–771.

Bouron, S. 2015. Un militantisme à deux faces. Agone 54: 45–72.

Bouron, S. 2017. «Des «Fachos» Dans Les Rues Aux « Héros » Sur Le Web. La Formation Des Militants Identitaires. Réseaux 202–203(2): 187–211.

Brüggemann, M., S. Engesser, F. Büchel, E. Humprecht, and L. Castro. 2014. Hallin and Mancini Revisited. Journal of Communication 64(6): 1037–1065.

Caiani, M., Porta D. Della, and C. Wagemann. 2012. Mobilizing on the Extreme Right. Oxford: Oxford University Press.

Castelli Gattinara, P. 2016. The Politics of Migration in Italy. London: Routledge.

Cushion, S. 2010. Television Journalism. London: Sage.

De Nardo, J. 1985. Power in Numbers: The Political Strategy of Protest and Rebellion. Princeton: Princeton University Press.

Decker, F. 2008. Germany: Right-Wing Populist Failures and Left-Wing Successes. In Twenty-First Century Populism: The Spectre of Western-European Democracy, ed. D. Albertazzi, and D. McDonnell, 119–134. Basingstoke: Palgrave Macmillan.

Di Nunzio, D., and E. Toscano. 2011. Dentro E Fuori CasaPound: Capire Il Fascismo Del Terzo Millennio. Roma: Armando Editore.

Druckman, J., and M. Parkin. 2005. The Impact of Media Bias: How Editorial Slant Affects Voters. The Journal of Politics 67(4): 1030–1049.

Ellinas, A. 2010. The Media and the Far Right in Western Europe. Cambridge: Cambridge University Press.

Esser, F. 2013. Mediatization as a Challenge: Media Logic versus Political Logic. In Democracy in the Age of Globalization and Mediatization, ed. H. Kriesi, et al., 155–176. Basingstoke: Palgrave.

Fella, S. 2008. Britain: Imperial Legacies, Institutional Constraints and New Political Opportunities. In Twenty-First Century Populism, ed. D. Albertazzi, and D. McDonnell. Basingstoke: Palgrave.

Fillieule, O. 1997. Stratégies de La Rue. Les Manifestations En France. Paris: Presses de Sciences Po.

Gamson, W., W. Croteau, and T. Sasson. 1992. Media Images and the Social Construction of Reality. Annual Review of Sociology 18: 373–393.

Green-Pedersen, C., and J. Krogstrup. 2008. Immigration as a Political Issue in Denmark and Sweden. European Journal of Political Research 47(5): 610–634.

Hallin, D., and P. Mancini. 2004. Comparing Media Systems. Cambridge: Cambridge University Press.

Hänggli, R., and H. Kriesi. 2010. Political Framing Strategies and Their Impact on Media Framing in a Swiss Direct-Democratic Campaign. Political Communication 27(2): 141–157.

Hänggli, R., and H. Kriesi. 2012. Frame Construction and Frame Promotion. American Behavioral Scientist 56(3): 260–278.

Harcup, T., and D. O'Neill. 2001. What Is News? Galtung and Ruge Revisited. Journalism Studies 2(2): 261–280.

Harmel, R., and K. Janda. 1994. An Integrated Theory of Party Goals and Party Change. Journal of Theoretical Politics 6(3): 259–287.

Helbling, M. 2014. Framing Immigration in Western Europe. Journal of Ethnic and Migration Studies 40(1): 21–41.

Hipfl, B. 2005. Politics of Media Celebrities: The Case of Jörg Haider. In Populism and Media Democracy, ed. B. Ociepka. Wroclaw: Wroclaw University Press.

Hutter, S. 2014. Protesting Culture and Economics in Western Europe. Minneapolis: University of Minnesota Press.

Ivarsflaten, E. 2007. What Unites Right-Wing Populists in Western Europe? Re-Examining Grievance Mobilization Models in Seven Successful Cases. Comparative Political Studies 41(1): 3–23.

Kiousis, S., M. Mitrook, X. Wu, and T. Seltzer. 2006. First- and Second-Level Agenda-Building and Agenda-Setting Effects: Exploring the Linkages Among Candidate News Releases, Media Coverage, and Public Opinion During the 2002 Florida Gubernatorial Election. Journal of Public Relations Research 18(3): 265–285.

Koopmans, R. 1993. The Dynamics of Protest Waves: West Germany, 1965 to 1989. American Sociological Review 58(5): 637–658.

Koopmans, R. 2004. Movements and Media: Selection Processes and Evolutionary Dynamics in the Public Sphere). Theory and Society 33(3–4): 367–391.

Koopmans, R., and P. Statham. 1999. Political Claims Analysis: Integrating Protest Event and Political Discourse Approaches. Mobilization 4(2): 203–221.

Koopmans, R., P. Statham, M. Giugni, and F. Passy. 2005. Contested Citizenship. Minneapolis: University of Minnesota Press.

Kriesi, H., L. Bernhard, and R. Hänggli. 2009. The Politics of Campaigning: Dimensions of Strategic Action. In Politik in Der Mediendemokratie, ed. P. Marcinkowski, and B. Pfetsch, 345–365. Berlin: Springer.

Mammone, A. 2015. Transnational Neofascism in France and Italy. Cambridge: Cambridge University Press.

Mazzoleni, G. 2008. Populism and the Media. In Twenty-First Century Populism, ed. D. Albertazzi, and D. McDonnell, 49–64. Basingstoke: Palgrave.

McCarthy, J., L. Titarenko, C. McPhail, P. Rafail, and A. Boguslaw. 2008. Assessing Stability in the Patterns of Selection Bias in News Coverage. Mobilization 13(2): 127–146.

Mudde, C. 1999. The Single-issue Party Thesis: Extreme Right Parties and the Immigration Issue. West European Politics 22(3): 182–197.

Mudde, C. 2007. Populist Radical Right Parties in Europe. Cambridge: Cambridge University Press.

Mudde, C. 2016. The Populist Radical Right: A Reader. London: Routledge.

Myers, D., and B. Schaefer Caniglia. 2004. All the Rioting That's Fit to Print. American Sociological Review 69(4): 519–543.

Oliver, P., and G. Maney. 2000. 'Political Processes and Local Newspaper Coverage of Protest Events. American Journal of Sociology 106(2): 463–505.

Oliver, P., and D. Meyer. 1999. How Events Enter the Public Sphere. American Journal of Sociology 105(1): 38–87.

Patterson, T. 2011. Out of Order: An Incisive and Boldly Original Critique of the News Media's Domination of America. New York: Knopf Publishing.

Reber, B., and J. Kyo Kim. 2006. How Activist Groups Use Websites in Media Relations. Journal of Public Relations Research 18(4): 313–333.

Reese, S.D. (2001). Understanding the global journalist: A hierarchy-of-influences approach. Journalism studies 2(2): 173–187.

Rochon, T. 1988. Between Society and State: Mobilizing for Peace in Western Europe. Princeton: Princeton University Press.

Rohlinger, D. 2006. Friends and Foes: Media, Politics and Tactics in the Abortion War. Social Problems 53(4): 537–561.

Ryan, C. 1991. Prime Time Activism: Media Strategies for Grassroots Organizing. Boston: South End Press.

Semetko, H., and P. Valkenburg. 2000. Framing European Politics: A Content Analysis of Press and Television News. Journal of Communication 50(2): 93–109.

Sheets, P., L. Bos, and H. Boomgaarden. 2015. Media Cues and Citizen Support for Right-Wing Populist Parties. International Journal of Public Opinion Research 28(3): 307–330.

Smith, J. 2010. Does Crime Pay? Issue Ownership, Political Opportunity, and the Populist Right in Western Europe. Comparative Political Studies 43(11): 1471–1498.

Soroka, S. 2002. Issue Attributes and Agenda-Setting by Media, the Public, and Policymakers in Canada. International Journal of Public Opinion Research 14(3): 264–285.

Tarrow, S. 1998. Power in Movement: Social Movements and Contentious Politics. Cambridge: Cambridge University Press.

Tresh, A. 2009. Politicians in the Media: Determinants of Legislators' Presence and Prominence in Swiss Newspapers. The International Journal of Press/Politics 14(1): 67–90.

Tuchman, G. 1978. Making News: A Study in the Construction of Reality. New York: The Free Press.

Van Spanje, J. 2010. Contagious Parties: Anti-Immigration Parties and Their Impact on Other Parties' Immigration Stances in Contemporary Western Europe. Party Politics 41(1): 3–23.

Vliegenthart, R., and S. Walgrave. 2012. The Interdependency of the Mass Media and Social Movements. In The SAGE Handbook of Political Communication, ed. H. Semetko, and M. Scammel. London: Sage.

Walgrave, S., and K. De Swert. 2004. The Making of the (Issues of the) Vlaams Blok'. Political Communication 21(4): 479–500.

Williams, M. 2006. The Impact of Radical Right-Wing Parties in West European Democracies. Basingstoke: Palgrave.

Wouters, R. 2013. From the Street to the Screen: Characteristics of Protest Events as Determinants of Television News Coverage. Mobilization 18(1): 83–105.
Acknowledgements
The authors would like to thank Swen Hutter and Jan Rovny for their insightful comments on an earlier version of this paper. We are grateful to friends and former colleagues at the Center for Social Movement Studies, Scuola Normale Superiore, and the Oxford Internet Institute, University of Oxford, for stimulating discussions and feedback on our ideas.
Funding
The research was part-funded by VOX-Pol. The VOX-Pol Network of Excellence is funded by the European Union under the 7th Framework Programme for research, technological development and demonstration under Grant Agreememnt No. 312827.
About this article
Cite this article
Castelli Gattinara, P., Froio, C. Getting 'right' into the news: grassroots far-right mobilization and media coverage in Italy and France. Comp Eur Polit 17, 738–758 (2019). https://doi.org/10.1057/s41295-018-0123-4
Keywords
Far right

Mass media

Issue ownership

Press releases

Italy

France