Abstract
An increasing sociocultural heterogeneity of populations and vocal demands for the recognition of diversity have become common features of, in particular, cities in Western Europe. Do cities reshape policies in response to such developments? And to what extent do they implement policies that accommodate difference? We use data from an original survey of urban policy actors in the twenty largest cities of France and Germany to identify city-level diversity policy instruments. In both countries, such instruments are widespread, contradicting assumptions of dominant assimilationist paradigms. And yet, the degree of adoption across cities varies. Drawing on institutionalist theory, we investigate what might explain differing adoption rates. The main finding is that key determinants at the urban level differ between the two countries. In France, the political constellation is crucial; higher numbers of diversity policies are associated with centre-left dominance. In contrast, in German cities, political consensus around diversity policies seems to prevail and higher adoption rates are associated with higher population diversity. Our findings provide a first wide-ranging account of the adoption of diversity policy instruments in European cities. They demonstrate that such policies exist at a relevant scale. They further help explain why the adoption of diversity policy instruments is uneven.
Access options
Buy single article
Instant access to the full article PDF.
USD 39.95
Price includes VAT (USA)
Tax calculation will be finalised during checkout.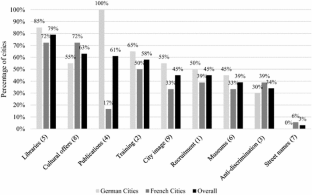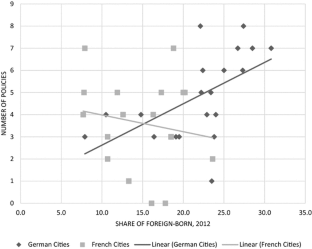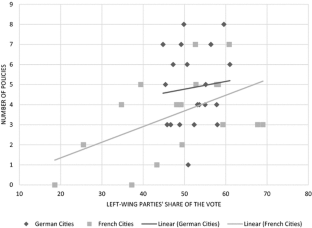 Notes
1.

For a study of cities using a similar framework, see Clingermayer and Feiock (1990) on the determinants of urban economic development policies.

2.

The concept of opportunity structures captures external context emphasizing enabling conditions rather than pressures (see, e.g. Meyer and Minkoff 2004). Obviously both pressures and opportunities, sometimes in the sense of absent adverse pressures, are important.

3.

4.

For more details, see the technical report for the survey (Moutselos et al. 2017). We excluded Berlin, Bremen and Hamburg because they are regional states and thus equipped with other powers and political structures than local authorities. We excluded Paris on similar grounds—it is the sole municipality in France that is simultaneously a Département. Anonymized data will be made publicly available at the GESIS Data Archive for the Social Sciences (http://www.gesis.org/en/services/data-analysis/data-archive-service/).

5.

We follow a terminology suggested by Scharpf (1997, ch. 3). The term covers corporate (korporative) actors that have some degree of formal organisation and collective actors, that is, looser umbrella structures or social movements.

6.

Some organisations may have local offices but mainly formulate claims at the national level. We excluded those.

7.

Studies of 'multiculturalism policies' are partly related, but have a more limited scope. Banting, Kymlicka and co-authors, for instance, focus on 'policies of public recognition, support, and accommodation' but only relating to ethno-cultural groups (Banting et al. 2006: 52) or more specifically immigrant minorities, historic national minorities and indigenous peoples. Their index includes 'policies that seek to recognize and accommodate ethnic diversity as a fact of society' (56).

8.

We offered respondents the opportunity to add further policies. Not many used it. They mentioned, for instance, naturalization ceremonies (that may be part of a more assimilationist policy) or the existence of immigrant representation bodies.

9.

10.

11.

12.

13.

Electoral data were drawn from: www.data.gouv.fr (France) and the official publications of the German Länder. Mayor partisanship was determined by whether a mayoral list/candidate had been endorsed by a political party of a certain partisan orientation or mayors' personal affiliation. For determining the electoral percentage of left-wing and centre-left parties, we looked at the combined electoral performance of SPD, Die Grünen, and Die Linke (Germany) and of the Parti Socialiste, Parti Communiste, Front de Gauche and Les Verts/Europe Écologie Les Verts (France) in the previous two municipal elections (second-round results for France). For the percentages of the French extreme-right, we averaged the Front National percentages of the last two municipal elections using the highest scores of either round.

14.

15.

We ran the models substituting median per capita income at the city level for unemployment rate, and the results were unaffected.

16.

Similarly, when we included an interaction term (percentage of foreign-born x left-wing power) in the OLS regression for France, the estimated coefficient for the interaction term was small and did not reach statistical significance.
References
Alexander, M. 2007. Cities and Labour Immigration. Comparing Policy Responses in Amsterdam, Paris, Rome and Tel Aviv. Aldershot: Ashgate.

Association des Bibliothécaires de France (2015) Charte du droit fundamental des citoyens à accéder à l'information et aux savoirs par les bibliothèques. Paris.

Association des maires de grandes villes de France (2011) Etude politique de la ville: la diversité dans les grandes villes, un enjeu majeur pour les élus. Online publication 16 November. doi: http://franceurbaine.org/espace-presse/communiques-de-presse/etude-politique-de-la-ville-la-diversite-dans-les-grandes-villes.

Ayoub, P.M. 2016. When States 'Come Out': Europe's Sexual Minorities and the Politics of Visibility. New York: Cambridge University Press.

Baglioni, S., and M. Giugni (eds.). 2014. Civil Society Organizations, Unemployment, and Precarity in Europe. Basingstoke: Palgrave Macmillan.

Banting, K., W. Kymlicka, R. Johnston, and S. Soroka. 2006. Do Multiculturalism Policies Erode the Welfare State? An Empirical Analysis. In Multiculturalism and the Welfare State: Recognition and Redistribution in Advanced Democracies, ed. K. Banting, and W. Kymlicka, 49–91. Oxford: Oxford University Press.

Barbehön, M., and S. Münch. 2016. The 'Distinctiveness of Cities' and Distinctions in Cities: Boundaries of Belonging in Comparative Perspective. Urban Research & Practice 9(1): 37–55.

Barnartt, S., and R. Scotch. 2001. Disability Protests: Contentious Politics, 1970–1999. Washington: Gallaudet University Press.

Bender, A.-F., A. Klarsfeld, and J. Laufer. 2014. Equality and Diversity in Years of Crisis in France. In International Handbook on Diversity Management at Work, Country Perspectives on Diversity and Equal Treatment, 2nd ed, ed. A. Klarsfeld, L. Booysen, E. Ng, I. Roper, and A. Tatli, 68–86. Cheltenham: Edward Elgar.

Bereni, L. and R. Epstein. 2015. Instrumenter la lutte contre les discriminations : le "label diversité" dans les collectivités territoriales. Rapport final. Paris: Alliance de recherche sur les discriminations (ARDIS), Région Île de France.

Berg, L.D., and J. Vuolteenaho. 2009. Towards Critical Toponomies. In Critical Toponymies. The Contested Politics of Place Naming, ed. L.D. Berg, and J. Vuolteenaho, 1–18. London: Routledge.

Bertossi, C. 2012. The Performativity of Colour Blindness: Race Politics and Immigrant Integration in France, 1980–2012. Patterns of Prejudice 46(5): 427–444.

Biemer, P. 2004. Modeling Measurement Error to Identify Flawed Questions. In Methods for Testing and Evaluating Survey Questionnaires, ed. S. Presser, et al., 225–246. New Jersey: Wiley.

Bogumil, J., and L. Holtkamp. 2013. Kommunalpolitik und Kommunalverwaltung eine praxisorientierte Einführung. Bonn: BpB.

Borraz, O., and P. Le Galès. 2010. Urban Governance in Europe: The Government of What? Pôle Sud 32: 137–151.

Bundesregierung, Die (2007) Der nationale Integrationsplan. Neue Wege – neue Chancen. Berlin.

Carvalho, J. 2016. The Impact of Extreme-Right Parties on Immigration Policy in Italy and France in the Early 2000s. Comparative European Politics 14(5): 663–685.

CGET. 2014. Nouveau cadre de référence de la lutte contre les discriminations au sein de la politique de la ville: les enjeux de la nouvelle contractualisation. Commissariat général à l'égalité des territoires.

Clingermayer, J.C., and R.C. Feiock. 1990. The Adoption of Economic Development Policies by Large Cities: A Test of Economic, Interest Group, and Institutional Explanations. Policy Studies 18(3): 539–552.

Deephouse, D.L., and M. Suchman. 2008. Legitimacy in Organizational Institutionalism. In The SAGE Handbook of Organizational Institutionalism, ed. R. Greenwood, C. Oliver, K. Sahlin-Andersson, and R. Suddaby, 49–77. London: Sage.

Dekker, R., H. Emilsson, B. Krieger, and P. Scholten. 2015. A Local Dimension of Integration Policies? A Comparative Study of Berlin, Malmö, and Rotterdam. International Migration Review 49(3): 633–658.

DESI. 2012. Stand der kommunalen Integrationspolitik in Deutschland. Studie erstellt für das Bundesministerium für Verkehr, Bau und Stadtentwicklung und die Beauftragte der Bundesregierung für Migration, Flüchtlinge und Integration. Berlin.

Deuser, P. 2012. Migration im Museum. Zum aktuellen Stand der Auseinandersetzung mit den Themen Migration und kultureller Vielfalt in deutschen Museen. Berlin: Deutscher Museumsbund e.V.

Deutscher Museumsbund e.V. 2015. Museen, Migration und kulturelle Vielfalt. Handreichungen für die Museumsarbeit, Berlin.

Dobbin, F., S. Kim, and A. Kalev. 2011. You Can't Always Get What You Need. Organizational Determinants of Diversity Programs. American Sociological Review 76(3): 386–411.

Escafré-Dublet, A., and R. Kastoryano. 2012. ACCEPT PLURALISM Research Project. Tolerance, Pluralism and Social Cohesion: Responding to the Challenges of the 21st Century of Europe. Florence: European University Institute.

Fassin, D. 2002. L'invention française de la discrimination. Revue française de science politique 52(4): 403–423.

Favell, A. 1998. Philosophies of Integration: Immigration and the Idea of Citizenship in France and Britain. London: St. Martin's Press.

Gammerl, B. 2010. Eine Regenbogengeschichte. Aus Politik und Zeitgeschichte 60(15–16): 7–13.

Gesemann, F., and R. Roth (eds.). 2009. Lokale Integrationspolitik in der Einwanderungsgesellschaft: Migration und Integration als Herausforderung von Kommunen. Wiesbaden: Springer.

Giraut, F. 2014. Contre la sous-représentation des femmes dans les noms de rues: géopolitique d'une mobilisation contemporaine multiforme. Neotoponymie, online publication. https://archive-ouverte.unige.ch/unige:35100.

Givens, T., and A. Luedtke. 2005. European Immigration Policies in Comparative Perspective: Issue Salience, Partisanship and Immigrant Rights. Comparative European Politics 3: 1–22.

Glick-Schiller, N., and A. Çağlar. 2009. Towards a Comparative Theory of Locality in Migration Studies: Migrant Incorporation and City Scale. Journal of Ethnic and Migration Studies 35(2): 177–202.

Good, K. 2005. Patterns of Politics in Canada's Immigrant-Receiving Cities and Suburbs. Policy Studies 26(3–4): 261–289.

de Graauw, E., and F. Vermeulen. 2016. Cities and the Politics of Immigrant Integration: A Comparison of Berlin, Amsterdam, New York City, and San Francisco. Journal of Ethnic and Migration Studies 42(6): 989–1012.

Grim, B. J. and Finke, R. 2006. International Religion Indexes: Government Regulation, Government Favoritism, and Social Regulation of Religion. Interdisciplinary Journal of Research on Religion, 2, article 1.

Green, G. 2013. Age-Friendly Cities of Europe. Journal of Urban Health 90(1): 116–128.

Griffin, J.D. 2014. When and Why Minority Legislators Matter. Annual Review of Political Science 17: 327–336.

Hadj-Abdou, L. 2014. Immigrant Integration and the Economic Competitiveness Agenda: A Comparison of Dublin and Vienna. Journal of Ethnic and Migration Studies 40(12): 1875–1894.

Harth, A. 2012. Stadtplanung. In Handbuch Stadtsoziologie, ed. F. Eckhardt, 337–364. Wiesbaden: Springer.

Hohage, C. 2013. Moschee-Konflikte. Wie überzeugungsbasierte Koalitionen lokale Integrationspolitik bestimmen. Wiesbaden: Springer.

Howlett, M. 1991. Policy Instruments, Policy Styles, and Policy Implementation: National Approaches to Theories of Instrument Choice. Policy Studies Journal 19(2): 1–21.

Imrie, R. 1996. Disability and the City: International Perspectives. London: Paul Chapman Publishing.

Institut für Kulturpolitik. 2005. Kulturorte als Lernorte interkultureller Kompetenz. Stand, Aufgaben und Perspektiven interkultureller Arbeit in der kulturellen Bildung. Bonn.

Jorgensen, M.B. 2012. The Diverging Logics of Integration Policy Making at National and City Level. International Migration Review 46(1): 244–278.

Kantor, P., and H.V. Savitch. 2002. Cities in the international marketplace. The political economy of urban development in North America and Western Europe. Princeton and Oxford: Princeton University Press.

Kantor, P., and H.V. Savitch. 2005. How to Study Comparative Urban Development Politics: A Research Note. International Journal of Urban and Regional Research 29(1): 135–151.

Keslassy, E. 2009. Ouvrir la politique à la diversité. Paris: Institue Montaigne.

King, D. 2007. The American State and Social Engineering: Policy Instruments in Affirmative Action. Governance: An International Journal of Policy, Administration, and Institutions 20(1): 109–126.

Landeshauptstadt Hannover. 2013. Bedeutende Frauen in Hannover – Eine Hilfe für künftige Benennungen nach weiblichen Persönlichkeiten. Referat für Frauen und Gleichstellung, Fachbereich Planen und Stadtentwicklung, Hannover.

Lascoumes, P., and P. Le Galès. 2007. Introduction: Understanding Public Policy Through Its Instruments—From the Nature of Instruments to the Sociology of Public Policy Instrumentation. Governance: An International Journal of Policy, Administration, and Institutions 20(1): 1–21.

Le Galès, P. and Vitale, T. 2013. Governing the Large Metropolis. A Research Agenda. Working Papers of the Programme Cities are Back in Town, 8.

Legros, O., and T. Vitale. 2011. Les migrants roms dans les villes françaises et italiennes: mobilités, régulations et marginalités. Géocarrefour 86(1): 3–14.

Meyer, J.W. 2008. Reflections on Institutional Theories of Organizations. In The SAGE Handbook of Organizational Institutionalism, ed. R. Greenwood, C. Oliver, K. Sahlin-Andersson, and R. Suddaby, 790–811. London: Sage.

Meyer, D.S., and D.C. Minkoff. 2004. Conceptualizing Political Opportunity. Social Forces 82(4): 1457–1492.

Meziani-Remichi, Y., and M. Maussen. 2017. Recruitment in Public Administrations. Diversity Policies and Selection Practices in a French City. Journal of Ethnic and Migration Studies 43(9–10): 1679–1695.

Mossberger, C., S.E. Clarke, and P. John. 2015. Studying Politics in an Urban World: Research Traditions and New Directions. The Oxford Handbook of Urban Politics, 3–8. Oxford: Oxford University Press.

Moutselos, M., C. Jacobs, J. Martínez-Ariño, M. Schiller, K. Schönwälder, A. Tandé. 2017. Cities and the Challenge of Diversity (CityDiv): The Survey, Technical Report. MMG Working Paper 17-09. Göttingen: MPI-MMG.

Poppelaars, C., and P. Scholten. 2008. Two Worlds Apart: The Divergence of National and Local Immigrant Integration Policies in the Netherlands. Administration and Society 40(4): 335–357.

Richter, R. 2014. Differenzierung inszenieren: Der Fall Stadtmarketing. In Städte unterscheiden lernen, ed. S. Frank, et al., 247–282. Campus: Frankfurt/Main.

Sabatier, P.A. 1988. An Advocacy Coalition Framework of Policy Change and the Role of Policy-Oriented Learning Therein. Policy Sciences 21(2–3): 129–168.

Sabbagh, D. 2011. The Rise of Indirect Affirmative Action: Converging Strategies for Promoting "Diversity" in Selective Institutions of Higher Education in the United States and France. World Politics 63(3): 470–508.

Sack, D. 2012. Urbane Governance. In Handbuch Stadtsoziologie, ed. F. Eckhardt, 311–335. Wiesbaden: Springer.

Scharpf, F.W. 1997. Games Real Actors Play. Actor-Centered Institutionalism in Policy Research. Boulder, Colorado: Westview Press.

Schain, M.A. 2006. The Extreme-Right and Immigration Policy-Making: Measuring Direct and Indirect Effects. West European Politics 29(2): 270–289.

Schiller, M. 2015. Paradigmatic Pragmatism and the Politics of Diversity. Ethnic and Racial Studies 38(7): 1120–1136.

Schönwälder, K., C. Sinanoglu, and D. Volkert. 2011. Vielfalt sucht Rat: Ratsmitglieder mit Migrationshintergrund in deutschen Großstädten; eine Studie des Max-Planck-Instituts zur Erforschung multireligiöser und multiethnischer Gesellschaften. Berlin: Heinrich Böll Stiftung.

Schröer, H. and Szoldatits, F. 2010. Interkulturelle Öffnung des Personalmanagements: Beispiel Landeshauptstadt München. Online, https://heimatkunde.boell.de/2010/07/01/interkulturelle-oeffnung-des-personalmanagements-beispiel-landeshauptstadt-muenchen.

Sénac, R. 2012. L'invention de la diversité. Paris: PUF.

Simon, P. 2013. Contested Citizenship in France: The Republican Politics of Identity and Integration. In Developments in French Politics, vol. 5, ed. A. Cola, S. Meunier, and V. Tiberj, 203–217. Basingstoke and New York: Palgrave Macmillan.

Sprague-Jones, J. 2011. Extreme Right-Wing Vote and Support for Multiculturalism in Europe. Ethnic and Racial Studies 34(4): 235–555.

Steels, S. 2015. Key Characteristics of Age-Friendly Cities and Communities: A Review. Cities 47: 45–52.

Stone, D.A. 1989. Causal Stories and the Formation of Policy Agendas. Political Science Quarterly 104(2): 281–300.

Streiff-Fénart, J. 2012. A French Dilemma: Anti-discrimination Policies and Minority Claims in Contemporary France. Comparative European Politics 10(3): 283–300.

Triadafilopoulos, T., and K. Schönwälder. 2016. The New Differentialism: Responses to Immigrant Diversity in Germany. German Politics 25(3): 366–380.

Wollmann, H., E. Balboni, J.-P. Gaudinm, and G. Marcou. 2010. The Multi-level Institutional Setting in Germany, Italy, France and the UK: A Comparative Overview. In The Provision of Public Services in Europe Between State, Local Government and Market, ed. H. Wollmann, and G. Marcou, 15–48. Cheltenham: Edward Elgar.

Wright, S. 2000. Jacobins, Regionalists and the Council of Europe's Charter for Regional and Minority Languages. Journal of Multilingual and Multicultural Development 21(5): 414–424.
About this article
Cite this article
Martínez-Ariño, J., Moutselos, M., Schönwälder, K. et al. Why do some cities adopt more diversity policies than others? A study in France and Germany. Comp Eur Polit 17, 651–672 (2019). https://doi.org/10.1057/s41295-018-0119-0
Keywords
Diversity

Policy instruments

Cities

Germany

France