Abstract
Many theories assign important political roles to small business owners as part of the middle and upper middle class. Despite this, we have surprisingly little empirical work on the political behavior of small business owners. Using the European Social Survey covering 28 countries over six waves from 2002 to 2012, we find that small business owners are indeed more politically active despite their diversity across sectors and countries. This counters a great deal of existing work which emphasizes the wide divergence in small business owners' political behavior within and across countries. Rather, we find that owning a small business does have a distinct effect on political behavior in many different contexts.
Access options
Buy single article
Instant access to the full article PDF.
USD 39.95
Price excludes VAT (USA)
Tax calculation will be finalised during checkout.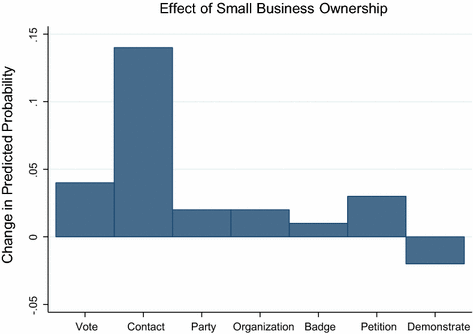 Notes
We thank an anonymous reviewer for the example of the Poujade movement.

We use the term "small firm" as it is conventionally used to mean firms with less than 500 employees. Some sources will refer to these as "small- and medium-sized enterprises," or SMEs. For consistency and clarity, we use the term "small firms" throughout the paper.

Others have challenged this view and argued that it is mostly large firms that account for most newly created jobs, and these jobs tend to have higher survival rates (Davis et al. 1996).

William Dunkelberg, "Entrepreneurs Can Solve the Unemployment Problem? If Government Gets Out of the Way," Forbes, January 1, 2013 The presence of many small firms is also considered to be important for competitive economies (Ayyagari et al. 2007; Benacek 1995; Wilson Sokhey and Kadir Yildirim 2013).

We thank an anonymous reviewer for pointing out the diversity of business associations and for the example of Handwerk in Germany.

Indeed, even membership in business associations presents notable challenges for small businesses as a basic form of collective action. For example, the difficulty in attracting members by the Federation of Small Businesses in the UK is a case in point (Jordan and Halpin 2004).

For one variable—union density—there are no data for Israel and Ukraine and the only data for Slovenia are from 2008. These countries are omitted from the analysis below.

We apply the correct population survey weights in the analysis although the results do not differ in the models that are estimated without these weights. The ESS also makes available country-level weights to account for the fact that roughly the same number of people is surveyed in each country even though country size differs. Country-level weights are not appropriate here in part because we directly model country-level influences.

We use the xtmixed command in Stata 13 for Models 1 and 2.

The predicted probabilities based on the model were conducted in Stata 13; all other values are held to their mean value.

As a robustness check, we also estimate Model 2 as a multilevel negative binomial model which accounts for the over-dispersion of responses in the low range of the index. Most people did none or only a few of the activities listed; 60% answered that they have engaged in none of the nine activities in the last 6 months. The results hold in the negative binomial model and are available in "Data appendix".

We use the xtlogit command in Stata 13.

The estimates for the predicted probabilities assume that the random effect—i.e., the country-level effect—is zero.

See "Data appendix" at the end of the paper for the full results.

Jack Ewing, "Europe's Small Businesses Continue to Struggle," New York Times, April 26, 2013.
References
Aldrich, Howard, Catherine Zimmer, and Trevor Jones. 1986. Small Business Still Speaks with the Same Voice: A Replication of the Voice of Small Business and the Politics of Survival. Sociological Review 34(2): 335–356.

Ansell, Ben W., and David J. Samuels. 2014. Inequality and Democratization: An Elite-Competition Approach. Cambridge: Cambridge University Press.

Ayyagari, Meghan, Thorsten Beck, and Asli Demirguc-Kunt. 2007. Small and Medium Enterprises Across the Globe. Small Business Economics 29(4): 415–434.

Barber Ben, and Erik Wibbels. Veto Players, Firm Characteristics and Rent-Seeking: Evidence from 120,000 Firms. Working Paper

Barnes, Andrew, and Juliet Johnson. 2015. Financial Nationalism and Its International Enablers: The Hungarian Experience. Review of International Political Economy 22(3): 535–569.

Benacek, Vladimir. 1995. Small Businesses and Private Entrepreneurship During Transition: The Case of the Czech Republic. Eastern European Economics 33(2): 38–75.

Betz, Hans-Georg. 1994. Right-Wing Populism in Western Europe. New York: Palgrave-Macmillan.

Bombardini, Matilde. 2008. Firm Heterogeneity and Lobby Participation. Journal of International Economics 75(2): 329–348.

Brock, William A., and David S. Evans. 1989. Small Business Economics. Small Business Economics 1(1): 7–20.

Burris, V. 2001. Small Business, Status Politics, and the Social Base of New Christian Right Activism. Critical Sociology 27(1): 29–55.

Culpepper, Pepper. 2011. Quiet Politics and Business Power: Corporate Control in Europe and Japan. Cambridge: Cambridge University Press.

Davis, Steven J., John Haltiwanger, and Scott Schuh. 1996. Small Business and Job Creation: Dissecting the Myth and Reassessing Facts. Small Business Economics 8: 297–315.

Duvanova, Dinissa. 2007. Bureaucratic Corruption and Collective Action: Business Associations in the Post-communist Transitions. Comparative Political Studies 39(4): 441–461.

Duvanova, Dinissa, and Sarah Wilson Sokhey. 2016. State Aid to Firms During Financial Crisis: Evidence from Emerging European Countries. Business and Politics 18(3): 225–262.

Easterly, William. 2001. The Middle Class Consensus and Economic Development. Journal of Economic Growth 6: 317–335.

Faccio, Mara, Ronald W. Masulis, and John J. McConnell. 2006. Political Connections and Corporate Bailouts. Journal of Finance 61(6): 2597–2635.

Frye, Timothy, Ora John Reuter, and David Szakonyi. 2014. Political Machines at Work: Voter Mobilization and Electoral Subversion in the Workplace. World Politics 66(2): 195–228.

Gelman, Andrew, and Jennifer Hill. 2007. Data Analysis Using Regression and Multilevel Hierarchical Models. Cambridge: Cambridge University Press.

Getz, Kathleen. 1997. Research in Corporate Political Action: Integration and Assessment. Business & Society 36(1): 32–72.

Gordan, Sanford C., and Catherine Hafer. 2005. Flexing Muscle: Corporate Political Expenditures as a Signal to the Bureaucracy. American Political Science Review 99(2): 245–261.

Grasso, Maria T., and Marco Guigni. 2016. Protest Participation and Economic Crisis: The Conditioning Role of Political Opportunities. European Journal of Political Research 55(4): 663–680.

Greenwood, Scott. 2008. Bad for Business? Entrepreneurs and Democracy in the Arab World. Comparative Political Studies 41(6): 837–860.

Grosmann, Gene M., and Elhanan Helpman. 1994. Protection for Sale. American Economic Review 84(4): 833–850.

Hayes, Andrew. 2006. A Primer on Multilevel Modeling. Human Communication Research 32(4): 385–410.

Hirschman, Albert. 1970. Exit, Voice, and Loyalty: Response to Decline in Firms, Organizations, and States. Cambridge: Harvard University Press.

Ivarsflaten, Elisabeth. 2005. The Vulnerable Populist Right Parties: No Economic Realignment Fuelling Their Economic Success. European Journal of Political Research 44(3): 465–492.

Iversen, Torben. 2005. Capitalism, Democracy, and Welfare. Cambridge: Cambridge University Press.

Jackman, Robert W., and Ross A. Miller. 1995. Voter Turnout in the Industrial Democracies During the 1980s. Comparative Political Studies 27(4): 467–492.

Jordan, Grant, and Darren Halpin. 2004. Olson Triumphant? Recruitment Strategies and the Growth of a Small Business Organisation? Political Studies 52(3): 431–449.

Kitschelt, Herbert. 1995. The Radical Right in Western Europe: A Comparative Analysis. Ann Arbor, MI: University of Michigan Press.

Luke, Douglas A. 2004. Multilevel Modeling. Thousand Oaks: Sage Publications.

Mills, C. Wright. 2002 [1951]. White Collar: The American Middle Classes. Oxford: Oxford University Press.

Moore, Barrington. 1966. Social Origins of Dictatorship and Democracy: Lord and Peasant in the Making of the Modern World. Boston, MA: Beacon Press.

Mudde, Cas. 2007. Populist Radical Right Parties in Europe. Cambridge: Cambridge University Press.

Nelson, Moira. 2013. Revisiting the Role of Business in Welfare State Politics: Neocorporatist Versus Firm-Level Organization and Their Divergent Influence on Employer Support for Social Policies. Comparative European Politics 11(1): 22–48.

Neustadtl, Alan, and Dan Clawson. 1988. Corporate Political Groupings: Does Ideology Unify Business Political Behavior. American Sociological Review 53(2): 172–190.

Olson, Mancur. 1965. The Logic of Collective Action. Cambridge, MA: Harvard University Press.

Przeworski, Adam. 2008. Introduction. In Works of Michael Wallerstein, ed. The Collected. Cambridge: Cambridge University Press.

Pyle, William. 2011. Organized Business, Political Competition, and Property Rights: Evidence from the Russian Federation. Journal of Law Economics and Organization 27(1): 2–31.

Quinn, Dennis, and Robert Shapiro. 1991. Business Political Power: The Case of Taxation. American Political Science Review 85(3): 851–874.

Raudenbush, Stephen W., and Anthony S. Bryk. 2002. Hierarchical Linear Models: Applications and Data Analysis Methods. Thousand Oaks: SAGE.

Roberts, Andrew. 2010. The Quality of Democracy in Eastern Europe: Public Preferences and Policy Reforms. Cambridge: Cambridge University Press.

Rueschemeyer, Dietrich, Evelyne Huber Stephens, and John D. Stephens. 1992. Capitalist Development and Democracy. University of Chicago Press.

Sani, Giulia M.Dotti, and Beatrice Magistro. 2016. Increasingly Unequal? The Economic Crisis, Social Inequalities, and Trust in the European Parliament in 20 European Countries. European Journal of Political Research 55(2): 246–264.

Shadlen, Kenneth. 2000. Neoliberalism, Corporatism, and Small Business Activism in Contemporary Mexico. Latin American Research Review 35(2): 73–106.

Shadlen, Kenneth. 2002. Orphaned by Democracy: Small Industry in Contemporary Mexico. Comparative Politics 35(1): 43–62.

Shields, James G. 2000. The Poujadist Movement: A faux 'facism'. Modern Contemporary France 8(1): 19–34.

Solt, Frederick. 2008. Economic Inequality and Democratic Political Engagement. American Journal of Political Science 52(1): 48–60.

Steenbergen, Marco R., and Bradford S. Jones. 2002. Modeling Multilevel Data Structures. Amer- ican Journal of Political Science 46(1): 218–237.

Szakonyi, David, and Johannes Urpelainen. 2014. Veto Players and the Value of Political Control: A Theory with Evidence from Energy Privatization. Comparative Political Studies 47(10): 1384–1415.

Storey, David J. 1994. Understanding the Small Business Sector. London and New York: Routledge.

Tsai, Kellee S. 2005. Capitalists Without a Class: Political Diversity Among Private Entrepreneurs in China. Comparative Political Studies 38(9): 1130–1158.

Tsai, Kellee S. 2007. Capitalism without Democracy: The Private Sector in Contemporary China. Ithaca: Cornell University Press.

Useem, Michael. 1986. The Inner Circle: Large Corporations and the Rise of Business Political Activity in the U.S. and U.K. Oxford: Oxford University Press.

Weymouth, Stephen. 2013. Firm Lobbying and Influence in Developing Countries: A Multilevel Approach. Business and Politics 14(4): 1–26.

Wilson Sokhey, Sarah, and A. Kadir Yildirim. 2013. Economic Liberalization and Political Moderation: The Case of Anti-System Parties. Party Politics 19(2): 230–255.

Young, McGee. 2008. The Political Roots of Small Business Identity. Polity 40: 436–463.
Data appendix
Data appendix
See Tables 5, 6, 7, 8, 9, 10, 11, 12 and 13.
About this article
Cite this article
Schaffer, J., Sokhey, S.W. & Kadir Yildirim, A. Classy behavior: the big political role of small business owners. Comp Eur Polit 17, 22–48 (2019). https://doi.org/10.1057/s41295-017-0110-1
Published:

Issue Date:

DOI: https://doi.org/10.1057/s41295-017-0110-1
Keywords
Small business

Business owners

Middle class

Political participation

Right-wing politics

European Social Survey