Abstract
This article explores the different forms of disruptive subjectivity that have developed in the context of the post-2008 global and European crises. The article traces developments both before and after 2008, with a specific focus on events in Spain and the UK. These country contexts are chosen due to their considerable differences in terms of the impact that the crisis had; yet we witness notable similarities with regard to the instances of refusal and resistance observed, especially in terms of the motives held and forms adopted, albeit with differences in scale. The paper presents the results of qualitative research, including 65 in-depth interviews, to highlight the way in which disaffection, the search for voice, and the threat of withdrawal from relations of exploitation have each become problematic as means of dissent following 2008. As a result, we have seen a merging of these more conventional forms of dissent with a number of more radical prefigurative practices that had been developing prior to 2008. As a result, the stagnation of neoliberal capitalism from 2008 onwards has witnessed the development of a new form of pragmatically prefigurative disruptive subjectivity, responsible for some of the more important and interesting political developments in contemporary advanced industrial democracies.
This is a preview of subscription content, log in to check access.
Access options
Buy single article
Instant access to the full article PDF.
US$ 39.95
Price includes VAT for USA
Subscribe to journal
Immediate online access to all issues from 2019. Subscription will auto renew annually.
US$ 167
This is the net price. Taxes to be calculated in checkout.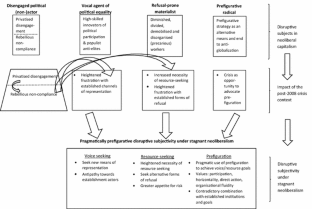 References
Armingeon, K. and Guthmann, K. (2014) Democracy in crisis? The declining support for national democracy in European countries, 2007–2011. European Journal of Political Research 53: 423–442.

Bailey, D.J. (2014) Contending the crisis: What role for extra-parliamentary British politics? British Politics 9(1): 68–92.

Bailey, D.J. (2015) Resistance is futile? The impact of disruptive protest in the 'silver age of permanent austerity. Socio-Economic Review 13(1): 5–32.

Bailey, D.J., Clua-Losada, M. and Huke, N. (forthcoming) Beyond Defeat and Austerity: Disrupting (the Critical Political Economy of) Neoliberal Europe. London: Routledge.

Bieling, H.-J., and Lux, J. (2014). Crisis-induced social conflicts in the European union-trade union perspectives: The emergence of 'Crisis Corporatism' or the failure of corporatist arrangements? Global Labour Journal 5(3): 153–175.

Clua Losada, M. (2010) Solidarity, global restructuring and deregulation: The Liverpool Dockers' Dispute 1995–98. PhD thesis, University of York. Available from: http://etheses.whiterose.ac.uk/1137/.

Clua-Losada, M. and Navarro, V. (eds.) (2012) El impacto de la crisis en las familias y en la infancia. Barcelona: Editorial Ariel.

Clua-Losada, M. and Ribera-Almandoz, O. (2016) Authoritarian neoliberalism and the disciplining of labour. In: C.B. Tansel (ed.) States of Discipline. Authoritarian Neoliberalism and the Crises of Capitalism. London: Rowman & Littlefield International (forthcoming).

Crouch, C. (2004) Post-democracy. Cambridge: Polity.

Crouch, C. (2011) The strange non-death of neoliberalism. Cambridge: Polity.

Della Porta, D. (2015) Social movements in times of austerity: Bringing capitalism back into protest analysis. Cambridge: Polity.

Dinerstein, A.C. (2014a) The politics of autonomy in Latin America: The art of organising hope. Basingstoke: Palgrave.

Dinerstein, A.C. (2014b) Too bad for the facts: Confronting value with hope (Notes on the Argentine uprising of 2001). South Atlantic Quarterly 113(2), 367–378.

Ezrow, L. and Hellwig, T. (2014) Responding to voters or responding to markets? Political parties and public opinion in an era of globalization. International Studies Quarterly 58: 816–827.

Federici, S. (2012) Revolution at Point Zero: Housework, Reproduction, and Feminist Struggle. Oakland: PM Press.

Flesher Fominaya, C. (2015) Redefining the crisis/redefining democracy: Mobilising for the right to housing in Spain's PAH Movement. South European Society and Politics 20(4): 465–485.

Flesher Fominaya, C. and Cox, L. (eds.) (2013) Understanding European Movements: New social movements, global justice struggles, anti-austerity protest. London: Routledge.

Ford, R. and Goodwin, M. (2014) Revolt on the right: Explaining support for the radical right in Britain. London: Routledge.

Graeber, D. (2009) Direct action: An ethnography. Oakland: AK Press.

Gumbrell-McCormick, R. and Hyman, R. (2013) Trade unions in Western Europe: Hard times, hard choices. Oxford: Oxford University Press.

Haas, T. and Huke, N. (2015) Spanien - 'Sie wollen mit allem Schluss machen'. In: H.J. Bieling and D. Buhr (eds.) Europäische Welten in der Krise. Arbeitsbeziehungen und Wohlfahrtsstaaten im Vergleich. Frankfurt am Main: Campus-Verl., pp. 165–190.

Hardt, M. and Negri, A. (2012) Declaration. Pittsburgh: Argo-Navis.

Horn, L. (2012) Anatomy of a 'Critical Friendship': Organized labour and the European State Formation. Globalizations 9(4): 577–592.

Huke, N. (2016) Krisenproteste in Spanien: Zwischen Selbstorganisation und Überfall auf die Institutionen. Münster: edition assemblage.

Huke, N. Clua-Losada, M. and Bailey, D.J. (2015) Disrupting the European Crisis: A critical political economy of contestation, subversion and escape. New Political Economy 20(5): 725–751.

Huke, N. and Tietje, O. (2014) Zwischen Kooperation und Konfrontation. Machtressourcen und Strategien der spanischen Gewerkschaften CCOO und UGT in der Eurokrise. Industrielle Beziehungen 21(4): 371–389.

Ince, A., Featherstone, D., Cumbers, A., MacKinnon, D. and Strauss, K. (2015) British jobs for British workers? Negotiating work, nation, and globalisation through the Lindsey Oil Refinery disputes. Antipode 47(1): 139–157.

Jackson, A.Y. and Mazzei, L.A. (2012) Thinking with theory in qualitative research: Viewing data across multiple perspectives. Oxon: Routledge.

Katsiaficas, G. (2006) The Subversion of Politics: European Autonomous Social Movements and the Decolonization of Everyday Life. Oakland, CA: AK Press.

Kawalerowicz, J. and Biggs, M. (2015) Anarchy in the UK: Economic deprivation, social disorganization, and political grievances in the London Riot of 2011. Social Forces 94(2): 673–698.

Kern, A. Marien, S. and Hooghe, M. (2015) Economic crisis and levels of political participation in Europe (2002–2010): The role of resources and grievances. West European Politics 38(3): 465–490.

Kiersey, N. (2014) Occupy Dame Street as slow-motion general strike? Justifying optimism in the wake of Ireland's failed multitudinal moment. Global Discourse 4(2–3): 141–158.

Kriesi, H. and Pappas, T.S. (eds.) (2015) European Populism in the Shadow of the Great Recession. Colchester: ECPR Press.

Lewis, P., Newburn, T. and Roberts, D. (2011) Reading the Riots: Investigating England's Summer of Disorder. London: Guardian/LSE.

Lonkila, M. (2017) Social network sites and political governance in Russia. In: V. Gel'man (ed.) Authoritarian Modernization in Russia: Ideas, Institutions and Policies. London: Routledge (forthcoming).

López, S. Martínez, X. and Toret, J. (2008) Las oficinas de derechos sociales: experiencias de organización y enunciación política en el tiempo de la precariedad. http://eipcp.net/transversal/0508/lopezetal/es/print.

Macías, C. (2013) Del empoderamiento a la autotutela de derechos: El caso de la PAH. El Viejo Topo 306(307): 45–48.

Marien, S. Hooghe, M. and Quintelier, E. (2010) Inequalities in non-institutionalised forms of political participation: A multi-level analysis of 25 countries. Political Studies 58(1): 187–213.

Mudde, C. (2004) The populist Zeitgeist. Government and Opposition 39(4): 542–563.

Papadopoulos, D. Stephenson, N. and Tsianos, V. (2008) Escape routes: Control and subversion in the 21st century. London: Pluto Press.

Pasquinelli, M. (2014) To anticipate and accelerate: Italian operaismo and reading Marx's notion of the organic composition of capitalism. Rethinking Marxism 26(2): 178–192.

Paulsen, R. (2014) Empty Labor: Idleness and workplace resistance. Cambridge: Cambridge University Press.

Paulsen, R. (2015) Non-work at work: Resistance or what? Organization 22(3): 351–367.

Przeworski, A. (2008) Conquered or Granted? A history of suffrage extensions. British Journal of Political Science 39: 291–321.

Roos, J.E. and Oikonomakis, L. (2013) We are Everywhere! The Autonomous Roots of the Real Democracy Movement' paper delivered at 7th annual ECPR general conference: 'Comparative Perspectives on the New Politics of Dissent' Democracy of the Squares: Visions and Practices of Democracy from Egypt to the US, Sciences Po Bordeaux, September 4–7, 2013. Available: https://www.academia.edu/4342422/The_Autonomous_Roots_of_the_Real_Democracy_Movement.

Roper, B.S. (2013) The history of democracy: A Marxist interpretation. London: Pluto.

Scholl, C. (2013) Two sides of a Barricade: Dis)order and Summit Protest in Europe. New York: SUNY Press.

Scott, J.C. (1990) Domination and the arts of resistance: Hidden transcripts. Yale: Yale University Press.

Shibata, S. (2015) Resisting Japan's neoliberal model of capitalism: Intensification and change in contemporary patterns of class struggle. British Journal of Industrial Relations. doi:10.1111/bjir.12149.

Tronti, M. (1964) Lenin in England. Classe Operaia 1, January 1964. Available: www.marxists.org/reference/subject/philosophy/works/it/tronti.htm.

Tyler, I. (2013) Revolting subjects: Social abjection and resistance in neoliberal Britain. London: Zed Books.

Werts, H. Scheepers, P. and Lubbers, M. (2013) Euro-scepticism and radical right-wing voting in Europe, 2002–2008: Social cleavages, socio-political attitudes and contextual characteristics determining voting for the radical right. European Union Politics 14(2): 183–205.

Wigger, A. (2016) Anarchism as emancipatory theory and praxis: Implications for critical Marxist research. Capital & Class 40(1): 129–145.
Acknowledgments
The research for this paper was supported by financial support awarded by the University of Birmingham School of Government and Society Research Fund and the project AJOVE12 funded by the Catalan government on 'Social Inequality and Political Participation during the crisis'. Earlier versions of the paper were presented at Understanding the Post-Crisis Landscape: Assessing Change in Economic Management, Welfare, Work and Democracy seminar, ESRC Seminar Series, University of Birmingham (December 2014); European Studies Research Group, University of Birmingham (January 2015); International Studies Association annual conference (New Orleans, 2015); and Political Economy Research Group, University of Birmingham (June 2016). We are grateful for comments received on earlier drafts, especially those of Stephen Bates, Michael Biggs, Nicholas Kiersey, Laura Horn, Louisa Parks, Magnus Ryner, Matthew Watson and Angela Wigger. We also acknowledge the assistance of Albert Jiménez in compiling the list of Spanish protest events, and the detailed and very helpful comments of the anonymous reviewers.
About this article
Cite this article
Bailey, D.J., Clua-Losada, M., Huke, N. et al. Challenging the age of austerity: Disruptive agency after the global economic crisis. Comp Eur Polit 16, 9–31 (2018). https://doi.org/10.1057/s41295-016-0072-8
Keywords
refusal

resistance

global economic crisis

austerity

UK

Spain