Abstract
This paper first reviews the developments in the size and composition of the European banking sectors' balance sheets since the Global Financial Crisis and then assesses the impact of foreign currency loan conversion programs on systemic risk. Aggregate data from 2009Q1 to 2019Q3 indicate three major developments. First, the deleveraging process in Europe has been sizeable, while credit growth may be hampered in several countries. Secondly, macroprudential measures and conversion programs have only partially achieved their goal of lowering financial dollarization in Central and Eastern Europe. Lastly, systemic risk remains elevated in the non-euro area.
This is a preview of subscription content, log in to check access.
Access options
Buy single article
Instant access to the full article PDF.
US$ 39.95
Tax calculation will be finalised during checkout.
Subscribe to journal
Immediate online access to all issues from 2019. Subscription will auto renew annually.
US$ 147
Tax calculation will be finalised during checkout.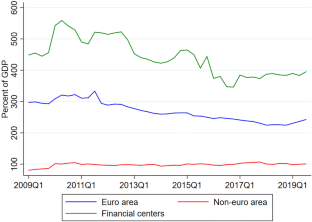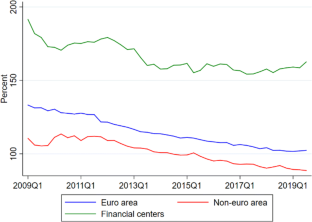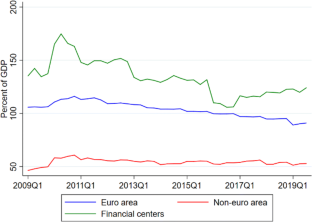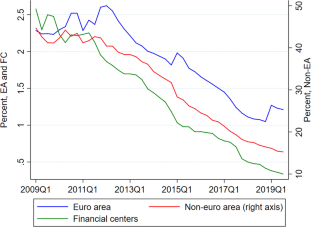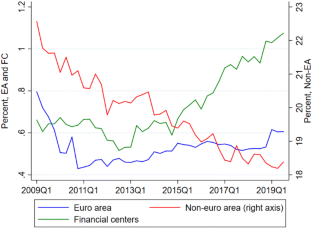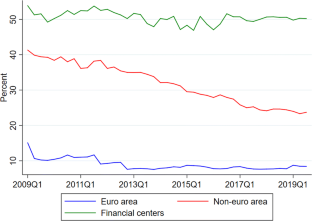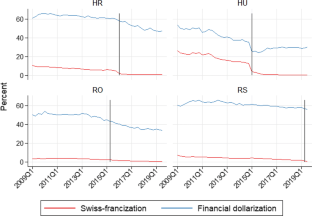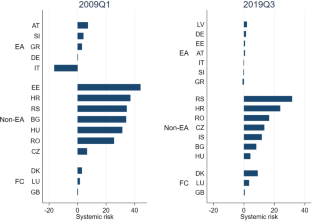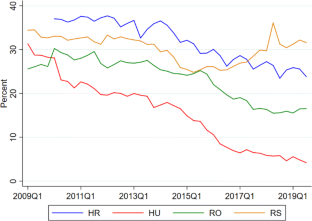 Notes
1.

The BIS Locational Banking Statistics are compiled following principles that are consistent with balance of payments statistics.

2.

However, central banks are free to decide not to disclose certain variables because of confidentiality or the unavailability of certain banking statistics.

3.

In the Vienna Initiative, major international financial institutions such as the European Bank for Restructuring and Development, regulatory and fiscal authorities such as the European Commission, and international organizations such as the International Monetary Fund and the World Bank, played a key role. The main objectives were to prevent a large-scale and uncoordinated withdrawal of cross-border bank groups from emerging Europe, and to ensure that parent bank groups maintained their exposures and recapitalized their subsidiaries in emerging Europe. European Investment Bank (2019) provides a comprehensive overview of the Vienna Initiative and assesses its effectiveness.

4.

The domestic credit crunch has been acute in the UK and in Hungary, despite the targeted policies of the respective central banks to stimulate domestic retail lending. The Bank of England and the UK government introduced the Funding for Lending Scheme in 2012 to encourage banks and building societies to lend more to households and businesses, providing funds at cheaper rates than those prevailing in current markets. Similarly, the Magyar Nemzeti Bank (Hungarian National Bank) introduced the Lending for Growth Scheme in 2013 to restore the functioning of the small and medium enterprise loan market and to promote growth.

5.

In this paper, the foreign currency is not legal tender but is used in parallel to the domestic currency by residents.

6.

Beckmann (2017) shows that an awareness of loan conversion programs has no effect on loan demand in general, but positively and significantly increases the demand for foreign currency loans, based on a survey of households in Central, Eastern, and Southeastern Europe.

7.

Foreign currency loan conversion programs generally reduced the value of total assets in banks' balance sheets by converting CHF loans into another currency at an exchange rate below the effective market value at the time of the conversion. As a result, these programs may have contributed to the deleveraging process.

8.

Exchange rate movements undoubtedly affect the evolution of the share of foreign currency loans to total loans through valuation changes. Yet, the figure does not exhibit any evidence that valuation changes slowed or reversed the downward trend in the financial dollarization of loans, despite the sharp appreciation of the Swiss franc vis-à-vis the euro during this period.

9.

Most derivative markets around the world are insufficiently active and do not offer a wide variety of instruments to hedge exchange rate risk (see the BIS Triennial Central Bank Survey of Foreign Exchange and Over-the-counter (OTC) Derivatives Markets in 2019). We can thus safely abstract from any potential off-balance sheet hedging by banks in CEE when calculating systemic risk.
References
Auer, R., S. Kraenzlin, and D. Liebeg. 2012. How do Austrian banks fund their Swiss franc exposure? Austrian National Bank Financial Stability Report 24: 54–61.

Beckmann, E. 2017. How does foreign currency debt relief affect households' loan demand? Evidence from the OeNB Euro Survey in CESEE. Focus on European Economic Integration Q1 (17): 8–32.

Borio, C., R. McCauley, and P. McGuire. 2011. Global credit and domestic credit booms. BIS Quarterly Review September: 43–57.

Brown, M., and R. De Haas. 2012. Foreign banks and foreign currency lending in emerging Europe. Economic Policy 27 (69): 57–98.

Brown, M., K. Kirschenmann, and S. Ongena. 2014a. Bank funding, securitization, and loan terms: Evidence from foreign currency lending. Journal of Money, Credit and Banking 46: 1501–1534.

Brown, M., S. Ongena, and P. Yeşin. 2011. Foreign currency borrowing by small firms in the transition economies. Journal of Financial Intermediation 20 (3): 285–302.

Brown, M., S. Ongena, and P. Yeşin. 2014b. Information asymmetry and foreign currency borrowing by small firms. Comparative Economic Studies 56 (1): 110–131.

Cerutti, E.M., S. Claessens, and L. Laeven. 2017. The use and effectiveness of macroprudential policies: New evidence. Journal of Financial Stability 28: 203–224.

European Central Bank. 2014. Financial Stability Review.

European Investment Bank. 2019. Ten years of the Vienna initiative 2009–2019. https://www.eib.org/attachments/efs/10years_vienna_initiative_en.pdf. Accessed 3 Feb 2020.

Fender, I., and P. McGuire. 2010. European banks' US dollar funding pressures. BIS Quarterly Review June: 57–64.

Fischer, A.M., and P. Yeşin. 2019. Foreign currency loan conversions and currency mismatches. SNB Working Paper 4/2019. Swiss National Bank.

Kalemli-Ozcan, S., B. Sorensen, and S. Yesiltas. 2012. Leverage across firms, banks, and countries. Journal of International Economics 88 (2): 284–298.

Krogstrup, S., and C. Tille. 2015. On the roles of different foreign currencies in European bank lending. IHEID Working Paper No. 17-2015. The Graduate Institute of International Studies.

Lane, P., and G.M. Milesi-Ferretti. 2018. The external wealth of nations revisited: International financial integration in the aftermath of the global financial crisis. IMF Economic Review 66: 189–222.

Ranciere, R., A. Tornell, and A. Vamvakidis. 2010. Currency mismatch, systemic risk and growth in emerging Europe. Economic Policy 25: 597–658.

Temesvary, J. 2016. The drivers of foreign currency-based banking in Central and Eastern Europe. Economics of Transition 24 (2): 233–257.

Yeşin, P. 2013. Foreign currency loans and systemic risk in Europe. Federal Reserve Bank of St. Louis Review 95 (3, May/June): 219–235.

Yeyati, E.L. 2006. Financial dollarization: Evaluating the consequences. Economic Policy 21 (45): 62–118.
Acknowledgements
The authors would like to thank an anonymous referee and Paul Wachtel (the editor), as well as Romain Baeriswyl and Andreas Fischer for valuable comments. Pınar Yeşin would like to thank conference participants at the 25th Dubrovnik Economic Conference for helpful discussions on foreign currency loan conversion programs in Central and Eastern Europe. Any remaining errors are our own. The views expressed in this paper are those of the authors and do not necessarily represent those of the Swiss National Bank.
Additional information
Publisher's Note
Springer Nature remains neutral with regard to jurisdictional claims in published maps and institutional affiliations.
Appendix
Appendix
See Tables 3, 4 and Figs. 10, 11, 12, 13.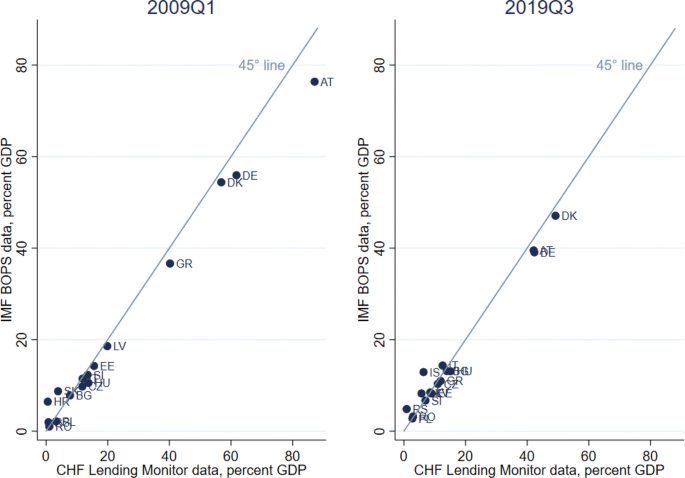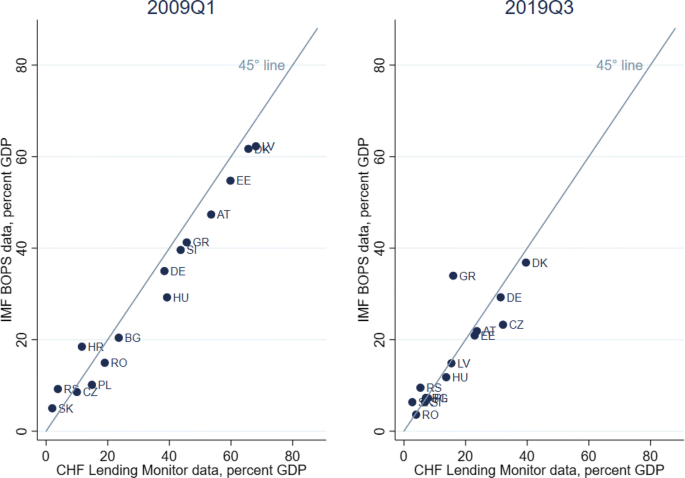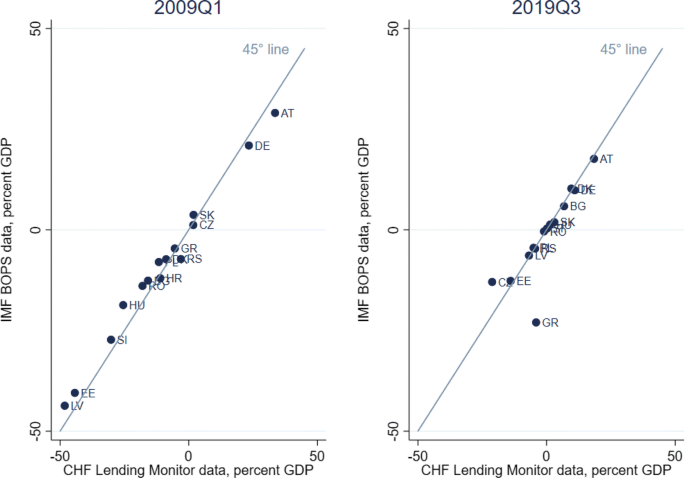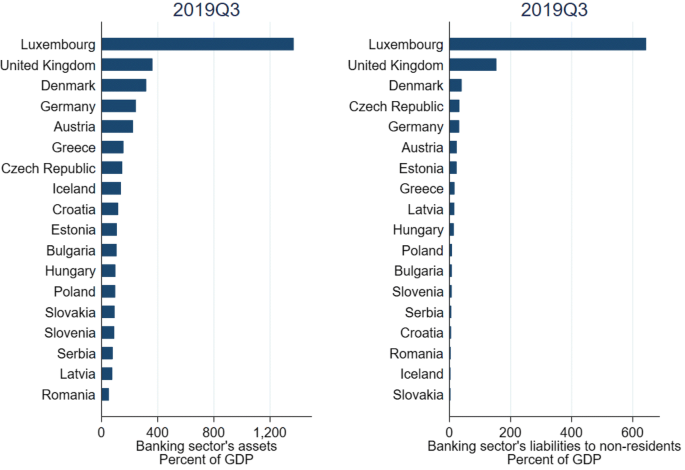 About this article
Cite this article
Vidaházy, V., Yeşin, P. Deleveraging and Foreign Currency Loan Conversion Programs in Europe. Comp Econ Stud 62, 215–241 (2020). https://doi.org/10.1057/s41294-020-00116-1
Keywords
Deleveraging

Foreign currency lending

Financial dollarization

Loan conversion programs

Systemic risk
JEL Classification