Abstract
We construct a new database relying on various primary historical sources containing information on the value of French sectoral trade between 1880 and 1913 in order to assess the contemporaneous effects of colonial European settlements on French trade patterns. Our empirical results show that French colonies with more European settlements traded more with France. The impact is stronger with respect to the imports of raw materials and exports of manufactured goods from France to their colonies, suggesting that those territories were a source of resources for France and a market for its products. European settlements in colonies other than the French ones did not impact the trade of those colonies with France. We also explore to what extent the impact of European settlements on trade was exerted through the channel of the institutions brought by the settlers. Separating the part of European settlements associated with institutions, we find that the settlements associated with stronger institutions in French colonies had a positive impact on trade with those colonies. No significant impact was found for non-French colonies.
Access options
Buy single article
Instant access to the full article PDF.
USD 39.95
Price includes VAT (USA)
Tax calculation will be finalised during checkout.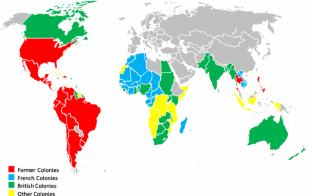 Notes
1.

Tariff assimilation is a regime where the tariff rates on goods are the same in the metropolis and the colony.

2.

3.

Agricultural exports boomed in the Gold coast, including Senegal, Ivory Coast and other French colonies in West Africa; in return, these colonies began to import Europeans manufactured goods. In Indochina, also a French colony, the land under cultivation increased dramatically, allowing Indochina to become the third largest producer of rice in the world (Mitchener and Weidenmier 2008).

4.

Please, refer to "Appendix" for a more detailed discussion on the comparison of the two data sets.

5.

Notice that, theoretically, the index could take a value larger than one if, for example, there is only one language spoken by at least 20% of the population and only one language spoken by 9–20%, and these two languages are European. In this case, the number would be 1.2. First, such case does not occur in our data, second, we would take the minimum value between the EL index and 1.

6.

We thank Marc Weidenmier and Kris Mitchener for generously sharing their data.

7.

In a regression not reported here, we have tried to control for a multilateral resistance variable as suggested by Baier and Bergstrand (2009), but the variable was highly collinear with distance since we only have the bilateral trade with France.

8.

Two other variables, latitude and settler mortality, are used as instruments of ES in previous studies. However, they are not valid instruments in our case, since both of them have a direct impact on trade. Latitude is correlated with climate and geographical conditions that affect agricultural productivity, hence trade. Settler mortality might be correlated to low agricultural productivity due to the high burden of diseases.

9.

We also conducted the same analysis for each sector separately (not reported here). Most variables and interaction terms showed similar results as the ones in our initial specification from Table 5.

10.

Since we are using a predicted value for settlements, we applied a re-sampling technique of 5000 samples using bootstrapping in order to obtain stable standard errors (not reported here).

11.

French general and colonial administrator who created the Senegalese Tirailleurs when he was governor of Senegal. Tirailleurs were indigenous African military, mainly Senegalese who served France during wars and garrisoned French fortresses.
References
Acemoglu, D., F.A. Gallego, and J.A. Robinson. 2014. Institutions, human capital and development. NBER working papers 19933, National Bureau of Economic Research, Inc.

Acemoglu, D., S. Johnson, and J.A. Robinson. 2001. The colonial origins of comparative development: An empirical investigation. American Economic Review 91 (5): 1369–1401.

Acemoglu, D., S. Johnson, and J.A. Robinson. 2002. Reversal of fortune: Geography and institutions in the making of the modern world income distribution. The Quarterly Journal of Economics 117 (4): 1231–1294.

Acemoglu, D., S. Johnson, and J. Robinson. 2005. The rise of Europe: Atlantic trade, institutional change, and economic growth. American Economic Review 95 (3): 546–579.

Alam, M.S. 1994. Colonialism, decolonisation and growth rates: Theory and empirical evidence. Cambridge Journal of Economics 18 (3): 235–57.

Amin, S. 1972. Underdevelopment and dependence in black Africa: Historical origin. Journal of Peace Research 9 (2): 105–119.

Baier, S.L., and J.H. Bergstrand. 2009. Bonus vetus OLS: A simple method for approximating international trade-cost effects using the gravity equation. Journal of International Economics 77 (1): 77–85.

Bairoch, P. 1999. Mythes et paradoxes de l'histoire conomique. Paris: Edition de la decouverte.

Barro, R.J. 1999. Determinants of democracy. Journal of Political Economy 107 (S6): S158–S183.

Becuwe, S., B. Blancheton, K. Onfroy, et al. 2015. French international trade, dataset 1836–1938 montesquieu database. Technical report, Groupe de Recherche en Economie Théorique et Appliquée.

Betts, R.F. 1961. Assimilation and association in French colonial theory, 1890–1914. Number 604 in Columbia studies in the social sciences. New York: Columbia University Press.

Briant, A., P.-P. Combes, and M. Lafourcade. 2009. Product complexity, quality of institutions and the pro-trade effect of immigrants. PSE Working Papers halshs-00566772, HAL.

Cain, P.J., and A.G. Hopkins. 1993. British imperialism: Innovation and expansion 1688–1914. New York: Longman.

Cohen, W.B. 1971. Rulers of empire: The French colonial service in Africa. Stanford: Hoover Institution Press.

Crosby, A. 1986. Ecological imperialism: The biological expansion of Europe 900–1900. New York: Cambridge University Press.

Crowder, M. 1968. West Africa under colonial rule. Chicago: Northwestern University Press.

Dedinger, B., and P. Girard. 2017. Exploring trade globalization in the long run: The ricardo project. Historical Methods: A Journal of Quantitative and Interdisciplinary History 50 (1): 30–48.

Egger, P.H., M. Von Ehrlich, and D.R. Nelson. 2012. Migration and trade. The World Economy 35 (2): 216–241.

Engerman, S.L. and K.L. Sokoloff. 1997. Factor endowments: Institutions, and differential paths of growth among new world economies: A view from economic historians of the united states. NBER historical working papers 0066, National Bureau of Economic Research, Inc.

Estevadeordal, A., B. Frantz, and A.M. Taylor. 2002. The rise and fall of world trade, 1870–1939. NBER working papers 9318, National Bureau of Economic Research, Inc.

Fenske, J. 2014. Ecology, trade, and states in pre-colonial Africa. Journal of the European Economic Association 12 (3): 612–640.

Ferguson, N., and M. Schularick. 2006. The empire effect: The determinants of country risk in the first age of globalization, 1880–1913. The Journal of Economic History 66 (02): 283–312.

Feyrer, J., and B. Sacerdote. 2009. Colonialism and modern income: Islands as natural experiments. The Review of Economics and Statistics 91 (2): 245–262.

Frieden, J.A. 2006. Global capitalism: Its fall and rise in the twentieth century. New York: W.W. Norton & Company.

Girden, E .R. 2001. Evaluating research articles from start to finish. Thousand Oaks, CA: Sage Publications.

Glick, R., et al. 2017. Currency unions and regional trade agreements: EMU and EU effects on trade. Comparative Economic Studies 59(2): 194–209.

Groot, H.D., G.-J. Linders, P. Rietveld, and U. Subramanian. 2004. The institutional determinants of bilateral trade patterns. Kyklos 57 (1): 103–123.

Head, K., T. Mayer, and J. Ries. 2010. The erosion of colonial trade linkages after independence. Journal of International Economics 81 (1): 1–14.

Hopkins, A.G. 2014. An economic history of West Africa. Abingdon: Routledge.

Huillery, E. 2011. The impact of European settlement within French West Africa: Did pre-colonial prosperous areas fall behind? Journal of African Economies 20 (2): 263–311.

Jaggers, K., and T.R. Gurr. 1995. Polity III: Regime change and political authority, 1800–1994. 2nd ICPSR version. Boulder, CO/College Park, MD: Keith Jaggers/Ted Robert Gurr.

Kaiser, H.F. 1960. The application of electronic computers to factor analysis. Educational and Psychological Measurement 20 (1): 141–151.

Kleiman, E. 1976. Trade and the decline of colonialism. The Economic Journal 86 (343): 459–480.

Kwon, R. 2011. How the legacy of French colonization has shaped divergent levels of economic development in East Asia: A time-series cross-national analysis. The Sociological Quarterly 52: 56–82.

La Porta, R., F. Lopez-de Silanes, A. Shleifer, and R. Vishny. 1999. The quality of government. Journal of Law, Economics and Organization 15 (1): 222–79.

Lal, D. 2004. Praise of empires: Globalization and order. New York: Palgrave Macmillan.

Landes, D.S. 1998. The wealth and poverty of nations: Why some are so rich and some so poor. New York: W.W. Norton & Co.

Lavallée, E., and J. Lochard. 2015. The comparative effects of independence on trade. Journal of Comparative Economics 43 (3): 613–632.

Linders, G.-J. 2004. The effect of domestic institutions on international trade flows: A sectoral analysis. ERSA conference papers ersa04p357, European Regional Science Association.

Maddison, A. 2006. The world economy. Paris: Development Center of the Organization for Economic Cooperation and Development.

Manning, P. 1982. Slavery, colonialism, and economic growth in Dahomey, 1640–1980. New York: Cambridge University Press.

Marseille, J. 1984. Empire Colonial et Capitalisme Francais. Histoire D'un divorce. Paris: Albin Michel.

Martin, P., T. Mayer, and M. Thoenig. 2008. Make trade not war? The Review of Economic Studies 75 (3): 865–900.

Mayer, T., and S. Zignago. 2011. Notes on cepii distances measures: The geodist database. Technical report, CEPII.

Mitchell, B. 2007a. International historical statistics: Africa, Asia and Oceania, 1750–2005. Basingstoke: Palgrave Macmillan.

Mitchell, B. 2007b. International historical statistics: The Americas, 1750–2005. Basingstoke: Palgrave Macmillan.

Mitchener, K.J., and M. Weidenmier. 2008. Trade and empire. The Economic Journal 118: 1805–1834.

North, D., W. Summerhill, and B. Weingast. 1998. Order disorder and economic change Latin America vs North America. Stanford: Hoover Institution Publications, Stanford University.

Nunn, N. 2008. The long-term effects of Africa's slave trades. The Quarterly Journal of Economics 123 (1): 139–176.

Nunn, N., and D. Trefler. 2013. Domestic institutions as a source of comparative advantage. NBER working papers 18851, National Bureau of Economic Research, Inc.

Parker, P.M. 1997. National cultures of the world: A statistical reference, vol. 4. Westport: Greenwood Publishing Group.

Rauch, J.E. 1999. Networks versus markets in international trade. Journal of International Economics 48 (1): 7–35.

Rose, A. 1999. One money, one market: Estimating the effect of common currencies on trade. Seminar papers 678, Stockholm University, Institute for International Economic Studies.

Ross, M. 1999. The political economy of the resource curse. World Politics 51 (2): 297–322.

Sandberg, H.M., and James L. Seale. 2012. The impact of historical and regional networks on trade volumes within the western hemisphere: A gravity analysis across sectors. 2012 annual meeting, February 4–7, 2012, Birmingham, Alabama 120071, Southern Agricultural Economics Association.

Sousa, J.D., and J. Lochard. 2012. Trade and colonial status. Journal of African Economies 21 (3): 409–439.

Tadei, F. 2017. Measuring extractive institutions: Colonial trade and price gaps in French Africa. Working papers 0109, European Historical Economics Society (EHES).

Walmsley, T., S.A. Ahmed, and C. Parsons. 2005. The impact of liberalizing labor mobility in the pacific region. GTAP working papers 1874, Center for Global Trade Analysis, Department of Agricultural Economics, Purdue University.
Acknowledgements
We thank the editor, Josef Brada, and three anonymous referees for very helpful comments that helped improving the paper. We thank Pamina Koenig, Marcelo Olarreaga, Rodrigo Paillacar, Estefania Santacreu-Vasut, and Jose de Sousa for their useful comments and suggestions. We also thank participants at the 10th Eurasia Business and Economics Society conference, the 13th European Historical Economics Society conference, the 39th Annual Economic and Business History Society Conference, the 29th European Economic Association Conference, the 4th Asian Historical Economics Conference, as well as seminar participants at DIAL and THEMA. The usual disclaimer applies. This research has been conducted as part of the project Labex MME-DII (ANR11-LBX-0023-01).
Appendices
Appendix 1: European Settlements Data
See Table 11.
Appendix 2: Disaggregation of the Trade Data
In order to verify the extent of possible distortions produced by our disaggregation procedure, we compare our disaggregated data to the bilateral trade data from Mitchener and Weidenmier (2008), denoted M&W hereafter, for the set of countries available in both datasets. We compute France's trade with each trade partner as a share of total French trade for the years 1988 and 1912. As can be seen in Table 12, the import and export shares using the data from M&W have the same order of magnitude of the ones computed using our dataset.
Although the differences in the trade shares are small between the two datasets, there are large discrepancies in percentage terms for some countries. These discrepancies may come from two sources: (1) divergences in the original data (M&W use mainly British sources, while we use the French official registry); or (2) errors we make in our procedure of assigning trade values to countries when they are part of a group of countries in our original data.
We can identify the first source of discrepancy, that is, data source, when the country is separately identified in our original data source so that we were able to retrieve their data directly from our original source, with no manipulation. We do observe large differences between our data and that of M&W for a number of such countries. In 1888, that is the case for Australia, China, Mexico and Senegal. The set of countries in that situation is even larger for the year 1912: Brazil, China, Guadeloupe, Guyana, Indonesia, Martinique, Reunion, Saint Pierre et Miquelon, Senegal and Thailand.
Since we compare trade values as a share of total trade, it is possible that we find different shares for the countries discussed in the previous paragraph because our denominator (i.e., total trade) is 'wrong' in our data, due to our manipulation in the data for other countries. If the numerator is the same in both data sets and the problem is in the denominator, then the percentage difference of the shares should be the same for all such countries. That is not the case though. For example, for the year 1888 the trade share for Australia is lower in M&W's data compared to ours, while the trade share for China is more than 10 times larger in M&W compared to our data. Hence, the discrepancies in trade shares between M&W and our data cannot be attributed only to differences in total trade (the denominator). We can then conclude that, for countries with separate data in the French official registry, the trade data from M&W is different from the data in the French official registry.
For the countries which were part of a group in our original data source, the discrepancy may come either from our disaggregation procedure or from differences between our original source and that of M&W. Unfortunately, it is not possible to disentangle the two possible sources of divergence in that case. Given the large discrepancies in the original data sources for some countries as discussed in the previous paragraphs, we cannot rule out differences in the original data as the source of discrepancies here as well.
As robustness checks, we have used two alternative methods for the disaggregation, population and arable land area, and both yield the same results in our regressions. Furthermore, our results also remain unchanged when we estimate our main regression excluding the countries with very different data in our dataset compared to M&W, as presented in "Robustness Checks" section (Table 13).
About this article
Cite this article
El Kallab, T., Terra, C. French Colonial Trade Patterns and European Settlements. Comp Econ Stud 60, 291–331 (2018). https://doi.org/10.1057/s41294-017-0040-6
Keywords
International trade

Colonization

Institutions
JEL Classification