Abstract
The term middle-income trap (MIT) usually refers to countries that have experienced rapid growth and thus quickly reached middle-income status, but then failed to overcome that income range to further catch up to the developed countries. This paper surveys the MIT literature. It begins by laying out different approaches to defining the MIT and by presenting as well as classifying the most important empirical studies. After a short overview of the currently identified MIT countries, the article summarizes the main explanatory approaches, taking into account both the theoretical foundations and the empirically identified triggering factors.
This is a preview of subscription content, log in to check access.
Access options
Buy single article
Instant access to the full article PDF.
US$ 39.95
Price includes VAT for USA
Subscribe to journal
Immediate online access to all issues from 2019. Subscription will auto renew annually.
US$ 147
This is the net price. Taxes to be calculated in checkout.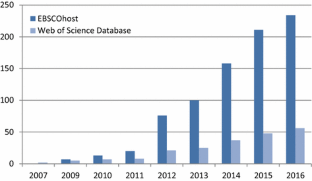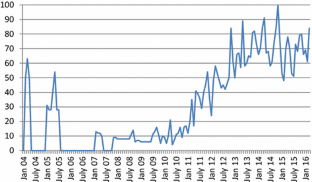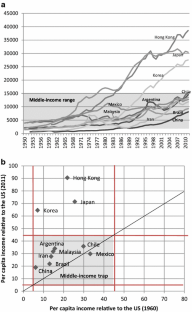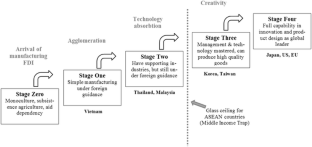 Notes
1.

However, Garrett (2004) also describes the MIT but does not mention it explicitly.

2.

For example, Im and Rosenblatt (2015) focus primarily on the empirical definitions of the MIT (in particular on the distinction between the absolute and relative thresholds). Kanchoochat (2014) develops a classification of the MIT literature based on the different solutions of the MIT problem proposed by different papers. That is, she concentrates primarily on the measures a country has to adopt to avoid the MIT. Finally, Gill and Kharas (2015) mention various empirical definitions and theoretical explanations, but concentrate especially on the evaluation of their 2007 paper.

3.

Own calculations with data from the Penn World Tables (PWT) Version 8.0.

4.

Thereby 176 EBSCOhost and 45 Web of Science articles in academic journals.

5.

Google Trends, search term 'middle-income trap', accessed online 31.03.2016. According to Google Trends, the data depicted in Figure 2 represent 'search interest relative to the highest point on the chart'. In Figure 2, the highest point is reached in November 2014. Hence, Figure 2 does not convey absolute search volume.

6.

Since the beginning of the slowdown of the Chinese economy in recent years, Google Searches for the term 'middle income trap China' also show an upward trend. See Figure A1 in Appendix A.

7.

8.

The threshold separating low-income from lower-middle-income countries is based on the operational threshold for civil works preference and the threshold separating lower-middle-income from upper-middle-income countries. The World Bank refers to a now-discontinued threshold for 17-year IBRD terms. The threshold that is used to define high-income countries is based on the Staff Report Per Capita Income: Estimating Internationally Comparable Numbers. For further information, see https://datahelpdesk.worldbank.org/knowledgebase/articles/378833-how-are-the-income-group-thresholds-determined.

9.

10.

This increase in period length can be attributed to the fact that the 2014 study uses a larger country sample in comparison to the 2012 study. Felipe et al. (2014) argue that the East and Southeast Asian success countries have a strong impact on their 2012 results, while, however, the growth experience of these countries and in particular their fast transition is not representative of the growth process in general. Therefore, Felipe et al. (2014) enlarge their sample so that it includes a greater number of economies. In particular, their 2014 sample includes all the economies that managed to traverse the LMIR and UMIR until 2013 and not only those that became LMI and UMI after 1950 as in their 2012 sample.

11.

This approach is also used in some other publications, e.g., in Athukorala and Woo (2011).

12.

13.

14.

Bulman et al. (2014) do not justify this choice of income thresholds but generalize it later to some extent.

15.

Namely Albania, Algeria, Bolivia, Botswana, Brazil, Colombia, Congo (Rep.), Dominican Republic, Ecuador, Egypt, El Salvador, Gabon, Guatemala, Iran, Jamaica, Kenya, Jordan, Lebanon, Libya, Malaysia, Morocco, Namibia, Panama, Paraguay, Peru, Philippines, Romania, Saudi Arabia, South Africa, Sri Lanka, Swaziland, Syrian Arab Republic, Tunisia, Uruguay, Venezuela, Yemen (Rep.). Countries in bold are caught in the upper-middle-income trap.

16.

For example, according to the authors, Indonesia and Pakistan may soon enter a lower-middle-income trap. In addition, Poland, Oman, Mexico and Hungary are possible upper-middle-income-trap candidates (see Felipe et al., 2012 and Appendix Table 1.A).

17.

18.

These results change if the authors base their analysis on the period between 1970 and 2009, with 41 countries being classified as non-escapees of the middle-income range.

19.

In contrast to Felipe et al. (2012), their list of MIT countries also includes Argentina, Belarus, Chile, Costa Rica, Lithuania, Mexico, Russian Federation, Thailand, and Turkey, but excludes Albania, Algeria, Botswana, Congo (Rep.), Ecuador, Egypt, Iran, Jamaica, Kenya, Libya, Namibia, Saudi Arabia, Sri Lanka, Swaziland, Venezuela, and Yemen (Rep.). Hence, their empirically identified MIT countries differ in 25 cases; only 18 countries are identified in both studies.

20.

21.

Namely Cuba, El Salvador, Lebanon, Peru, Syria, and Thailand.

22.

Namely Bolivia, Botswana, Bulgaria, Costa Rica, Guatemala, Honduras, Indonesia, Iran, Iraq, Jordan, Mexico, Mongolia, Morocco, Panama, Romania, South Africa, Swaziland, Tunisia, and Turkey in addition to the countries listed in footnote 21.

23.

Bulman et al.'s (2014) results stand out as well, as they identify many European MIT countries (literally 'non-escapees') among others.

24.

25.

Of course, the subdivision of MIT explanations into 'theoretical explanations' and 'empirically identified triggering factors' is only one alternative among many. For example, Kanchoochat (2014) distinguishes between the following classes or groups of MIT explanations: (a) explanations based on the quality of institutions and education (group 1), and (b) explanations based on the changes in export composition, where the latter group is subdivided depending on whether the export change is made by following (group 2) or defying (group 3) comparative advantage. Furthermore, she refers to the fact that the need for government intervention from group 1 to group 3 increases.

26.

Robertson and Ye (2015) come to a similar conclusion. They argue that the MIT is "a more subtle phenomenon" than the general concept of club convergence.

27.
References
Acemoglu, D, Aghion, P and Zilibotti, F. 2006: Distance to frontier, selection, and economic growth. Journal of the European Economic Association 4(1): 37–74.

Aiyar, S, Duval, R, Puy, D, Wu, Y and Zhang, L. 2013: Growth Slowdowns and the Middle-Income Trap. IMF Working Paper 13/71. IMF: Washington DC.

Agénor, PR and Canuto, O. 2015: Middle-income growth traps. Research in Economics 69(4): 641–660.

Agénor, PR, Canuto, O and Jelenic, M. 2012: Avoiding Middle-Income Growth Traps. Economic Premise, Poverty Reduction and Economic Management Network (PREM) Nr. 98: The World Bank.

Aghion, P and Howitt, P. 1992: A model of growth through creative destruction. Econometrica 60(2): 323–351.

Aoki, M. 2011: The Five-Phases of Economic Development and Institutional Evolution in China and Japan. ADBI Working Paper Series No. 340.

Athukorala, PC and Woo, WT. 2011: Malaysia in the middle-income trap. Asian Economic Panel Meeting, Columbia University, New York City (24th–25th March 2011).

Azariadis, C and Stachurski, J. 2005: Poverty traps. In: Durlauf, SN and Aghion, P. (eds). Handbook of Economic Growth, Chapter 5. Elsevier: Amsterdam.

Barro, RJ and Sala-i-Martin, X. 1997: Technological Diffusion, Convergence, and Growth. Journal of Economic Growth 2(1): 1–26.

Bulman, D, Eden, M and Nguyen, H. 2014: Transitioning from Low-Income Growth to High-Income Growth – Is There a Middle Income Trap? Policy Research Working Paper No. 7104, World Bank.

Cai, F. 2012: Is There a 'middle-income trap'? theories, experiences and relevance to China. China & World Economy 20(1): 49-61.

Cherif, R and Hasanov, F. 2015: The Leap of the Tiger: How Malaysia Can Escape the Middle-Income Trap. IMF Working Paper 15/131. IMF: Washington DC.

Dabús, C, Tohmé, F and Carabello, MA. 2016: A middle income trap in a small open economy: Modeling the Argentinean case. Economic modeling 53: 436–444.

Eichengreen, B. 2011: Escaping the Middle Income Trap. Manuscript prepared for 2011 Economic Policy Symposium held by Federal Reserve Bank of Kansas City.

Eichengreen, B, Park, D and Shin, K. 2012: When fast-growing economies slow down: international evidence and implications for China. Asian Economic Papers 11(1): 42–87.

Eichengreen, B, Park, D and Shin, K. 2014: Growth slowdowns redux. Japan and the World Economy 32: 65–84.

Felipe, J, Abdon, A and Kumar, U. 2012: Tracking the Middle-income Trap: What Is It, Who Is in It, and Why? Levy Economics Institute of Bard College, Working Paper No. 715.

Felipe, J, Kumar, U and Galope, R. 2014: Middle-Income Transitions: Trap or Myth? ADB Working Paper No. 421.

Flaaen, A, Ghani, E and Mishra, S. 2013. How to Avoid Middle Income Traps? Evidence from Malaysia. Policy Research Working Paper Series 6427, World Bank.

Garrett, G. 2004: Globalization's Missing Middle. Foreign Affairs 83(6): 84–96.

Gerschenkron, A. 1962: Economic Backwardness in Historical Perspective. Harvard University Press: Cambridge.

Gill, I and Kharas, H. 2007: An East Asian Renaissance – Ideas for Economic Growth. World Bank: Washington, DC.

Gill, I and Kharas, H. 2015: The Middle-Income Trap Turns Ten. Policy Research Working Paper No. 7403.

Glawe, L and Wagner, H. 2016: China in the Middle-Income Trap? Munich Personal RePEc Archive (MPRA) Working Paper No. 73336.

Im, FG and Rosenblatt, D. 2015: Middle-income traps: a conceptual and empirical survey. Journal of International Commerce, Economies and Policy 6(3): 1–39.

Jimenez, E, Nguyen, V and Patrinos, HA. 2012: Stuck in the Middle? Human Capital Development and Economic Growth in Malaysia and Thailand. World Bank Policy Research Working Paper No. 6283.

Jitsuchon, S. 2012: Thailand in a Middle-income Trap. TDRI Quarterly Review 27(2): 13–20.

Kanchoochat, V. 2014: The Middle-income Trap Debate: Taking Stock, Looking Ahead. Kokusai Mondai (International Affairs), No. 633.

Kharas, H and Kohli, H. 2011: What is the middle income trap, why do countries fall into it, and how can it be avoided?.Global Journal of Emerging Market Economies 3(3): 281–289.

Lewis, WA. 1954: Economic development with unlimited supplies of labor. Manchester School of Economic and Social Studies 22: 139–191.

Matsuyama, K. 2008: Poverty traps. In Durlauf, SN and Blume, L. (eds). The New Palgrave Dictionary of Economics, 2 edn. Basingstoke: Palgrave Macmillan.

Ohno, K. 2009: Avoiding the middle-income trap – renovation industrial policy formulation in Vietnam. ASEAN Economic Bulletin 26(1): 25–43.

Robertson, PE and Ye, L. 2015: On the Existence of a Middle-Income Trap. University of Western Australia Working Paper 13/12.

Rostow, WW. 1990: The Stages of Economic Growth: A Non-Communist Manifesto. Cambridge University Press: Cambridge.

Wagner, H. 2013: Challenges to China's policy: structural change. Comparative Economic Studies 55: 721–736.

Wagner, H. 2015: Structural Change and Mid-Income Trap – Under which conditions can China succeed in moving towards higher income status. European Journal of Comparative Economics 12(2): 165–188.

Woo, WT, Lu, M, Sachs, JD and Chen, Z. 2012: A New Economic Growth Engine for China: Escaping the Middle-income Trap by Not Doing More of the Same. World Scientific Publishing Company: Singapore and Imperial College Press: London.

World Bank. 2013: China 2030: Building a Modern, Harmonious, and Creative High-Income Society. World Bank: Washington DC.

World Bank. 2015: Worldwide Governance Indicators (WGI).World Bank: Washington, DC. Available online at http://info.worldbank.org/governance/wgi/index.aspx#doc, 2015 Update.

World Bank. 2016: World Development Indicators (WDI). World Bank: Washington, DC. Available online at http://data.worldbank.org/data-catalog/world-development-indicators, last updated 11/04/2016.

Zhuang, J, Vandenberg, P and Huang, Y. 2012: Growing beyond the Low-Cost Advantage – How the People's Republic of China can Avoid the Middle-Income Trap?. Asian Development Bank: Mandaluyong City, Philippines.
About this article
Cite this article
Glawe, L., Wagner, H. The Middle-Income Trap: Definitions, Theories and Countries Concerned—A Literature Survey. Comp Econ Stud 58, 507–538 (2016). https://doi.org/10.1057/s41294-016-0014-0
Keywords
middle-income trap

middle-income countries

economic growth

economic development

growth slowdowns

catching up
JEL Classification