Abstract
With the passing of time and the benefit of hindsight, there is, again, growing interest in Thatcherism—above all in its substantive and enduring legacy. But, to date at least, and largely due to data limitations, little of that work has focussed on tracing the behavioural consequences, at the individual level, of holding Thatcherite values. That oversight we seek both to identify more clearly and begin to address. Deploying new survey data, we use multiple linear regression and structural equation modelling to unpack the relationship between 'attitudinal' and 'behavioural' Thatcherism. In the process, we reveal the considerably greater behavioural consequences of holding neo-liberal, as distinct from neo-conservative, values whilst identifying the key mediating role played by social, political and economic nostalgia. We find that neo-liberal values are positively associated with behavioural Thatcherism, whilst neo-conservative values are negatively associated with behavioural Thatcherism. In exploring the implications, we also reveal some intriguing interaction effects between economic nostalgia and neo-conservative values in the centre-left vote for Brexit. In the conclusion, we reflect on the implications of these findings for our understanding of the legacy of Thatcherism and, indeed, for Brexit itself.
Access options
Buy single article
Instant access to the full article PDF.
USD 39.95
Price includes VAT (USA)
Tax calculation will be finalised during checkout.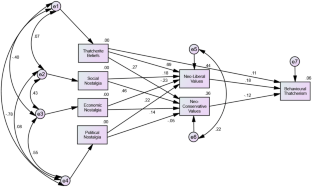 Notes
1.

2.

On the concept of possessive individualism more generally, see Billing, 2018.

3.

The interview schedule was subject to rigorous pre-testing, with two rounds of cognitive interviews and online pilots. This included fielding the questions to young people who would not have been alive during Thatcher's administrations, in order to test their approach to the historic nature of the survey. Most reported some knowledge of Thatcher via their family, media or education, and some question wordings were modified to make them more accessible. Moreover, all questions included a 'don't know' option.

4.

The figure of 34% includes those who did not participate following the invitation (29%), those who started but dropped out prior to completing the survey (4%), and those who were removed for completing survey at excessive speed (1%). Of the remaining 66%, 14% were willing to complete the survey, but were unable to as regional targets had been met, whilst 51% were able to complete the survey in full.

5.

It is possible that one might have access to some of these products as a result of others purchasing them on their behalf. However, this remains a tangible activity that an individual is in receipt of.

6.

Respondents were invited to use the following scale: strongly agree, agree; neither agree nor disagree, disagree and strongly disagree. This scale was used for all questions unless otherwise noted. The items themselves were chosen following a close reading of the literature (e.g. Hayes 1994; Hay 1996) to measure neo-liberalism and (see Table 4) neo-conservativism and were then analysed using exploratory factor analysis (which confirmed that these items loaded together).

7.

The KMO (Kaiser–Meyer–Olkin) Test is a measure of how suited the data is for Factor Analysis. The test measures sampling adequacy for each variable in the model and for the complete model. KMO values range between 0 and 1. A rule of thumb for interpreting the statistic is that KMO values between 0.8 and 1 indicate the sampling is adequate, whilst those below 0.6 indicate the sampling is not adequate and that remedial action should be taken. The lowest KMO for our factor analyses was .722, suggesting that all of these had reached an acceptable level.

8.

This item was reverse coded, hence the negative value.

9.

Again, negatively loading items were reverse coded.

10.

Skewed data can often produce heteroskedasticity, which in turn can result in unreliable confidence intervals (although it does not impact the estimators, Kaufman 2013). Typically, unless heteroskedasticity is pronounced, significance tests remain virtually unaffected, and thus OLS estimation can be used without concern of serious distortion. Nevertheless, in the light of the skewness in our data (see Table 1), we also ran a version of the final model (model IV) with the dependent variable transformed into a log. This required us to add 1 to each score since log10 transformations cannot be calculated on 0 scores. The final model using the log10-transformed dependent variable was not substantively different from the untransformed dependent variable. We have reported the untransformed model in Table 9.

11.

These were coded as follows: Gender: 1 = male, 2 = female; Urban/Rural: 1 = urban, 2 = rural; Religiosity: 1 = Extremely Religious, 7 = Extremely Non-religious; Chief Earner: 1 = yes, 2 = no; Household Income: 1 = Below £5000pa, 15 = Above £100,000pa; Degree Educated: 1 = yes, 2 = no. Age was continuously recorded.

12.

Allowing error terms to co-vary is common practice for items or, (as in our case) groups of items which are asked in blocks of survey questions, and where respondents might have wrongly interpreted the direction of the answer scale (Arbuckle and Wothke 1999, p. 150).

13.

In our survey, this categorisation amounted to 897 respondents, or 15.5% of the whole sample.

14.

Left-leaning parties were defined as Labour, The Liberal Democrats, the SNP, Plaid Cymru and the Greens. The opposite (right-leanings parties) were defined as the Conservative Party and UKIP.
References
Arbuckle, J., and W. Wothke. 1999. AMOS 4.0 User's Guide. Chicago, IL: SmallWaters Corp.

Billing, A.G. 2018. Rousseau's Critique of Market Society: Property and Possessive Individualism in the Discours sur l'inegalite. Journal of European Studies 48 (1): 3–19.

Crewe, I., and D. Searing. 1988. Ideological Change in the British Conservative Party. American Political Science Review 82 (2): 361–384.

Dardot, P., and C. Laval. 2013. The New Way of the World. London: Verso.

Dean, M. 1995. Governing the Unemployed Self in an Active Society. Economy and Society 24 (4): 559–583.

Dorey, P. 2015. A Farewell to Alms. British Politics 10 (1): 79–98.

Edgell, S., and V. Duke. 1991. A Measure of Thatcherism. London: HarperCollins.

Esping-Andersen, G. 1990. The Three Worlds of Welfare Capitalism. Cambridge: Polity.

Farrall, S., and C. Hay. 2014. The Legacy of Thatcherism: Assessing and Exploring Thatcherite Social and Economic Policies. Oxford: Oxford University Press.

Farrall, S., C. Hay, and E. Gray. 2020. Exploring Political Legacies, SPERI Pivot Series. London: Palgrave Press.

Foucault, M. 2005. The Hermeneutics of the Subject, ed. Gros, F., trans. Burchell, G. New York: Palgrave Macmillan

Gamble, A. 1988. The Free Economy and the Strong State. Basingstoke: Macmillan.

Gest, J. 2016. The New Minority. Oxford: OUP.

Goodwin, M., and C. Milazzo. 2017. Taking Back Control? Investigating the Role of Immigration in the 2016 Vote for Brexit. British Journal of Politics and International Relations 19 (3): 450–464.

Grasso, M., S. Farrall, E. Gray, C. Hay, and W. Jennings. 2019. Thatcher's Children, Blair's Babies, Political Socialisation and Trickle-Down Value-Change: An Age, Period and Cohort Analysis. British Journal of Political Science 49 (1): 17–36.

Grasso, M., Farrall, S., Gray, E., Hay, C., and Jennings, W. forthcoming. The Aging Protect Generation: Generational Replacement and the Decline of Political Participation in Britain. Journal of Elections, Public Opinion and Parties.

Gray, E., M. Grasso, S. Farrall, W. Jennings, and C. Hay. 2019. Political Socialization, Worry about Crime and Antisocial Behaviour: An Analysis of Age, Period and Cohort Effects. British Journal of Criminology 59 (2): 435–460.

Green, E.H.H. 2010. Thatcherism. London: Bloomsbury Academic.

Hall, S. 1979. The Great Moving Right Show. Marxism Today, January.

Hay, C. 1996. Re-Stating Social and Political Change. Milton Keynes: OUP.

Hay, C. 1999. The Political Economy of New Labour. Manchester: Manchester University Press.

Hay, C. 2019. Brexistential Angst and the Paradoxes of Populism: On the Contingency, Predictability and Intelligibility of Seismic Shifts. Political Studies. https://doi.org/10.1177/0032321719836356.

Hayes, M. 1994. The New Right in Britain. London: Pluto Press.

Heath, A., R. Jowell, and J. Curtice. 1985. How Britain Votes. Oxford: Pergamon Press.

Heffernan, R. 2000. New Labour and Thatcherism. Basingstoke: Macmillan.

Hopkin, J. 2017. When Polanyi met Farage: Market Fundamentalism, Economic Nationalism and Britain's Exit from the European Union. British Journal of Politics and International Relations 19 (3): 465–478.

Jessop, B. 2015. Margaret Thatcher and Thatcherism: Dead but not Buried. British Politics 10 (1): 16–30.

Johnston, R., and C. Pattie. 1990. The Regional Impact of Thatcherism. Regional Studies 24 (6): 479–493.

Kaufman, R.L. 2013. Heteroskedasticity in Regression: Detection and Correction. Thousand Oaks, CA: Sage.

King, D.S. 1987. The New Right. London: Macmillan.

Leadbeater, C. 1989. Power to the Person. In New Times, ed. S. Hall and M. Jacques, 137–149. London: Lawrence and Wishart.

Levitas, R. (ed.) 1986. Introduction: Ideology and the New Right. In The Ideology of the New Right. Cambridge: Polity Press.

Marsh, D., and S. Akram. 2015. The Thatcher Legacy in Perspective. British Politics 10 (1): 52–63.

Marsh, D. and Rhodes, R. (eds). 1992. Implementing Thatcherite Policies. Buckingham: Open Univ Press.

McAllister, I., and A. Mughan. 1987. Class, Attitudes, and Electoral Politics in Britain, 1974-1983. Comparative Political Studies 20 (1): 47–71.

Norris, P. 1990. Thatcher's Enterprise Society and Electoral Change. West European Politics 13 (1): 63–78.

Nunn, A. 2014. The Contested and Contingent Outcomes of Thatcherism in the UK. Capital & Class 38 (2): 303–321.

Phillips, L. 1998. Hegemony and Political Discourse: The Lasting Impact of Thatcherism. Sociology 32 (4): 847–867.

Pierson, P. 1993. When Effect Becomes Cause. World Politics 45: 595–628.

Riddell, P. 1991. The Thatcher Era. Oxford: Blackwell.

Rose, N. 1996. Inventing Ourselves. Cambridge: Cambridge Univ Press.

Smith, M. 2015. From Consensus to Conflict: Thatcher and the Transformation of Politics. British Politics 10 (1): 64–78.
Acknowledgements
We would like to extend our thanks to the Economic and Social Research Council for their generous funding of our project (as award ES/P002862/1) and to Andrew Hindmoor and Alex Nunn for their comments on an earlier draft of the paper. The reviewers also helped us clarify some of our arguments in places. We also benefited from the input of Will Jennings, Jane Green, Charles Pattie, Simon Winlow and Steve Hall on the draft survey instrument, and we thank them all for sharing their expertise on survey question design with us. Mike Turner and Rob Struthers at BMG did a fantastic job of running the survey.
Additional information
Publisher's Note
Springer Nature remains neutral with regard to jurisdictional claims in published maps and institutional affiliations.
About this article
Cite this article
Farrall, S., Hay, C., Gray, E. et al. Behavioural Thatcherism and Nostalgia: tracing the everyday consequences of holding Thatcherite values. Br Polit 16, 272–294 (2021). https://doi.org/10.1057/s41293-019-00130-7
Keywords
Brexit

Thatcherism

Nostalgia

Survey data

Neo-liberalism

Political legacy