Abstract
This article examines how citizens categorize political activities and investigates to what extent, and how, the modes of activities that citizens engage in relate to the activities they consider to be political. Our analyses, relying on an online survey organized by YouGov in 2014 among a representative sample of British citizens (N = 1859), indicate that citizens categorize political activities along party and non-party lines. While a broad consensus exists about the extent to which party activities can be categorized as being political, this is less the case for non-party modes of participation. Furthermore, regression analyses reveal that citizens who participate in non-party activities are significantly more likely to consider both party activities and non-party activities to be political than those who do not engage in such activities. Those engaging in party-related activities are also slightly more likely to consider non-party activities to be political than those not participating in party activities.
Access options
Buy single article
Instant access to the full article PDF.
US$ 39.95
Tax calculation will be finalised during checkout.
Subscribe to journal
Immediate online access to all issues from 2019. Subscription will auto renew annually.
US$ 79
Tax calculation will be finalised during checkout.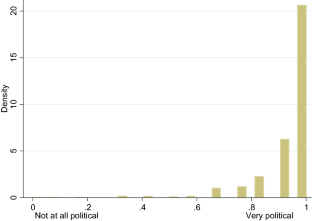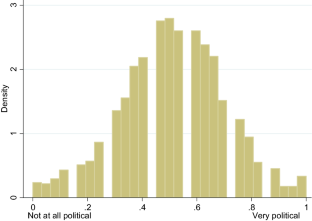 Notes
1.

There was a considerable upswing in Labour party membership in 2015 in response to changes to the party's membership rules. Our data are, however, unaffected by this change as it was collected in 2014.

2.

While other structures are possible [for example, the extent to which the activities are collective versus individual or according to levels of policy-making (supranational vs national vs. local politics)], here we focus on these three structures as they relate to the distinctions most commonly made in the literature investigating the expansion and broadening of political activities (e.g. Best and Krueger 2005; Dalton 2008; Gibson and Cantijoch 2013; Hooghe and Oser 2015; Marsh and Kaase 1979; Oser et al. 2013).

3.

YouGov maintains a panel of over 360,000 British adults who have signed up voluntarily to become a panel member. It invites panel members who fulfil the demographic requirements of the survey to participate in a survey, thereby using targeted quota sampling. More information about YouGov and its approach can be found on the organization's website: http://research.yougov.co.uk.

4.

The number of respondents does differ for the two dependent variables (the two sum scales measuring the likelihood of considering activities as being political) in our analyses presented below.

5.

While this list includes a wide variety of activities, including both online and offline, and party and non-party activities, ideally we would have included a more diverse list of 'new' forms of political engagement. However, due to funding and survey length restrictions, we were limited to including the twelve items presented.

6.

A promax rotated factor analysis revealed similar results.

7.

The correlation between both the two sum scales is .23.

8.

Standing in local and national elections are not included given that the number of respondents participating in such activities is very low.

9.

We did not conduct an exploratory factor analysis on these political participation measures because of their underlying dichotomous nature.

10.

A principal component analysis was not appropriate for this scale as this method of analysis is designed for interval data. Therefore, a Mokken analysis was conducted on the non-party activities. The results showed that non-party activity can be conceived of as a uni-dimensional measure (all of the H coefficients were above .3), with individual items ranging from 'easy' or low-cost activities to 'harder' or higher-cost activities.

11.

GCSEs are the standard qualifications taken by 16 year olds in the UK.

12.

A-levels are usually taken by 18 year olds and are the standard entry qualifications for university degrees.

13.

These are compressed social grades based on the National Readership Survey scale, which includes an assessment of occupation. The grades range from A, which includes higher managerial positions, to E, which includes casual workers and the unemployed. Thus, our dichotomous variable is coded as 0 for ABC1, representing the more professional and highly paid occupations, and 1 for C2DE, representing the more manual and casual occupations. More information can be found at:  http://www.nrs.co.uk/nrs-print/lifestyle-and-classification-data/social-grade/.

14.

The effect of participation in political party activities is not significant, even when identification with a political party is not included as a control variable.

15.

Given the significant effect of age and the known difference in which young and older people engage in politics (with younger people being more likely to participate in non-traditional, non-party ways than older people) we explored possible interactions between age and participation. The analyses (not presented but available upon request) revealed that voting affects the likelihood of considering non-party activities as being political more positively among younger compared with older respondents. No significant interaction between age and the different ways of participation was found for the extent to which party-related activities were considered as being political.

16.

It is important to note here that the respondents older than 65 in our sample may be atypical of their age and generation as they are accessing the survey online.

17.

For the continuous explanatory variable participation in non-party activities, probabilities were calculated for the scores 0, .5 and 1, which refer to no, medium and high levels of participation in non-party activities.
References
Anduiza, Eva, Michael James Jensen, and Laia Jorba. 2012. Digital Media and Political Engagement Worldwide: A Comparative Study. Cambridge: Cambridge University Press.

Best, Samuel J., and Brian S. Krueger. 2005. Analyzing the Representativeness of Internet Political Participation. Political Behavior 27 (2): 183–216.

Bimber, Bruce. 2001. Information and Political Engagement in America: The Search for Effects of Information Technology at the Individual Level. Political Research Quarterly 54 (1): 53–67.

Bolzendahl, Catherine, and Hilde Coffé. 2013. Are 'Good' Citizens 'Good' Participants? Testing Citizenship Norms and Political Participation Across 25 Nations. Political Studies 61 (S1): 45–65.

Bovens, Mark, and Anchrit Wille. 2010. The Education Gap in Participation and its Political Consequences. Acta Politica 45 (4): 393–422.

Chapman, Harry, and Hilde Coffé. 2016. Changing Facebook Profile Pictures as Part of a Campaign: Who Does It and Why? Journal of Youth Studies 19 (4): 483–500.

Coffé, Hilde. 2013. Women Stay Local, Men Go National and Global? Gender Differences in Political Interest. Sex Roles 69 (5): 323–338.

Coffé, Hilde, and Catherine Bolzendahl. 2010. Same Game, Different Rules? Gender Differences in Political Participation. Sex Roles 62 (5–6): 318–333.

Coffé, Hilde, and Ank Michels. 2014. Education and Support for Representative, Direct and Stealth Democracy. Electoral Studies 35: 1–11.

Crewe, Ivor, Bo Särlvik, and James Alt. 1977. Partisan Dealignment in Britain 1964-1974. British Journal of Political Science 7 (2): 129–190.

Dalton, Russell. 2008. Citizenship Norms and the Expansion of Political Participation. Political Studies 56 (1): 76–98.

Dalton, Russell. 2009. How a Younger Generation is Reshaping American Politics. Thousand Oacks: Sage/CQ Press.

Dalton, Russell. 2013. Citizen Politics. Public Opinion and Political Parties in Advanced Industrial Democracies. Thousand Oaks: Sage CQ Press.

de Vreese, Claes H. 2007. Digital Renaissance: Young Consumer and Citizen? The Annals of the American Academy of Political and Social Science 611 (1): 207–216.

Fitzgerald, Jennifer. 2013. What Does "Political" Mean to You? Political Behavior 35 (3): 453–479.

Fox, Stuart. 2014. Is It Time to Update the Definition of Political Participation? Parliamentary Affairs 67: 495–505.

Gibson, Rachel, and Marta Cantijoch. 2013. Conceptualizing and Measuring Participation in the Age of the Internet: Is Online Political Engagement Really Different to Offline? Journal of Politics 75 (3): 701–716.

Gil de Zúñiga, Homero, Aaron Veenstra, Emily Vraga, and Dhavan Shah. 2010. Digital Democracy: Reimagining Pathways to Political Participation. Journal of Information Technology & Politics 7 (1): 36–51.

Hooghe, Marc, Bengü Hosch-Dayican, and Jan van Deth. 2014. Conceptualizing Political Participation. Acta Politica 49 (3): 337–348.

Hooghe, Marc, and Jennifer Oser. 2015. The Rise of Engaged Citizenship. The Evolution of Citizenship Norms Among Adolescents in 21 Countries Between 1999 and 2009. International Journal of Comparative Sociology 56 (1): 29–52.

Marsh, Alan, and Max Kaase. 1979. Measuring Political Action. In Political Action. Mass Participation in Five Western Democracies, ed. Samuel Barnes and Max Kaase, 57–96. London: Sage Publications.

Melo, Daniela, and Daniel Stockemer. 2014. Age and Political Participation in Germany, France and the UK: A Comparative Analysis. Comparative European Politics 12 (1): 33–53.

Micheletti, Michele, and Dietlind Stolle. 2007. Mobilizing Consumers to Take Responsibility for Global Social Justice. The Annals of the American Academy of Political and Social Science 611 (1): 157–175.

Milbrath, Lester. 1965. Political Participation: How and Why Do People Get Involved in Politics. Chicago: Rand McNally.

Morales, Laura. 2009. Joining Political Organisations: Institutions, Mobilisation and Participation in Western Democracies. Colchester: ECPR Press.

Morozov, Evgeny. 2009. "The brave new world of slacktivism." in Foreign Policy. Available at: https://foreignpolicy.com/2009/05/19/the-brave-new-world-of-slacktivism/. Retreived 1 April 2019.

Mughan, Anthony. 2009. Partisan Dealignment, Party Attachments and Leader Effects. Journal of Elections, Public Opinion and Parties 19 (4): 413–431.

O'Toole, Therese. 2003. Engaging with Young People's Conceptions of the Political. Children's Geographies 1 (1): 71–90.

O'Toole, Therese, Michael Lister, Dave Marsh, Su Jones, and Alex McDonagh. 2003. Tuning Out or Left Out? Participation and Non-participation Among Young People. Contemporary Politics 9 (1): 45–61.

Oser, Jennifer, Marc Hooghe, and Sofie Marien. 2013. Is Online Participation Distinct from Offline Participation? A Latent Class Analysis of Participation Types and Their Stratification. Political Research Quarterly 66 (1): 91–101.

Pattie, Charles, Patrick Seyd, and Paul Whiteley. 2004. Citizens and Politics: Democracy and Participation in Twenty-First Century Britain. Cambridge: Cambridge University Press.

Quintelier, Ellen, and Jan W. van Deth. 2014. Supporting Democracy: Political Participation and Political Attitudes. Exploring Causality Using Panel Data. Political Studies 62: 153–171.

Rojas, Hernando, and Eulalia Puig-i-Abril. 2009. Mobilizers Mobilized: Information, Expression, Mobilization and Participation in the Digital Age. Journal of Computer-Mediated Communication 14 (4): 902–927.

Saglie, Jo, and Signy Irene Vabo. 2009. Size and e-Democracy: Online Participation in Norwegian Local Politics. Scandinavian Political Studies 32 (4): 382–401.

Sanders, David, Harold Clarke, Marriane Stewart, and Paul Whiteley. 2007. Does Mode Matter for Modeling Political Choice. Political Analysis 15 (3): 257–285.

Särlvik, Bo, and Ivor Crewe. 1983. Decade of Dealignment: The Conservative Victory of 1979 adn Electoral Trends in the 1970s. Cambridge: Cambridge University Press.

Schlozman, Kay Lehman, Sidney Verba, and Henry E. Brady. 2010. Weapon of the Strong? Participatory Inequality and the Internet. Perspectives on Politics 8 (2): 487–509.

Schudson, Michael. 2007. Citizens, Consumers, and the Good Society. The Annals of the American Academy of Political and Social Science 611 (1): 236–249.

Shah, Dhavan V., Douglas M. McLeod, Eunkyung Kim, Sun Young Lee, Melissa R. Gotlieb, Shirley S. Ho, and Hilde Breivik. 2007. Political Consumerism: How Communication and Consumption Orientations Drive "Lifestyle Politics". The Annals of the American Academy of Political and Social Science 611 (1): 217–235.

Stolle, Dietlind, and Marc Hooghe. 2010. Shifting Inequalities: Patterns of Exclusion and Inclusion in Emerging Forms of Political Participation. European Societies 13 (1): 119–142.

Stolle, Dietlind, Marc Hooghe, and Michele Micheletti. 2005. Politics in the Supermarket: Political Consumerism as a Form of Political Participation. International Political Science Review 26 (3): 245–269.

Stubager, Rune. 2010. The Development of the Education Cleavage: Denmark as a Critical Case. West European Politics 33 (3): 505–533.

Tabachnick, Barbara, and Linda Fidell. 2007. Using Multivariate Statistics. Boston: Allyn and Bacon.

Theocharis, Yannis. 2015. The conceptualization of digitially networked participation. Social Media + Society 2 (1): 1–14.

Van Deth, Jan W. 2010. Is Creative Participation Creative Democracy? In Creative Participation: Responsibility-Taking in the Political World, ed. Michele Micheletti and McFarland, 146–170. Boulder, CO: Paradigm.

Van Deth, Jan W. 2014. A Conceptual Map of Political Participation. Acta Politica 49 (3): 349–367.

Verba, Sidney, Kay Lehman Schlozman, and Henry Brady. 1995. Voice and Equality. Civic Voluntarism in American Politics. Cambridge, MA: Harvard University Press.

Whiteley, Paul. 2012. Political Participation in Britain: The Decline and Revival of Civic Culture. Basingstoke: Palgrave Macmillan.

Zukin, Cliff, Scott Keeter, Molly Andolina, Krista Jenkins, and Michael Delli Carpini. 2006. A New Engagement? Political Participation, Civic Life, and the Changing American Citizen. Oxford: Oxford University Press.
Acknowledgements
The first author gratefully acknowledges the financial support of Victoria University of Wellington, Faculty of Humanities and Social Sciences. A previous version of this paper was presented at the 2017 General Conference of the European Consortium of Political Research. We would like to thank all participants at the conference panel for their feedback. Finally, we are also grateful to Sam Crawley for his excellent editing work.
Additional information
Publisher's Note
Springer Nature remains neutral with regard to jurisdictional claims in published maps and institutional affiliations.
About this article
Cite this article
Coffé, H., Campbell, R. Understanding the link between citizens' political engagement and their categorization of 'political' activities. Br Polit 15, 291–310 (2020). https://doi.org/10.1057/s41293-019-00116-5
Keywords
Political engagement

Categorisation of political activities

Public opinion

Party activities

Non-party activities