Abstract
Conventional wisdom has it that the British first-past-the-post electoral system (FPTP) fosters an all-British two-party system which in turn provides territorial integration to a multi-national British state. While the first relationship has been significantly weakened since the early 1970s, the second one lost much of its compelling power at the General Election of 2015. However, as this analysis shows, the integrating function of the British party system has been a myth for quite some time. The FPTP system may have helped to concentrate votes in the two major British parties, yet it has also heavily exaggerated the existing electoral divergence between different parts of the country and has thus contributed considerably to the disintegration of the UK polity. As this effect becomes increasingly obvious, strong commitment to unionist ideology might be expected to induce corresponding support for electoral reform in both the Conservative and the Labour Party. The territorial concentration of their MPs (in part a consequence of this exaggeration), though, means that career self-interest points in the opposite direction.
This is a preview of subscription content, log in to check access.
Access options
Buy single article
Instant access to the full article PDF.
US$ 39.95
Price includes VAT for USA
Subscribe to journal
Immediate online access to all issues from 2019. Subscription will auto renew annually.
US$ 124
This is the net price. Taxes to be calculated in checkout.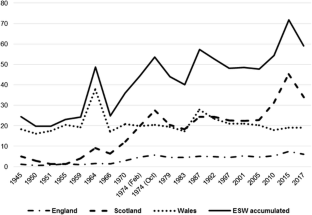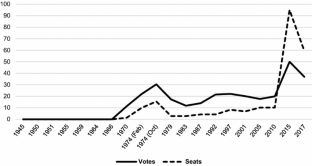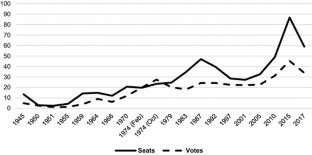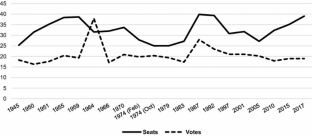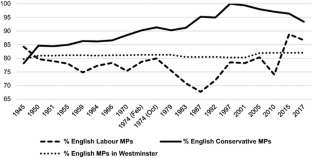 Notes
1.

The electoral deviation for each region/nation is calculated by adding up the differences between the share of votes on the regional/national level and on the UK level for each party and by dividing the total by two. Scores may vary between 0, depicting complete similarity of the vote, and 100, depicting complete dissimilarity. The accumulated figure is calculated by adding up the dissimilarity scores for Scotland, Wales and England at each election. While there are much more elaborate measurements for electoral territorial divergence (cf. Bochsler 2010; Morgenstern et al. 2014), this simple index is sufficient to demonstrate the immense electoral divergence within the UK and its development over time.

2.

3.

For a more detailed account of this path-dependent process see Stolz (2009, pp. 250–258, 275).

4.

Moran (2017, p. 75) states: 'The election of 1997 (for the Conservatives) and 2015 (for Labour) showed that the first past the post system, far from advantaging the Westminster giants, could wipe them out territorially once popular support fell below around 20% (the Conservatives 1997) and 25% (Labour in 2015)'.

5.

This was the first time since 1987 that the Conservatives did not lose out massively from FPTP in Wales.

6.

7.

The effective number of parties (ENP) is a common measurement of party system fragmentation introduced by Laakso and Taagepera (1979). Parties are counted according to their relative strength (both in terms of vote share and parliamentary seats) resulting in the formula ENEP = 1/Σvi2 (for the effective number of electoral parties) and ENPP = 1/Σsi2 (for the effective number of parliamentary parties).

8.

An effective number of parties (votes) of four is the value Colomer (2005, p. 13) calculated for the probability of electoral reform to rise above 50%. The ENP (votes) for the 2015 Westminster election was at 3.91. The 2017 election shows a mere 2.52.
References
Aughey, A. 2010. British questions: A non-instrumentalist answer. Parliamentary Affairs 63: 407–424.

Aughey, A. 2013. The British question. Manchester: Manchester University Press.

Audickas, L., O. Hawkins, and R. Cracknell. 2017 UK Election Statistics 1918–2017. House of Commons Library, Briefing Paper, Number CBP7529. Accessed 23 Aug 2017.

Billig, M. 1995. Banal Nationalism. London: Sage.

Bochsler, D. 2010. Measuring party nationalization: A new Gini-based indicator that corrects for the number of units. Electoral Studies 29: 155–168.

Bogdanor, V. 2009. The New British Constitution. Oxford: Hart Publishing.

Bradbury, J., and J. Mitchell. 2005. Devolution: Between governance and territorial politics. Parliamentary Affairs 58 (2): 287–302.

Bulpitt, J. 1983. Territory and Power in the United Kingdom. Manchester: Manchester University Press.

Cairney, P. 2016. The Scottish Parliament election 2016: Another momentous event but dull campaign. Scottish Affairs 25: 277–293.

Colomer, J. 2005. It's parties that choose electoral systems (or, Duverger's laws upside down). Political Studies 53: 1–21.

Cowley, P., and D. Kavanagh. 2016. The British General Election of 2015. Basingstoke: Palgrave MacMillan.

Curtice, J., and M. Steed. 1986. Proportionality and exaggeration in the British electoral system. Electoral Studies 5: 209–288.

Dunleavy, P. 2005. Facing up to multi-party politics: How partisan dealignment and PR voting have fundamentally changed Britain's party system. Parliamentary Affairs 58: 503–532.

Ford, R., and M. Goodwin. 2014. Revolt on the Right: Explaining the Support for the Radical Right in Britain. Abingdon: Routledge.

Hall, M. 2011. Political Traditions and UK Politics. Basingstoke: Palgrave Macmillan.

Hassan, G., and E. Shaw. 2012. The Strange Death of Labour Scotland. Edinburgh: Edinburgh University Press.

Hayton, R. 2016. The UK independence party and the politics of englishness. Political Studies Review 14: 400–410.

Johnston, R., and C. Pattie. 2011. The British general election of 2010: A three-party contest—or three two-party contests? The Geographical Journal 177: 17–26.

Johnston, R.J., C.J. Pattie, and J.G. Allsopp. 1988. A Nation Dividing? The Electoral Map of Great Britain, 1979–1987. London: Longman.

Keating, M. 1994. The union under strain: Constitutional reform and the territorial state. In Changing Conceptions of Constitutional Government, ed. H. Kastendiek, and R. Stinshoff, 23–48. Bochum: Dr. Brockmeyer Verlag.

Keating, M. 2008. Thirty years of territorial politics. West European Politics 31: 60–81.

Laakso, M., and R. Taagepera. 1979. Effective number of parties: A measure with application to West Europe. Comparative Political Studies 12: 3–27.

Macwhirter, I. 2015. Tsunami: Scotland's Democratic Revolution. Glasgow: Cargo.

Madgwick, P., and R. Rose. 1982. Introduction. In The Territorial Dimension in United Kingdom Politics, ed. P. Madgwick, and R. Rose, 1–6. London: Macmillan.

Marquand, D. 1988. The Unprincipled Society. New Demands and Old Politics. London: Jonathan Cape.

Marquand, D. 1991. The Progressive Dilemma: From Lloyd George to Kinnock. London: Heinemann.

Marsh, D., and M. Hall. 2007. The British political tradition: Explaining the fate of new labour's constitutional reform agenda. British Politics 2 (2): 215–238.

McLean, I., and A. McMillan. 2005. State of the union: Unionism and the alternatives in the United Kingdom since 1707. Oxford: Oxford University Press.

Midwinter, A., M. Keating, and J. Mitchell. 1991. Politics and Public Policy in Scotland. Houndmills: Macmillan.

Mitchell, J. 2009. Devolution in the UK. Oxford: Oxford University Press.

Moran, M. 2017. The End of British Politics?. Cham: Palgrave Macmillan.

Morgenstern, S., J. Polga-Hecimovich, and P.M. Siavelis. 2014. Seven imperatives for improving the measurement of party nationalization with evidence from Chile. Electoral Studies 33: 186–199.

Nairn, T. 1977. The break-up of Britain. London: New Left Books.

Nairn, T. 2000. After Britain: New labour and the return of Scotland. London: Granta.

Nairn, T. 2007. Union on the rocks? New Left Review 43 (1): 117–132.

Perryman, M. 2009. Breaking up Britain: Four nations after a union. London: Lawrence and Wishart.

Rhodes, R. 1988. Beyond Westminster and Whitehall. London: Unwin-Hyman.

Stolz, K. 2009. Towards a Regional Political Class? Professional Politicians and Regional Institutions in Catalonia and Scotland. Manchester: Manchester University Press.

Taylor, P. 1979. The changing geography of representation in Britain. Area 11: 289–294.

Wright, T., and A. Gamble. 2010. Commentary: The end of Britain? Political Quarterly 71 (1): 1–3.

Wyn Jones, R., G. Lodge, C. Jeffery, G. Gottfried, R. Scully, A. Henderson and D. Wincott. 2013. England and its Two Unions. The Anatomy of a Nation and its Discontents. London: IPPR. http://www.ippr.org/files/images/media/files/publication/2013/07/england-two-unions_Jul2013_11003.pdf. Accessed 26 Oct 2017.
About this article
Cite this article
Stolz, K. Should unionists support PR? Electoral systems, party systems and territorial integration in the United Kingdom. Br Polit 14, 269–289 (2019). https://doi.org/10.1057/s41293-018-0075-y
Keywords
Electoral system

Party system

Territorial politics

Unionism